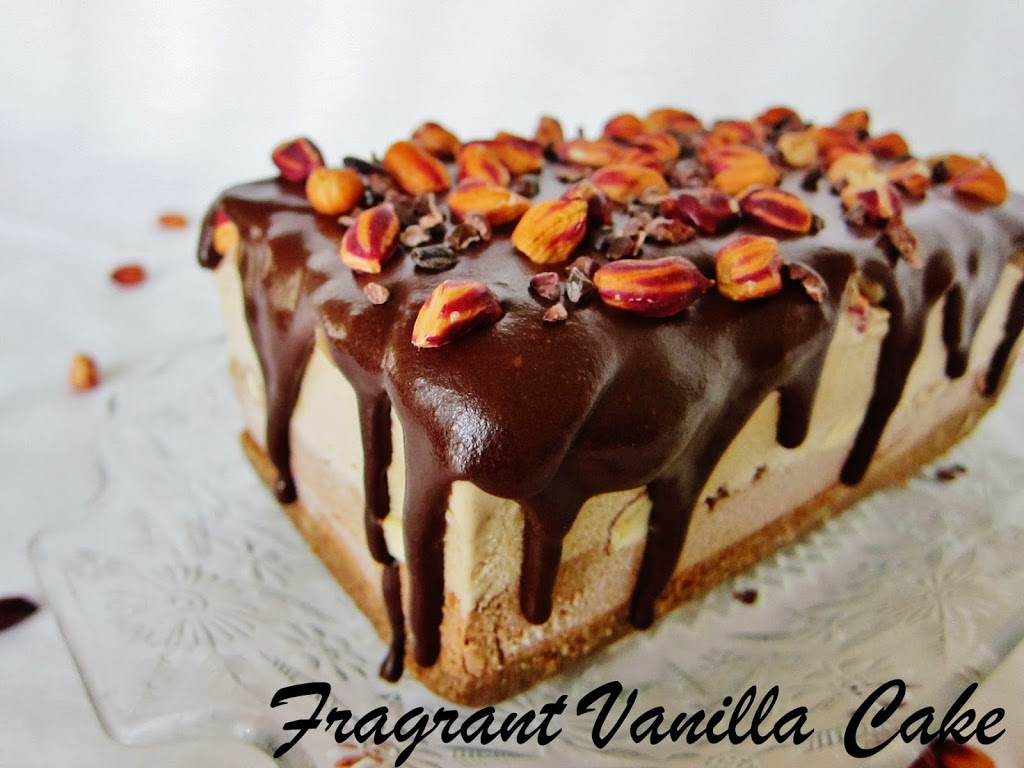 Raw Snickers Ice Cream Cake
Last week when I was out running, I was thinking about the fact that people often don't say the compliments that are on their mind.  Like for instance.  You think someone's hair looks extra good or you love their shirt, or you enjoy their company a lot or the help they give you.  But you do not tell them, you just keep it to yourself.  I decided that I needed to start saying these things to the people around me.  Let them know they are beautiful (or handsome) or appreciated, or whatever positive thoughts come into my mind.   After all, there is enough negativity in the world, why not put in more positive?
So a funny thing happened.  Not 5 minutes after thinking about being more positive, I was passing an elderly woman, and she looked friendly so I expected a hello, but instead I was greeted with "Wow girl, you are a runner! Bless you! Bless you! You go!" It made my day.  This woman clearly understood the concept of saying positive things that come into your mind.  I hope to be like her when I am 80.  Just a few thoughts that I think are valuable to everyone.  So what does that have to do with this Raw Snickers Ice Cream Cake?  Well...only the fact that eating a slice makes you happy.  I admit I made it for Eric because he was craving Snicker's Ice Cream so much and I know my rawified ice cream is SOOO much better than any refined sugar stuff he might go after at the store.
Vanilla caramel and chocolate ice creams,  with raw caramel, jungle peanuts, chocolate chunks, chocolate fudge, and raw cacao nibs.  Pure decadent deliciousness.  This was so much better than the Snicker's ice cream bars I used to eat as a kid! Trust me, you need this in your life.
Raw Snickers Ice Cream Cake
Makes one 4x8 inch cake
1 1/2 cups finely shredded dried coconut
1 1/2 cups ground flaxseed
1/3 cup raw cacao powder
1/8 tsp sea salt
1 cup soft medjool dates, pitted (if not soft, soak in filtered water 30 minutes and drain well before using)
Ice Cream:
1 1/2 cups coconut water
3 cups young coconut meat*
3 cups ripe bananas, mashed
3/4  cup raw date paste or another raw liquid sweetener if you prefer
2 Tbsp maca powder (optional)
1 Tbsp lucuma powder (optional)
2 Tbsp raw jungle peanut butter
seeds of one vanilla bean
1 1/2 tsp maple extract (optional, but makes it more caramel flavored)
1/4 tsp Himalayan salt
1/4 cup plus 2 Tbsp raw coconut butter, warmed to liquid
1/4 cup raw cacao powder
Caramel:
10 large soft medjool dates
1 Tbsp raw pecan butter or other raw nut butter
filtered water as needed
1 tsp pure vanilla extract
1/8 tsp Himalayan salt
1/4 cup chopped raw chocolate or chocolate chunks
1/2 cup raw jungle peanuts
Fudge:
1/2 cup raw cacao powder
1/4 cup plus Tbsp raw coconut nectar
2 Tbsp raw coconut oil, warmed to liquid
a pinch sea salt
raw cacao nibs
raw jungle peanuts
For the crust, in a food processor, combine all ingredients but the dates, and process until fine crumbs.  Add the dates and process until starting to hold together when squeezed (if it is not, add a few more dates).  Remove from the food processor and press into the bottom of a 4x8 inch loaf pan lined with plastic wrap (for easy removal) and press out flat.
For the ice cream, add coconut water to a food processor, along with young coconut, bananas,   nectar, maca, lucuma, peanut butter, maple, vanilla, and sea salt. Process until smooth, then with the processor running, add the coconut butter slowly and process until well incorporated, about a minute. Pour the mixture into an ice cream maker and process according to directions.
Meanwhile, for the caramel, combine all ingredients in a high speed blender and blend until smooth (adding filtered water as needed until it is a desired consistency).  Set aside.
Once the ice cream is done churning, remove from ice cream maker, and remove 1/2 of the ice cream.  Whisk in 1/3 cup  raw cacao powder (to the 1/2 of the ice cream), then pour over the crust. Drop some of the caramel by the tsp over it, then scatter 1/4 cup of the peanuts and the 1/4 cup chopped chocolate over it. Swirl the caramel a little with a knife, then pour the vanilla caramel layer of ice cream over that.  Drop some more of the caramel by the tsp over that, then sprinkle with another 1/4 cup jungle peanuts, and swirl it slightly.  Place in the freezer for about 6 hours or overnight until firm.
For the fudge, whisk together all ingredients until smooth (if too thick, add a little water, if too thin, add a little more cacao powder).  Spoon over the top of the cake so that it drips down.  Garnish the top with the the remaining jungle peanuts and cacao nibs and serve!
*If young coconut meat is unavailable, you can substitute the 3 cups fresh coconut with 3 cups finely shredded, dried coconut and 1 1/2 cups coconut water.  But, you MUST have a high speed blender to do this or it will never become smooth.  Blend the coconut first until it becomes butter, using the tamper to press it into the blades until it is liquidy, then add the coconut water and blend until combined. Add this to the ice cream base in place of the young coconut meat.
(Visited 542 times, 1 visits today)