Raw Snickers Cheesecake
I have made other candy bar themed cakes, so I thought it was time I made a raw Snickers cheesecake. The thought has been bouncing around in my head for a couple of weeks now (maybe something to do with all of the Halloween candy), and I finally got around to making it.  I was excited about it too.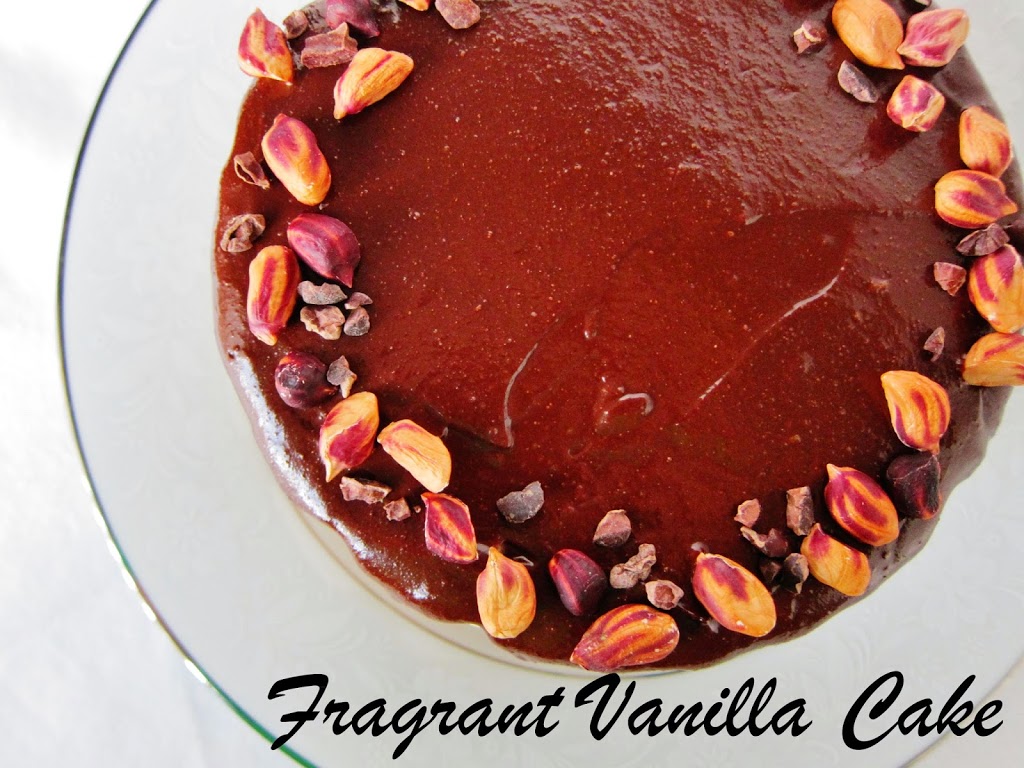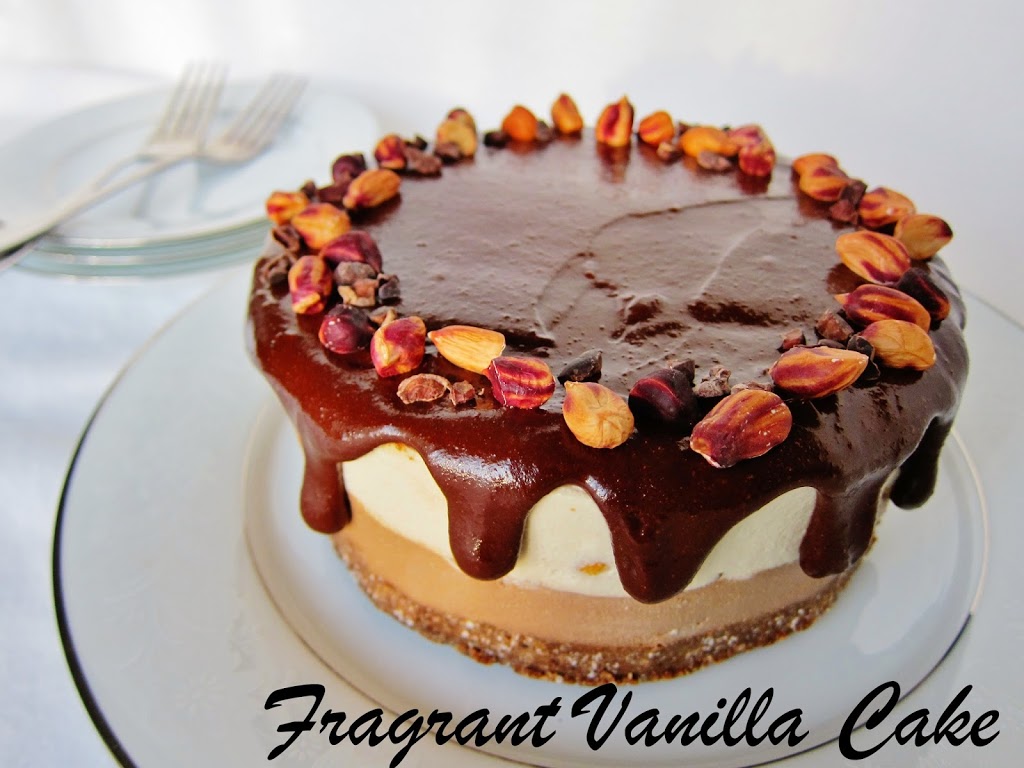 Layers of peanut butter cream, and chocolate with caramel, peanuts and cacao nibs layered in and fudge cascading over the top. Decadent deliciousness at its best.  While I was making it, I was loving all of the components as I sampled them, making sure they were the perfect flavor.  One of the best parts of making raw desserts is the sampling in my opinion.  But anyways, once they were all married together into a cake it was more heavenly than I had imagined!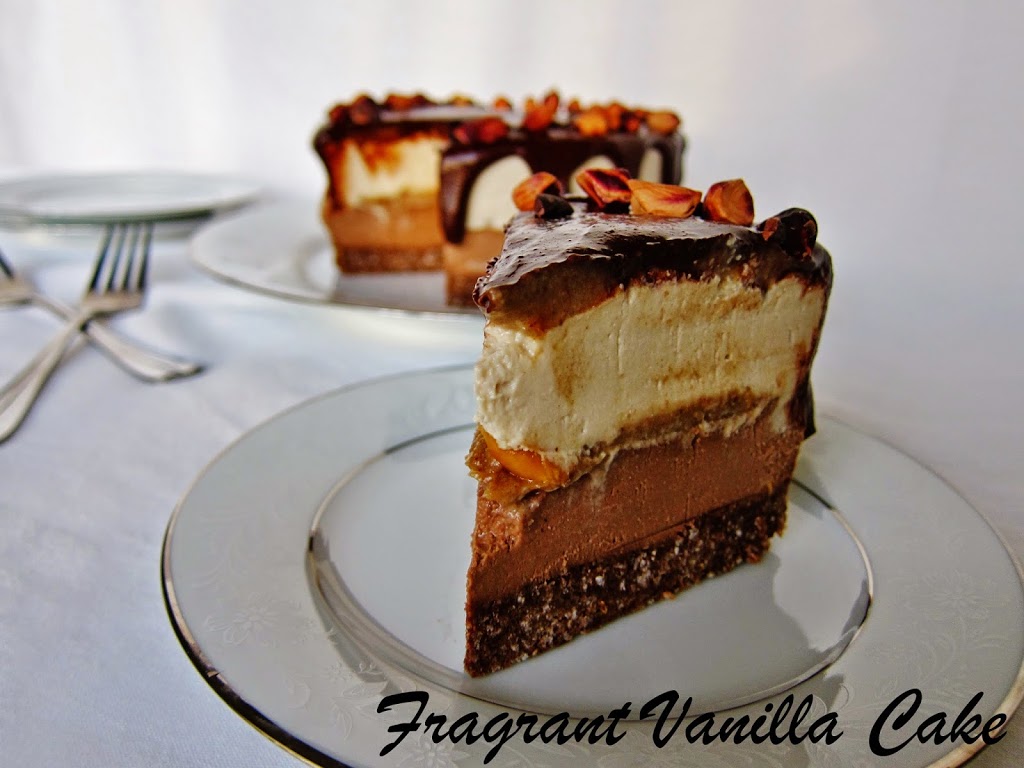 This is way better than a Snickers bar, even a raw one.  I am obsessed with raw cheesecake, so I am sort of biased but this is the best Snickers anything I have made, and I have made quite a few Snickers themed desserts.  As I was taking the photos of the cake, my boyfriend was already scoping it out and ready to swoop in and devour some.  He loved it, as did I! After all, it was hard to take photos before eating some.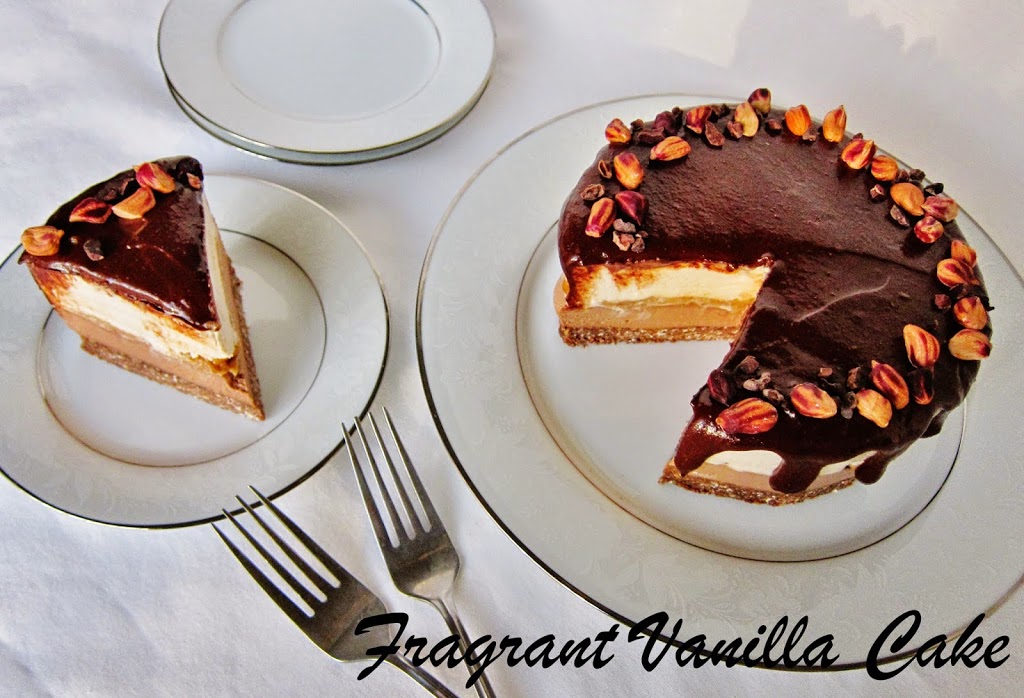 Raw Snickers Cheesecake
Makes one 6 inch cake
3/4 cup dried finely shredded coconut
1/4 cup ground flaxseed
1/8 teaspoon sea salt
1/2 tsp cinnamon
2/3 cup soft medjool dates, pitted and chopped
3 Tbsp raw cacao powder
Filling:
4 cups young coconut meat*
1/2 cup coconut water
1/2 cup raw coconut nectar (or your choice of raw liquid sweetener)
2 Tbsp raw jungle peanut butter
2 Tbsp lucuma powder (optional)
1 Tbsp maca powder (optional)
1/2 teaspoon sea salt
1 Tbsp pure vanilla extract and seeds from half a vanilla bean
1/2 cup plus 2 Tbsp 
raw coconut butter
 (warmed to liquid)
1/4 cup raw cacao powder
Caramel:
10 large soft medjool dates
1 Tbsp raw pecan butter or other raw nut butter
filtered water as needed
1 tsp pure vanilla extract
1/8 tsp Himalayan salt
1/4 cup raw jungle peanuts
1/4 cup raw cacao nibs
Topping:
1/3 cup raw cacao powder
1/4 cup raw coconut nectar (or your choice liquid raw sweetener)
1 Tbsp raw coconut oil, warmed to liquid
pinch sea salt
Raw jungle peanuts and cacao nibs for topping
Lightly coat a 6 inch spring form removable bottom pan with coconut oil. To prepare the crust, process buckwheat, coconut, flax seed, cacao powder and sea salt in a food processor until it is fine crumbs, then add the dates and process until the mixture holds together when squeezed between your fingers (if not holding together, add more dates). Firmly press crust into the bottom of the prepared pan, and set aside.
To make the filling, in a food processor combine coconut, coconut water, coconut nectar, sea salt, lucuma, maca, vanilla, coconut nectar and blend until smooth and creamy. With the processor running, add the coconut butter, and process for a minute until blended. Remove the filling from the food processor and divide into 2 bowls. Add one back to the processor and add the cacao powder.  Blend until smooth and place back in the bowl.  Set aside.
For the caramel, combine all ingredients in a high speed blender and blend until smooth (adding filtered water as needed until it is a desired consistency).  Set aside.
To assemble the cheesecake, pour the chocolate filling over the crust, then drop some of the caramel over it by the Tbsp, and swirl it with a knife.  Then scatter half of the jungle peanuts and cacao nibs over that.  Pour the rest of the filling over that, then drop more caramel over that, and swirl with a knife.  Place in the freezer for about 4-6 hours or until set.
Whisk together the topping ingredients, (if it seems too runny add a little more cacao powder, if too thick a little more syrup).  Spread over the top of the cake allowing it to drip down the sides. Top with jungle peanuts and cacao nibs.  Store in the fridge.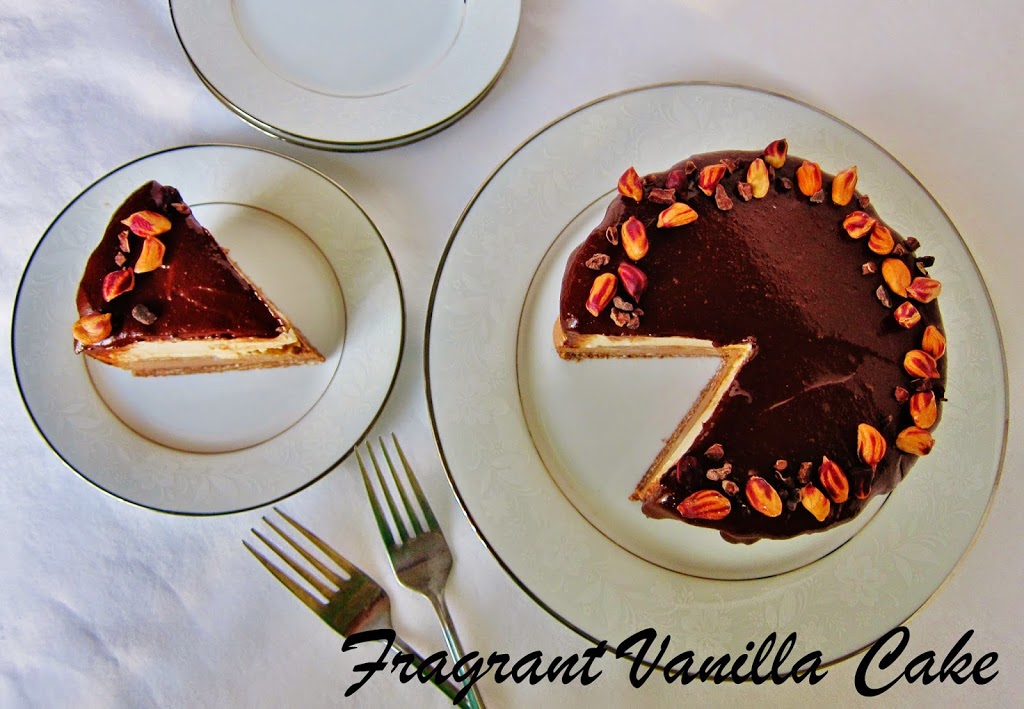 *If you do not have access to young coconut meat, you can substitute 4 cups raw cashews soaked for 4 hours and drained for the coconut and filtered water for the coconut water.
(Visited 1,529 times, 1 visits today)