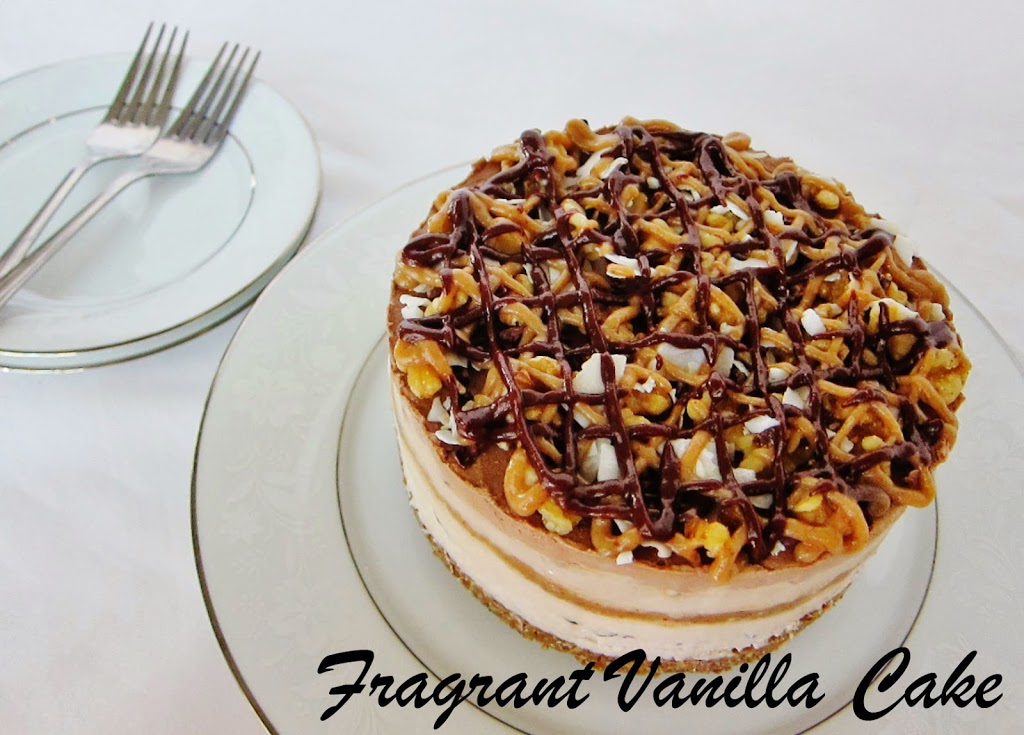 Raw Seven Layer Crave Cake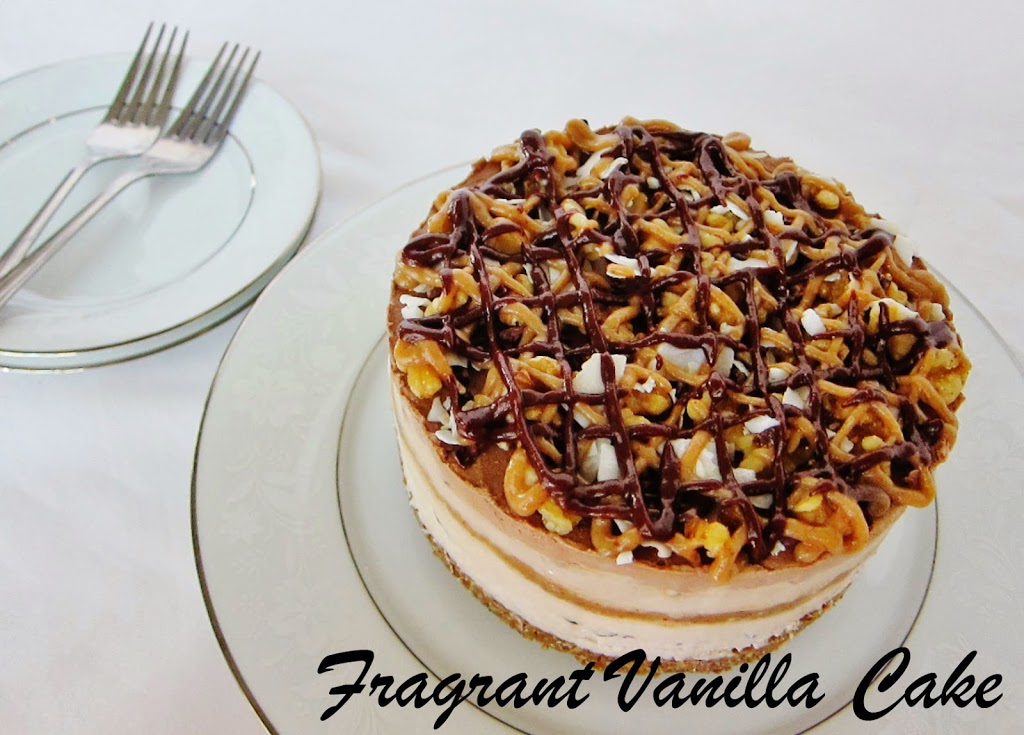 Seven Layer Bars...crave worthy little squares, graham cracker crust topped off with chocolate chips, butterscotch chips, coconut, nuts and sweetened condensed milk.  The original version at least, and the version I fell in love with as a kid.  I remember in high school cross country sometimes someone's Mom would bring them to a carbo load or banquet and I was in heaven.  We sell a cleaner version of them now in the deli I work at and every time I see them being made I think that I should make a rawified version.  But of course make it my own. With coconut, cacao nibs, walnuts, peanut butter, chocolate, and coffee on a graham cracker crust.  Maybe I will someday (make the bars), but for now...I went over the top with the idea and made a cake in the same spirit.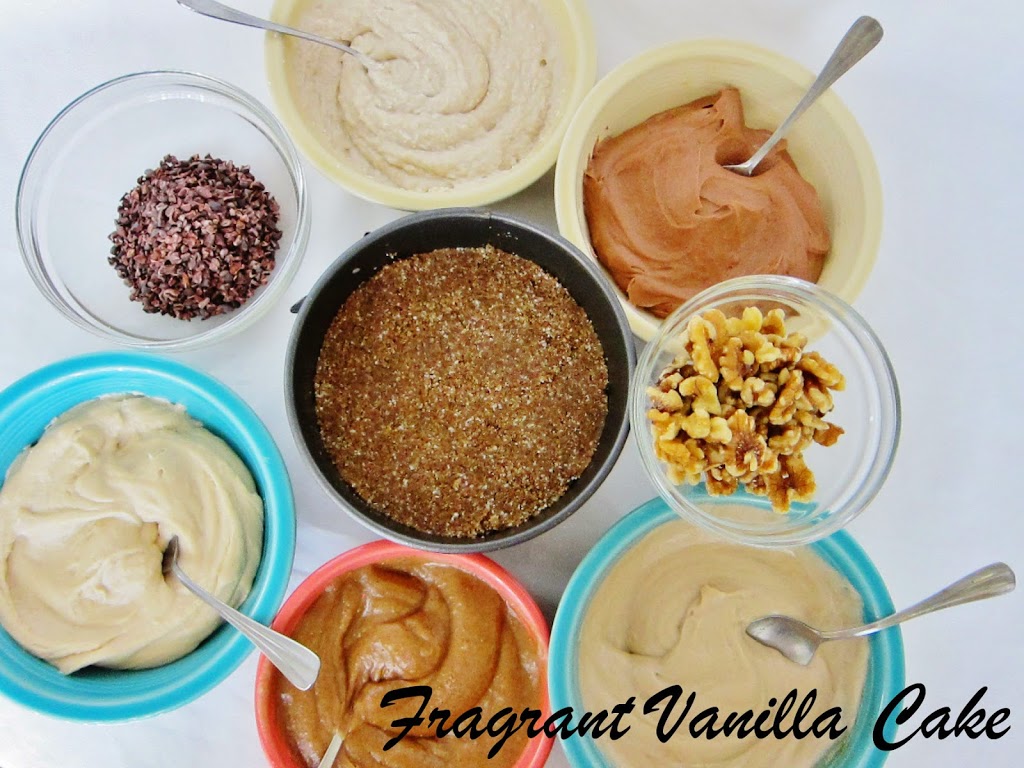 Clockwise starting at the center in the photo above...coconut mousse filling, chocolate filling, walnuts, coffee mousse filling, raw caramel, peanut butter mousse filling and raw cacao nibs with a graham cracker crust in the center.  Which I layered all together to create a delicious masterpiece.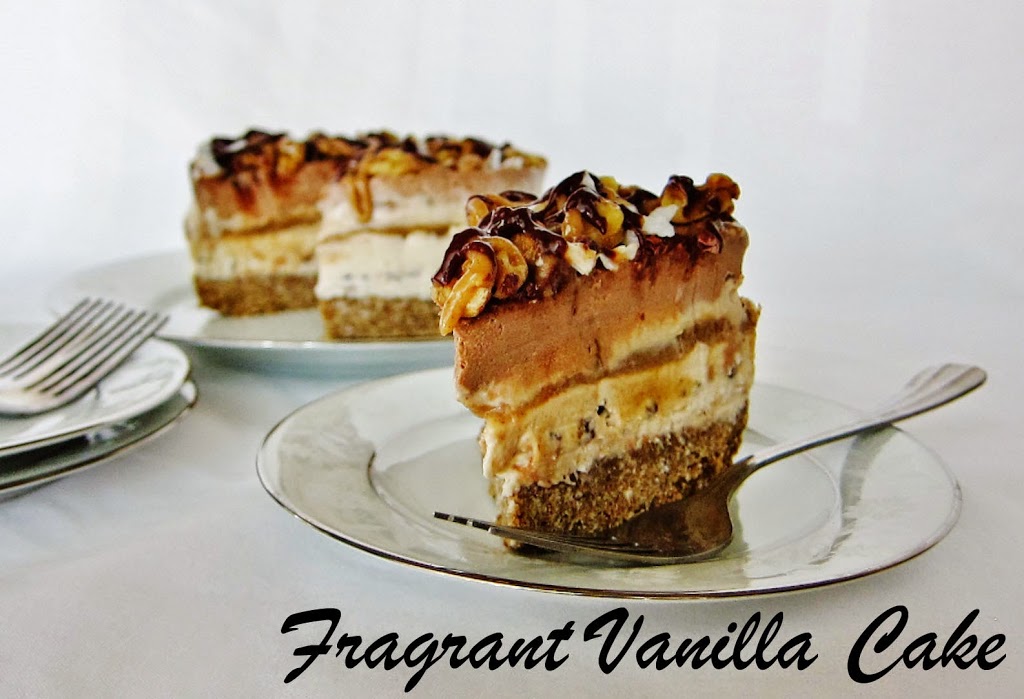 Yes, I know there are a few things in there that are non-traditional but that is how I roll, I make it to my tastes.  I even drizzled the top with more caramel and chocolate caramel...can you say decadent deliciousness?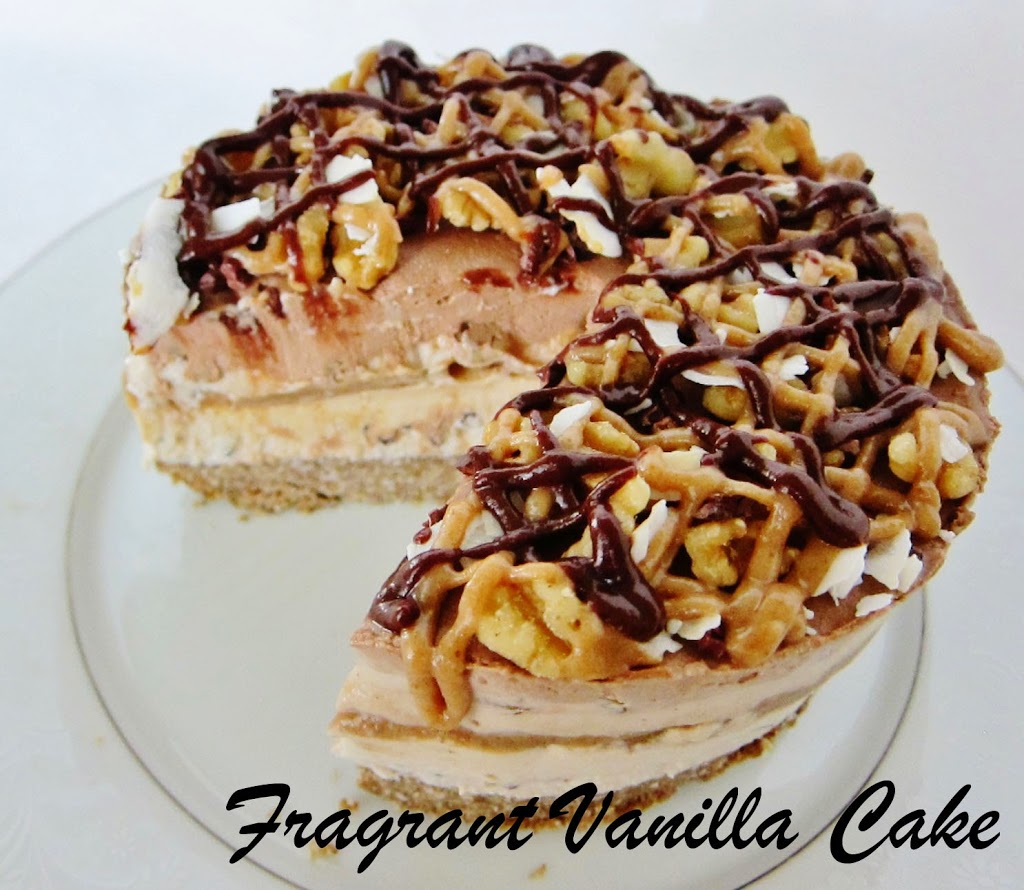 I am not going to lie, this is very rich and not the type of thing I indulge in everyday it is a treat, but hey when you do you will savor every bite...and it is so worth it. The type of thing that I close my eyes and go to my happy place when eating. It may look complicated as well, but it goes quick once you get started and you will thank yourself for the effort.  This is so much better than any 7 layer bars!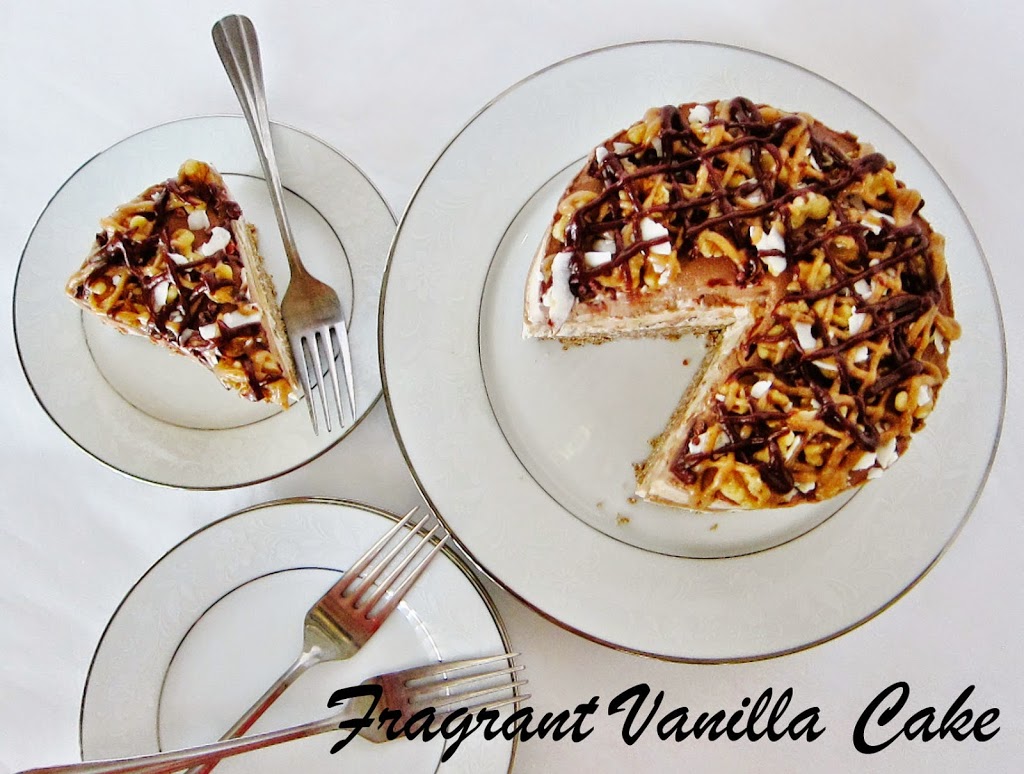 Raw Seven Layer Crave Cake
Makes one 6 inch cake
3/4 cup dried finely shredded coconut
1/8 teaspoon sea salt
10-12 soft medjool dates, pitted and chopped (if they are not soft, soak them in water until they are and drain them well)
1/2 tsp cinnamon
Caramel:
1 cup soft medjool dates, pitted
2 Tbsp raw pecan butter
2 Tbsp raw coconut nectar
1 tsp pure vanilla extract
1/4 tsp sea salt
1/4 cup filtered water
Filling:
4 cups young coconut meat*
1/2 cup coconut water
2/3 cup raw coconut nectar, or maple syrup
1/2  teaspoon sea salt
1 Tbsp pure vanilla extract and seeds from half a vanilla bean
3/4 cup 
raw coconut butter
 (warmed to liquid)
2 Tbsp finely shredded dried coconut
1 Tbsp coffee extract
2 Tbsp raw jungle peanut butter
2 Tbsp raw cacao powder
1/3cup raw cacao nibs, plus more for topping the cake
1/4 cup raw walnuts, chopped, plus more for topping the cake
Lightly coat a 6 inch spring form removable bottom pans with coconut oil. To prepare the crust, process flax, coconut, buckwheat and sea salt in a food processor until fine crumbs, then add the dates and cardamom and process until the mixture holds together when squeezed between your fingers (if not holding together, add more dates). Firmly press crust into the bottom of the prepared pan, and set aside.
For the caramel, combine all of the ingredients in a food processor and process until smooth.  Set aside.
To make the filling, in a high speed blender or food processor, combine coconut, water, coconut nectar, sea salt, and vanilla in a food processor and blend until smooth and creamy. With the processor running, add the coconut butter and and process for a minute until blended. Divide the mixture into 4 bowls.  Stir the shredded coconut into the first until well combined.  Stir the coffee extract into the second until well blended.  Stir the jungle peanut butter into the third until well combined.  Whisk the raw cacao powder into the 4th until well combined.
To assemble cheesecake, (keeping in mind with each layer that it needs to be carefully spread or it will not look as pretty.  It helps to drop small spoonfuls of it all over then spread them together) first, spread the coconut filling over the crust smoothing the top.  Then, scatter the 1/3 cup raw cacao nibs over that.  Then carefully (so you don't disturb the nibs) spread the peanut butter filling over that. Then spread a thin layer of the caramel over that.  Then the coffee layer.  Then sprinkle the walnuts over that, then last spread the chocolate layer over the top.  Place in the freezer for about 3-4 hours until well set, then remove from the pan (you may need to run a knife around the sides).
Sprinkle the top of the cake with raw walnuts, raw cacao nibs, and large flake coconut.  Place some of the caramel in a pastry bag and drizzle over the top of the toppings.  Whisk some raw cacao powder into about 2 Tbsp of the remaining caramel (you will most likely have more caramel left over for another use) thinning with a little bit of water if too thick (you want to be able to drizzle it), then place that in a pastry bag (or a ziplock bar with the corner cut off) and drizzle that over the cake.  Enjoy!  Store extra cake in the fridge.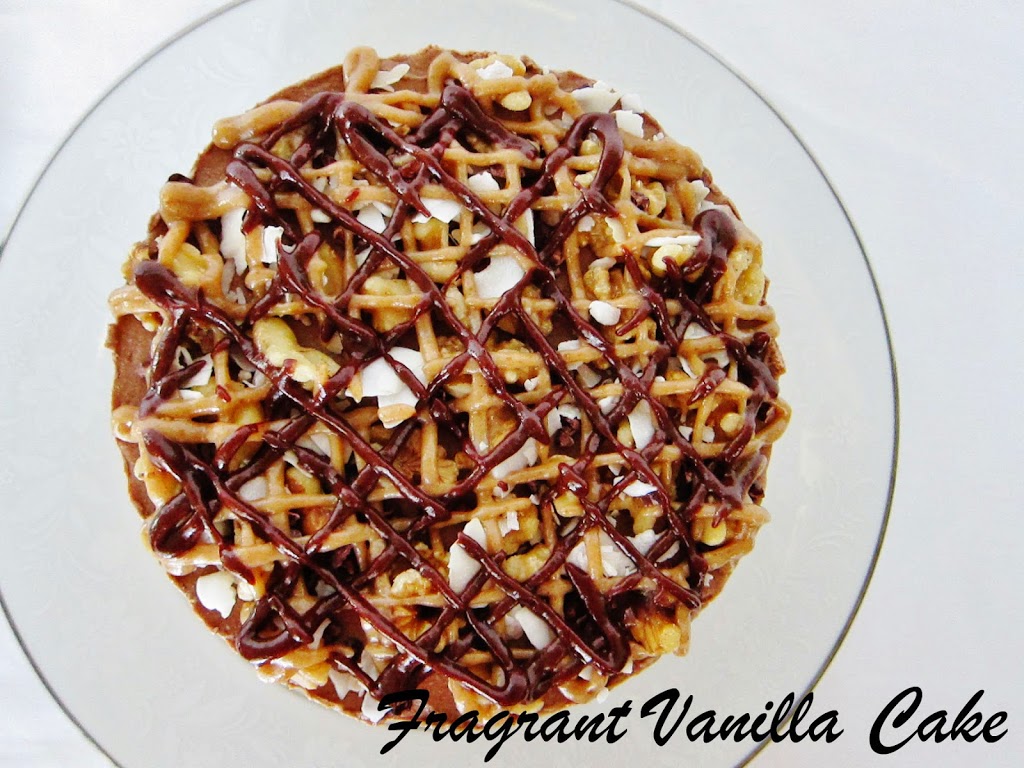 (Visited 72 times, 1 visits today)