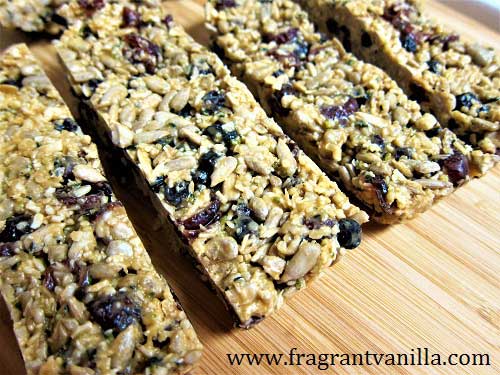 Raw Seed and Fruit Energy Bars
At the deli I work in, we make birdseed bars, and they always smell so good to me while baking, and the ingredients smell good, but they are not vegan.  They have honey in them, and that may not seem like a big deal to some, but it is to me, because once you learn about how the bees are treated in most commercial farms, it is not so appealing, even if it tastes good. You can read about it HERE. Bees are little creatures too, and even if they are insects, they still deserve to be treated with respect and kindness.  After all, they are important for the pollination of many of the crops that we eat!  Anyways, back to those bars.  They always sound good to me, so finally I decided that I needed to make a vegan version at home with my own twists on it.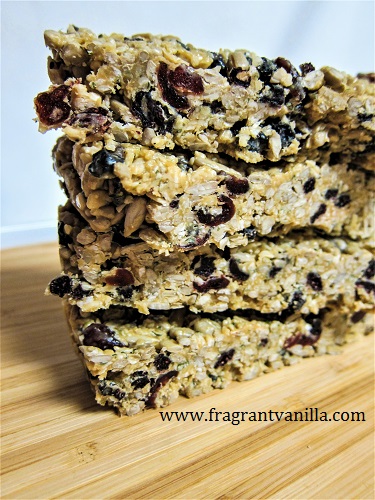 The ones at work have just nuts and seeds in them along with some coconut, but I decided to make these nut free, and add seeds, dried fruit and coconut.  Specifically sunflower seeds and hemp seeds.  Sunflower seeds are high in vitamin E and hemp seeds (which I put in a lot of my meals) are high in healthy omega 3 oils and protein.  For the fruit I added dried cherries and blueberries, because it happened   to be what I had on hand, but they both are high in antioxidants so that is a win! These bars are actually pretty healthy!  For the binder, I used a sunflower butter and coconut oil mixture.  The ones are work use peanut butter, but I wanted these to be nut free.  You can use a nut butter if you prefer though if you do not mind them not being nut free.  The coconut oil served to firm them up, because I wanted these to be no-bake unlike the other ones.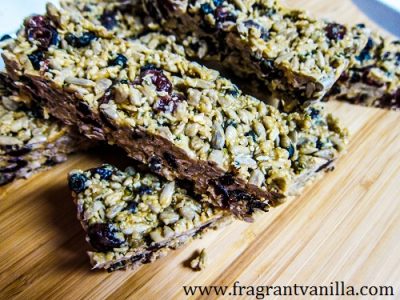 They turned out perfect!  They are sweet, a little salty, crunchy and satisfying.  They are perfect for when you want an unprocessed snack. I am going to give some to Eric to bring along to work, because he likes to bring bars and such, and some of the store bought ones have too many not so good ingredients in them.  If you make these, feel free to play around and add your own favorite dried fruits (just make sure you chop them up small) and nuts, just be sure to use the same proportions.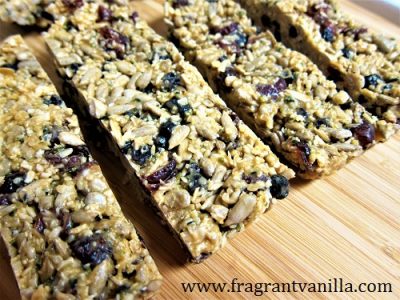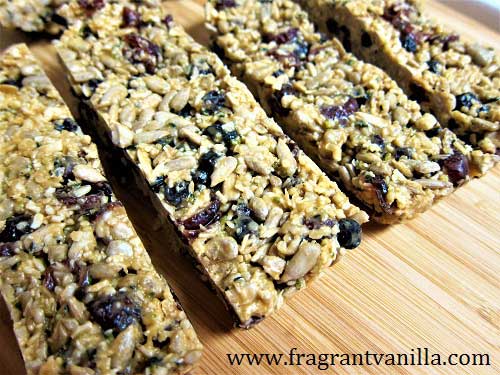 Raw Seed and Fruit Energy Bars
Makes 16
Ingredients:
1 cup raw sunflower seeds
1/2 cup raw shelled hemp seeds
1/2 cup finely shredded unsweetened dried coconut
1/4 cup dried blueberries
1/4 cup dried cherries
1/2 cup raw sunflower seed butter (if not nut free, almond butter can be used)
1/2 cup raw coconut butter or coconut oil, warmed to liquid
1/4 cup maple syrup
1 tsp sea salt
Line an 8x8 pan with parchment.
In a bowl, combine the seeds, coconut, berries, and cherries.
In another bowl, mix together the sunflower seed butter, maple syrup and sea salt until smooth.
Pour the mixture over the other ingredients in the first bowl, and mix until well combined.
Pour into the mixture into the prepared pan, and with oiled hands press into the bottom so that the top is smooth.  Place in the freezer until set, about an hour.  Cut into bars.
(Visited 156 times, 1 visits today)