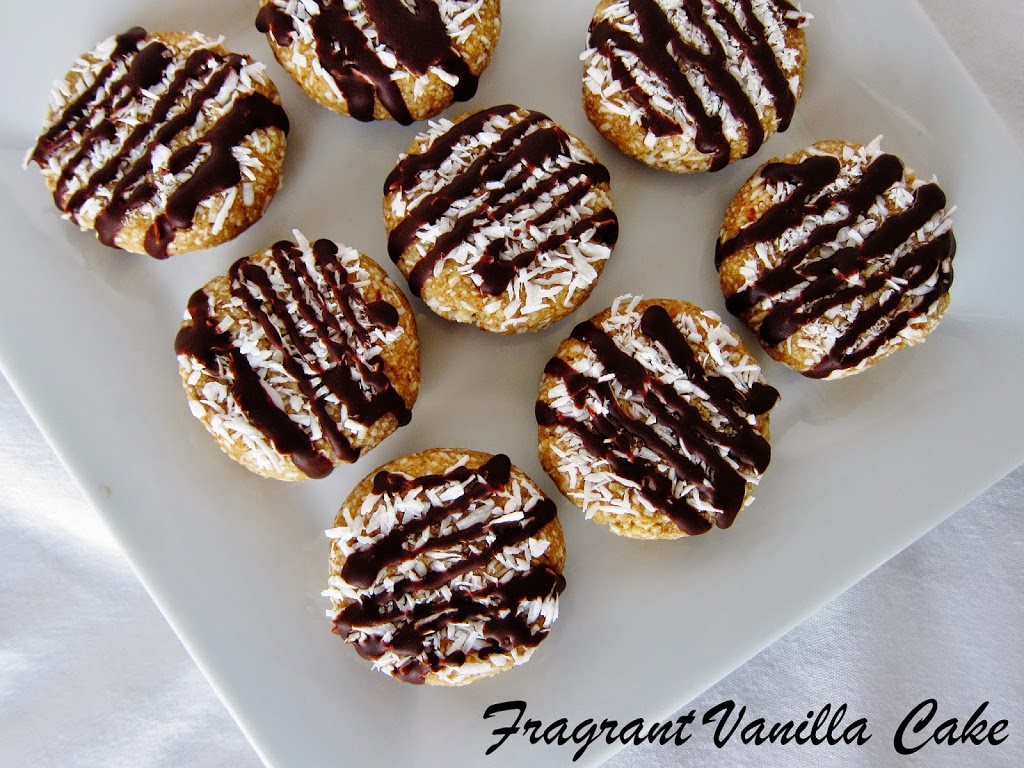 Raw Samoa Macaroons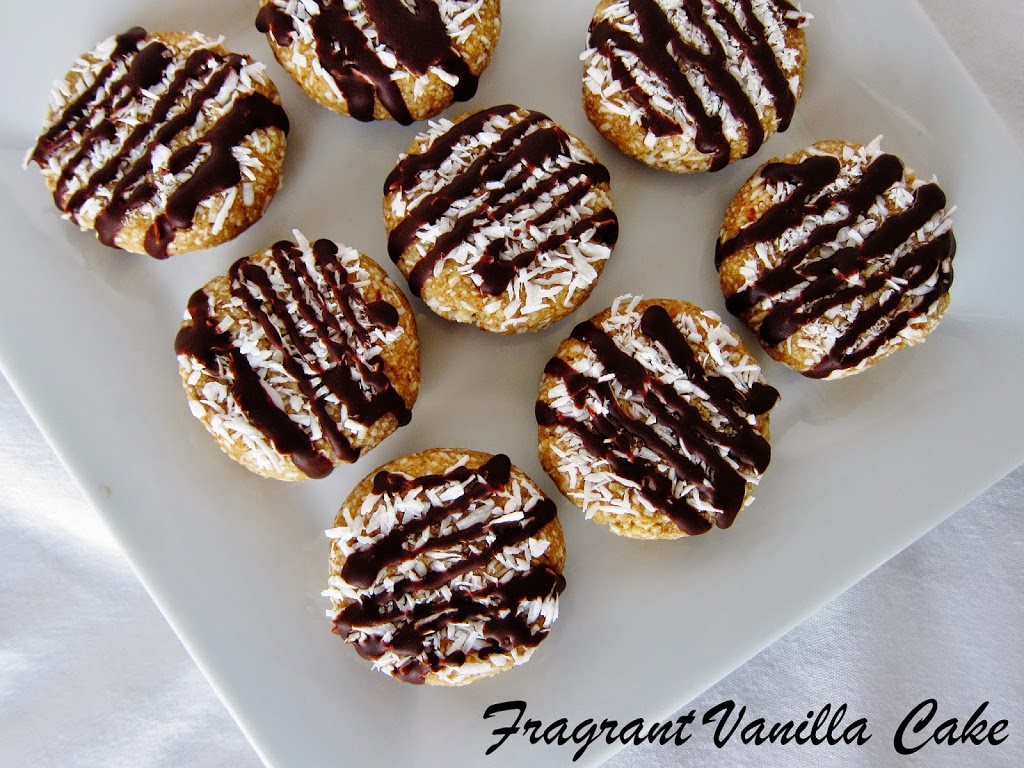 Every where you go practically this time of the year, you hear about buying Girl Scout cookies.  I used to indulge in them myself up until I decided to eliminate refined sugars and transfats from my diet.  Samoas were always my favorite. Don't get me wrong, Thin Mints, and Tag Alongs were a close second, but there was something I loved about the caramel coconut covered chocolate drizzled cookies the most.  I have made a few raw desserts paying homage to what used to be my favorite girl scout cookie in the past, including a Raw Samoa Cheesecake, and Raw Samoa Mousse Bars.
This year, I still wanted to keep with the Samoa theme and make some candy.  Specifically in the form of macaroons.  Because coconut macaroons themselves are so coconutty that they are the perfect flavor background for a Samoa spin off.  I made a "caramel" base using what I call nature's caramel (dates), a dash of vanilla they tasted like heaven.  I added a bit more coconut to make them truely coconut macaroons, then drizzled them with raw dark chocolate like the cookies.
OMG, were these ever yummy!  They tasted like Samoas, but a lot less work to make than to recreate the cookies and no bad stuff like refined sugars or transfats in sight!  The best part is these have few ingredients, and are simple to make.  If you want to make them even easier, you can buy raw dark chocolate and melt that instead of making your own.  With goodies like these, you will not even miss Girl Scout cookies!

Raw Samoa Macaroons
Makes 12
Macaroons:
1 1/2 cups finely shredded unsweetened coconut, divided
1/2 cup pitted soft medjool dates (if they are not soft, soak them in filtered water and drain well before using in the recipe)
1 tsp pure vanilla extract
1/4 tsp sea salt
3/4 cup finely shredded unsweetened coconut
Raw Chocolate:
1/4 cup raw cacao powder
1/4 cup raw cacao butter warmed to liquid (or coconut oil may be used instead)
2 Tbsp raw coconut nectar or maple syrup
pinch sea salt
Place 3/4 cup coconut, dates, vanilla and sea salt in the food processor and process until smooth and well combined. Add remaining 3/4 cup coconut and pulse until the mixture holds together. Form mixture into 12 balls (they will be fragile before dehydrating, so be careful) and stick a clove into the top of each. Place on a dehydrator sheet. Dehydrate for 6 hours or so until firm.
To make the chocolate, whisk together all ingredients until smooth, in a small bowl.  Lay out a piece of parchment, and line up the macaroons on it. Drizzle the macaroons with the chocolate (I like to put it in a plastic bag, and cut off the corner and squeeze it out to drizzle it).  Allow the chocolate to set (which will happen faster if you place them in the freezer for about 5 minutes).  Store extra macaroons in the fridge.
*Note, since dates can vary in softness and moisture levels (depending on if you soaked them or not), if the macaroons seem too dry, add more dates (before adding the last coconut).  If they seem too wet, add more coconut.
(Visited 85 times, 1 visits today)