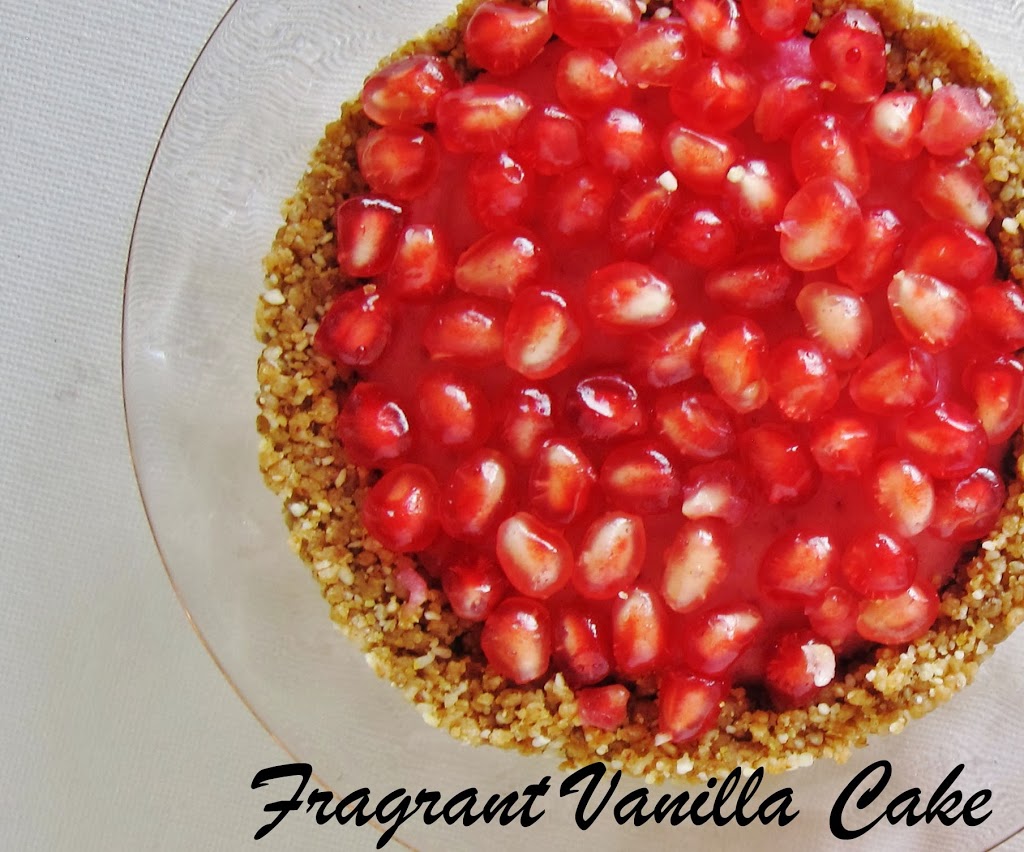 Raw Ruby Tartlettes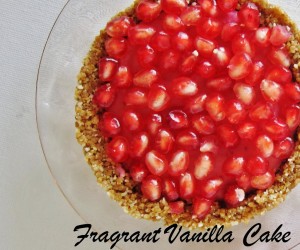 If it would not be a mess to do so, I would make pomegranate arils into jewelry.  They are so beautiful, like nature's rubies, and I always get excited when pomegranate season returns again.  I may not be able to wear them, but I am able to adorn my desserts with them which makes me equally as happy.  They are a beautiful addition to cakes and tarts as a garnish, or even stirred into muffin batter for crunch and pops of flavor.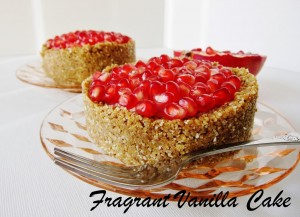 Last weekend, I thought they would be the perfect addition to some already brightly colored tarts I had made containing a cranberry orange curd. I would have loved these as a child with the bright pink filling and sparkling red topping.  I have always been a sucker for all things pink and sparkly. But more importantly besides being beautiful these tarts were yummalicious to say the least.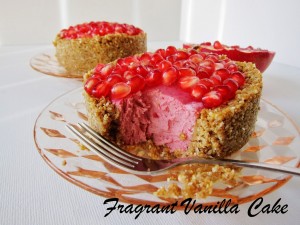 The plain crunchy cookie like crust was the perfect base for the silky, creamy tart yet sweet orange scented cranberry filling and the crunchy little pomegranate arils that sat atop it.  I imagine these would be the perfect finish to an elegant holiday meal!  I felt pretty special simply eating one at the kitchen table in my PJs.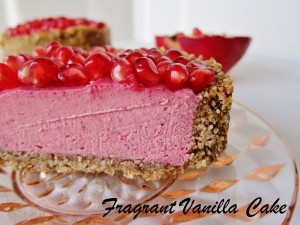 Raw Ruby Cranberry Orange Pomegranate Tartlettes
Makes 2
2 4 inch removable bottom tart pans
crusts:
1 cup finely shredded dried coconut
2/3 cup sprouted, dehydrated buckwheat (or additional coconut)
1/3 cup ground flax seed
1/4 tsp sea salt
1/2 cup soft medjool dates, pitted (soaked in water 30 minutes and drained well if not soft) lemon
curd:
1 tsp powdered agar agar
3/4 cup fresh orange juice
zest of one organic orange
1/2 cup fresh organic cranberries
2 Tbsp raw coconut nectar
1 tsp pure vanilla extract
1/4 cup  raw coconut butter
about 1 cup pomegranate seeds for topping
To make the crust, combine all the ingredients in a food processor and process until finely chopped and starting to hold together.  Press the mixture into 2 4 inch removable bottom tart piled with coconut oil.  Place in the freezer while you prepare the curd.
For the curd, combine all ingredients in a blender and blend until smooth.  Pour into the prepared crusts and place in the fridge for about 4-6 hours or until set and chilled.  Once chilled,  top with the cup pomegranate seeds.  Enjoy!  Store any extra in the fridge.
(Visited 72 times, 1 visits today)