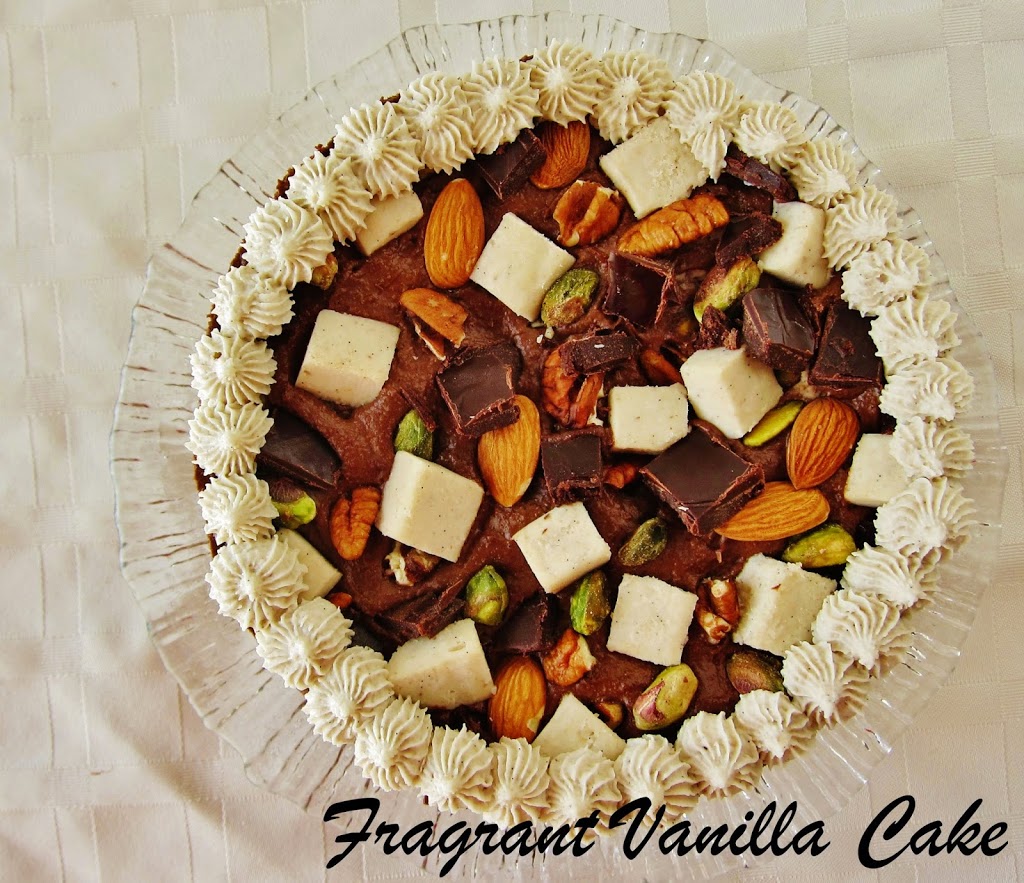 Raw Rocky Road Mousse Cake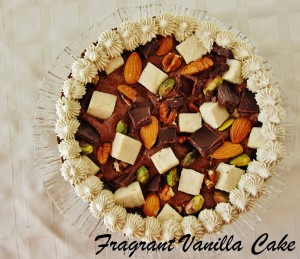 I have never understood those people who feel the need to cast their negativity into other people's lives.  You know, the ones...they are so unhappy with their own lives or insecure that they feel the need to try and make others just as miserable.   I am actually shocked about how much negativity gets posted on Facebook.  I mean, do they really have to post negative comments on other people's stuff?  Does it really make them feel better about themselves?  I think not.  It is unfortunate, and even on my own Facebook page I see it.  I do not tolerate rude un-necessary comments however and I delete them.  If someone thinks my cake is ugly or they do not like the ingredients, that is fine, I am not for everyone to love it (you are entitled to your opinion), but I am asking that people show a little respect for my feelings and keep the negative thoughts to themselves.  I may not agree with what other people post, but I respect their feelings.  I much prefer to only post things when I am going to make someone feel good about themselves and boost their mood. Many of you boost my mood with your beautiful complements and to all of you who are so positive I am grateful.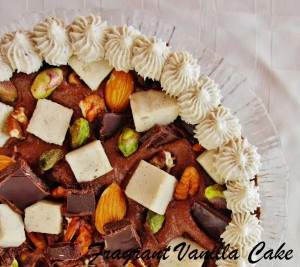 If everyone had a slice of delicious cake shared with them, maybe they would be in a good mood.  Like this Rocky Road Mousse Cake I made yesterday!  It would make anyone happy, especially a chocolate lover.  Studies have shown, chocolate is a mood booster.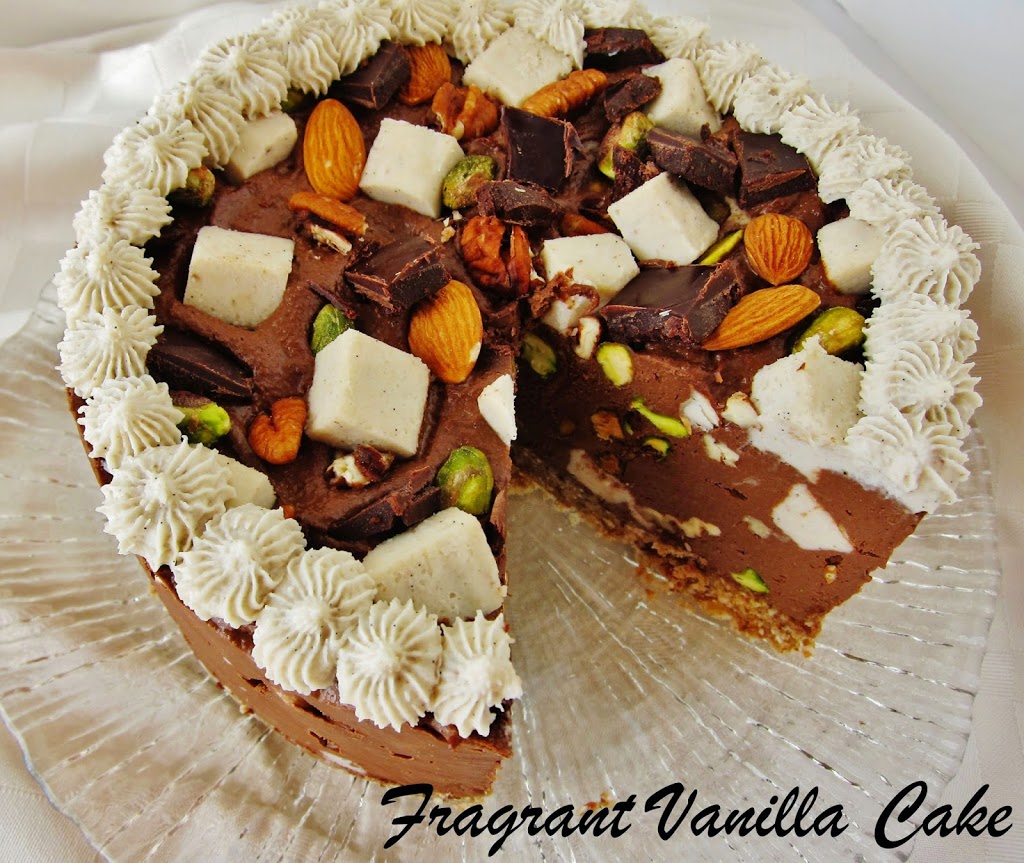 I had made a vegan rocky road tart last year and I thought that a rawified chocolate rocky road cake would be just as wonderful!  I gave it a chocolate mousse base made rich with avocado and coconut, and folded in plenty of nuts, plus raw "marshmallows". Now, I know that they are not real marshmallows, but they worked in this cake perfectly and tasted wonderful, little bites of vanilla surrounded by decadent chocolate.  This was way better than the tart I made last year.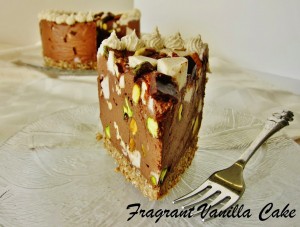 I shared some with my boyfriend Eric, who is a chocolate addict and he much enjoyed it.  This cake and sharing it with someone I love put me in such a good mood.  Honestly, it tastes like bites of heaven. I hope I have boosted your mood and made you happy by sharing the recipe with you!  Hope you all have a wonderful week!
Raw Rocky Road Mousse Cake
Makes one 6 inch cake
Cream topping and marshmallows:
3/4 cup raw cashew pieces (preferably soaked overnight)
1/4 cup coconut water
1 cups fresh young coconut meat (or additional soaked cashews if not available)
3 Tbsp raw coconut nectar
1/4 tsp sea salt
1 teaspoons vanilla and seeds of half a vanilla bean
1/4 cup raw coconut oil (warmed to liquid)
2 Tbsp coconut butter
Crust:
1 cup raw almonds, soaked, skinned and dried
1 cups shredded, dried coconut
1/2 cup sprouted, dried buckwheat (or additional coconut
1/8 teaspoon sea salt
8 soft medjool dates, pitted and chopped
Filling:
1 cup raw cashews (soaked 4 hours at least, drained)
1 cup ripe avocado
1 cup young coconut meat or soaked cashews (drained)
1/4 cup coconut water
1/3 cup plus 1 Tbsp raw coconut nectar
1/4 tsp sea salt
2 tsp pure vanilla extract and seeds from half a vanilla bean (other half reserved for topping)
3/4 cup raw cacao powder
1/4 cup raw coconut oil (warmed to liquid)
1/2 cup chopped raw almonds (soaked and dried)
1/2 cup raw pistachios
1/2 cup raw pecans (soaked and dried)
1/2  cup chopped raw chocolate
To make the topping and "marshmallows", combine the cashews, coconut, coconut water, sea salt, coconut nectar, and vanilla and process until smooth. Add the coconut oil slowly with the motor running (If the mixture starts to separate and clump, the filling is too cold to emulsify the oil, so warm some of it and process again). Divide in half, placing half in a bowl keep half  in the processor.  To the half in the processor, add the coconut butter and process until well combined.  Spread the half with the coconut butter out on a piece of foil about 1/2 inch thick.  Place the bowl and foil in the freezer, the frosting for about 30-45 minutes until it firms up to frosting consistency and the "marshmallows" on the foil until they are hard enough to cut into marshmallows (about an hour). Once the frosting is frosting consistency, move to the fridge until ready to use.  Once the marshmallows have hardened enough to cut, cut into small marshmallow sized pieced with a knife, and keep in the freezer until ready to use.
 Meanwhile, for the crust, combine the almonds, coconut, and buckwheat in a food processor and process until crumbs. Add the sea salt and dates and process until the mixture starts to come together when squeezed. Press into the bottom and up the sides of a 6 inch springform pan, sprayed with non-stick coconut oil spray. Place in the freezer while you prepare the filling.
For the filling, combine cashews, coconut,  avocado, coconut nectar, sea salt, vanilla and cacao powder in a food processor and process until smooth. With the motor running, slowly add the coconut oil and process for a minute. Stir in marshmallows, nuts and coconut.  Pour into the prepared crust, and place in the freezer to firm up, about 2-3 hours or so.
Once the filling has set, place the topping in a pastry bag and pipe decoratively around the edges of  the cake. Serve! Store extra in the fridge.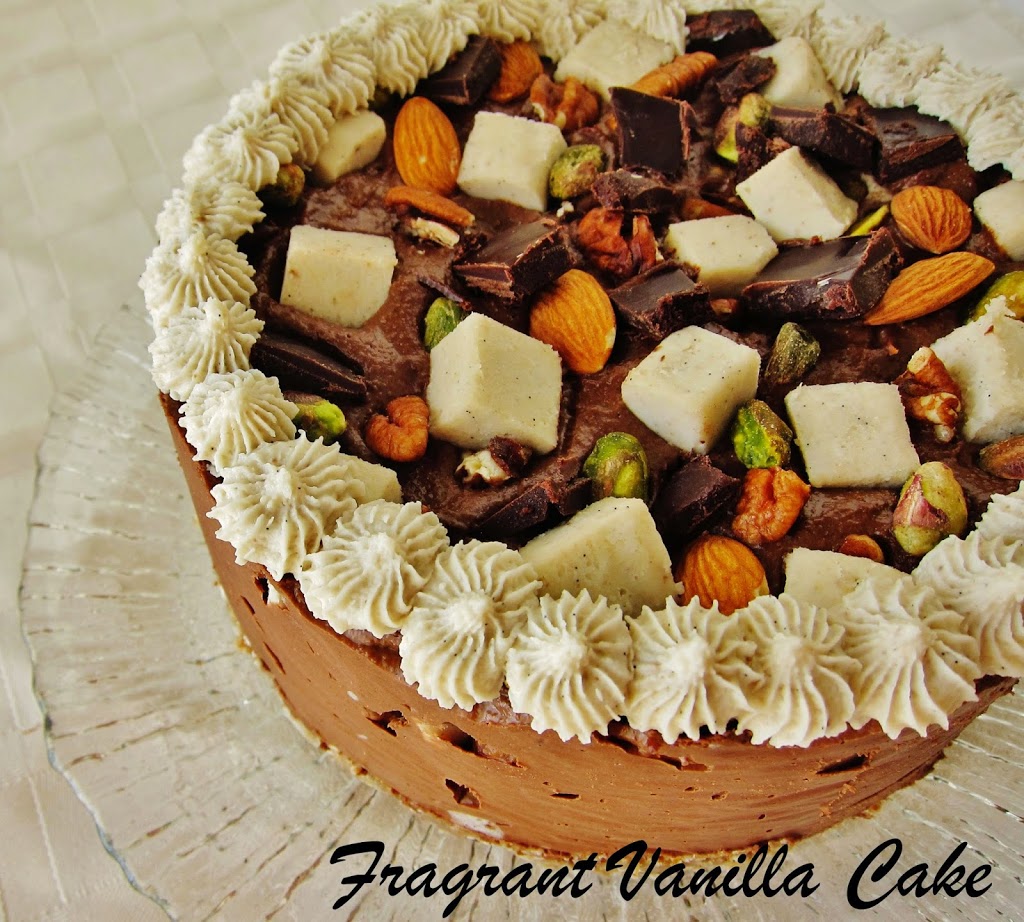 (Visited 64 times, 1 visits today)