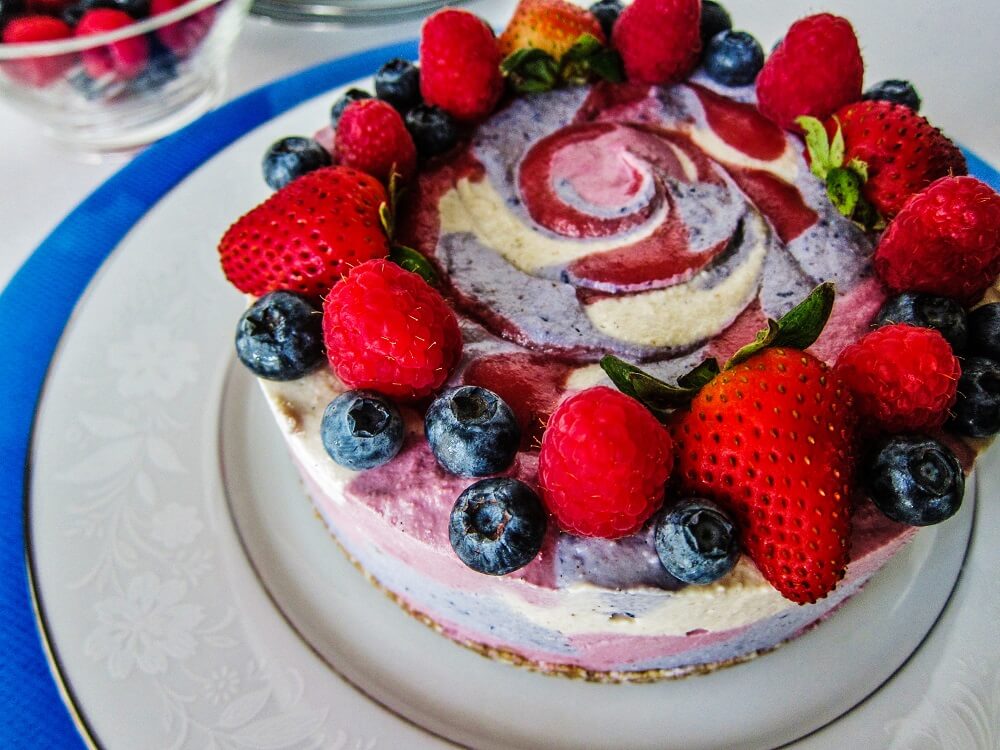 Raw Red White and Blue Dream Cake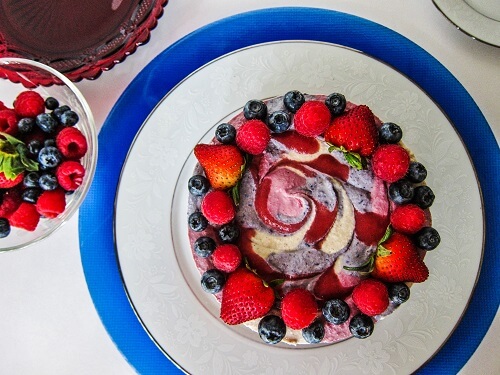 When I was a kid, I can remember going up to my grandparent's cabin one year for the 4th of July, spending the day outside, having hot dogs and potato salad, and watching fireworks at night.  One of my favorite parts of the whole thing though, was my Mom's red, white and blue dessert.  It had strawberries, raspberries and blueberries on top and was frozen with a creamy base.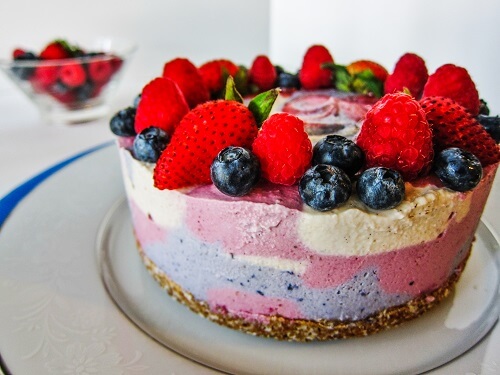 My 4th of July as an adult is way more low key.  I usually work, and maybe go see fireworks at night, because it is tradition and who sleeps through them anyhow?  But one thing that is the same is I have to make a red, white and blue dessert like my Mom did. This year, I thought a beautiful swirled red, white and blue cheesecake would be perfect!  I had a lot of strawberries, blueberries and raspberries in my fridge just begging to be used.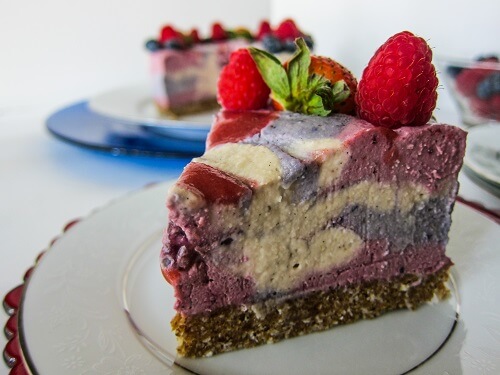 My favorite raw dessert is a cheesecake with berries, so I was quite excited and for good reason.  It turned out simply heavenly!  I admit most of it is gone and it is not technically the 4th, but I enjoyed it on my weekend which is good enough for me!  Hope you all have a wonderful 4th of July!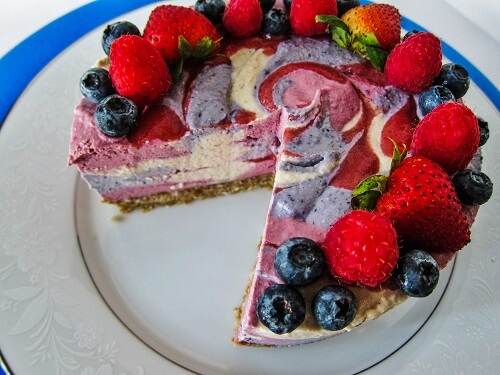 Raw Red White and Blue Dream Cake
Makes one 6 inch cake
Crust:
1/2 cup raw almonds
1/2 cup sprouted buckwheat, dried in the dehydrator (or additional coconut or pistachios)
1/2 cup dried finely shredded coconut
1/8 teaspoon sea salt
10-12 soft medjool dates, pitted and chopped
Filling:
1 1/2 cups raw cashews (preferably soaked overnight and drained)
2 cups young coconut meat (or additional soaked cashews if unavailable)
1/2 cup coconut water
1/2 cup raw coconut nectar or maple syrup
1/2 cup plus 2 Tbsp raw coconut oil (warmed to liquid)
1/2 teaspoon sea salt
1 Tbsp pure vanilla extract and seeds from half a vanilla bean
1/2 cup fresh organic raspberries and strawberries
1 inch piece red beet
1/2 cup fresh organic blueberries
Red Berry Swirl:
1/2 cup fresh organic raspberries and strawberries
2 soft medjool dates, pitted
Instructions:
Lightly coat a 6 inch spring form removable bottom pans with coconut oil.
To prepare the crust, process almonds, buckwheat, coconut and sea salt in a food processor until the nuts are fine crumbs, then add the dates and process until the mixture holds together when squeezed between your fingers (if not holding together, add more dates). Firmly press crust into the bottom of the prepared pan, and set aside.
To make the filling, drain the cashews and combine them with coconut, coconut water, coconut nectar, sea salt and vanilla in a food processor and blend until smooth and creamy. With the processor running, add the coconut oil, and process for a minute until blended. Remove the filling from the food processor and divide into 3 bowls.
Place one back into the food processor and add the 1/2 cup raspberries and strawberries. and beet.  Process until smooth and uniform in color and place back in the bowl.
Add the second bowl to the food processor and 1 /2 cup blueberries.  Process until smooth and place back in the bowl.
To make the red berry swirl, puree 1/2 cup strawberries and raspberries in the food processor with 2 dates until smooth.  Remove from the food processor and set aside.
To assemble cheesecake, drop the different colors of filling over the crust by the Tbspful and the swirl by the teaspoonful and when they are all used up tap the bottom of the pan on the counter to level.
Swirl with a knife starting at the outside of the circle and working your way in in a spiral fashion.
Place the cheesecake in the freezer to firm up for about 4 hours until set before un-molding. Store leftover cake in the fridge.
(Visited 61 times, 1 visits today)