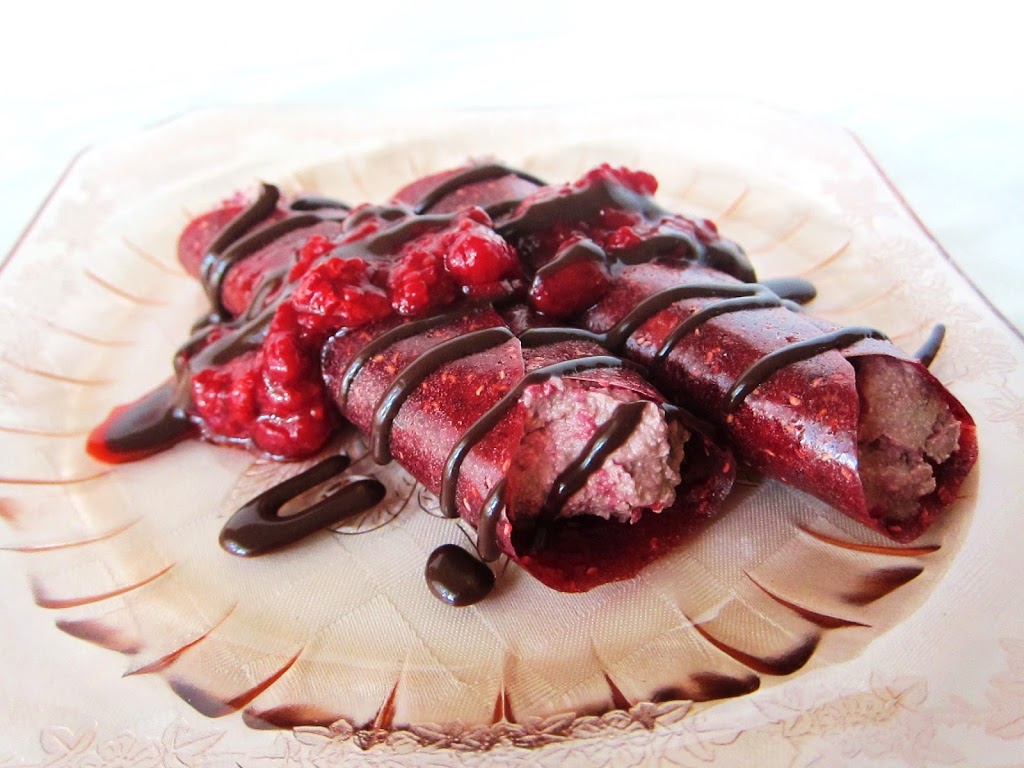 Raw Red Velvet Raspberry Chocolate Crepes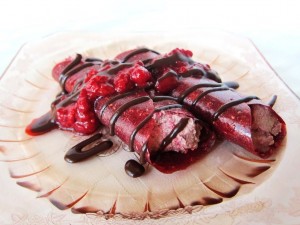 I am really looking forward to fall...running through the crunchy leaves, warm cozy sweaters, beautiful sunsets...they are all some of my favorite things.  But I will miss raspberry season!  Good thing I will have pumpkins and apples to keep me happy.  No, but seriously I love raspberries, and if I had to pick a favorite berry, the raspberry definitely wins.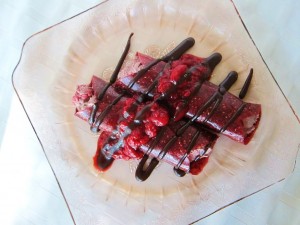 I have been indulging in as many of them as possible before the price goes sky high in the fall, and they are no longer in season.  Last weekend was no exception.  When I saw them on sale at the store, you bet I pounced on them and bought a bunch! Although I simply ate a few unadorned, I decided to make something a little more elegant with them as well.  Some Raw Red Velvet Raspberry Chocolate Crepes!  They were lovely, but more importantly delicious.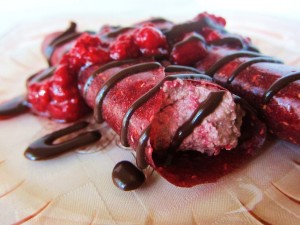 I made a simple crepe batter of raspberries, banana and a touch of lemon juice and all I needed to do was dehydrate them for a bit and voila!  Perfect beautiful red crepes fit for a decadent chocolate raspberry coconut cream filling! A little fresh raspberry sauce, some rich dark chocolate sauce, and I had quite the heavenly dish!  I could have eaten them all myself, but I was nice and shared half.  If you want to make yourself feel really special, make some of these...they will send you to your happy place!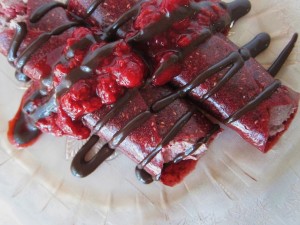 Raw Red Velvet Raspberry Chocolate Crepes
Makes Two Servings
Raw Crepes:
1 ripe organic banana
6 oz organic raspberries
1 Tbsp lemon juice
1 tsp raw coconut nectar or maple syrup
Cream:
3/4 cup raw cashew pieces (preferably soaked overnight)
1/2 cup coconut water
3/4 cup fresh young coconut meat* (or additional soaked cashews if not available)
2 tablespoons raw coconut nectar or maple syrup
1 teaspoon pure vanilla extract and seeds of half a vanilla bean
3 Tbsp raw cocoa powder
1/4 cup raw coconut oil (warmed to liquid)
Fruit:
1 cup organic raspberries, divided
1 tsp lemon juice
1 Tbsp raw coconut nectar or maple syrup
Chocolate Sauce:
2 Tbsp raw cocoa powder
2 Tbsp raw coconut nectar or maple syrup
2 tsp coconut oil
1 tsp pure vanilla extract
To make crepes, combine all ingredients in a food processor and process until blended. Pour into 4 circles on a teflex lined dehydrator sheet, and spread thin. Dehydrate for about 8 hours or until no longer wet and tacky, but still plyable. Remove from dehydrator and set aside.
To make cream, drain cashews and blend all ingredients until smooth in a food processor, and set in the freezer about 30 minutes until a frosting consistency. 
Meanwhile, to make the raspberry sauce puree 1 cup raspberries with lemon juice and nectar until smooth and set aside.
Fold the remaining 1/2 cup raspberries into the chocolate cream. 
To make the chocolate sauce, whisk together the cocoa powder, nectar, coconut oil and vanilla (if too thick add a little more agave nectar, if too thin add a little more cocoa powder).
To assemble, place a crepe on your work surface then top with 1/4 of the cream filling. Roll it up, and place on a serving plate. Repeat with another crepe, and place on the same plate.  Repeat with the other two and place on another plate.  Drizzle the crepes on each plate with the raspberry sauce, and then the chocolate sauce.  Serve!
(Visited 58 times, 1 visits today)