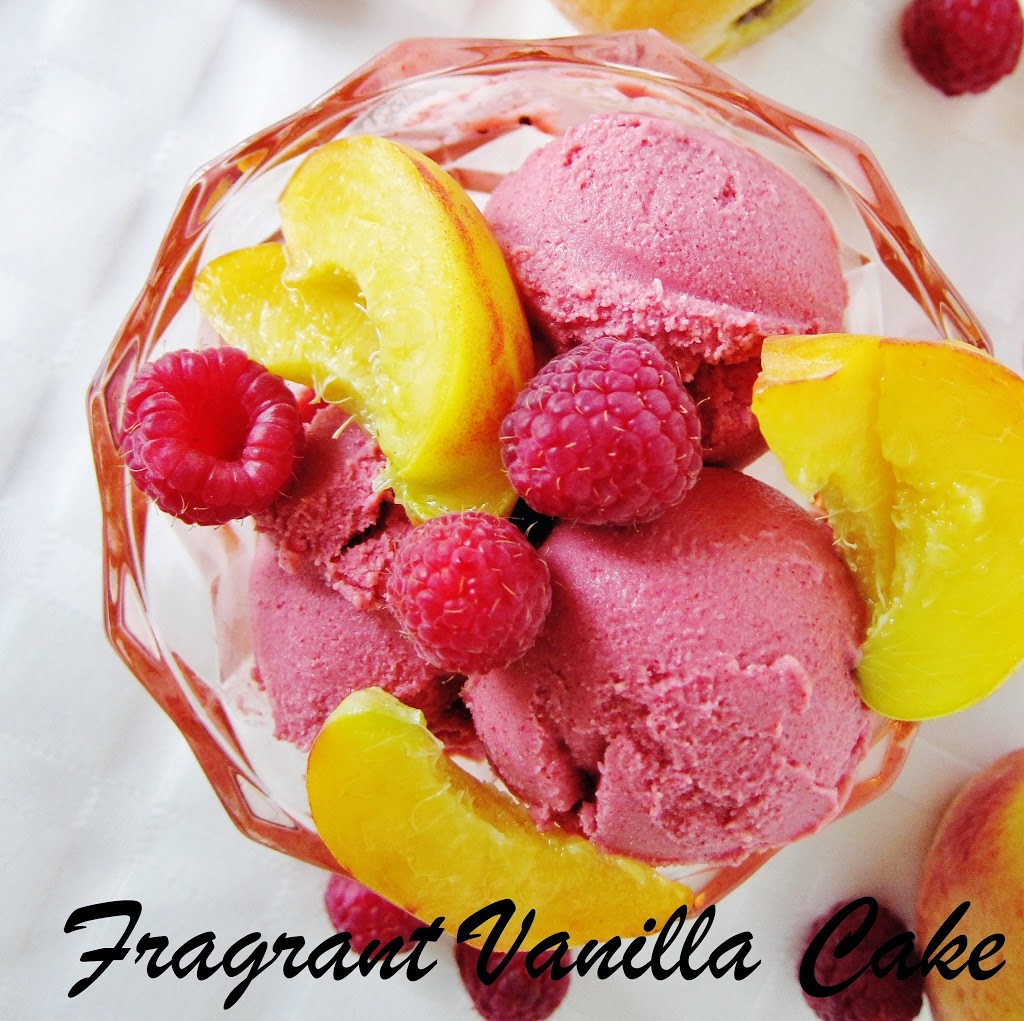 Raw Raspberry Peach Frozen Yogurt
Before I gave up dairy, I used to eat 2 or more cups of yogurt (especially Greek yogurt) a day. I loved the stuff, topped off with fruit it was one of my favorite things. Little did I know it was what was making my stomach so gassy, bloated and unhappy. When I stopped eating dairy I discovered my tummy was a lot happier, and although I loved yogurt, I did not love it enough to go through the negative symptoms it gave me to eat it. When I discovered I could make my own coconut yogurt though, I could not have been happier!
If you have not tried making your own coconut yogurt, you are missing out. It is like Greek yogurt, but more delicious (since I make mine thick). The best part is it is very simple, and all you need are young coconut meat and good quality probiotics. I have a recipe for it below, in my favorite flavor, raspberry.
I was enjoying some of my delicious yogurt when I began to think about how good it would be as frozen yogurt. I know it is not summer yet, but I don't care. I love all types of ice cream year round and nobody can stop me from enjoying it!
So I whipped up a batch of fro-yo with my raspberry coconut yogurt, and added in some organic peaches I had on hand to make it even more delicious! It was so sweet on its own it hardly needed any sweetener. Once it was all frozen and I was enjoying it, I could not help but think this raw fro-yo was the best fro-yo I have ever tasted!
I enjoyed every last bit good. I am going to have to experiment with more flavors of fro-yo this summer!
Raw Raspberry Peach Frozen Yogurt
Makes about 3 cups

1 batch Raw Raspberry Coconut Yogurt (recipe follows)
1 cup organic peaches
1 tsp pure vanilla extract
stevia to taste (or your choice liquid raw sweetener)
In a high speed blender, combine all ingredients and blend until smooth. Pour into an ice cream maker and process according to directions. If your frozen yogurt is firm enough, enjoy right away, but if it is a little too soft, place in a container in the freezer for a few hours before serving. This is best made the day it is made, because it freezes pretty hard, but if you are enjoying it the next day you can always let it sit out 30 minutes before serving to soften. Store in a container with a lid in the freezer.

Raw Raspberry Coconut Yogurt
Makes about 3 cups

4 cups coconut meat (approximately the meat from two young coconuts)
coconut water as need to reach desired consistency (approximately 2 cup more or less if you want it thinner or thicker)
1 teaspoon powdered probiotics (you can open capsules and use those)
2 cups organic raspberries*
In a high speed blender, combine the coconut meat and water and blend until smooth. Stir in the probiotics and place in a covered bowl in a warm place for 8-16 hours or until it reaches the tangyness you like. I let mine sit for about 12. Puree the raspberries in a blender and stir in. Chill and enjoy!
*Note, I like my yogurt unsweetened, but if you want your yogurt sweeter you can add some liquid raw sweetener such as raw coconut nectar along with the raspberries.
**If you want plain yogurt, omit the raspberry step.
(Visited 64 times, 1 visits today)