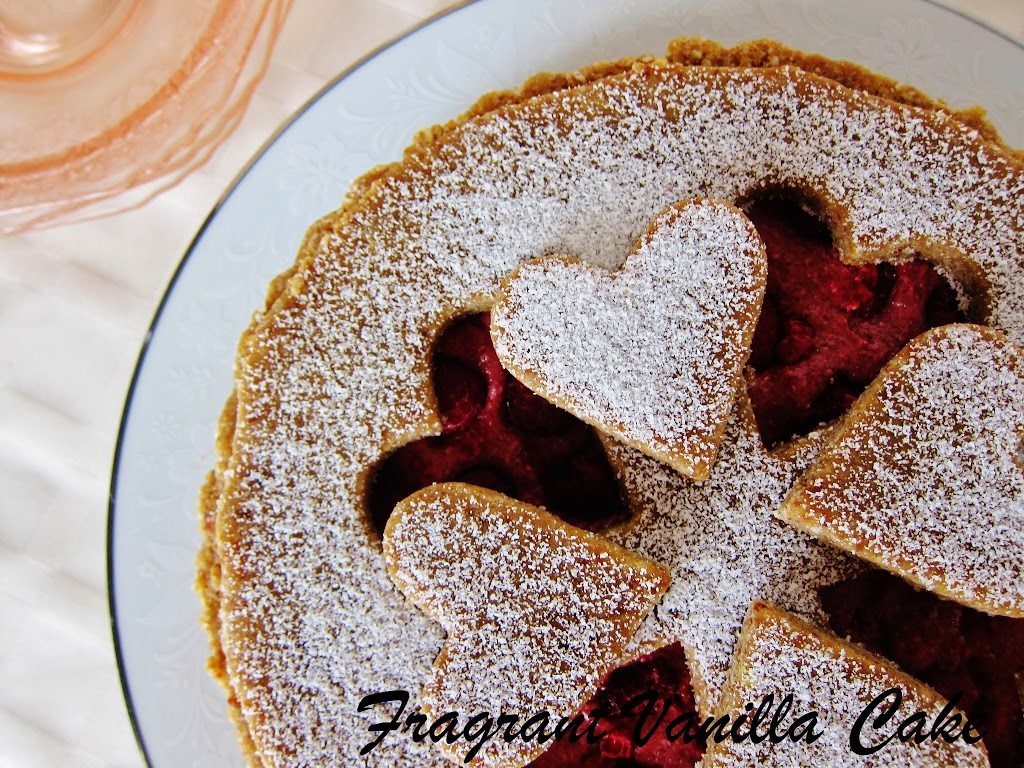 Raw Raspberry Linzer Torte
I have always loved the look of a Linzer Torte, so inviting with jammy raspberry filling peaking through the buttery dough and topped off with a dusting of powdered sugar.  But sadly, I have never made one.  I made linzer cookies once, and they were delicious but not quite the same.  I decided that it was about time I made one, and a rawified version!  After all, it is the perfect time of the year with Valentine's Day coming up...a wonderful excuse to use raspberries in a recipe (which I am missing since it is winter here in Minnesota).
I created a dough soft enough to roll out and cut shapes out of because I wanted to cut little hearts into the top instead of the usual lattice.  I created a jammy filling with tart sweet raspberries and I knew this was going to delicious!  No need to dehydrate, which was a plus since I was getting so hungry for this tart as I was making it.  A dusting of coconut "powdered sugar" to complete it and it was time to dive in!  Dive in I did as well, going back for seconds for this heavenly tart!  I think it would be perfect to serve to your honey on Valentine's Day if they are a raspberry lover or would like an alternative to all of the chocolate.
Raw Raspberry Linzer Torte
Makes one 8 inch tart
Crust:
2 cups finely shredded dried coconut
1 cup ground flax seed
1 1/2 cups buckwheat groats, sprouted and dehydrated (or additional coconut)
1/2 tsp sea salt
1 cup soft medjool dates, pitted (if not soft, soak them until they are and drain them)
1 ripe banana, mashed
Coconut powdered sugar for dusting
Filling:
5 cups organic raspberries
3/4 cup plus 2 Tbsp chia seeds
a pinch sea salt
1/4 cup raw coconut nectar
4 medjool dates, pitted
1 tsp pure vanilla extract
1 Tbsp lemon juice
For the crust, combine all ingredients in a food processor and process until fine crumbs and starting to hold together when squeezed.  Add the banana and blend until incorporated.  Press 2/3 of the mixture into the bottom of a 8 inch removable bottom tart pan lined at the bottom with parchment, and place in the fridge.   Roll out the other 1/3 of the dough, and cut out to the size of the tart in a circle.  Cut 4 hearts into it.  Set the crust dough aside in the fridge to chill, and top the circle of dough with the cut out hearts in between the cut outs of the hearts. Dust the circle top with coconut "powdered sugar". Be careful not to touch the top of it when working with it (because it leaves finger prints). Let chill in the freezer while you make the filling.
Add 4 of the cups of raspberries to a high speed blender or food processor with the chia seeds, sea salt, coconut nectar, dates,  and vanilla, and lemon juice and process until smooth.  Stir in the remaining cup berries.  Pour the mixture into the tart crust and spread to the sides then carefully place the circle of dough over it (taking care not to disturb the coconut sugar),
Place in the fridge.  Let the pie sit in the fridge for 1 hour to allow flavor to develop and filling to set and then serve!
*To make coconut powdered sugar, buzz 1/2 cup finely shredded dried coconut in a blender until it becomes a powder.
(Visited 141 times, 1 visits today)