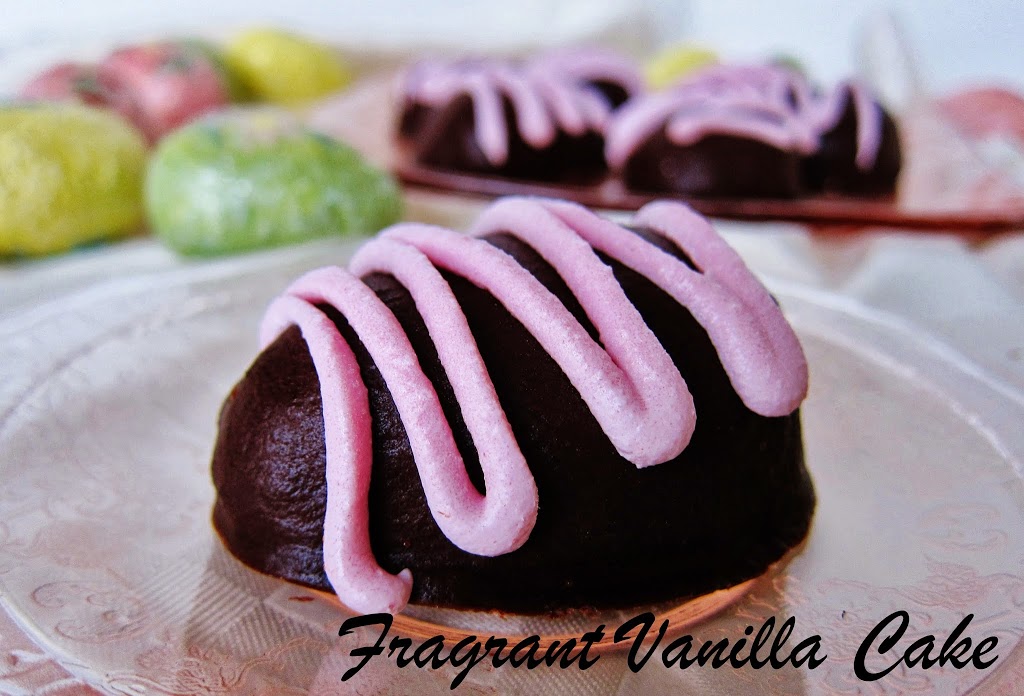 Raw Raspberry Cream Eggs
I made Raw Peanut Butter Eggs so, I thought it was only right that I make Raw Raspberry Cream Eggs as well.  Because as I am concerned, they are equally as delicious (or at least they were when I was a kid). Plus I know some of you may not be peanut butter people, so these will be right up your alley if you enjoy fruit and chocolate.  I was always excited to find raspberry cream eggs in my Easter basket, they were like biting into sweet raspberry pillows covered in decadent chocolate.  It was something my five year old self would look forward to every year.  And, I am happy to say, this raw version is even better.
I wanted to make them simple, and all you need to be able to do is whisk to make these, no cracking open Thai coconuts required since I used coconut butter to make them creamy. The filling for these is simply heavenly.  Yes, you should dare to taste it as you make them as a treat to yourself (I had quite a few samples).  Once they are finished they are even better.  The dark chocolate with the sweet, creamy raspberry filling is out of this world.  Do yourself a favor this year and take some time to make yourself some of these...you will be happy you did, as will those you share with!
Raw Raspberry Cream Eggs
Makes 10
1 1/2 cups raw coconut butter (not oil) warmed to liquid
1/4 cup raw coconut nectar, or maple syrup
2 tsp pure vanilla extract
1 tsp rosewater (optional)
1 cup pureed organic raspberries
1 tsp beet powder
a pinch sea salt
1 1/2 cups raw dark chocolate chunks, or chopped raw dark chocolate
Drizzle:
1 tsp pure vanilla extract
2 tsp raw coconut nectar, or maple syrup
A pinch sea salt
a pinch red beet powder
2-3 Tbsp filtered water, or as needed
Note: all ingredients in this recipe must be at room temperature or warmer or when you mix them together they will clump up.  Whisk together all ingredients until well combined, and scoop out the mixture by the mounded Tbsp (so it will be about 2 Tbsp each) onto a foil lined tray.  Once they are all scooped out, place in the freezer for a few minutes to take away the sticky-ness on the outside, then shape each mound with your hands into little eggs (they do not need to look perfect, mine didn't).  Place in the freezer for 30 minutes at least to harden.  Meanwhile, melt the dark chocolate in a bowl (I like to place mine in the dehydrator until it melts).  Set the bowl next to the tray of eggs.  Dip each one into the chocolate and place back on the tray (I use a fork and set the chocolate on it before dipping).  Place the tray of chocolates back in the freezer once they are all dipped for a few minutes to set the chocolate.  Meanwhile, to make the drizzle, whisk together all ingredients, adding a little water at a time (1 Tbsp) until it reaches glaze consistency.  It will be clumpy at first, but it will smooth out.  Drizzle over the eggs (I put it in a ziplock bag, and cut the corner off and squeezed it out).  Place in the freezer again for about 10 minutes to set, then enjoy!  Store extra in the fridge.  

(Visited 431 times, 1 visits today)