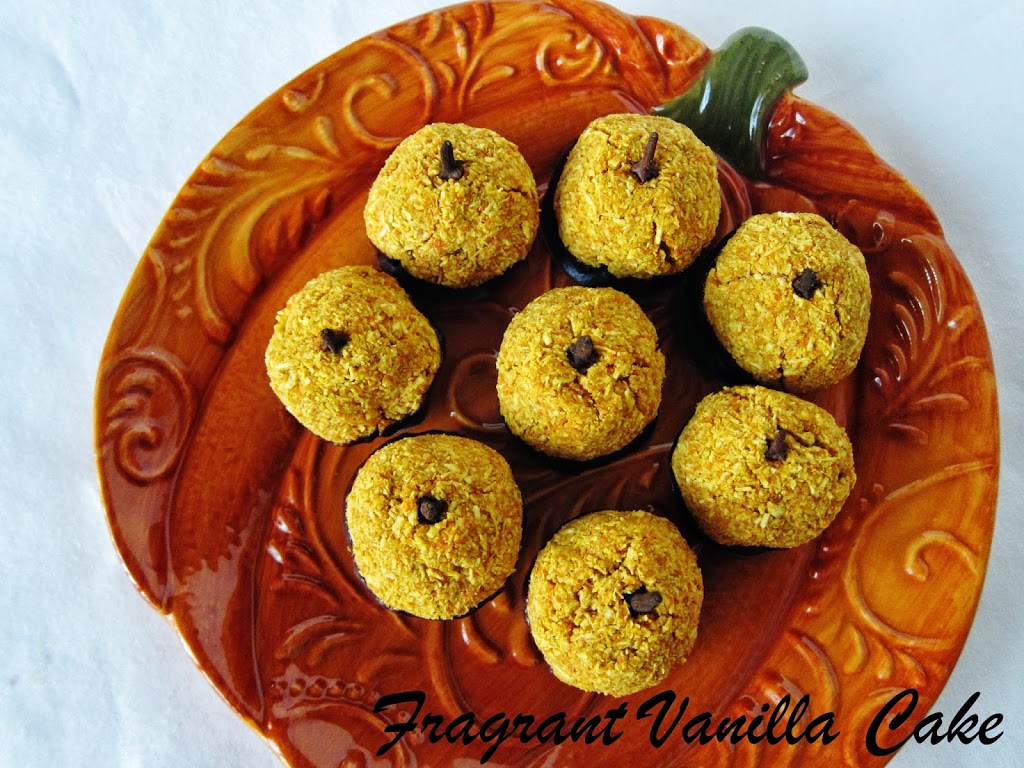 Raw Pumpkin Spice Coconut Macaroons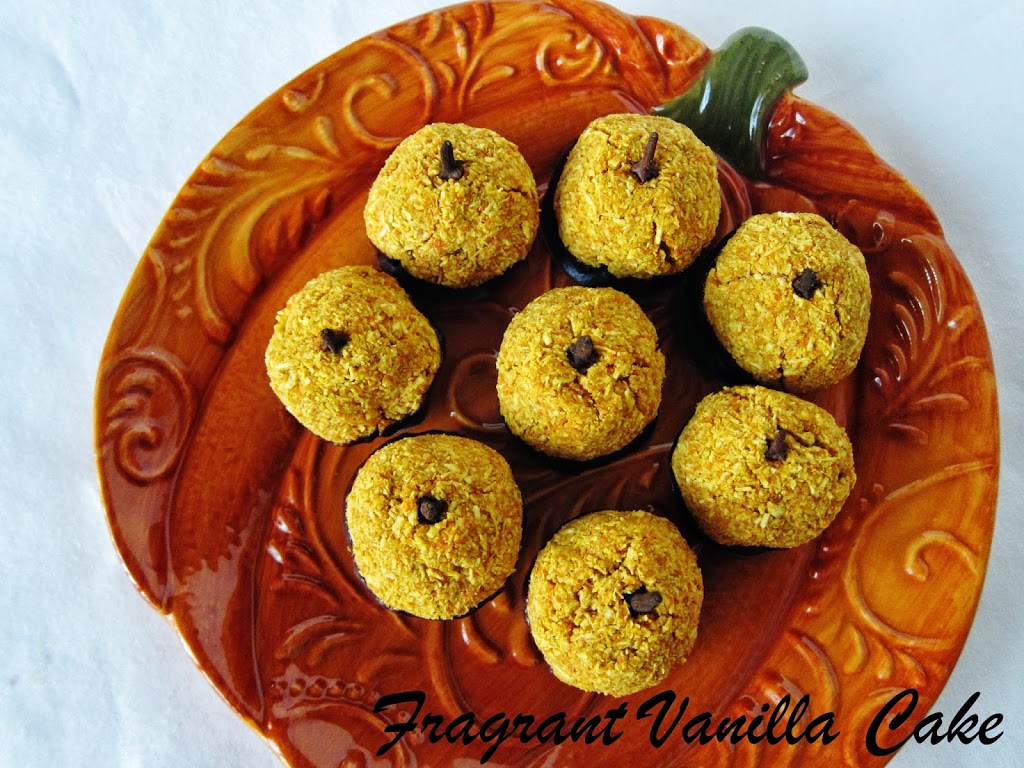 One of my readers suggested a while back when I posted an Raw Apple Cinnamon Macaroon  recipe that I make some pumpkin spice ones.  I loved the idea, and I finally got around to making them last week!  I love coconut macaroons, as does my Mom, so I know if I make some I will be able to share them with her because they are one of her favorites. If I haven't made them in a while, she often asks for them in fact.  For the pumpkin spice macaroons, I made my classic coconut macaroon recipe with the addition of raw pumpkin, and my favorite pumpkin pie spices which includes ginger, cinnamon, nutmeg, and cloves.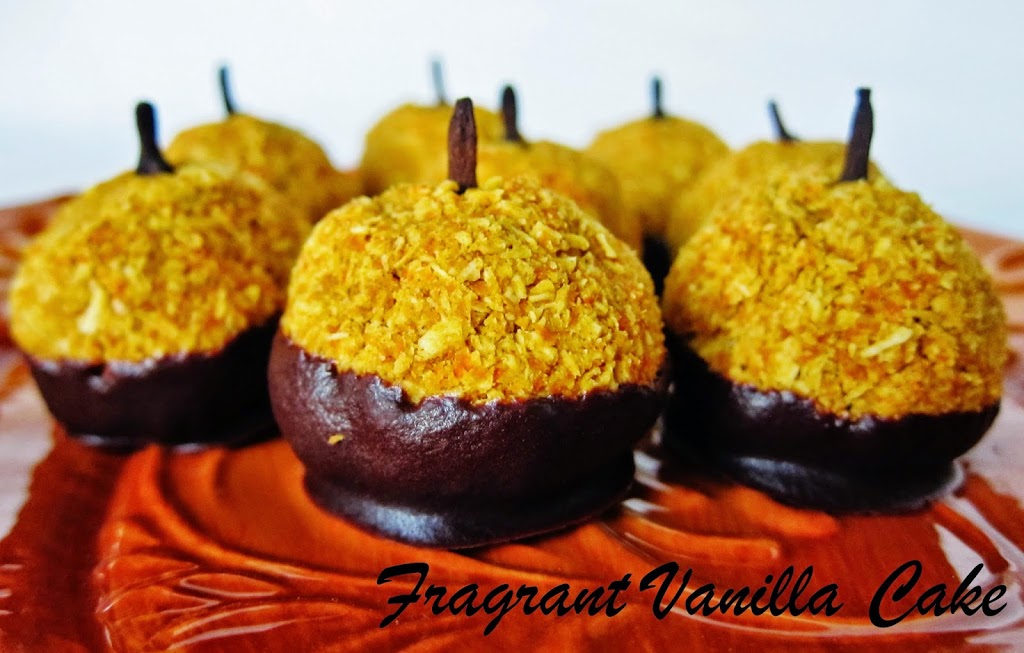 I thought I would make them appear like little pumpkins as well, sticking a clove in the top as a stem.  They had to be dehydrated because the pumpkin was moist, which was a bummer because I wanted to try one right away...but the leftover bits of macaroon dough were amazing so it was ok.  Once they were firmed up in the dehydrator, I decided that they needed to be dipped in chocolate as well, because that is how I like my macaroons.  They were little bites of deliciousness, like pumpkin pie and coconut macaroons had a baby!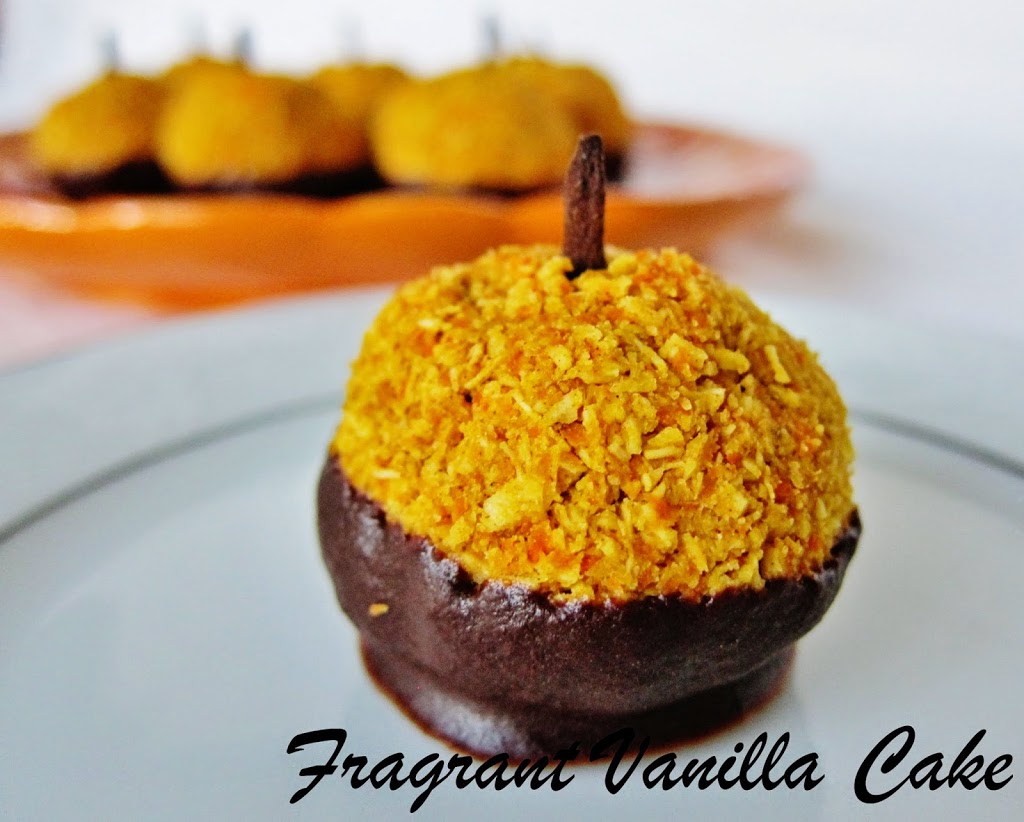 Raw Pumpkin Spice Macaroons
Makes 12
Macaroons:
3/4 cup finely shredded unsweetened coconut
1 Tbsp raw coconut butter, warmed to liquid
1 large shredded raw pumpkin*
2 tsp cinnamon
small chunk fresh ginger (about 1 tsp)
1/4 tsp cloves
1/4 tsp nutmeg
a pinch of sea salt
1/4 cup raw coconut nectar (or maple syrup or your choice liquid raw sweetener)
2 cups finely shredded unsweetened coconut
12 cloves
Raw Chocolate:
1/4 cup raw cacao powder
1/4 cup raw coconut oil warmed to liquid
2 Tbsp raw coconut nectar or maple syrup
pinch sea salt
Place 3/4 cup coconut, carrot, cinnamon, ginger, cloves, nutmeg, and sea salt in the food processor and process until well combined. Add the nectar and process until the mixture holds together. Add coconut and pulse until the mixture holds together. Form mixture into 12 balls (they will be fragile before dehydrating, so be careful) and stick a clove into the top of each. Place on a dehydrator sheet. Dehydrate for 6 hours or so until firm.
To make the chocolate, whisk together all ingredients until smooth, in a small bowl.  Lay out a piece of foil, and dip the bottom of each macaroon into the chocolate, then set it on the foil.  Allow the chocolate to set (which will happen faster if you place them in the freezer for about 5 minutes).  Store extra macaroons in the fridge.
*You can also use raw sweet potato, squash, or carrot in this recipe and it will taste the same.
(Visited 45 times, 1 visits today)