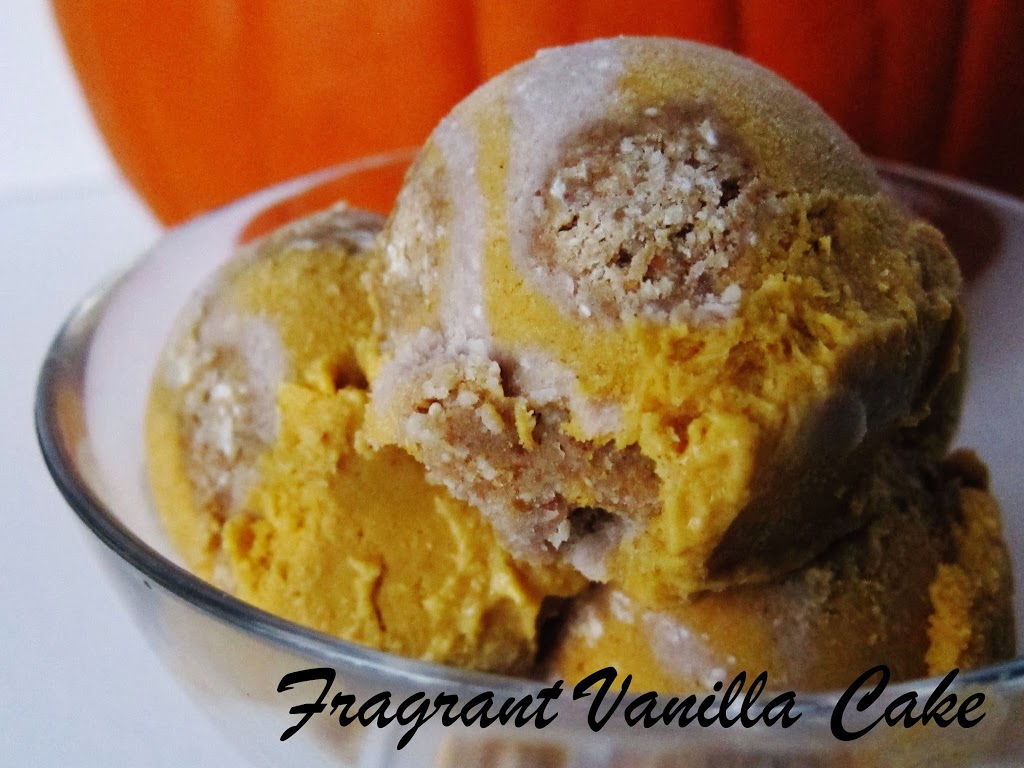 Raw Pumpkin Pie Ice Cream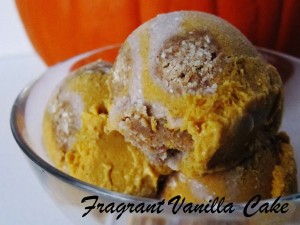 I can remember being at my grandmother's house on Thanksgiving as a child getting ready for dessert.  The pies would all be lined up...pecan, apple and pumpkin, and the can of ready whip would be set next to them.  I would always have a little of each, and I admit, the pumpkin was never my favorite.  Probably because it was store bought, and it needed that ready whip to spruce it up.  As an adult however, my views have changed since I have began making my own pies.  I enjoy the pumpkin as much as the rest, especially when it is raw pumpkin pie with vanilla coconut cream atop it.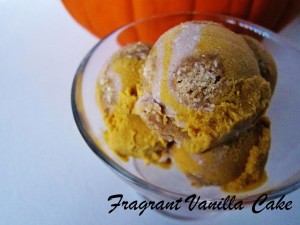 Who says pumpkin pie has to be served in a crust though?  I have made it in a mug, made into a parfait...and now ice cream!  Yes, last week, I made pumpkin pie ice cream.  I was craving pumpkin pie, and ice cream and so I combined them.  I made a silky raw coconut pumpkin base with just the right amount of spice, added a swirl of raw vanilla cream, and crunchy pie crust chunks.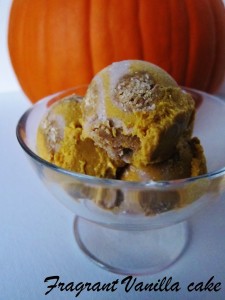 It was amazing!  Maybe not as pretty as the perfect slice of pie, but it was beautiful to my taste buds.  If I had tasted this as a child, I think I may have picked the pumpkin pie as my favorite!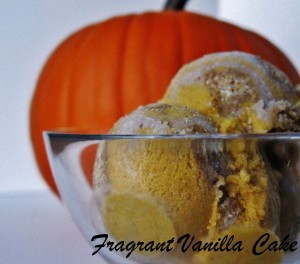 Raw Pumpkin Pie Ice Cream
Makes about 6 cups
Crust chunks:
1/2 cup (packed) soft medjool dates, pitted (if they are not soft, soak them in water for 30 minutes and drain well)
1/2 cup ground flaxseed
1/4 cup raw sprouted buckwheat flour
3/4 cup  finely shredded dried coconut
1/8 tsp sea salt
1 Tbsp cinnamon
Ice Cream:
1 cup coconut water
2 cups young coconut meat*
2 cups bananas, diced**
1/2 cup raw coconut nectar
seeds of one vanilla bean
a pinch of sea salt
1/4 cup raw coconut oil, warmed to liquid
1 1/2 cups grated sweet winter squash such as kabocha***
1 inch piece fresh ginger
2 tsp cinnamon
1/2 tsp cardamom
1/4 tsp nutmeg
1/4 tsp cloves
For the crust chunks, in a food processor, combine the dates, flaxseed, buckwheat, coconut, sea salt, and process until smooth and starting to hold together.  Remove from the food processor.  Using a rolling pin to assist, place on a foil lined sheet pan and roll into a 1/8 inch thick square.  Place in the freezer for about 20 minutes until cold, cut into small squares with a knife.  Place back onto the foil and chill until completely cold.
For the ice cream, add coconut water to a food processor, along with young coconut, bananas, nectar, vanilla, and sea salt. Process until smooth, then with the processor running, add the coconut oil slowly and process until well incorporated, about a minute. Remove 1/4 of the mixture and set aside.  To the remaining mixture, add the squash, ginger and spices and process until smooth and well combined (you may need to strain the mixture to remove squash bits if you do not have a high speed food processor or blender). Pour the mixture into an ice cream maker and process according to directions. Remove from ice cream maker and stir in the crust chunks.  Pour 1/3 of the frozen ice cream mixture into a freezer safe container, then drop 1/3 of the plain mixture you set aside over it by the Tbsp, then half the remaining ice cream, then half the plain mixture, then the remaining ice cream, then the plain mixture.  Swirl with a knife to marble and cover.  Let sit in the freezer for at least four hours or overnight to firm up to scoopable consistency.
*If young coconut meat is unavailable, you can substitute the 2 cups fresh coconut with 2 cups finely shredded, dried coconut and 1 cup coconut water.  But, you MUST have a high speed blender to do this or it will never become smooth.  Blend the coconut first until it becomes butter, using the tamper to press it into the blades until it is liquidy, then add the coconut water and blend until combined. Add this to the ice cream base in place of the young coconut meat.
**You can not really taste the bananas, they just help the ice cream be silky and extend the coconut.  If you want though, you can use more coconut (2 cups) in place of them if you want a richer ice cream.
***Since winter squash tastes the same as pumpkin or squash in desserts like this, I use it in place of actual pumpkin, since it is sweeter and easier to work with.  You can also use carrot or sweet potato if you like.  Nobody will be able to tell the difference, but if you want to use real pumpkin go ahead (the ice cream may just need a little more sweetener).
(Visited 65 times, 1 visits today)