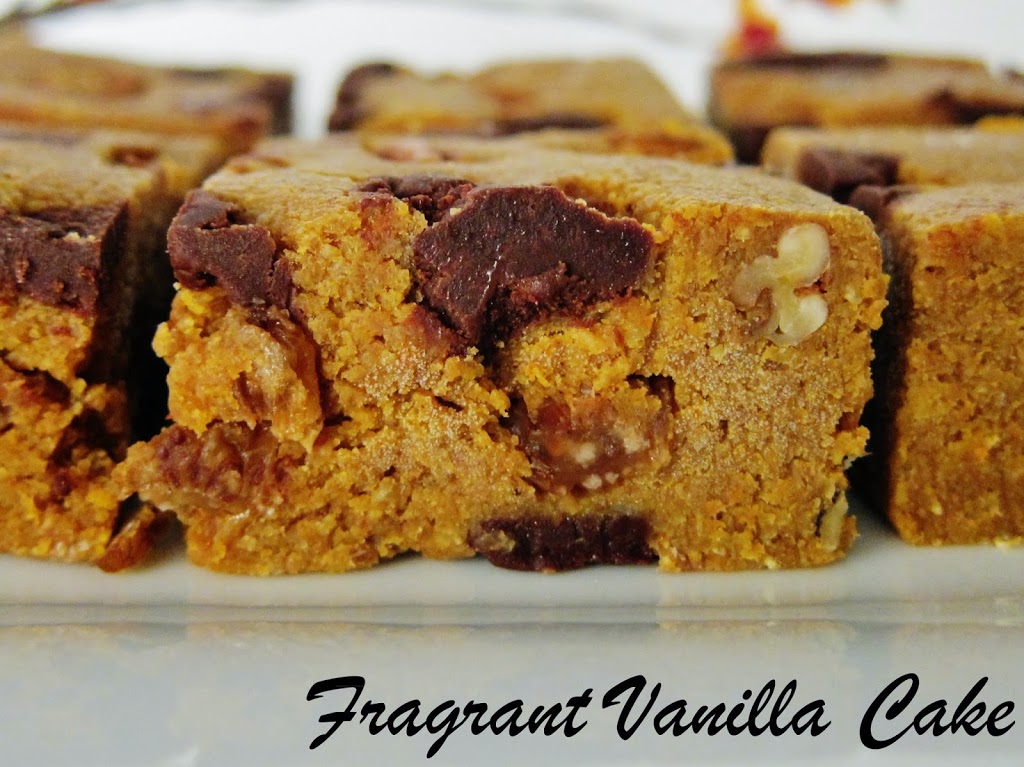 Raw Pumpkin Pecan Blondies
I saw a baked recipe for pumpkin blondies and I just could not resist making my own rawified version.  They sounded so good!  I love blondies as it is, and add in the sweetness and spices of pumpkin...then I am really in love.  Yes you can be in love with dessert.  I am in full pumpkin mode as well right now even if it is just the beginning of fall technically and the leaves have not started to change color yet.
You see, I have missed pumpkin  and squash since last year!  Anyways, back to the blondies.  I knew these were going to be scrumptious even before I was finished making them because the dough tasted amazing, and I could have just eaten that as it was.  I added plenty of spice to the dough, especially cinnamon and ginger which are a must in pumpkin desserts as far as I am concerned.  As far as mix ins went.  Chocolate chips had to be in there, because that is the type of blondie I was craving. But I also added in pecans and golden raisins for some fall flair!  These were so delicious!  The best part is there is no dehydration required, so you get to enjoy them a lot sooner!
Raw Pumpkin Pecan Blondies
Makes 12
Dough:
2 cups raw coconut flour (home made is preferred)
2 cup sprouted buckwheat flour (or additional coconut flour)
3/4 cup ground flax seed
1 Tbsp ground psyllium husk
1/4 cup lucuma powder
1 cup soft medjool dates, pitted
1/4 tsp sea salt
1 tsp pure vanilla extract
1 tsp maple extract
2 tsp cinnamon
1 tsp cardamom
2 tsp ginger
1/4 tsp nutmeg
1/4 tsp ground cloves
2 cups chopped raw pumpkin or squash*
2 Tbsp raw coconut nectar (or your choice liquid raw sweetener)
1/4 cup raw pecan butter
1/3 cup raw coconut butter (NOT oil), warmed to liquid
3/4 cup chopped raw pecans
3/4 cup chopped soft medjool dates (if they are not soft, soak them in filtered water until they are then drain and pat dry before using)
3/4 cup raw chocolate chunks, or chopped raw chocolate
For the dough, in a food processor, combine the coconut flour, buckwheat flour, flax seed, psyllium husk, lucuma, dates and salt, and process until the dates are very finely chopped and it is all well combined.  Remove from the food processor.  To the processor, add the vanilla, maple, spices, squash, coconut nectar, pecan butter, and coconut butter and process until smooth.  Add back the dry ingredients, and process until smooth like dough.  Turn out into a bowl or on a piece of parchment, and knead in the chopped pecans, golden raisins and chocolate chunks. Then press the blondies into a 1 1/2 inch square on a foil or parchment lined sheet pan. Place in the freezer until set (about an hour), then cut into 12 squares and enjoy!  Store in the fridge.
*You may use a sweet winter squash such as kabocha or butternut, which is what I like to do sometimes since the other squash is sweeter than actual pumpkin in raw form.
(Visited 46 times, 1 visits today)