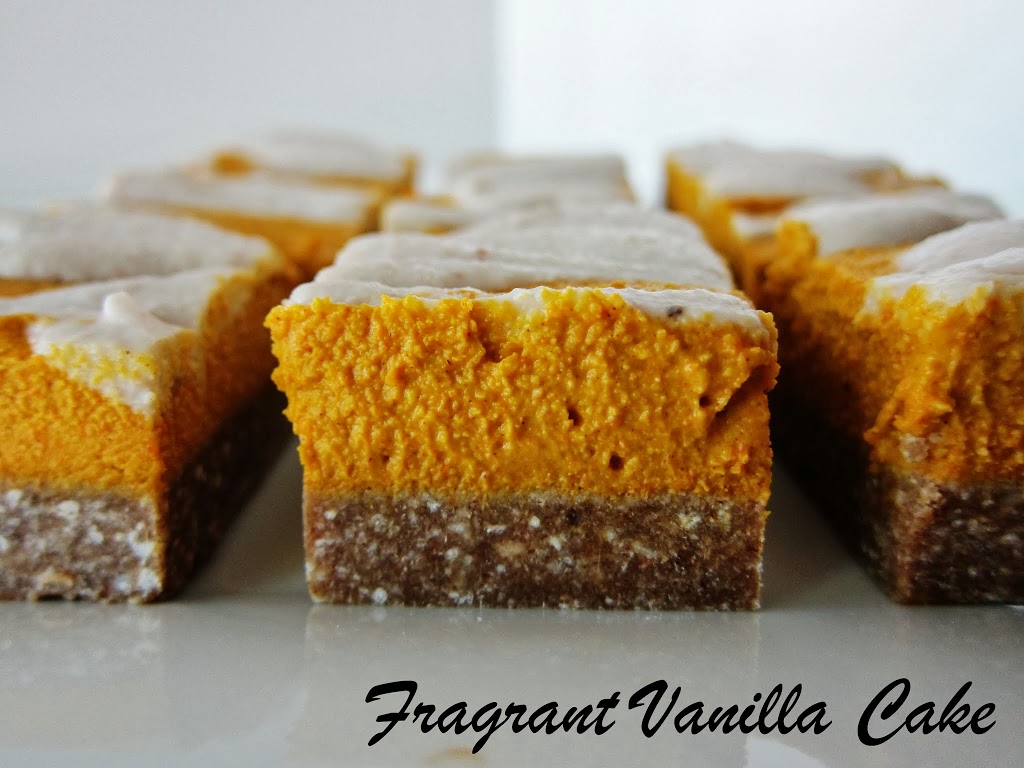 Raw Pumpkin Cheesecake Bars with Gingerbread Crust
I am so excited that Autumn is finally here.  Running through crunchy leaves, crisp air, beautifully colored trees, pumpkins, apples and spice...I have to say, this is my favorite time of the year.  I wanted to make something this weekend to celebrate the coming of Autumn, and it was between apple and pumpkin.
I asked for help deciding on my Facebook page, between caramel apple cheesecake bars, and pumpkin cheesecake bars with a gingerbread crust, and the pumpkin won.  I apologize to those of you who wanted apple, and I promise, something caramel apple cheesecake will be on here in the coming weeks.  But for now, it was pumpkin, and I was quite excited about this recipe.  For the crust, I made a gingery spiced one that tasted like gingerbread cookies to hold the creamy filling.
For the filling, I used a coconut base, lots of spices and carrot for the "pumpkin".  Now you may be asking yourself, wait a minute, there is no pumpkin in these bars?!  Nope. It is a trick many raw dessert makers use to make life a little easier and pumpkin desserts taste a little better.  Since raw pumpkin is not very sweet, and is harder to handle, I opt for the carrot (I have used both squash and pumpkin before in my recipes, and it is not worth it when you can use carrot).  Nobody will be able to tell, I promise you.  The bars turned out delicious!  Little bites of Autumn pumpkin goodness.  Less work than a whole cheesecake, but the same delicious flavor.
Raw Pumpkin Cheesecake Bars with Gingerbread Crust
Makes 16 bars
Crust:
2 cups finely shredded dried coconut
3/4 cup buckwheat, sprouted and dehydrated (or additional coconut)
1/4 tsp sea salt
1 inch piece of fresh ginger
2 tsp cinnamon
1/4 tsp nutmeg
1/4 tsp cloves
12 soft medjool dates, pitted (if not soft, soak them until they are and drain them)
Pumpkin:
2 cups fresh young coconut meat*
1/4 cup fresh coconut water (or filtered water)
3 Tbsp raw coconut nectar or maple syrup
1/4 tsp sea salt
seeds of one vanilla bean, or 1 Tbsp pure vanilla extract
1/2 cup  coconut butter, warmed to liquid
1 cup chopped raw carrots**
1 tsp maple extract (optional)
1 inch chunk fresh ginger
2 tsp cinnamon
1 tsp cardamom
1/2 tsp nutmeg
1/2 tsp cloves
For the crust, combine coconut, buckwheat, sea salt, ginger, spices, dates in the food processor and process until fine crumbs and starting to hold together when squeezed. Press the mixture into a 9 inch square pan lined with foil and set aside in the fridge.
To make the filling, combine all ingredients but the coconut butter in a high speed blender or food processor and process until smooth.  With the motor running, add the coconut butter and process a minute more.  Remove 1/4 of  the mixture and set aside.  To the remaining mixture in the food processor, add the carrot, maple, ginger, spices and puree until smooth (if you do not have a powerful food processor, you may need to strain the mixture and press it through a fine meshed strainer to get out the bits).  Pour the "pumpkin" mixture over the crust, spread to smooth, then drop the plain reserved mixture over it randomly by the Tbsp.
Swirl with a knife, and place in the freezer until firmed up, about 2 hours (it needs to be very firm in order to cut cleanly). 
Once the bars are firm, cut into squares, and enjoy!  Store in the fridge.
 
*If young coconut meat is unavailable, and you do not mind if the bars are not nut free, you can substitute 2 cups raw cashews, soaked for 4 hours, then drained for the coconut meat, and filtered water for the coconut water in the recipe.
**raw carrot tastes just like raw pumpkin, but is a lot easier to work with, and sweeter which is why I use it.  But feel free to use raw pumpkin or squash if you like.
(Visited 128 times, 1 visits today)