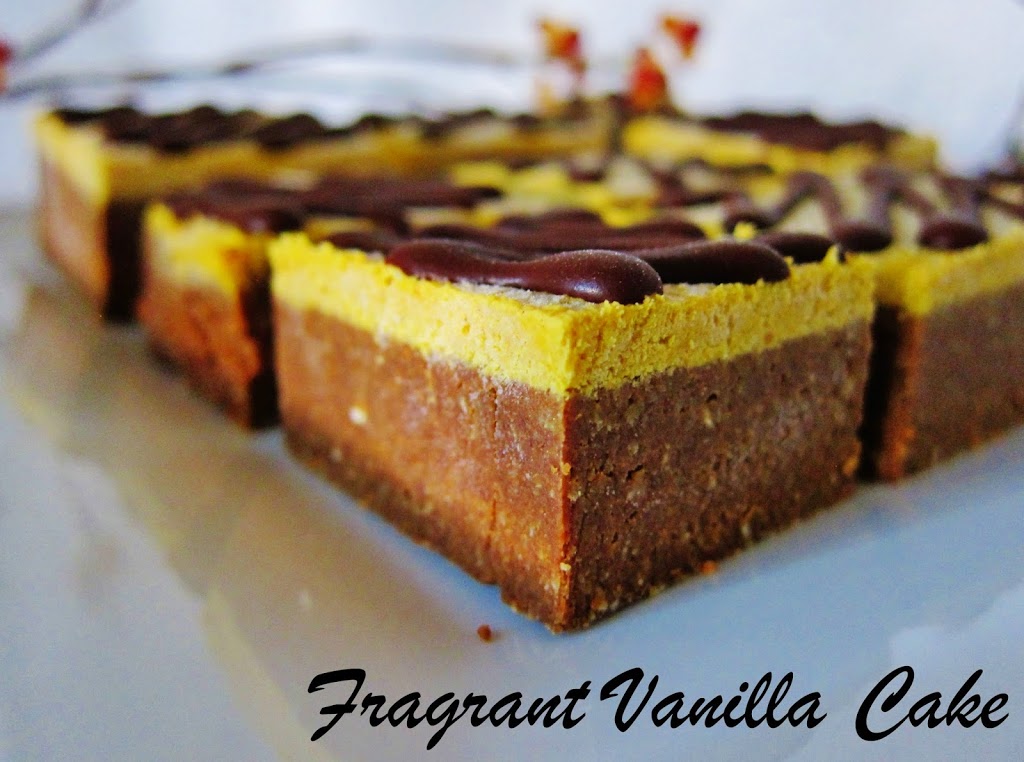 Raw Pumpkin Brownies
The pumpkin creations coming out of my kitchen are in full force right now and that is not likely to stop for a while since I love me some pumpkins and squash! One of the best smelling things that is made in the deli where I work is the pumpkin cookies and muffins. The aroma makes me happy and after enjoying that, I come home feeling like I need to make my own pumpkin deliciousness! I made pumpkin blondies earlier this week, so I had to make brownies as well. It just seemed right!
I made a swee chocolate pumpkin dough, laced with spices that love pumpkin, such as ginger, cinnamon, cardamom, and cloves...and it tasted and smelled wonderful as it was. And I could have just kneaded in chocolate chunks and stopped there, but that did not make a pretty enough brownie for me. I wanted a pumpkin layer on top too! So I whipped that up, and let the brownies set...but they needed chocolate too. Because I could not resist! These were some delicious Autumnal goodness! They may look like they have a lot of ingredients, but many of them are spices and they are really not all that hard to make. So try them out, you deserve to enjoy some too!
Raw Pumpkin Brownies
Makes 12
Dough:
2 cups raw coconut flour (home made is preferred)
2 cup sprouted buckwheat flour (or additional coconut flour)
3/4 cup ground flax seed
1 Tbsp ground psyllium husk
1/4 cup lucuma powder
1/4 cup raw cacao powder
1 cup soft medjool dates, pitted
1/4 tsp sea salt
1 tsp pure vanilla extract
1 tsp maple extract
2 tsp cinnamon
1 tsp cardamom
2 tsp ginger
1/4 tsp nutmeg
1/4 tsp ground cloves
2 cups chopped raw pumpkin or squash*
1/4 cup raw coconut nectar (or your choice liquid raw sweetener)
1/4 cup raw walnut butter
1/3 cup raw coconut butter (NOT oil), warmed to liquid
Topping:
1 1/2 cups chopped squash
1 cup raw coconut butter
2 Tbsp raw walnut butter
1/2 cup filtered water
2 Tbsp raw coconut nectar
pinch sea salt
2 tsp vanilla
1 tsp cinnamon
1/2 tsp ginger
1/8 tsp nutmeg
1/8 tsp cloves
Chocolate Drizzle:
1/3 cup raw cacao powder
1/2 cup raw coconut oil
1/4 cup raw coconut nectar, or agave nectar (or your choice liquid raw sweetener)
a pinch sea salt
For the dough, in a food processor, combine the coconut flour, buckwheat flour, flax seed, psyllium husk, lucuma, raw cacao powder, dates and salt, and process until the dates are very finely chopped and it is all well combined. Remove from the food processor. Add the vanilla, pumpkin, coconut nectar, walnut butter, and coconut butter to the food processor and process until smooth. Add the dry ingredients back and process until smooth like dough. Then press the dough into a 1 1/2 inch square on a foil lined sheet pan. Place in the freezer, while you make the topping.
For the topping, combine all ingredients in a high speed blender until smooth (if you do not have a high speed blender and there are small bits of squash, you may want to strain it through a fine meshed strainer to remove them). If it is too warm and a little runny, just place it in the freezer for about 10 minutes until it is more thick. Spread the mixture over the brownies, then place back in the freezer until set (about an hour), then cut into 12 squares.
Once the bars are ready, to make the chocolate drizzle, whisk together all ingredients until smooth. Then drizzle over the finished bars (I like to put mine in a pastry bag and drizzle it). Place in the freezer for 5 minutes to set the chocolate. Store finished bars in the fridge in an airtight container.
(Visited 61 times, 1 visits today)