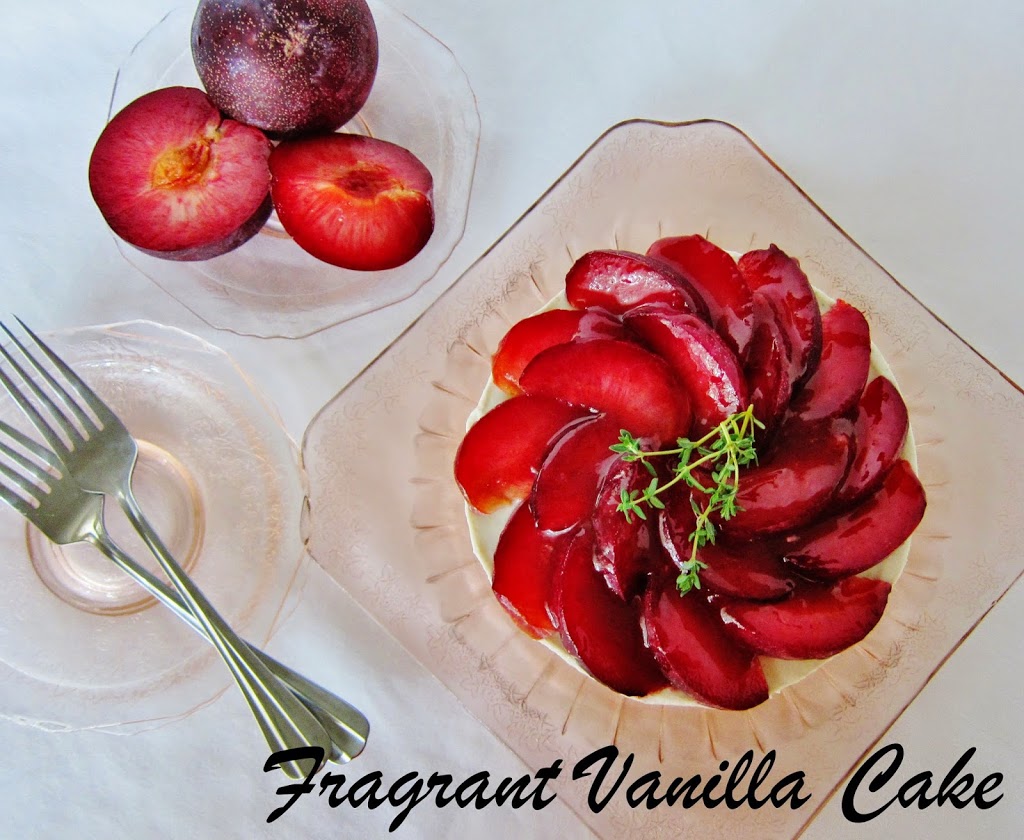 Raw Pluot Thyme Cheesecake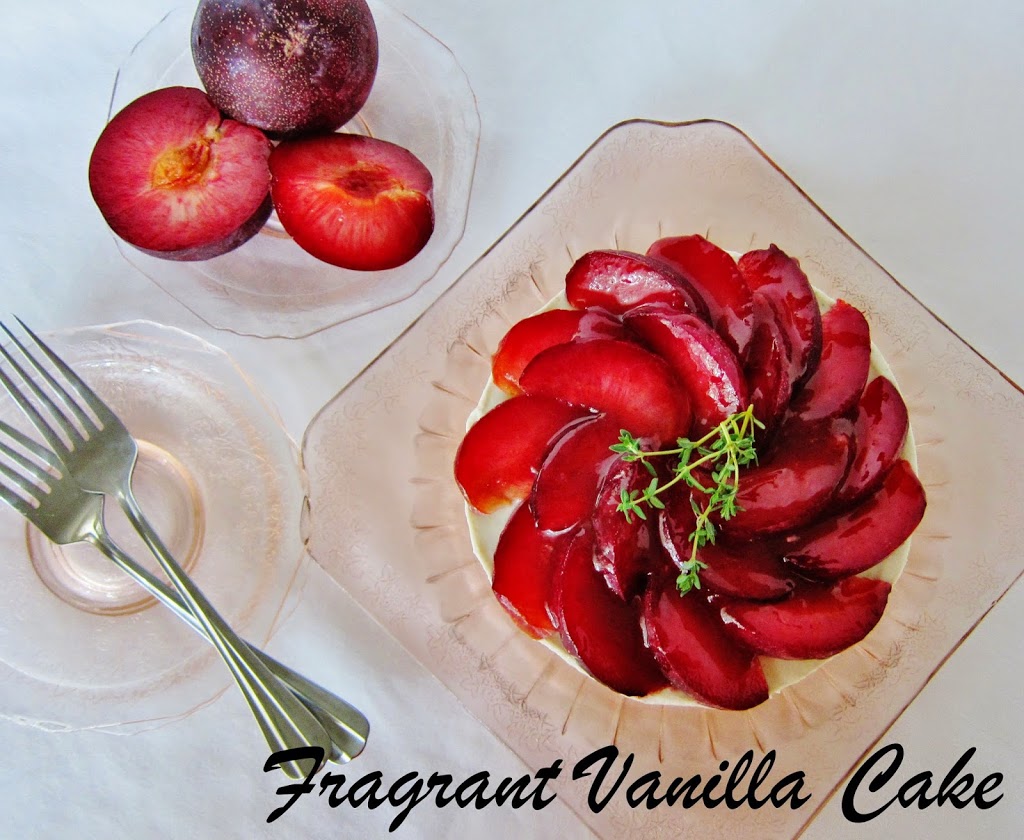 Although I am anxiously awaiting Autumn, there are still some delicious summer fruits that I am enjoying.  Pluots for one.  They are so flavorful this year!  I can not remember them ever being so sweet and juicy in the past.  Not only that, their vibrant color is beautiful!  And so I thought, before they go out of season, I better make the best of them and create a dessert featuring the lovely fruit.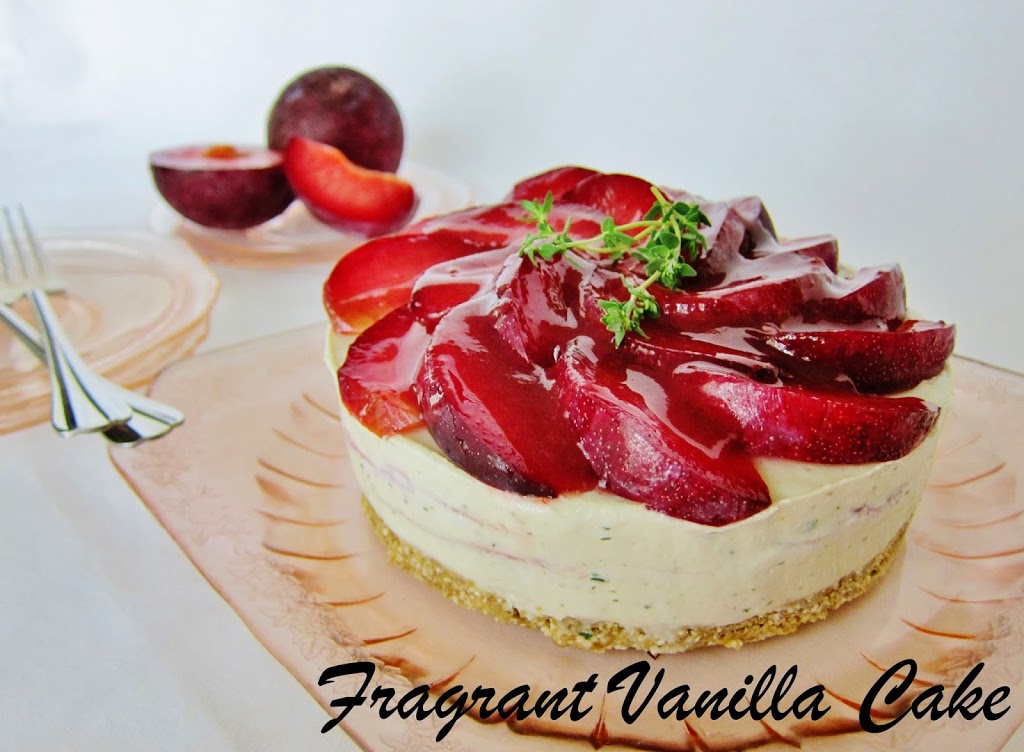 I thought about simply making a crumble, but the raw cheesecake obsessed girl that I am got the best of me.  I envisioned a cake topped off with beautiful pluots in a circular fashion with a creamy cheesecake below and some pluot puree swirled into the middle layer of it. That was going to happen.  But I wanted to add another dimension of flavor as well.  Vanilla was a given.  Maybe almond?  No...not interesting enough for me.  Fresh thyme!  I am loving herbs with sweet fruits and desserts lately, so that sounded perfect to me.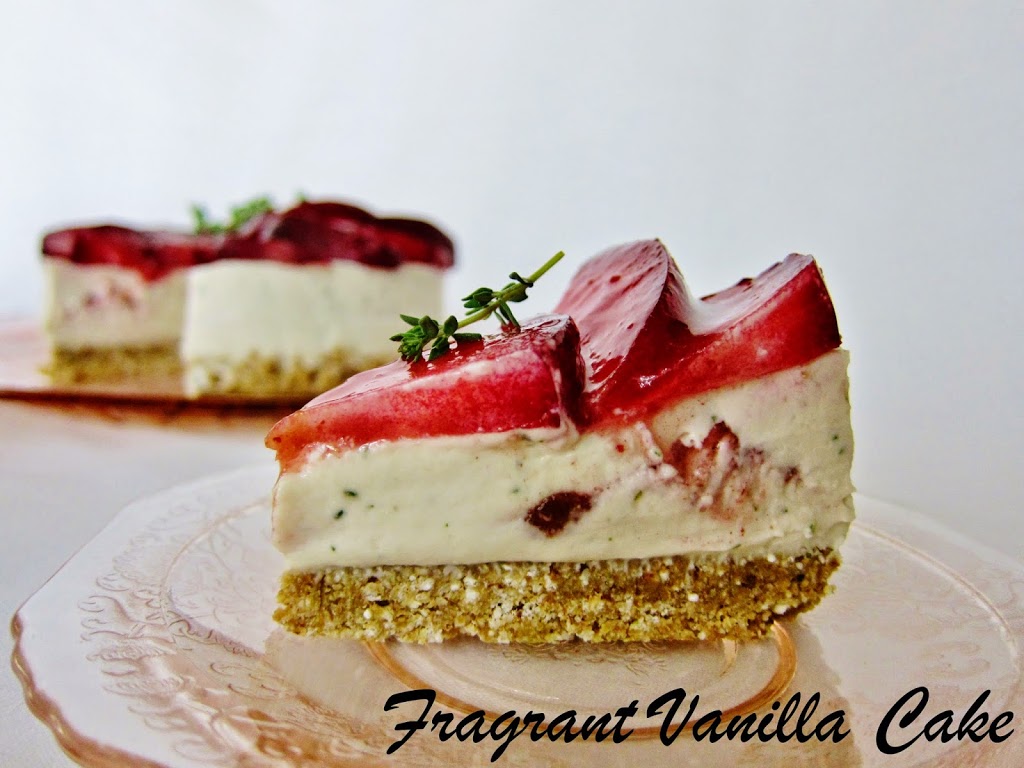 I also ended up adding a hint of lemon to the creamy cheesecake filling, and it was delicious with the sweet, jammy pluots.  This cake tasted like summer. Fresh, light, creamy cheesecake with an herbal note thanks to the thyme covered in delicious sweet pluots.  Well balanced and something I needed to go back for seconds of right away!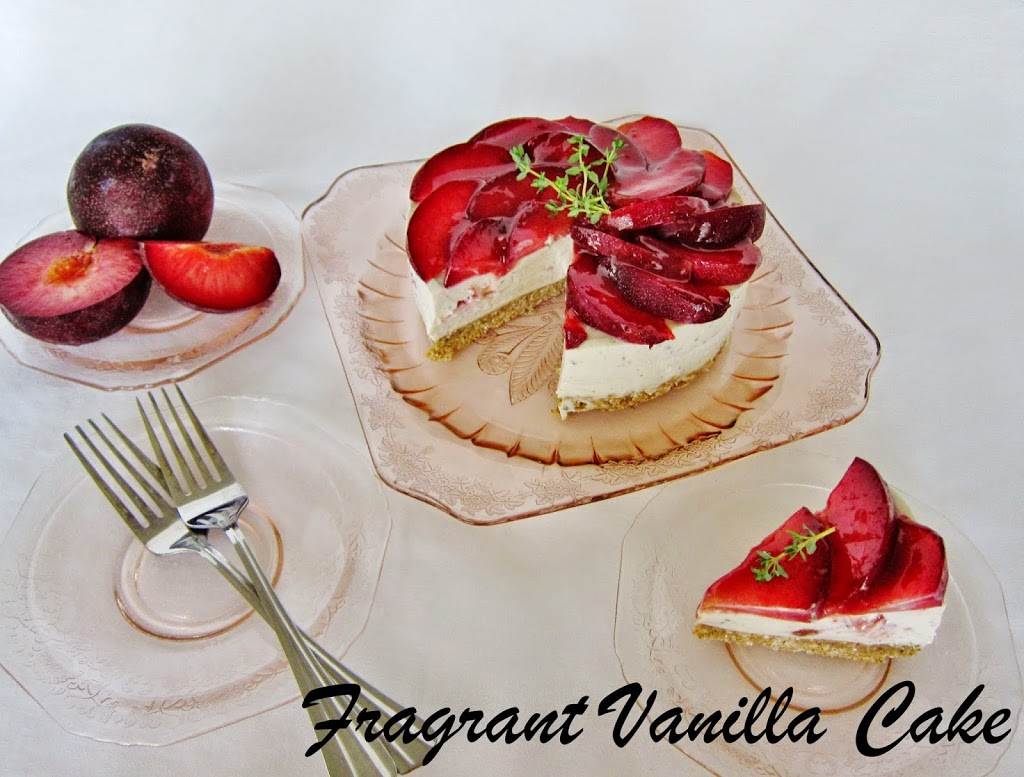 Raw Pluot Thyme Cheesecake
Makes one 6 inch cake
Crust:
2/3 cup
 raw sprouted buckwheat groats 
(or additional coconut)
1/3 cup ground flax seed
3/4 cup dried finely shredded coconut
1/8 teaspoon sea salt
10-12 soft medjool dates, pitted and chopped (if they are not soft, soak them in water until they are and drain them well)
1/2 tsp ground cinnamon
Filling:
4 cups young coconut meat*
1/4 cup coconut water
2/3 cup raw coconut nectar, or maple syrup
1/2  teaspoon sea salt
1 Tbsp pure vanilla extract and seeds from half a vanilla bean
juice and zest of one organic lemon
1/4 cup fresh organic thyme leaves
3/4 cup plus 2 Tbsp 
raw coconut butter
 (warmed to liquid)**Pluot Puree:
1 large organic pluot
3 soft, pitted medjool dates
a pinch sea salt2 organic pluots, sliced for the top of the cake
fresh organic thyme for garnish
Lightly coat a 6 inch spring form removable bottom pans with coconut oil. To prepare the crust, process flax, coconut, buckwheat and sea salt in a food processor until fine crumbs, then add the dates and cardamom and process until the mixture holds together when squeezed between your fingers (if not holding together, add more dates). Firmly press crust into the bottom of the prepared pan, and set aside.
To make the filling, in a high speed blender or food processor, combine coconut, coconut water, coconut nectar, sea salt, vanilla lemon and thyme in a food processor and blend until smooth and creamy. With the processor running, add the coconut butter and and process for a minute until blended.
To make the pluot puree, combine all ingredients in a high speed blender or food processor and process until smooth.
To assemble cheesecake, 1/2 of the thyme filling over the crust, then drop some of the pluot puree over it by the tsp over that and swirl with a knife. Then pour the remaining filling over that, then drop more of the jam over that and swirl with a knife. Place in the freezer for 4 hours or until set.  When ready to serve, cover the top of the cake with pluot slices, drizzle with the remaining puree and garnish with thyme.
*If you are unable to get young coconut meat, you may substitute 4 cups raw cashews, soaked 4 hours and drained and filtered water instead of the coconut water.
**If your coconut meat is very soft and watery, you may need to add a few More Tbsp coconut butter.
(Visited 33 times, 1 visits today)