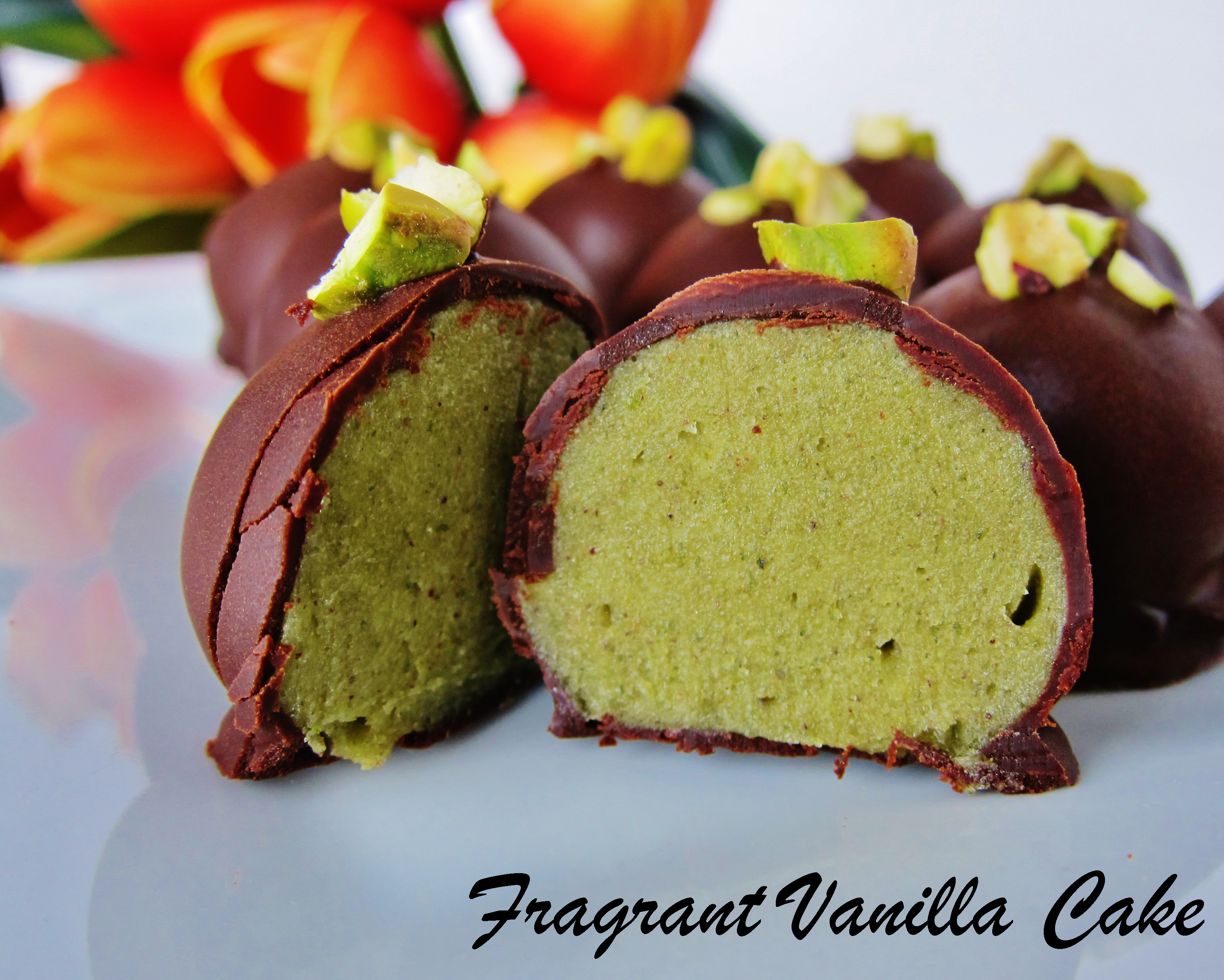 Raw Pistachio Rosewater Truffles
I am sooo ready for green to appear outside.  Green grass, green leaves sprouting from the trees, and green tulip leaves sprouting up from the ground to say Spring has arrived!  It is still pretty brown here, and although buds are appearing on the trees, it is not green quite yet.  Probably because it recently snowed.  I am not complaining about the weather, because after winter I will always take anything above 30F.  But I just want some color!  Since there is no color outside yet, I have been bringing some to my desserts lately.  Even a touch of that green I so desire to see, in some delicious pistachio rosewater truffles.
To me, pistachios are a treat since they tend to be a bit spendy, especially the raw shelled ones that I buy.  So, I save them for special occasions.  Like Easter, which is why I made these besides the fact that they have a lovely green color.  Pistachios make me think of Spring and Easter so I thought it was appropriate.  These are mostly pistachio, which is what makes them special.  None of that just green color and pistachio flavor stuff going on...like in that instant pudding I used to have as a kid.  I combined them with rosewater in a creamy heavenly filling fit for a princess (or prince), and then dipped them in raw dark chocolate.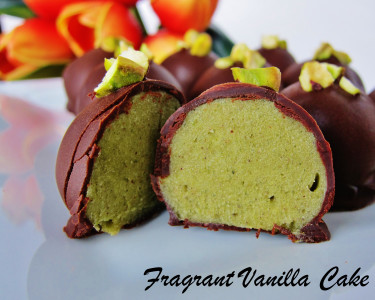 These are the more adult version of all of the Easter egg candies I have been making.  I left them round this time like regular truffles, partly because I was lazy, and partly because I wanted these to apply to more than just Easter and be for Spring as well.  Their color just made me happy, and taking a bite of one put me in my happy place!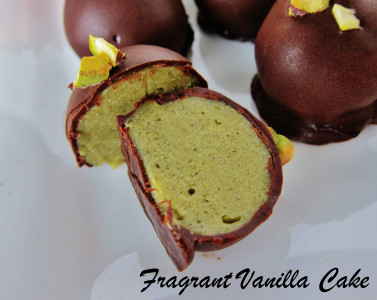 Raw Pistachio Rosewater Truffles
makes about 10
Filling:
1 cup raw pistachios
1/4 cup raw coconut nectar or maple syrup
1/4 cup filtered water
1/2 tsp pure vanilla extract
1/2 tsp rosewater
1/4 tsp sea salt
1/4 cup raw coconut butter, warmed to liquid
Chocolate:
3/4 cup melted cacao butter (or you may use coconut oil)
1/4 cup plus 2 Tbsp maple syrup at room temperature
heaping 3/4 cup raw cacao powder
a good pinch of sea salt
In a high speed blender, combine the pistachios, coconut nectar, water, vanilla, rosewater, and salt and blend until smooth. Add the coconut butter and blend until combined.  Pour into a bowl, and place in the freezer until firm enough to scoop, about an hour.
Once the filling is firm enough to scoop, scoop out little 1 1/2 inch balls, and set on a parchment lined sheet pan or tray.  Freeze until firm, about 1 hour.
Meanwhile, when the truffles are almost ready, to make the chocolate, melt the cacao butter in the top of a double boiler with simmering water beneath (being careful not to let the chocolate mixture on top get above 115F degrees).  Or alternatively you can melt it in the dehydrator as I often do, it just takes a little longer.  Once the cacao butter is melted, whisk in all other ingredients until smooth.
When ready to dip the truffles, place one on a fork, drop it into the chocolate, then lift it out, letting the excess drain off back into the bowl.  Place back on the tray, and repeat with the others.  Sprinkling each with chopped pistachios as you go.  Once they are all done, allow the chocolate to set (which will happen faster if you pop them in the freezer for about 10 minutes).
Store candies in the refrigerator in an airtight container.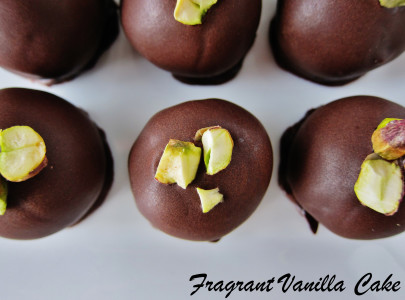 (Visited 1,367 times, 1 visits today)