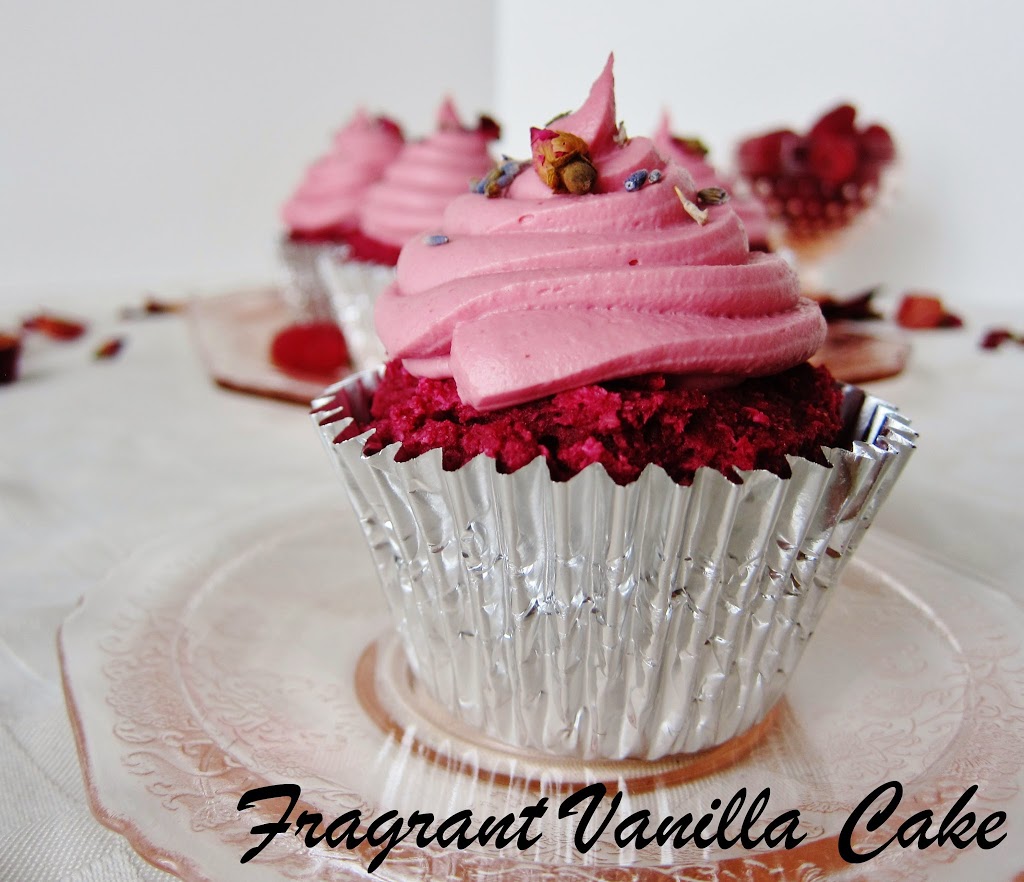 Raw Pink Velvet Cupcakes
I am a little girl at heart.  I always buy Hello Kitty bandaids, I love sparkly glittery things, and I will always choose the pretty pink vanilla cupcake over the chocolate any day.  I had been wanting to make pink velvet cupcakes for a few weeks now, just so I could eat the batter and have fun making them.  Well, and the fact that they would be pink!  My "red velvet" cakes always come out pink anyhow due to the use of beets so I knew it would be a success.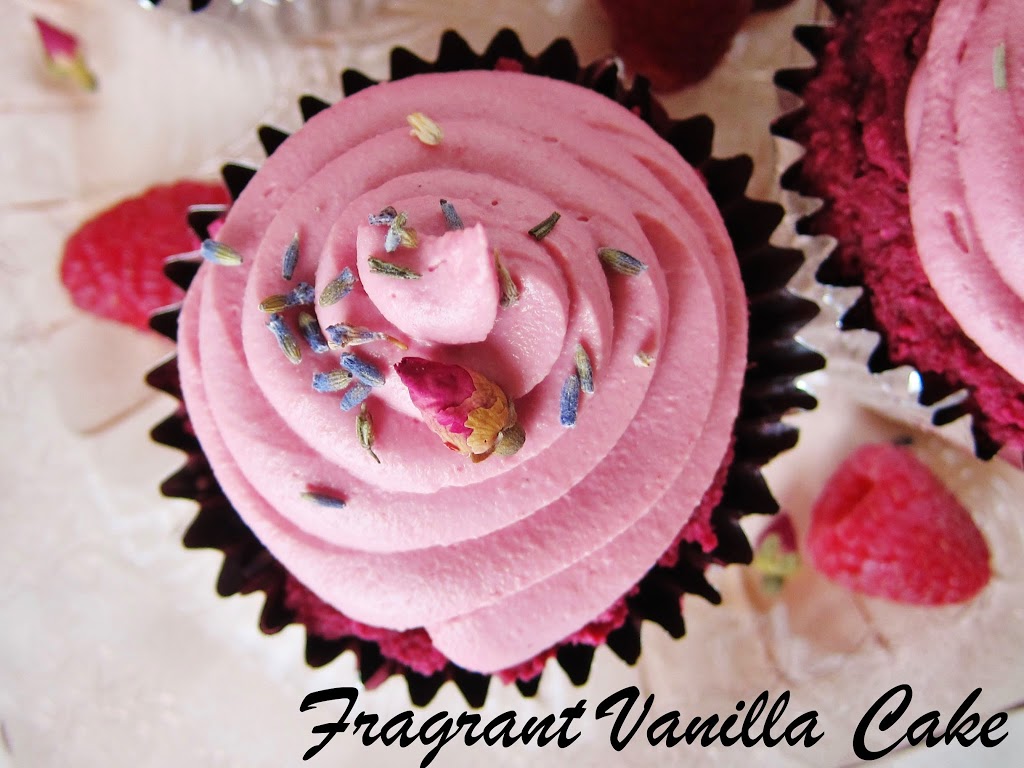 I admit I felt a bit like a 5 year old as I whipped up a batch of pink velvet batter...the mess in my kitchen growing and batter and flour everywhere including on me.  As I stood there sampling large amounts of the final product before spooning it into the tins I knew my Grandmother would have laughed and at the same time been proud of me for creating something so delicious and beautiful.  I used to always watch her mix her cookie dough by hand and steal it before it could be made into cookies.  This was sort of like that...I could not resist the fuchsia colored batter.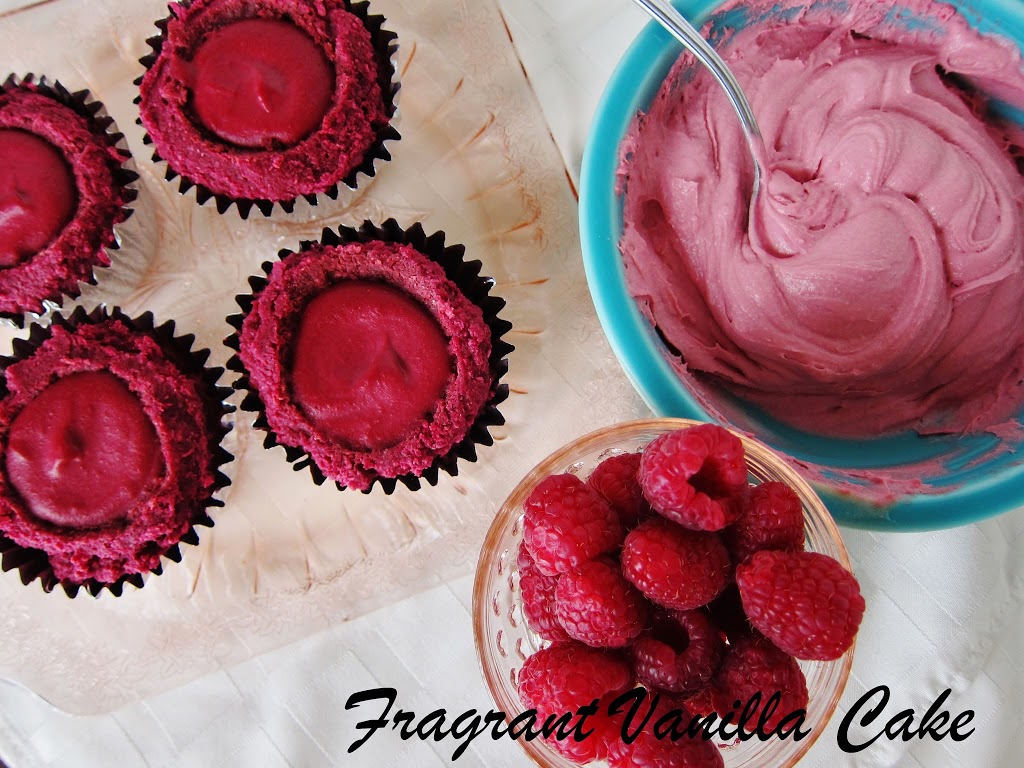 They smelled wonderful while dehydrating and could not wait to eat them when they were finally finished.  But there was the question of to fill them or not to fill them.  I decided to fill them.  I like lots of filling in my cake what can I say.  I thought about splitting them and making them like little layer cakes with a layer of frosting in the middle, but opted instead for raspberry filling since my boyfriend Eric had been kind enough to give me some fresh organic raspberries.  They deserved to be used in a dessert instead of just scarfed down.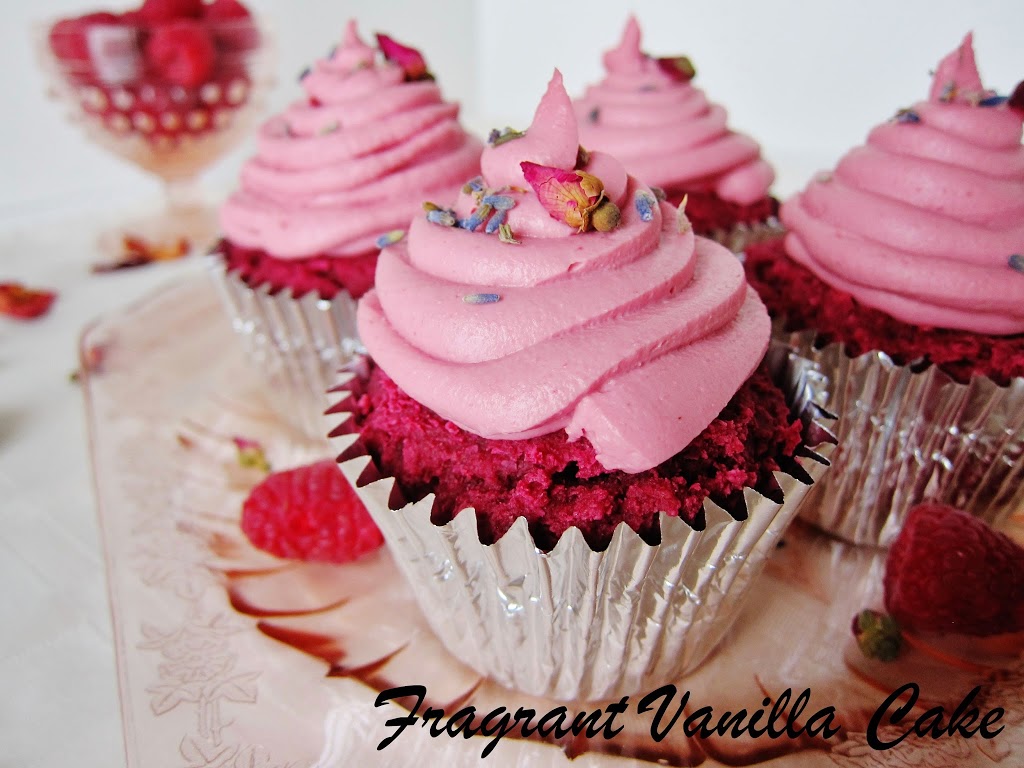 The batter was delicious and the filling was delicious so the frosting had to be delicious as well!  I decided on a coconut based cream laced with vanilla and rosewater and tinted pink, since part of the name pink velvet was due to the frosting.  These had to be girly, beautiful and fun!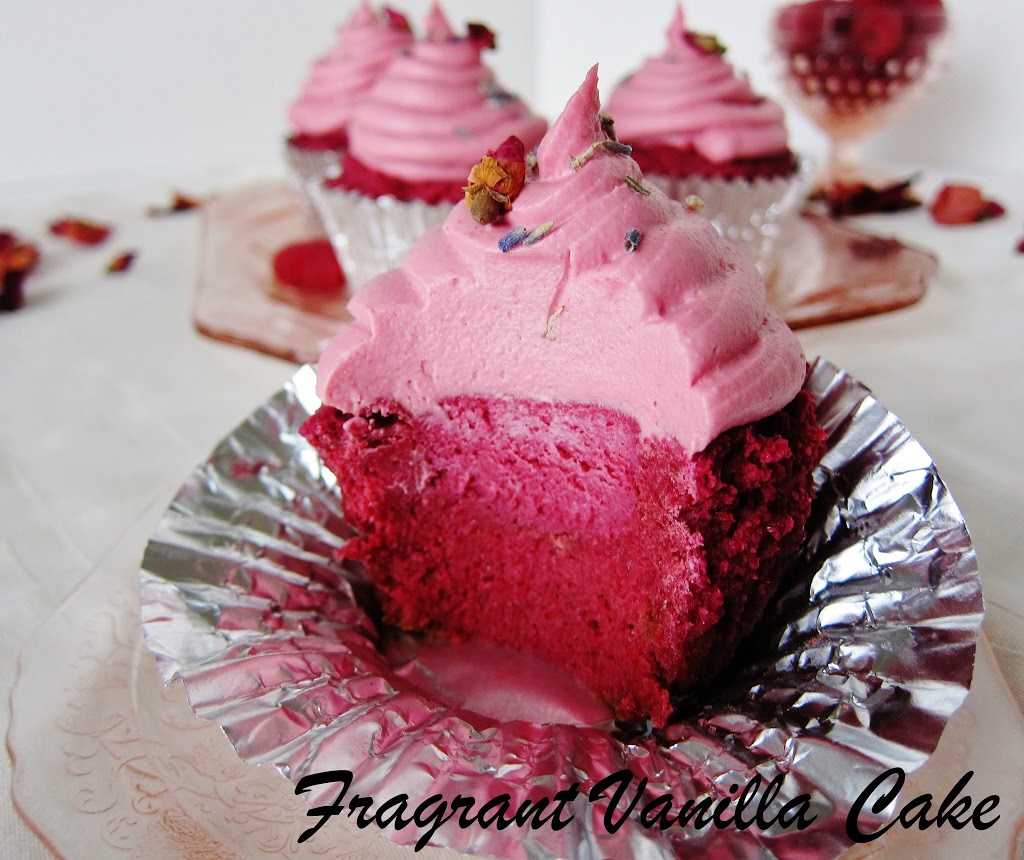 Once assembled, my mouth was watering.  I could not wait to dive into one of these beauties.  Almost too pretty to eat, but that has never stopped me and the aroma alone of the rose and vanilla was getting to me.  It was like biting into a bit of heaven, the soft vanilla cake, jammy raspberries, and creamy sweet aromatic frosting!  I was like a child again, licking every last bit of frosting from my fingers.  This not by any means the last pink dessert I will make in the next month, Valentine's day is coming up and it seems like a good excuse (not that I ever need one) to make lots of pink desserts!
Raw Pink Velvet Cupcakes
with raspberry filling and vanilla rose frosting
Makes 12
Cake:
2 1/2 cups raw sprouted buckwheat or quinoa flour
1 cup ground raw flax seed
4 cups raw coconut flour (do NOT use store-bought!)
1/4 tsp sea salt
2  tsp pure vanilla extract
1/2 tsp almond extract (optional, but so good)
3 cups chopped raw red beets (peeled)
1 cup medjool dates, pitted (soaked in filtered water for 30 minutes if not soft, then drained)
1 cup raw coconut nectar or your choice of liquid sweetener
3/4 cup filtered water (or as needed)
Filling:
2 cups fresh organic raspberries
1 Tbsp coconut nectar or your choice of liquid raw sweetener
1 tsp pure vanilla extract
a pinch sea salt
1 1/2 Tbsp liquefied coconut butter
Frosting:
3 cups young coconut meat*
1 inch chunk red beet
1/4  cup plus 2 Tbsp coconut water
1/4 cup plus 1 Tbsp raw coconut nectar or your choice of raw sweetener
1/4  tsp sea salt
1 tsp rosewater
seeds of one vanilla bean, or 1 Tbsp pure vanilla extract
1/2 cup raw coconut butter, warmed to liquid
dried roses and lavender flowers for garnish (optional)
For the cake, combine flour,  flax seed, coconut flour, sea salt, in a large bowl and whisk together until and set aside. To a food processor, add the dates, vanilla, almond extract, beets, nectar and water to the processor and process until pretty smooth. Add the wet ingredients to the dry ingredients and mix until smooth with a sturdy spoon (wooden works well) and well incorporated (the batter will be stiff, so you might want to use your stand mixer if you have one and if your beets or dates were dry, you may need to add a little more water.  The batter should be like thick brownie batter).  Spoon the batter into 12 standard sized foil muffin tins (mounded) and place on a dehydrator sheet.  Dry for about 12 hours (until dry on the outside but still moist). Cut a Tbsp sized divet into each cupcake (you can eat it or discard it) and set aside.
To make the filling, combine all ingredients and puree until smooth.  Spoon about 1 Tbsp into the center of each cupcake.
Meanwhile, to make the frosting, combine all ingredients but the coconut butter in a food processor and process until smooth.  With the motor running, add the coconut butter and process a minute more.  Pour the cream into a bowl and let sit in the freezer for about half an hour to 45 minutes or so until the consistency of whipped cream then place in the fridge until ready to use.  Place frosting in a pastry bag and pipe a generous amount decoratively over the cupcakes (or spread it over if you wish).  Garnish with dried roses and lavender.  Store extra cupcakes in the fridge.*If young coconut meat is unavailable you can use 3 cups cashews soaked in filtered water for at least 4 hours and drained instead if you do not mind the recipe not being nut free.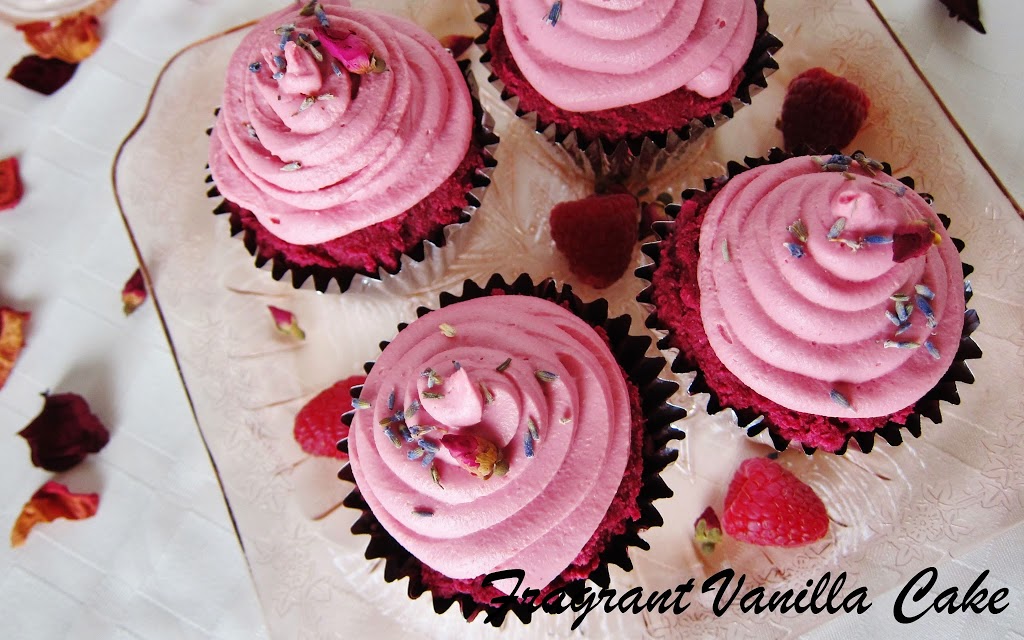 (Visited 295 times, 1 visits today)