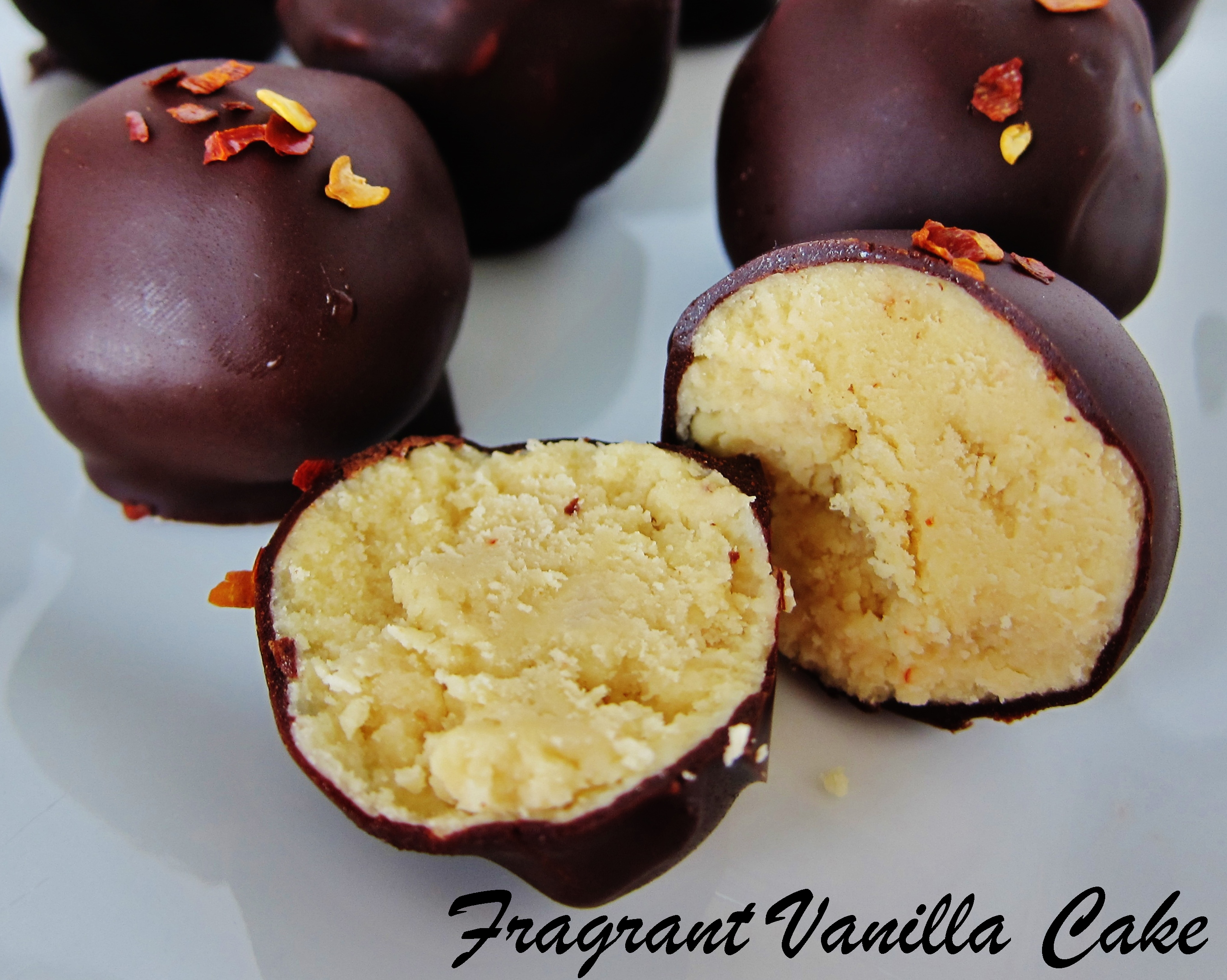 Raw Pineapple Chili Truffles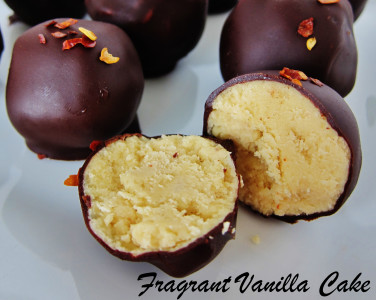 My boyfriend Eric is always telling me I should make desserts with fruit and heat in the form of chilies added to them.  One time he asked me to make him a smoothie with berries and ghost peppers in it.  That is how much he loves hot peppers.  Probably because he is originally from Arizona and doesn't have the milk Minnesotan palate.  But I am Minnesotan and I love my chilies as well. Maybe because I should actually be living somewhere warm, but I like it here.  He is right about the fruit and hot pepper combination though, it is delicious.  So when I had lots of pineapple last weekend, and decided to make pineapple truffles, for Eric I added in a bit of chilies.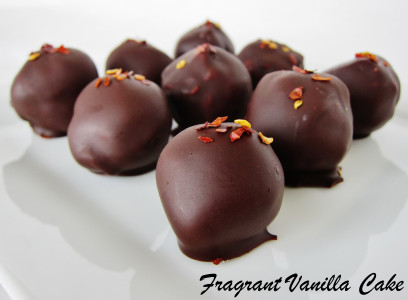 They tasted like piña colada with a little kick and when paired with the chocolate I dipped them in, even better.  They were smooth, silk and delicious.  Not just your run of the mill truffles.  If you like a bit of heat, then you will love these. Want to be extra daring, add more pepper flakes.  I went modest in the recipe below but feel free to adjust to your tastes.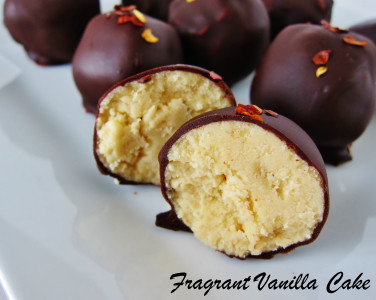 Raw Pineapple Chili Truffles
makes about 10
Filling:
1/4 cup raw coconut nectar or maple syrup
1/2 cup diced fresh pineapple
1/2 tsp red chili flakes
1/2 tsp pure vanilla extract
1/4 tsp sea salt
1/2 cup raw coconut butter, warmed to liquid
1/4 cup raw cacao butter, warmed to liquid
Chocolate:
3/4 cup melted cacao butter (or you may use coconut oil)
1/4 cup plus 2 Tbsp maple syrup at room temperature
heaping 3/4 cup raw cacao powder
a good pinch of sea salt
chili flakes for sprinkling
In a high speed blender, combine the coconut nectar, pineapple, chili flakes, vanilla, and salt and blend until smooth. Add the coconut butter and cacao butter and blend until combined.  Pour into a bowl, and place in the freezer until firm enough to scoop, about an hour.
Once the filling is firm enough to scoop, scoop out little 1 1/2 inch balls, and set on a parchment lined sheet pan or tray.  Freeze until firm, about 1 hour.
Meanwhile, when the truffles are almost ready, to make the chocolate, melt the cacao butter in the top of a double boiler with simmering water beneath (being careful not to let the chocolate mixture on top get above 115F degrees).  Or alternatively you can melt it in the dehydrator as I often do, it just takes a little longer.  Once the cacao butter is melted, whisk in all other ingredients until smooth.
When ready to dip the truffles, place one on a fork, drop it into the chocolate, then lift it out, letting the excess drain off back into the bowl.  Place back on the tray, and repeat with the others.  Sprinkling each with chili flakes as you go.  Once they are all done, allow the chocolate to set (which will happen faster if you pop them in the freezer for about 10 minutes).
Store candies in the refrigerator in an airtight container.
(Visited 416 times, 1 visits today)