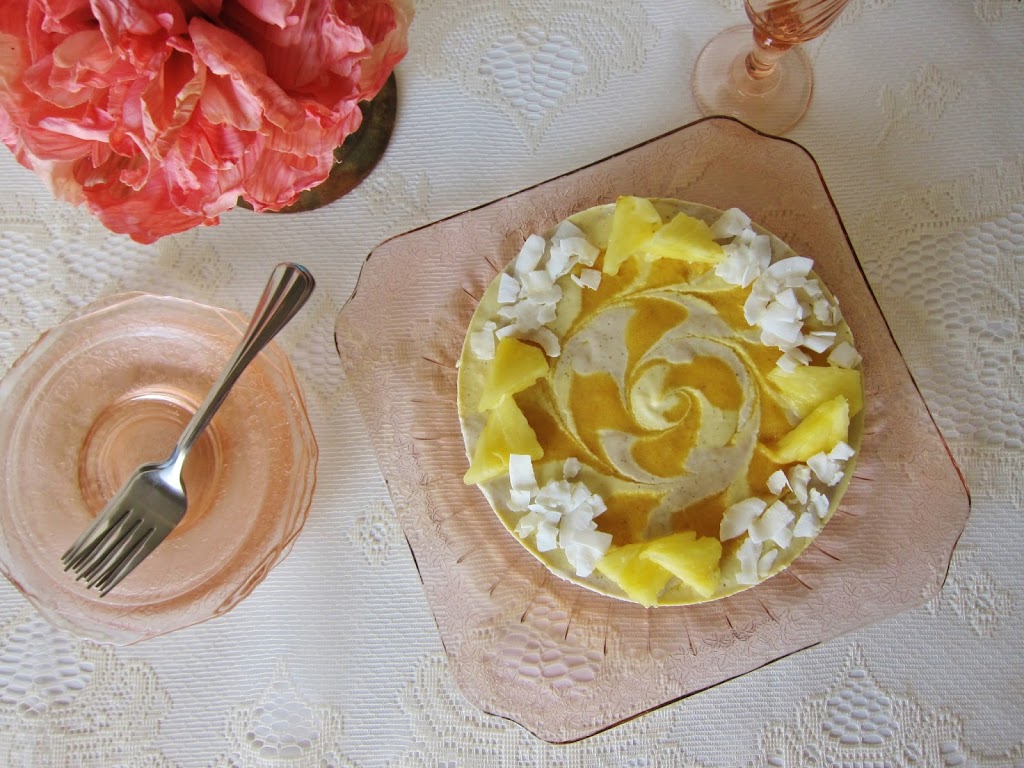 Raw Piña Colada Cheesecake
For Easter this year, I decided to make a Raw Piña Colada Cheesecake.  Honestly a week ago I was planning on making something with berries to create a pastel cake, but then I got to thinking how delicious pineapple would be and then it had to be piña colada.
 I know the important part of Easter is not the dessert, it is the time spent with those you love and the reason for even having the holiday, Christ's resurrection to save us.  Which is the reason to celebrate.  But, I still have to make a delicious dessert for every occasion, it is just something I do.
 I can remember Easter as a child, we would have brunch, which my Mother cooked for quite a few years, and she made an amazing cheesy potato casserole (sooo not vegan, but it was amazing), but I do not remember eating any dessert.  In the last few years though, I have been making dessert so it is an important part of the food.
It was going to be the best one I have made this year though.  I made a coconut macadamia crust, which was sweet and crunchy, and for the filling I used coconut and macadamias to make it deliciously creamy and dreamy.  I then combined half with pineapple, and also made a pineapple swirl to make the cake even more pretty and delicious.  It turned out pretty amazing,  and I can honestly say it was the most delicious Easter dessert I have ever eaten!  Happy Easter to you all, I hope you all are having a wonderful weekend!
Raw Piña Colada Cheesecake
Makes one 6 inch cake
Crust:
1/2 cup raw macadamia nuts
1/2 cup sprouted buckwheat, dried in the dehydrator (or additional coconut)
1/2 cup dried finely shredded coconut
1/8 teaspoon sea salt
10-12 soft medjool dates, pitted and chopped
Filling:
2 cups raw macadamia nuts or raw cashews (preferably soaked overnight and drained)
2 cups young coconut meat (or additional soaked cashews if unavailable)
1/3 cup coconut water
1/2 cup raw coconut nectar or maple syrup
1/2 cup plus 2 Tbsp raw coconut oil (warmed to liquid)
1/2 teaspoon sea salt
1 Tbsp pure vanilla extract and seeds from half a vanilla bean
1 cup fresh organic pineapple
1/2 cup finely shredded coconut
Swirl:
2 medjool dates, pitted (soaked if not already soft)
1/2 cup fresh organic pineapple
Lightly coat a 6 inch spring form removable bottom pans with coconut oil. To prepare the crust, process macadamias, buckwheat and sea salt in a food processor until the nuts are fine crumbs, then add the dates and process until the mixture holds together when squeezed between your fingers (if not holding together, add more dates). Firmly press crust into the bottom of the prepared pan, and set aside.
To make the filling, drain the macadamias (or cashews) and combine them with coconut, coconut water, coconut nectar, sea salt and vanilla in a food processor and blend until smooth and creamy. With the processor running, add the coconut oil, and process for a minute until blended. Remove the filling from the food processor and divide into 2 bowls. Place one back into the food processor and add pineapple. Process until smooth and uniform in color and place back in the bowl. Stir shredded coconut into the second bowl.
For the swirl, combine dates and pineapple in the food processor and process until smooth.
To assemble cheesecake, drop the two fillings over the crust by the Tbspful and the pineapple swirl by the tspful until they are all used up tap the bottom of the pan on the counter to level. Swirl with a knife, and place in the freezer for about 4 hours to firm up.
(Visited 410 times, 1 visits today)