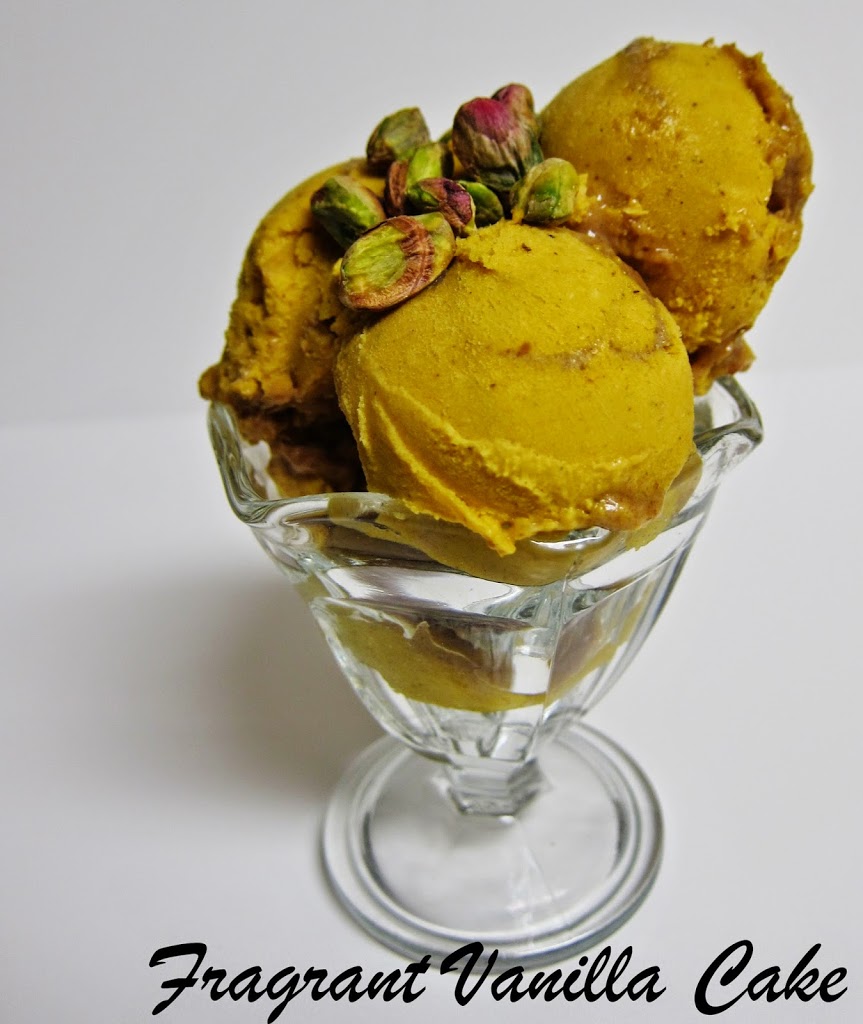 Raw Persimmon Rose Caramel Ice Cream
Persimmons are honestly one of the most heavenly fruits. To be honest, they are probably the fruit I covet most this time of the year. Once they are super ripe, I cannot resist that jammy, sweet, almost marshmallowy tasting flesh. I got my hands on a bunch of them, and they were super ripe. Like to the point where they were fragile and would not hold up if sliced, so I thought they would make the perfect raw ice cream! Then it didn't matter how they looked, but their sweet flavor would be allowed to shine. I decided to combine them with coconut, vanilla and rosewater in an ice cream base for a simply heavenly combination. It was wonderful as it was, but I then decided that caramel would make it even better, and kick it up a notch.
The aroma of this ice cream alone was enough to put me in my happy place, but once I topped it off with crunchy pistachios and dove in there was no chance of survival for this ice cream. Sooo good...it was gone fast, that's for sure! If you have access to lots of persimmons, first off I am jealous of you (in a good way) and second, you should definitely make this so you can enjoy it too!
Raw Persimmon Rose Caramel Ice Cream
Makes 4 cups
4 cups very ripe persimmons
1 cup young coconut meat
3/4 cup coconut water
1 tsp rosewater
2 tsp pure vanilla extract
1/4 tsp sea salt
1/2 cup raw coconut nectar
3/4 cup coconut butter
Caramel:
1 cup pitted, soft medjool dates
2 Tbsp raw pecan butter (or your choice nut butter)
3 Tbsp maple syrup or your choice liquid raw sweetener
1 tsp pure vanilla extract
a large pinch sea salt
1/4 cup filtered water
Raw pistachios for serving
In a a high speed blender or food processor, combine all ingredients for the ice cream and pour into an ice cream maker, processing according to the package directions.
Meanwhile, to make the caramel, combine all ingredients in a high speed blender or food processor until smooth, and set aside until the ice cream is done.
Pour 1/3 of the finished ice cream into a freezer safe container, then drop some of the caramel by the Tbsp over that, then half the remaining ice cream, then more caramel, then the last of the ice cream and more caramel, and swirl with a knife to marble. Let chill in the freezer for about 4 hours or overnight until more firm before scooping (if it becomes too hard, let sit out about 15-20 minutes before serving. Serve with raw pistachios!
(Visited 63 times, 1 visits today)