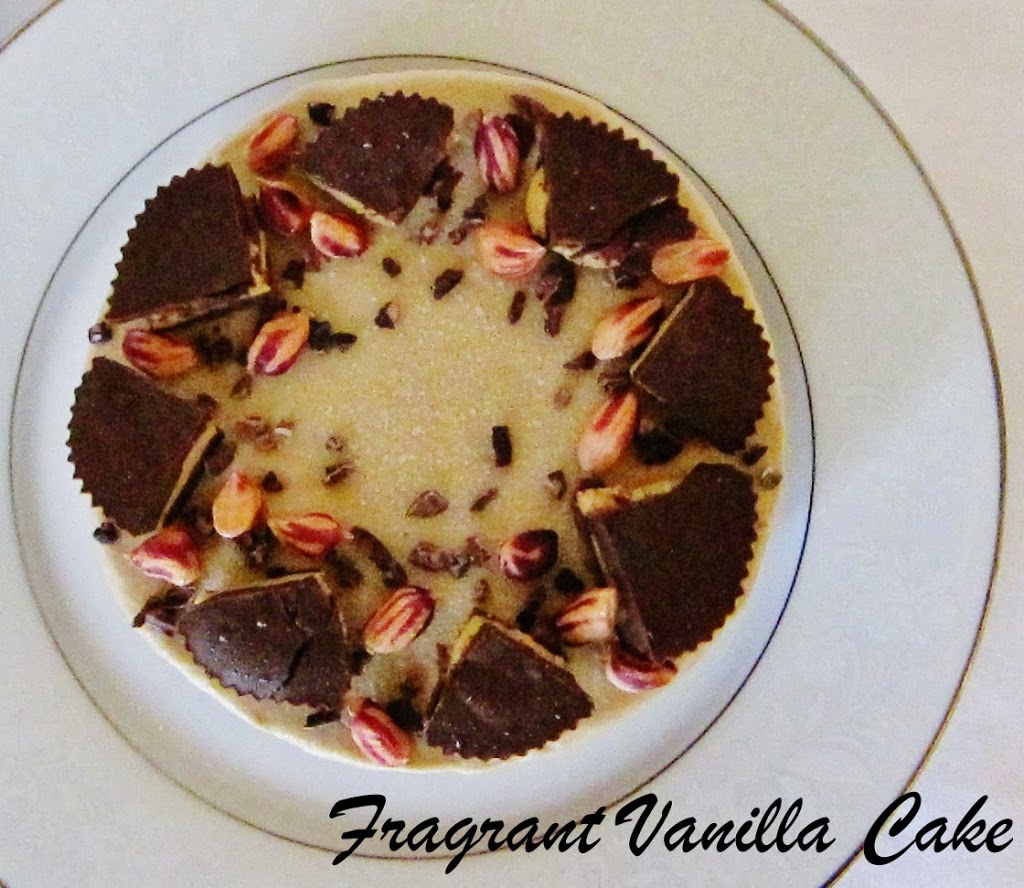 Raw Peanut Butter Cup Ice Cream Cake
I used to go to summer camp as a youngster.  Every year.  I would look forward to it every year with anticipation until I made the trip up there, and then have as much fun as possible while I was there.  I got sun burnt, mosquito bitten, and whatnot but I didn't care.  I was having the time of my life playing outdoor games, water skiing, horseback riding, and eating candy.  Yes, that was part of what I loved about it besides the activities.  The fact that I could go to the little store they had there and pick out candy and nobody was going to tell me not to eat it.  I bought peanut butter cups the most.  Because they are the perfect food as far as my 11 year old self was concerned!
I now find it a bit silly as an adult that I found so much joy in that candy, but hey, those were good times.  I don't exactly eat loads of candy now, I am happy with a piece or two once in a while.  But sometimes when I feel indulgent...I make cakes like this Raw Peanut Butter Cup Ice Cream Cake.  But I am not selfish, I admit I partially made this because my boyfriend Eric is like my 11 year old past self, and he can eat like 12 PB cups in one sitting. He loves them even more than I ever have.
Layers of peanut butter ice cream, laced with maca, then chocolate ice cream, and raw peanut butter cups mixed into both layers on top of a chocolate crust...epic! Maybe you are one of those 12 PB cup at a time people, or maybe you feel the need to treat yourself and have a decadent treat...but either way if you make this you will be in your happy place, trust me.
Raw Peanut Butter Cup Ice Cream Cake
Makes one 6 inch round cake
Crust:
1 1/2 cups finely shredded dried coconut
1 1/2 cups ground flax seed
1/3 cup raw cacao powder
1/8 tsp sea salt
1 cup soft medjool dates, pitted (if not soft, soak in filtered water 30 minutes and drain well before using)
Ice Cream:
1 1/2 cups coconut water
3 cups young coconut meat*
3 cups ripe bananas, mashed
3/4  cup raw coconut nectar or another raw liquid sweetener if you prefer
2 Tbsp maca powder (optional)
3/4 cup jungle peanut butter
seeds of one vanilla bean
1/4 tsp Himalayan salt
1/4 cup plus 2 Tbsp raw coconut butter, warmed to liquid
1/4 cup raw cacao powder
6 Raw Peanut Butter Cups, divided (use THIS recipe and omit the maple and maca and buckwheat)
Raw jungle peanuts and raw cacao nibs for decorating
For the crust, in a food processor, combine all ingredients but the dates, and process until fine crumbs.  Add the dates and process until starting to hold together when squeezed (if it is not, add a few more dates).  Remove from the food processor and press into the bottom of a 6 inch round spring form pan lined with plastic wrap (for easy removal) and press out flat.
For the ice cream, add coconut water to a food processor, along with young coconut, bananas, coconut nectar, maca, peanut butter, vanilla, and sea salt. Process until smooth, then with the processor running, add the coconut butter slowly and process until well incorporated, about a minute. Pour the mixture into an ice cream maker and process according to directions.
Once the ice cream is done churning, remove from ice cream maker, and remove 1/2 of the ice cream.  Whisk in 1/3 cup  raw cacao powder (to the 1/2 of the ice cream), then pour over the crust. Chop up two of the peanut butter cups and scatter them over it. Pour half of the peanut butter ice cream over that.  Cut up another 2 peanut butter cups and scatter them over that, then pour the rest of the peanut butter ice cream over and smooth the top.  Place in the freezer for about 6 hours or overnight until firm.
Decorate the top with remaining PB cups, jungle peanuts and cacao nibs.
*If young coconut meat is unavailable, you can substitute the 3 cups fresh coconut with 3 cups finely shredded, dried coconut and 1 1/2 cups coconut water.  But, you MUST have a high speed blender to do this or it will never become smooth.  Blend the coconut first until it becomes butter, using the tamper to press it into the blades until it is liquidy, then add the coconut water and blend until combined. Add this to the ice cream base in place of the young coconut meat.


(Visited 279 times, 1 visits today)