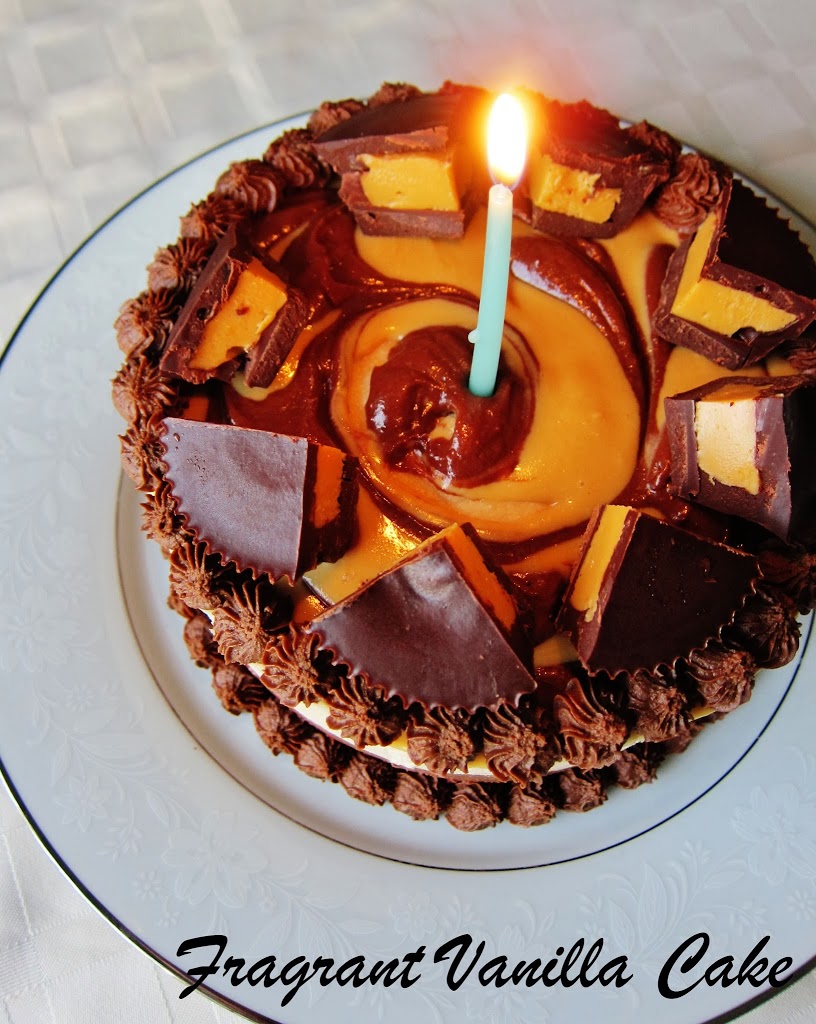 Raw Peanut Butter Cup Dream Cake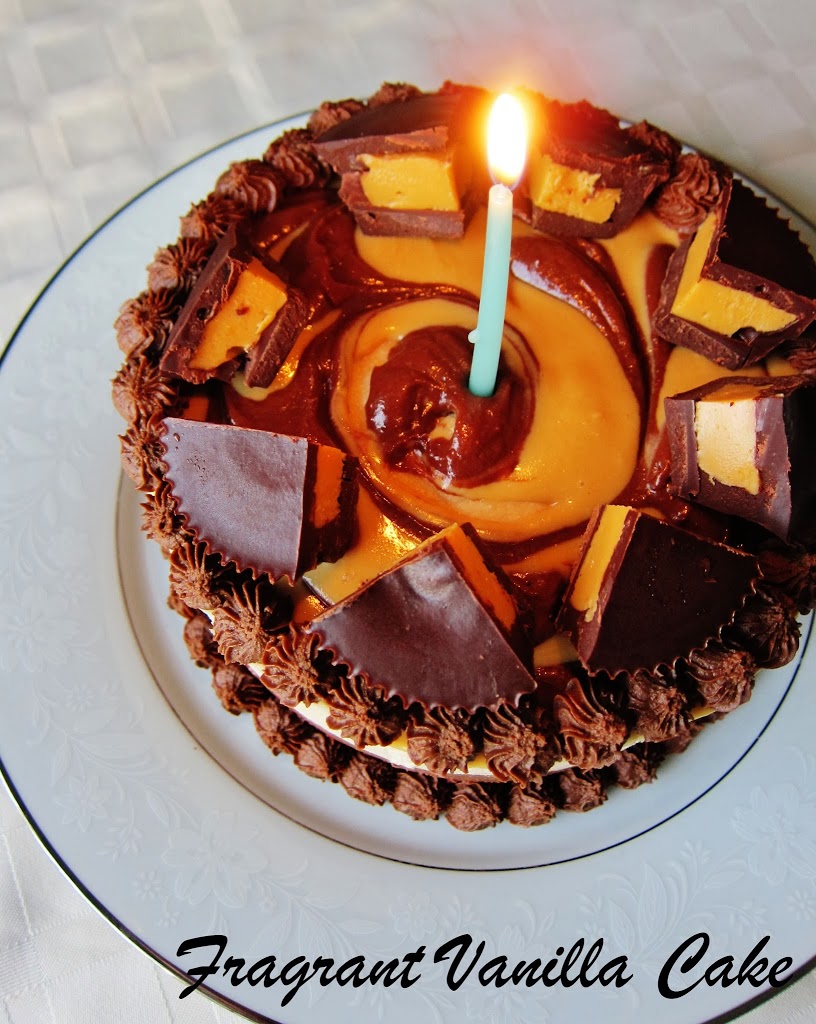 It was my boyfriend Eric's Birthday last week on Thanksgiving.  I did not want him to be jipped out of a Birthday since it was on a holiday, so we sort of made it a Birthday weekend.  I made a big pot of his favorite soup, we spent some quality time together, and even had a special dinner at one of our favorite restaurants Heartland in St. Paul.  And, let's not forget the Birthday cake.  I had to make him one, it just would not be right if I didn't, since we share all of the cakes I make together, and I wanted him to come up with his ultimate cake.  Before I even asked Eric what type of Birthday cake he wanted this year, I knew it would contain chocolate, and I had a feeling he would want it to include peanut butter as well.  He has been known to take down a whole jar of PB within a couple days, or eat a container of truffles in a sitting.  So it came of no surprise to me that when asked what type of cake he would like, he replied PB cup!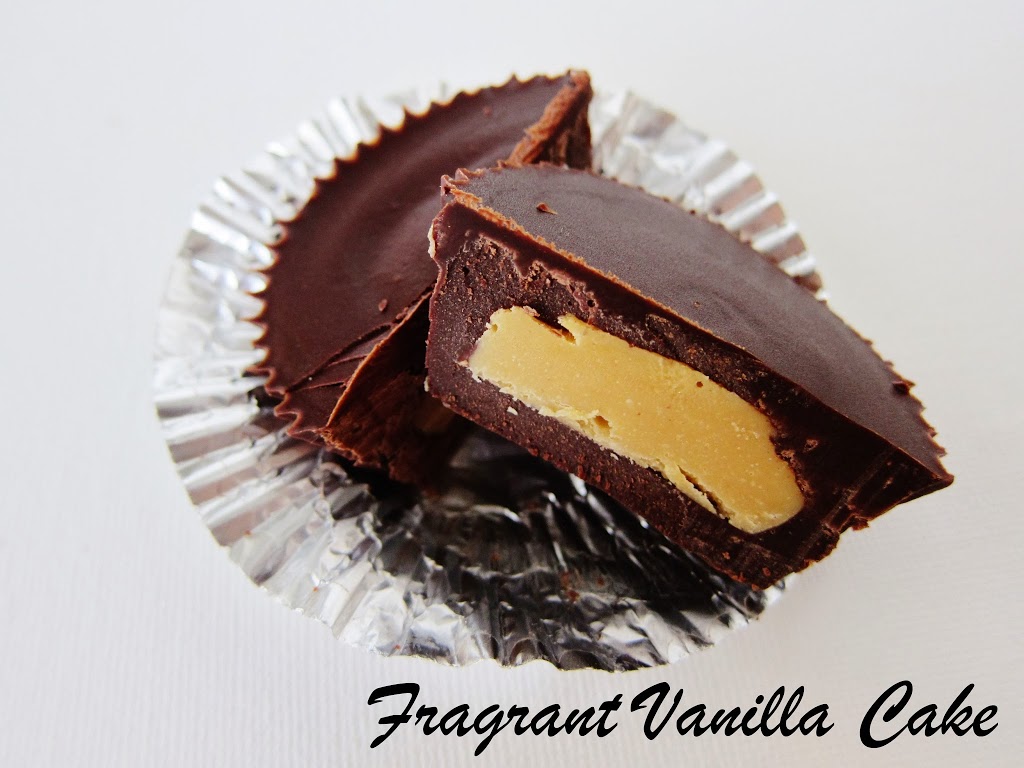 He started going into a detailed description of what sounded like the most decadent cake ever.  Layers of mousse and fudge, and PB mousse, and more PB, and PB cups.  Since he is one of the most important people in my life, and I love him dearly, I had to construct this cake!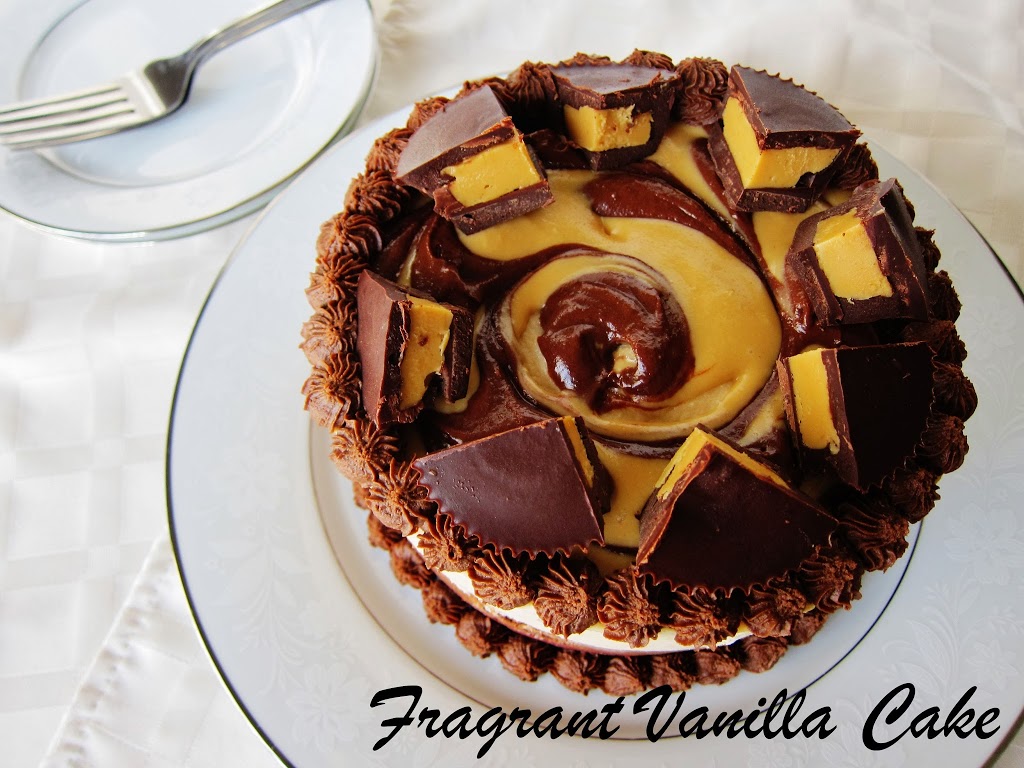 I started off with a layer of fudgy brownie crust, then topped it off with a decadent dark chocolate avocado mousse (his favorite in cakes) swirled with peanut butter.  Next came a layer of silky peanut butter mousse topped off with swirls of fudge then raw peanut butter cups.  It was pure decadence, and perfect for Eric.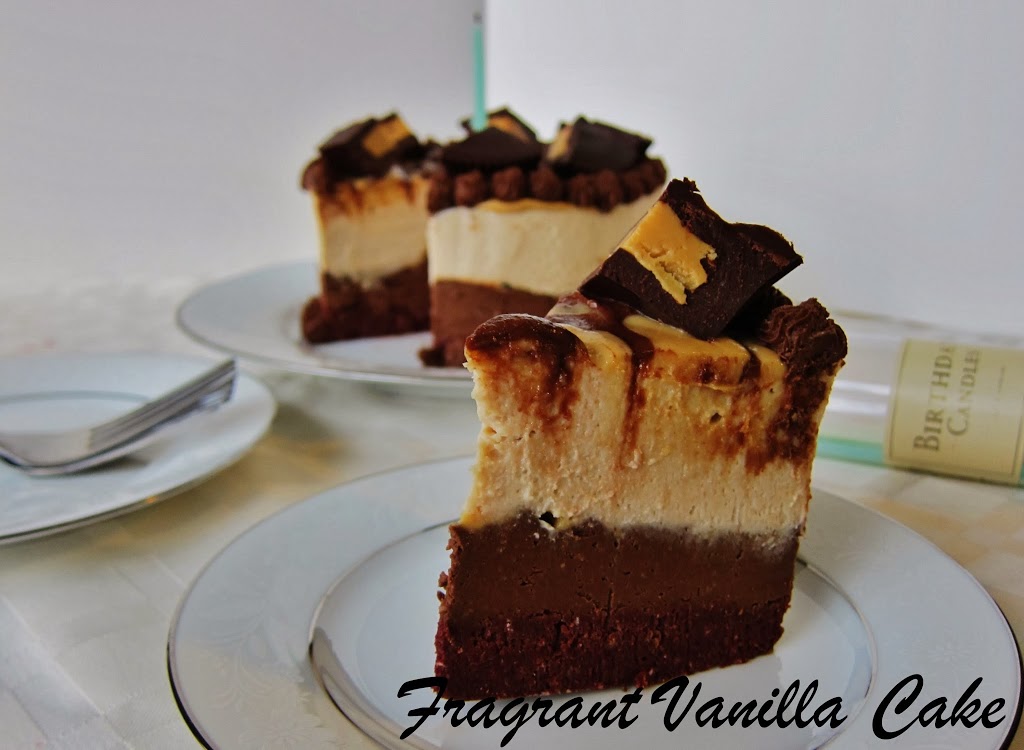 He much enjoyed the cake, looking like a kid eating his favorite type of chocolate as he dove in.  I love it when he enjoys himself that much, and the cake was the least of things I could do for him since he keeps me happy, and helps me so much.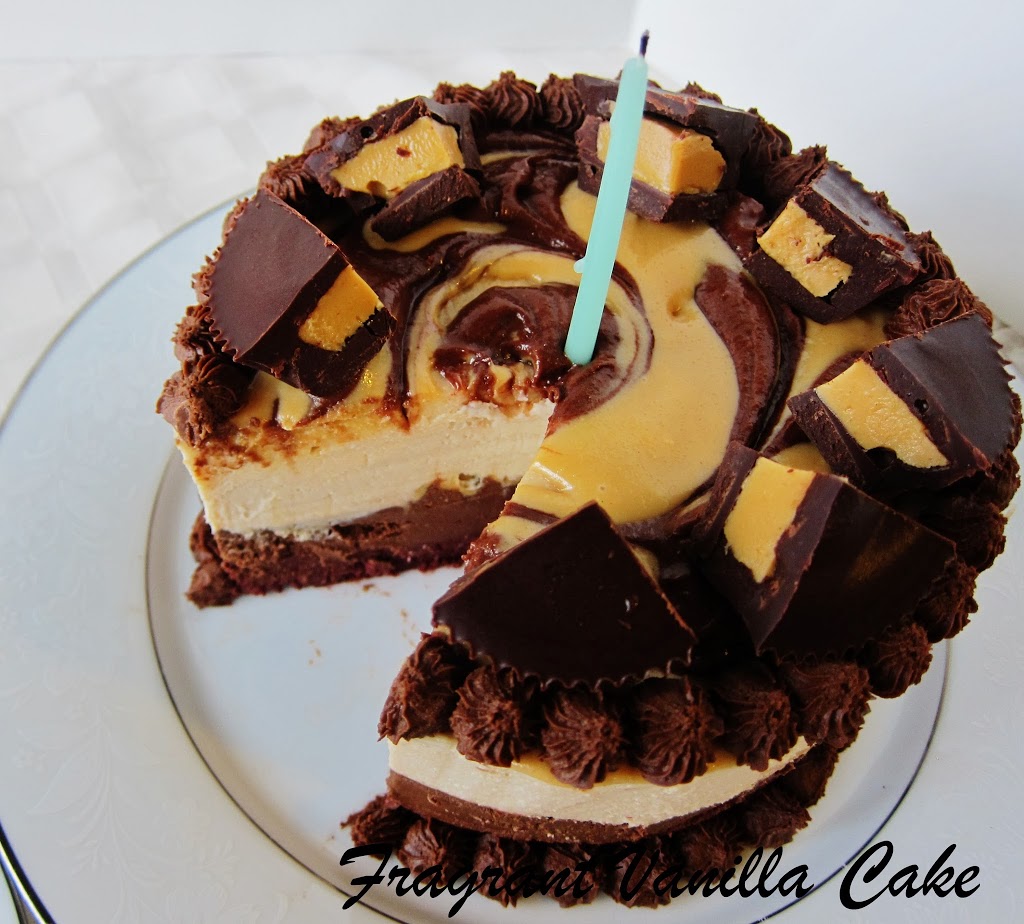 Raw Peanut Butter Cup Dream Cake
Makes one 6 inch cake
Brownie Crust:
1/2 cup soft medjool dates, pitted (if not soft, soak them for 30 minutes in filtered water and drain well)
1/4 cup
sprouted dehydrated buckwheat groats
1 cup finely shredded dried coconut
1/2 cup ground flaxseed
2 Tbsp chopped raw beet (optional, but makes for more of a cake like consistency)
1/4 tsp sea salt
1 tsp pure vanilla extract1/4 cup raw cacao powder
Chocolate Filling:
2 cups diced ripe avocados (about 3 medium)
1/4 cup plus 1 Tbsp raw coconut nectar, or your choice of raw liquid sweetener
1/4 tsp sea salt
1/2 Tbsp pure vanilla extract
1/2 cup  plus 2 Tbsp raw cacao powder
3 Tbsp coconut butter, liquefied
Peanut Butter Filling:
1 cup  young coconut meat*
1/4 cup coconut water
1 cup raw peanuts, soaked 4 hours and drained
1/4 cup raw coconut nectar
1/4  teaspoon sea salt
1 Tbsp pure vanilla extract and seeds from half a vanilla bean
2 Tbsp
raw peanut butter
1/4 cup plus 1 Tbsp  raw coconut butter (warmed to liquid)
Fudge:
2 Tbsp raw cacao powder
2 Tbsp raw coconut nectar
a pinch sea salt
1/4 cup raw peanut butter, warmed until a little runny (if too thick)
4 raw peanut butter cups (recipe follows)
Lightly coat a 6 inch spring form removable bottom pans with coconut oil. To prepare the crust, combine the dates, coconut, and flaxseed in the food processor and process until well blended and the consistency of flour.  Add the sea salt, vanilla, beet, and cacao powder and process until smooth and starting to hold together when squeezed (if it doesn't add a little more dates).  Firmly press crust into the bottom of the prepared pan, and set aside.
To make the chocolate filling, combine all ingredients in the food processor and process until smooth.  Reserve 1/2 cup of it in another bowl (this will be for the decoration) Set  both bowls aside.  Rinse out the food processor, and to make the peanut butter filling, combine coconut meat, juice, coconut nectar, sea salt and vanilla in a food processor and blend until smooth and creamy. Set aside.
To make the fudge swirl, whisk together ingredients until smooth and set aside.
To assemble cheesecake, pour the large bowl of chocolate filling over the crust, then drop the raw peanut butter over it by the 1/2 tspful.  Swirl it with a knife, then pour over the layer of peanut butter filling.  Drop more of the PB and the fudge over it by the 1/2 tspful, and swirl it with a knife.  Place in the freezer for about 4 hours to firm up.  Place the set aside chocolate filling in a pastry bag and pipe around the top and bottom of the cake. Top the cake with peanut butter cups and serve!
*If coconut meat is unavailable you can use 1 cup raw cashews, soaked instead.Raw Peanut Butter Cups
Makes 12Chocolate:
1/2 cup raw coconut oil, warmed to liquid
3/4 cup raw cacao powder
1/2 cup raw coconut nectar or agave nectar
a pinch sea saltPeanut Butter:
about 1/3 cup raw peanut butter (or unsweetened pb if you are not concerned with being raw)
To make the chocolate, whisk all ingredients together until smooth, and set aside.
Lay out 12 PB cup tins or molds on a flat cutting board or tray, and fill them about 1/3 full with the chocolate.  Place them in the freezer to set about 5 minutes.  Once set, spoon about 1 heaping tsp of peanut butter onto each, but not so much that it oozes to the sides (you want to be able to cover it with more chocolate and not have it stick out the top).  Spoon chocolate over each mound of pb enough to cover and fill to the top of the tins.  Place in the freezer to set for about 15-20 min.  Enjoy!
(Visited 49 times, 1 visits today)