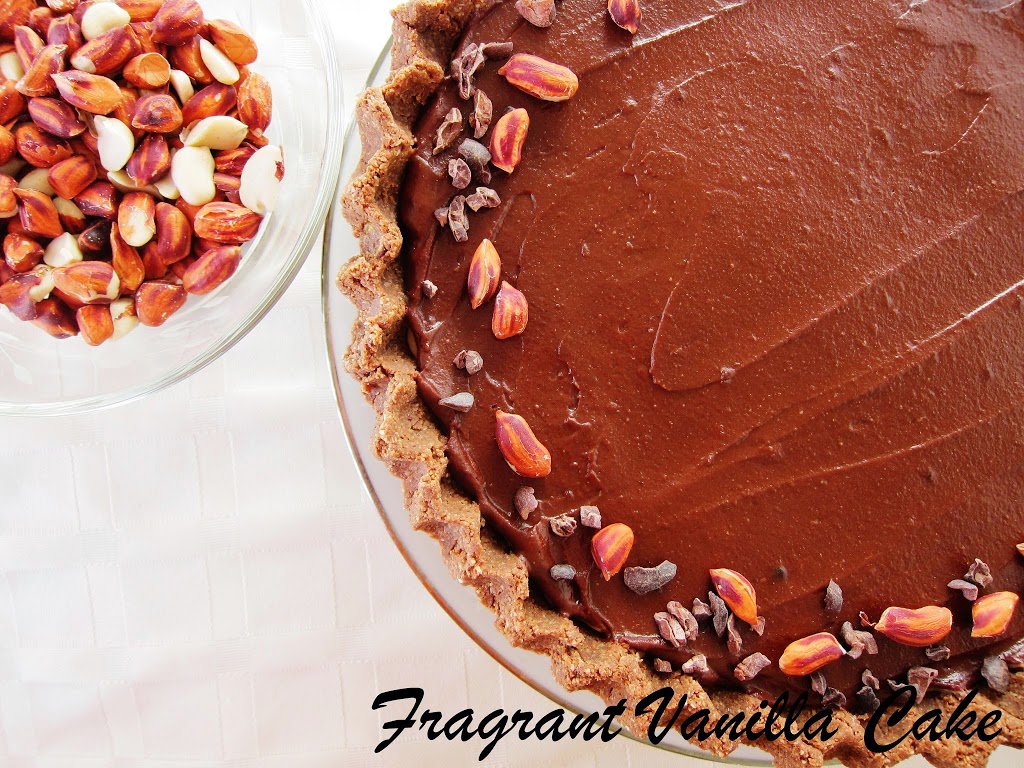 Raw Peanut Butter Chocolate Mousse Tart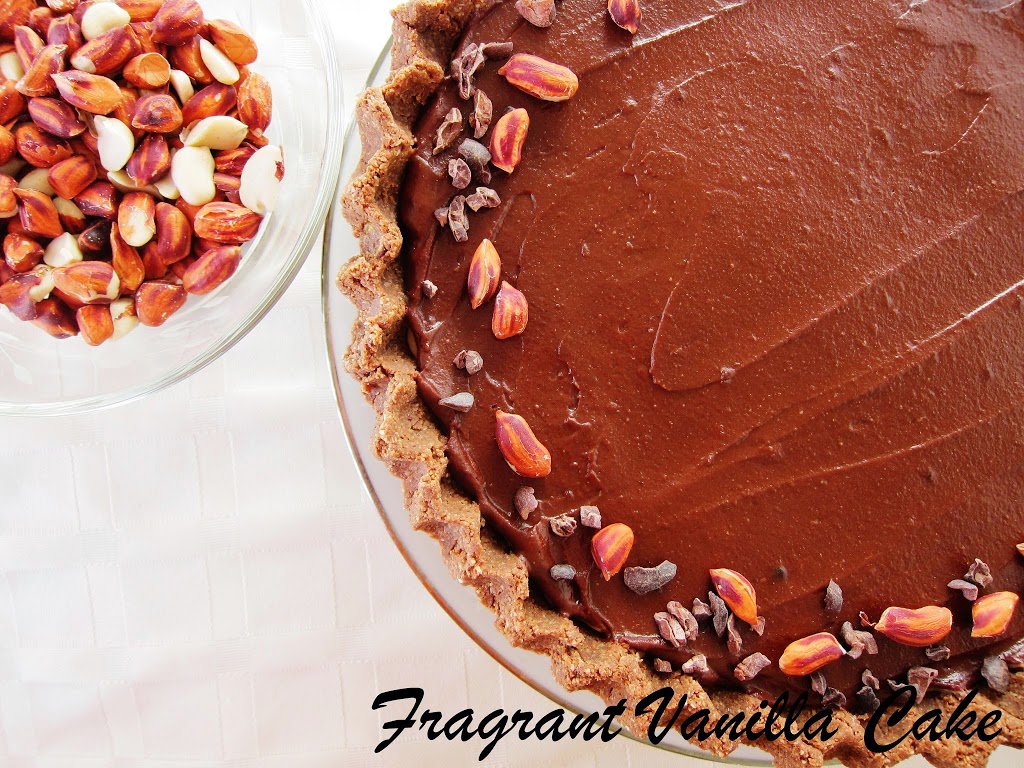 A large bag of beautiful local red beets, a bouquet of romaine or butter lettuce, a pound of sweet pears...these are way better gifts than any bouquet of flowers to me, and my boyfriend Eric spoils me when it comes to giving me the gift of fresh organic produce surprising me with these things often. Which is why, when I was paging through a cookbook while eating my big salad for dinner one night, when a pie recipe caught my eye that I knew he would love, I had to make it.  Well, sort of make it.  I of course rawified it and tweaked it, but I loved the concept of it. A peanut butter cookie crust, a layer of chocolate mousse, and a layer of peanut butter mousse.  It was sooo Eric.  This is after all the guy who requested that I make him a peanut butter cup cake for his Birthday.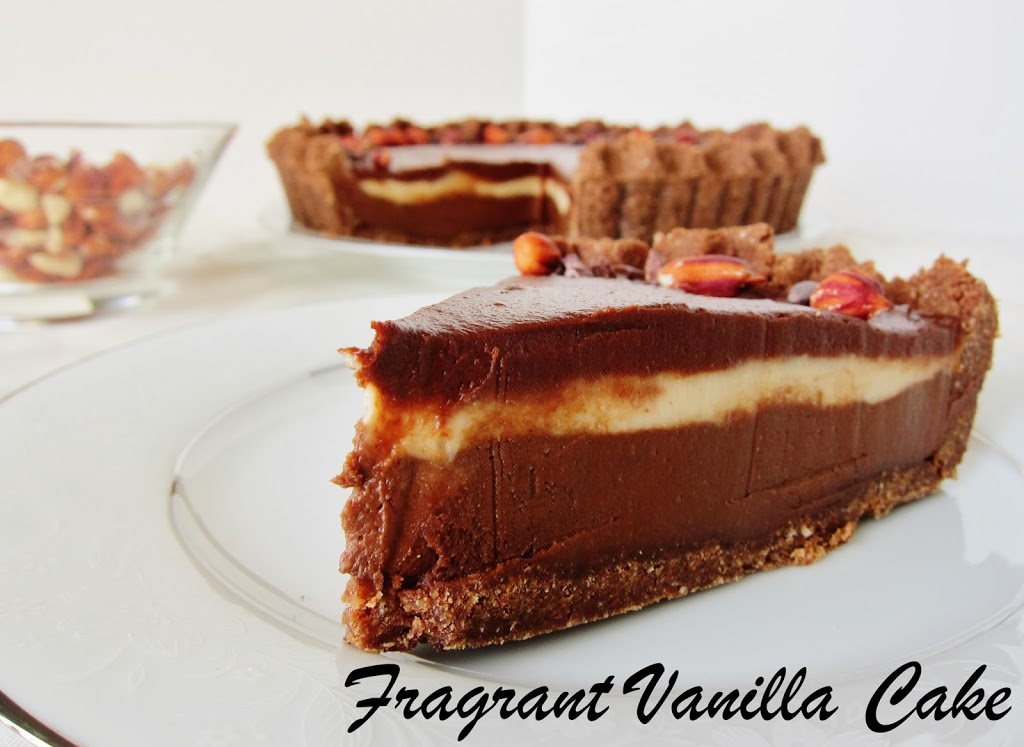 I am sure this turned out way better than that recipe that gave me the idea...raw desserts usually are.  I made my crust not just peanut butter cookie, but chocolate peanut butter cookie.  It tasted so wonderful before I even pressed it into the crust and dehydrated it.  I added a little banana to keep it soft,  and sweeten it which is why it needed dehydrating but the texture was perfect.  The bottom layer of mousse was made with silky avocadoes, and for the PB layer sweet young coconut meat along with the jungle peanuts.  Lastly, I wanted a layer of ganache on top but not just chocolate because it becomes to hard to cut cleanly sometimes, so I sweetened it with date paste to allow it to stay soft and fudgy.  I garnished it with a bit of raw cacao nibs and jungle peanuts and it made me happy just looking at it.  I knew Eric would love it.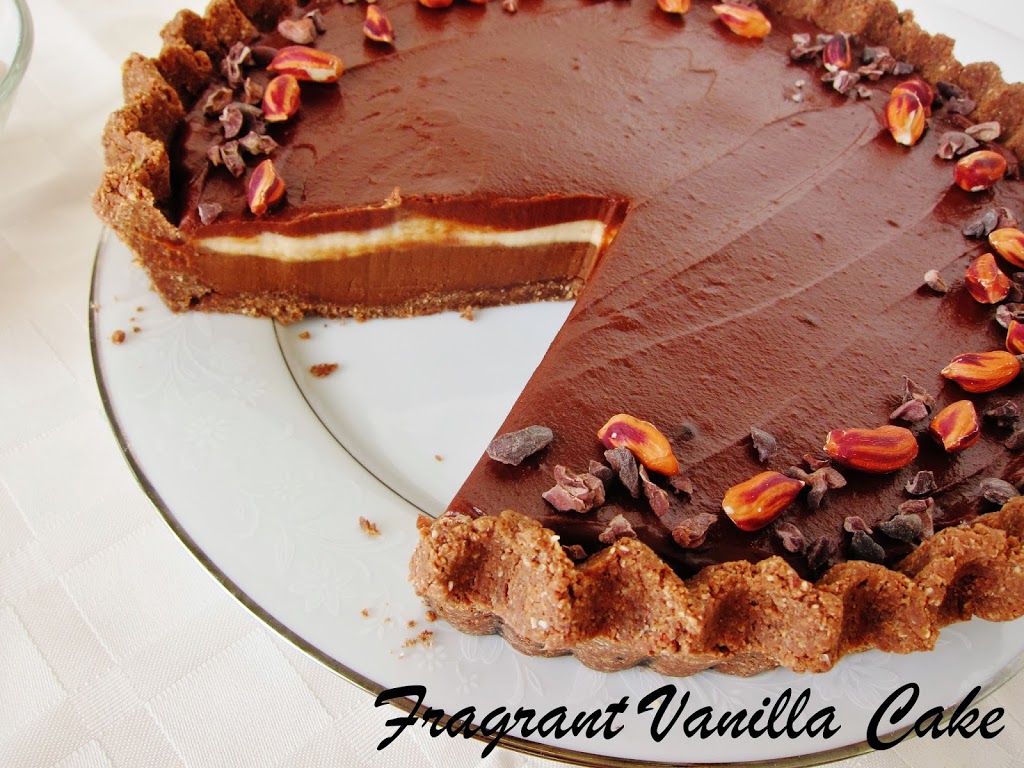 We always eat dessert together on Sunday nights and I could not wait for him to try it. It is the least I could do for my top recipe taster who always eats my raw salads with me without complaining and brings me ingredients for my meals every week.  Love this guy like crazy!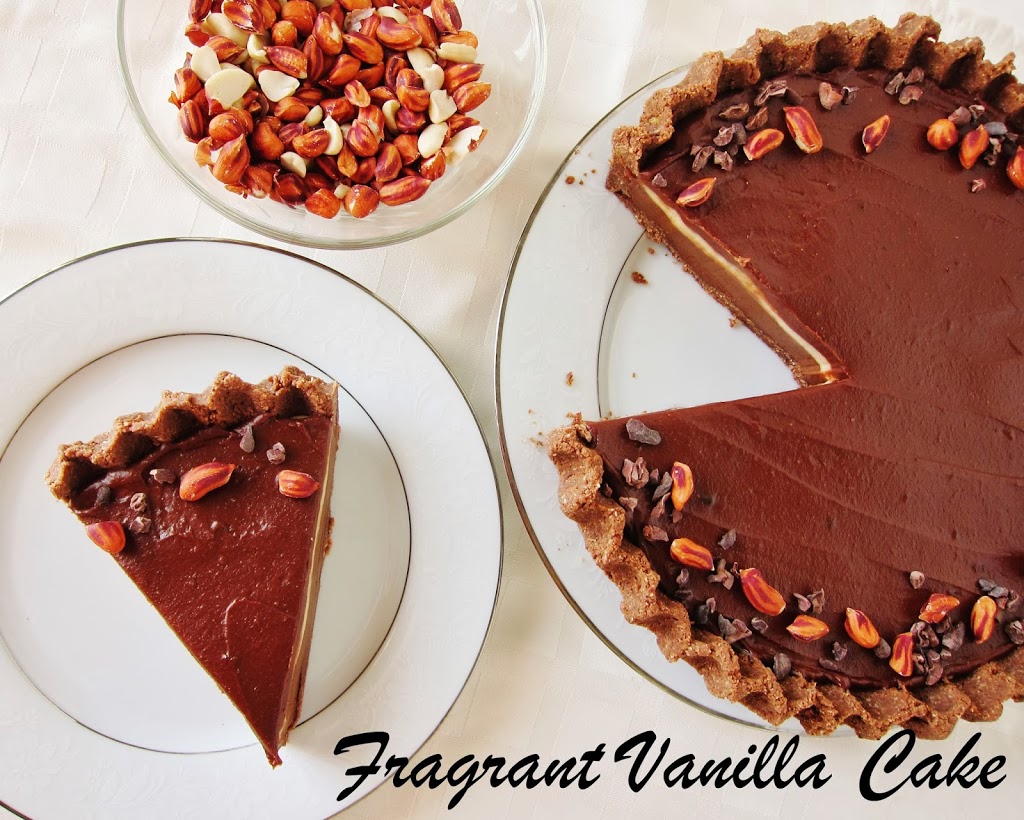 Raw Peanut Butter Chocolate Mousse Tart
Makes one 10 inch Tart
Crust:
1/2 cup sprouted dehydrated buckwheat
1 cup raw jungle peanuts
1 cup ground flaxseed
2 cups finely shredded, dried coconut
1/8 teaspoon sea salt
1 cup soft medjool dates, pitted and chopped (soaked in filtered water 30 minutes if not soft, and drained well)
1 large ripe banana, sliced
1/3 cup raw cacao powder
Chocolate Filling:
2 cups diced ripe avocados (about 3 medium)
1/4 cup plus 1 Tbsp raw coconut nectar
1/4 tsp sea salt
1/2 Tbsp pure vanilla extract
1/2 cup  plus 2 Tbsp raw cacao powder
3 Tbsp coconut butter, liquefied
Peanut Butter Filling:
1 cup  young coconut meat*
1/4 cup coconut water
1/4 cup raw coconut nectar
1/4  teaspoon sea salt
1 Tbsp pure vanilla extract and seeds from half a vanilla bean
2 Tbsp
raw peanut butter
1/4 cup plus 1 Tbsp 
raw coconut butter
(warmed to liquid)
Fudgy Ganache:
1 1/2 cups soft medjool dates (if not soft, soak in water until soft and drain before using)
1/2 c filtered water
1/4 cup plus 2 Tbsp raw cacao powder
2 Tbsp raw coconut oil, warmed to liquid
a large pinch sea salt
In a food processor, combine the buckwheat, peanuts, flaxseed, coconut, sea salt, and dates, and process until finely chopped.  Add the banana and cacao powder, and process until the consistency of dough.  Press into a 10 inch round tart crust with a removable bottom oiled with coconut oil.  Place in the dehydrator and dehydrate for about 12 hours until dry but still a little soft (like peanut butter cookies).  Let cool.
To make the chocolate mousse filling, combine all ingredients in a food processor or high speed blender and process until smooth.  Spread out in the tart crust.  Rinse out the food processor, and to make the peanut butter filling, combine coconut meat, peanuts, juice, coconut nectar, sea salt, vanilla, peanut butter, and coconut butter in the food processor and blend until smooth and creamy. Pour over the chocolate layer and smooth out.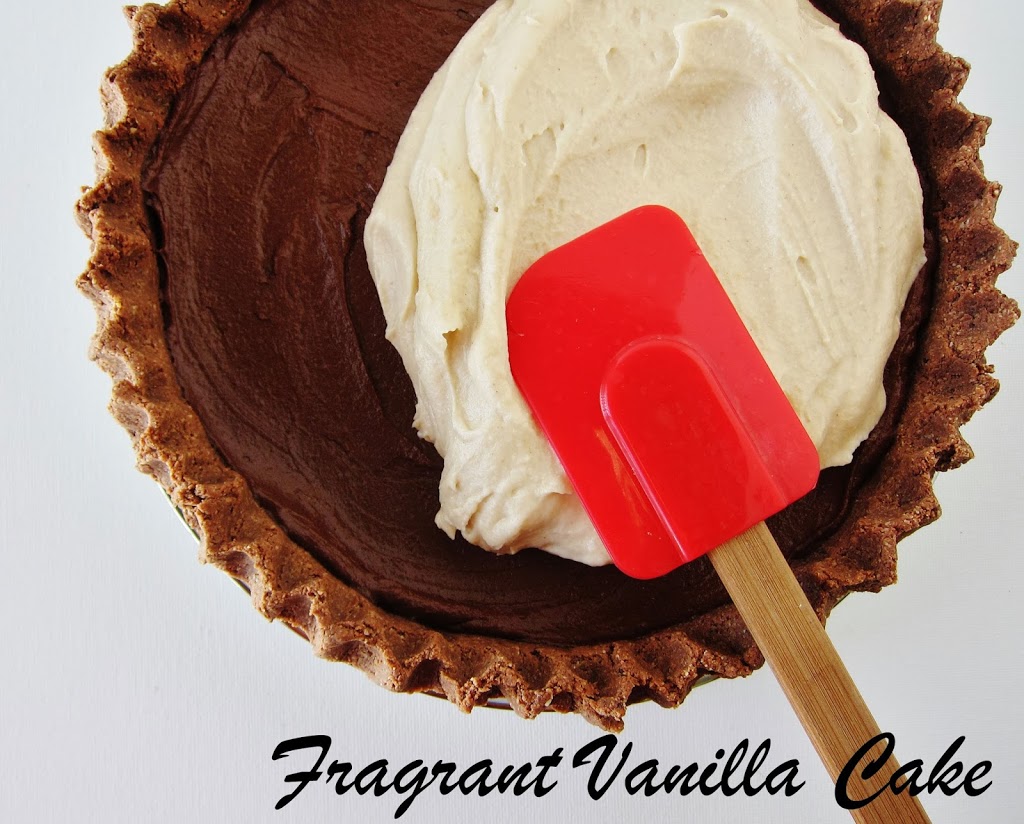 To make the fudgy ganache, combine all ingredients in a high speed blender or food processor and blend until smooth.  Spread over the peanut butter layer and place in the fridge for a few hours to set up.  When ready to serve, garnish with cacao nibs and raw jungle peanuts around the edge. Store any extra in the fridge.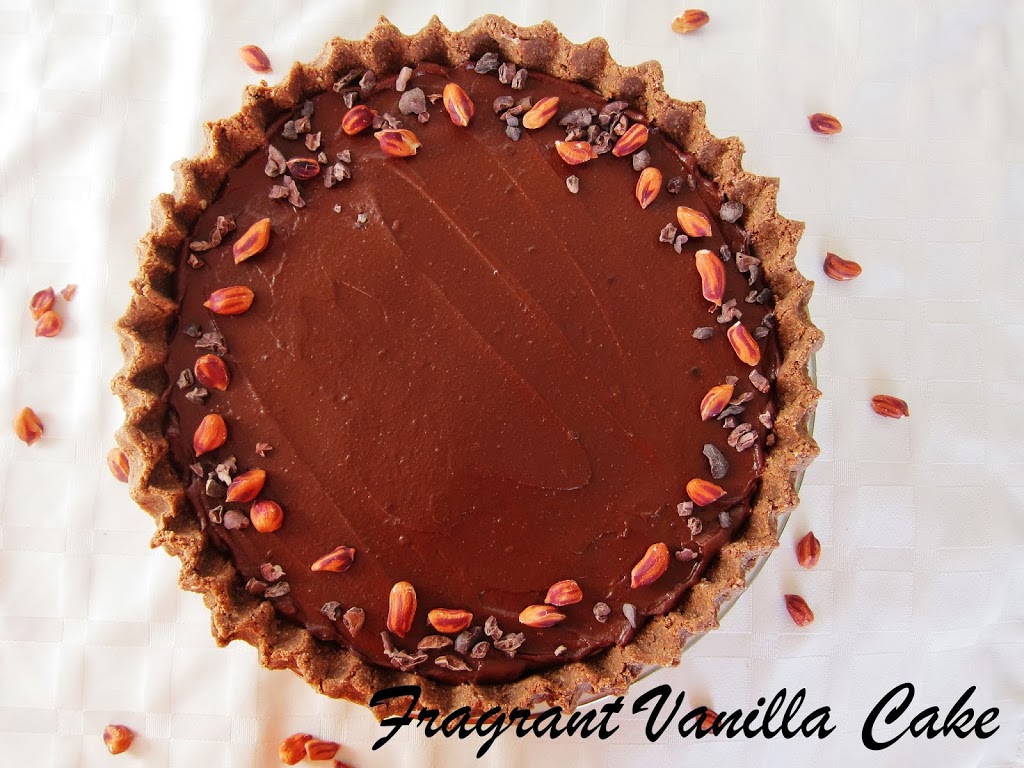 (Visited 71 times, 1 visits today)