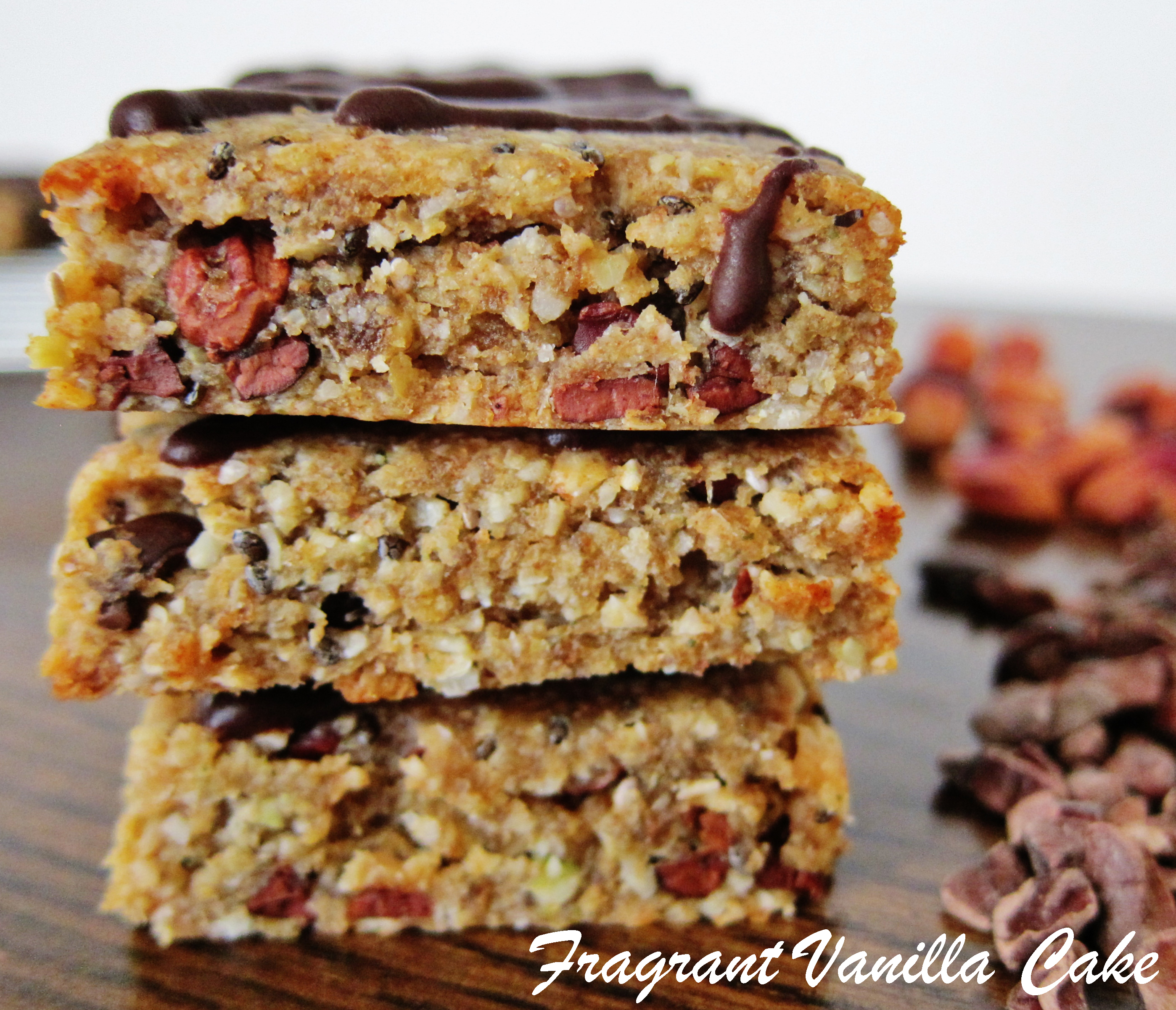 Raw Peanut Butter Chocolate Chip Energy Bars
  
I never leave the house without a snack on hand if I know I am going to be somewhere long. I guess I take after my Grandma, who always brought us kids snacks whenever we would go anywhere.  She was always prepared.  We would never go hungry with Grandma around.  And it wasn't just unhealthy stuff either, she would have grapes, or pretzels, or nuts and other stuff of the sort.  So now as an adult, I never like to go more than 4 hours without eating, and I always have something to keep me energized.  Sometimes it is fruit, and sometimes something I have made. My boyfriend on the other hand, is more like me as a child.  Forgets to eat before he goes out all the time and starts to get low blood sugar.  And so sometimes I make him things that he can just grab and eat fast.  Because I know not everyone likes to plan ahead with their food and I have to take care of my Man.

So last week, I made him some energy bars with two of his (and my) favorite things, peanut butter and chocolate.  I used a crunchy buckwheat base held together with peanut butter and dates, added in some chia seeds and hemp seeds for extra protein, and some cacao nibs and chocolate chunks.  I drizzled them with a little more raw chocolate just because. OMG...were they ever good!

I shared one with my Mom as well, since she wanted a protein boost, and although she tends to not like peanut butter, she loved it!  These are kid friendly, and of course adult friendly.  If you don't do peanut butter, almond butter or walnut butter would work in these as well!

Raw Peanut Butter Chocolate Chip Granola Bars
makes 12
Filling:
1 1/4 cups raw jungle peanut butter or regular peanut butter (not raw)
1 cup soft medjool dates, pitted
2 tsp pure vanilla extract
1/2 tsp sea salt
2 Tbsp ground flaxseed
1/4 cup filtered water
2 cups sprouted, dehydrated buckwheat groats
1/4 cup shelled hemp seeds
1/4 cup chia seeds
1/2 cup raw cacao nibs
1/4 cup raw chopped chocolate
1/4 cup melted raw chocolate
In a food processor, combine the peanut butter, dates, vanilla and se salt, flax seed, and water and blend until smooth.  Add the buckwheat groats, hemp seeds, and chia seeds and pulse until chopped and it is all combined and holds together when squeezed (if it doesn't add a little more peanut butter).  Mix in the cacao nibs and chopped chocolate. 
Press and shape into a 1/2 inch thick rectangle on a sheet of parchment paper.  Score into 12 bars, then place them in the dehydrator at 115F and dehydrate for about 4 hours until they are dry, but still soft. 
You can melt the raw chocolate in the dehydrator when the bars are almost ready, just place it in a bowl and stir about every 10 minutes until melted.  
Drizzle the melted chocolate over the bars once they have finished dehydrating (I like to put it in a ziplock bag with the corner cut off and squeeze it out).  Let the chocolate set until dry (this will happen faster if you put the tray in the freezer for about 15 minutes).  Store bars in the refrigerator.   
(Visited 172 times, 1 visits today)