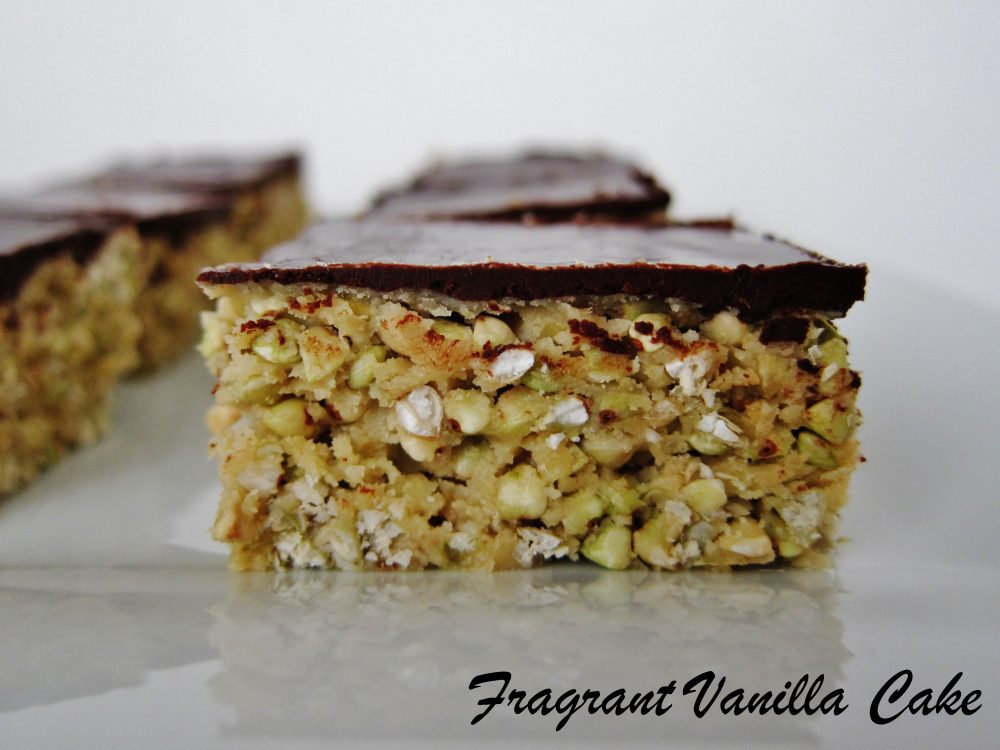 Raw Peanut Butter Buckwheat Crispy Bars
Last week my Mom and I were discussing rice crispy bars.  I was saying that the best kind when I was young were the ones with the peanut butter in the crispy part topped off with chocolate.  I could have cared less about the regular ones with just marshmallows, it had to be the special ones.  One of the kids on my cross country team had a Mom that always made those and brought them to the meets.  I looked forward to those after my race.  I said to myself, I have got to recreate a raw version of those sometime with buckwheat crispies.  But it was on the backburner.  Until I asked Eric if he had an opinion on what would be good to make next and he said rice crispy bars with peanut butter.  I knew it had to be made now, it was meant to be because all three of us thought about them.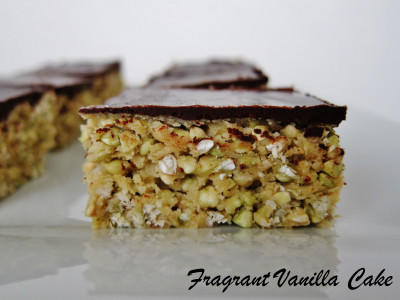 They ended up super simple to make since I always have a supply of soaked and sprouted buckwheat groats on hand (something that is smart to do if you make a lot of raw desserts, make a large batch and freeze them in containers).  I just mixed them with coconut butter, peanut butter, coconut nectar and sea salt and that was all they needed.  Plus the dark chocolate on top of course.  Were they ever amazing!  I like these even more than the ones I remember as a child.  Be warned, they are pretty addictive.  I cut them into small bars, and I can't stop at just one.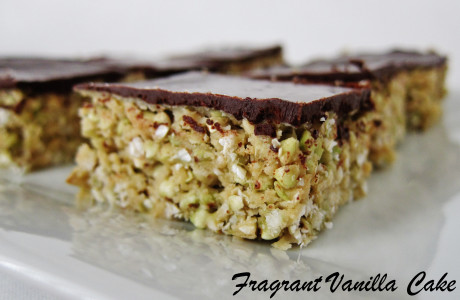 Raw Peanut Butter Buckwheat Crispy Bars
Makes 18 bars
6 cups soaked and dehydrated buckwheat
2 cups raw jungle peanut butter (or regular PB for not raw)
1 cup raw coconut butter, warmed to liquid
1 cup raw coconut nectar or maple syrup
1/2 tsp sea salt
Chocolate Topping:
1/2 cup melted coconut oil or raw cacao butter
1/2 cup raw cacao powder
1/4 cup raw coconut nectar or maple syrup
pinch sea salt
Place the buckwheat in a large bowl. In a medium bowl, whisk together the peanut butter, coconut butter, coconut nectar, and sea salt until combined.  Stir into the buckwheat until it is evenly coated.  Press the mixture into the bottom of a 7x7 or 8x8 inch square pan lined with parchment (for easy removal).  Chill for at least 30 minutes until firm.
To make the topping, whisk together all ingredients until smooth, then pour over the chilled bars.  Place back in the freezer until set, about 5-10 minutes.
Cut into 18 bars. Store extra bars in an airtight container in the fridge.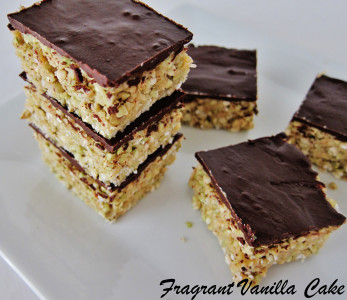 (Visited 356 times, 1 visits today)