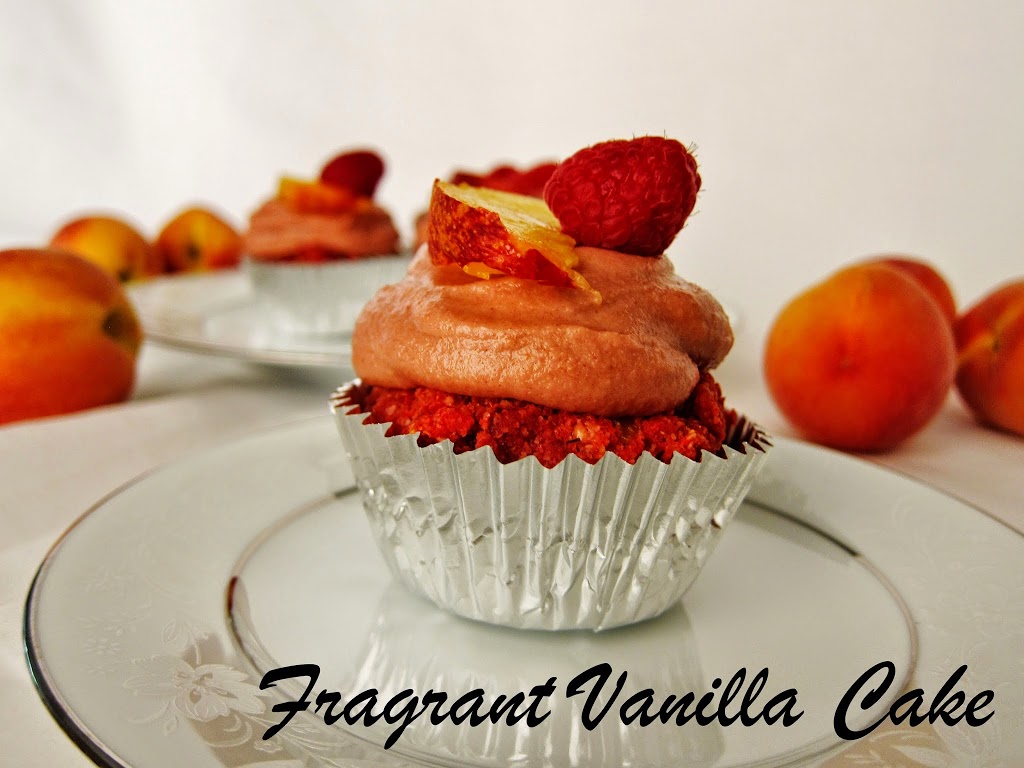 Raw Peach Blush Cupcakes
I was asked a couple months back by one of my readers if I could create a peach raspberry cupcake. I thought that was an awesome idea! It wasn't peach or raspberry season here yet though so I had to wait to make them. But since I got my hands on some this week, I just had to make them. I was excited too, peaches and raspberries are one of my favorite summer combinations.
For the cake portion, I used a mixture of beet and carrot pulp leftover from my juicing to keep the cupcakes moist and add a little sweetness. A little ground flaxseed and coconut flour along with dates and vanilla and it was super delicious and a beautiful blushing color! The best part? It was lighter than traditional raw cupcake batter, and it did not require any dehydration. I mixed in some raspberries and peaches for little bursts of flavor throughout the batter, much like a muffin.

They were delicious just like that, but I decided to make a simple coconut butter based frosting made sweet with peaches and raspberries to top them. It was so good, I could have ate it with a spoon, but on the cupcakes, it was even better.
These took little time to make, and they were so good! Like biting into the taste of summer. The color was lovely too, like a sunset! Nothing compares to fresh sweet peaches and raspberries when they are nice and ripe, and this was the perfect way to use them!
Raw Peach Blush Cupcakes
Makes 4
Cake:
1 1/2 cups raw beet and carrot pulp (leftover from juicing)
1/2 cup soft medjool dates, pitted (if not soft, soak them in filtered water 30 minutes and drain well)
2 tsp pure vanilla extract
1/8 tsp sea salt
3/4 cup ground flaxseed
1 1/4 cups raw coconut flour (home made is preferred)*
1/4 cup raspberries cut up slightly
1/4 cup finely diced peaches
Frosting:
3/4 cup fresh organic peaches
1/4 cup organic raspberries
2 soft medjool dates, pitted (if not soft, soak them in filtered water 30 minutes and drain well)
a pinch sea salt
1 tsp pure vanilla extract
1/4 cup plus 1 Tbsp raw coconut butter (not oil), warmed to liquid
For the cake, combine the beet and carrot pulp, dates, vanilla, and sea salt in a food processor and process until it is well combined and the beets are very finely chopped. Add the flaxseed and coconut flour and process until just combined (but don't overdo it or it will be too dense). Add the raspberries and peaches and pulse to mix them in (but not chop them up too much). Spoon the batter into 4 cupcake liners, and shape the tops to round them.
Meanwhile, to make the frosting, combine the peaches, raspberries, dates, sea salt and vanilla in the food processor and process until smooth. Add the coconut butter and process until smooth (if it is clumpy at all, it probably needs to warm up a little, so process until it is not lumpy). You will be using the frosting right away before it starts to set up.
Spread the frosting over the cupcakes. Top with peach slices and raspberries and enjoy! Store any extra cake in the fridge.
*Store bought coconut flour is often times too dry, and it may dry out your cake mixture too much.
(Visited 55 times, 1 visits today)