Raw PB & J Bars
I had made some raw bars a few weeks ago involving chocolate and a crunchy crust and my boyfriend Eric loved them so much he practically ate them all in one day. He was saying that he wished he had more the next day so I told him that I would come up with an even more delicious dessert concoction soon. Enter: PB&J Bars!
I was thinking, what could be more delicious than chocolate AND peanut butter and jam? He loved the idea so I got to work that Saturday. I made a crunchy cookie crust as he calls it, then topped it off with a bit of smooth creamy peanut butter mousse, some raw strawberry jam, and lastly a layer of dark chocolate.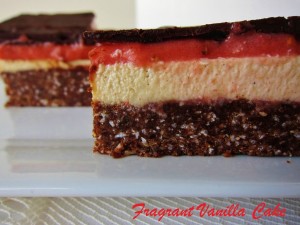 They were sooo good! Like peanut butter and jam all grown up and even better! Eric definitely approved as well eating 5 of them the first day I made them. They are pretty addictive I have to say, and being a peanut butter and jam fan myself these are one of the best peanut butter and jam desserts I have made.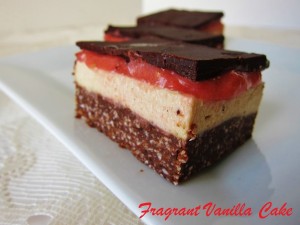 Raw PB & J Bars
Makes 16 bars

Crust:
2 cups raw walnuts
2 cup finely shredded dried coconut
1 1/2 cup buckwheat, sprouted and dehydrated (or additional coconut)
1/2 tsp sea salt
1/4 cup plus 2 Tbsp raw cacao powder
24 soft medjool dates, pitted (if not soft, soak them until they are and drain them)

Cream:
1 cup raw cashews, soaked 4 hours and drained
1 cup young coconut meat (or additional cashews if unavailable)
1/4 cup coconut water
3 Tbsp raw coconut nectar or agave nectar
1/4 tsp sea salt
seeds of one vanilla bean, or 1 Tbsp pure vanilla extract
1/2 cup raw peanut butter
1/4 cup raw coconut oil, warmed to liquid

Jam:
3 cups organic strawberries
10 dates
2 Tbsp coconut nectar
a pinch sea salt
1 tsp pure vanilla extract
1 Tbsp lemon juice


Chocolate glaze:
1/2 cup raw cacao powder
1/2 cup raw coconut oil
1/4 cup raw coconut nectar or raw agave nectar
a pinch of sea salt

For the crust, combine walnuts, coconut, buckwheat, sea salt, cacao powder, and dates in the food processor and process until fine crumbs and starting to hold together when squeezed. Press the mixture into a foil lined 9 inch square pan, and set aside in the fridge.
To make the cream, combine all ingredients but the coconut oil in a food processor and process until smooth. With the motor running, add the peanut butter and oil and process a minute more. Pour over the crust and place in the freezer to set until firm.
Cut up the strawberries and place them on a lined dehydrator sheet and dehydrate a couple hours until the berries are somewhat "roasted". Remove from the dehydrator, and combine with the dates, coconut nectar, sea salt, vanilla, lemon juice and process until smooth. Spread over the peanut butter layer and place in the freezer until frozen (you do not want it to smear when you spread the chocolate over).
Meanwhile, to make the chocolate glaze, whisk together all ingredients until smooth, then pour enough of the chocolate over the jam to make a thin layer (you may not need it all) and spread to the sides. Place in the freezer just until set, about 5 minutes, then cut into squares. They cut easier if you warm the knife in warm water, wipe it dry then cut a slice (to soften chocolate).
(Visited 29 times, 1 visits today)