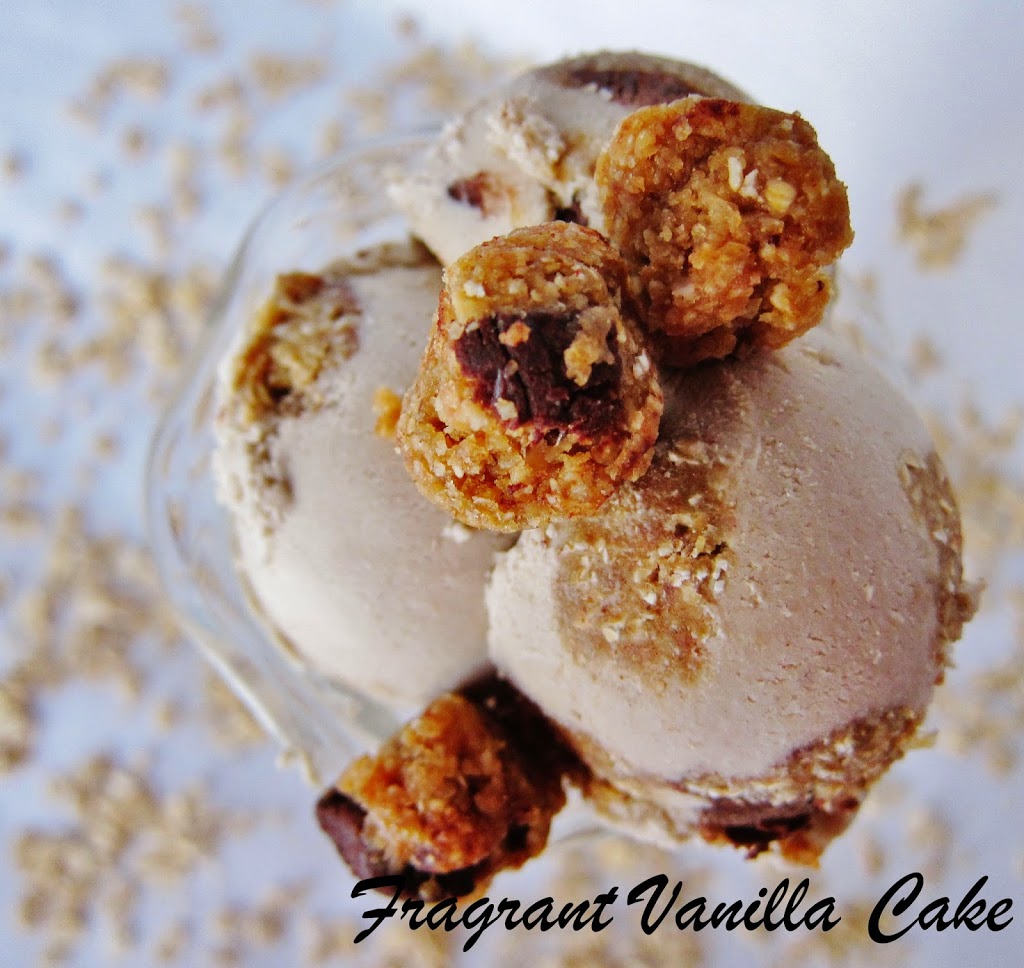 Raw Oatmeal Cookie Dough Ice Cream
I am one of those people who prefers cookie dough to baked cookies. It is a textural thing. For some reason that soft texture appeals to me more than drier baked cookies. So, it would not be unusual for me to say...whip up a batch of cookie dough just for the sole purpose of eating it as is. Vegan cookie dough of course. After watching one of my co workers in the deli make many batches of cookie dough one day last week at work, and my other co workers sampling it, I decided that I needed some of my own when I got home. Raw oatmeal chocolate chunk cookie dough.
I love cookie dough of all kinds, and this was wonderful. I decided that what would be even better would be to make a batch of raw ice cream and stir some of the cookie dough chunks into it. I have always enjoyed cookie dough ice cream, but have never had oatmeal cookie dough chunk, so it was about time. Simply heavenly it was...and I would say 32F degrees is plenty warm for ice cream, after all, that is considered a winter thaw here in Minnesota! Cookie dough aficionados this recipe is for you!
Raw Oatmeal Cookie Dough Ice Cream
Makes about 6 cups

Cookies:
3/4 cup raw rolled oats
1/2 cup shredded coconut
1/4 cup ground flax
1 cup pitted medjool dates
1/8 tsp sea salt
1/4 tsp cinnamon
2 Tbsp chopped sweet apple
2 Tbsp raw walnut butter or almond butter
1 tsp pure vanilla extract
additional 1/2 cup raw rolled oats
1/2 cup chopped raw dark chocolate
Ice Cream:
4 cups young coconut meat*
1 cup coconut water
1/2 cup date paste
1/4 tsp sea salt
1 Tbsp pure vanilla extract
1/2 tsp cinnamon
2 Tbsp raw walnut butter (optional for silkier ice cream)
1/4 cup raw coconut butter, warmed to liquid

For the cookie dough chunks, in a food processor, combine 3/4 cup oats, coconut, flax seed, dates, sea salt, and cinnamon and process until finely ground.
Add the apple, walnut butter, vanilla and process until smooth and starting to hold together. Add the remaining oats and pulse briefly.
Remove from the food processor and knead in chocolate chunks (being careful not to handle them too much because they will start to melt).
Roll into little balls and place in the freezer while you make the ice cream.
For the ice cream, add coconut water to a high speed blender or food processor, along with young coconut, nectar, vanilla, cinnamon, walnut butter, and sea salt. Process until smooth, then with the processor running, add the coconut butter slowly and process until well incorporated, about a minute. Pour the mixture into an ice cream maker and process according to directions. Remove from ice cream maker, and stir in raw cookie dough chunks. Pour into a freezer safe container.
Let sit in the freezer for at least four hours or overnight to firm up to scoopable consistency.

*If young coconut meat is unavailable, you can either substitute 4 cups raw cashews, soaked for 4 hours, and drained or 32 oz (4 cups) full fat coconut milk (if you do not mind the recipe not being raw).


(Visited 87 times, 1 visits today)