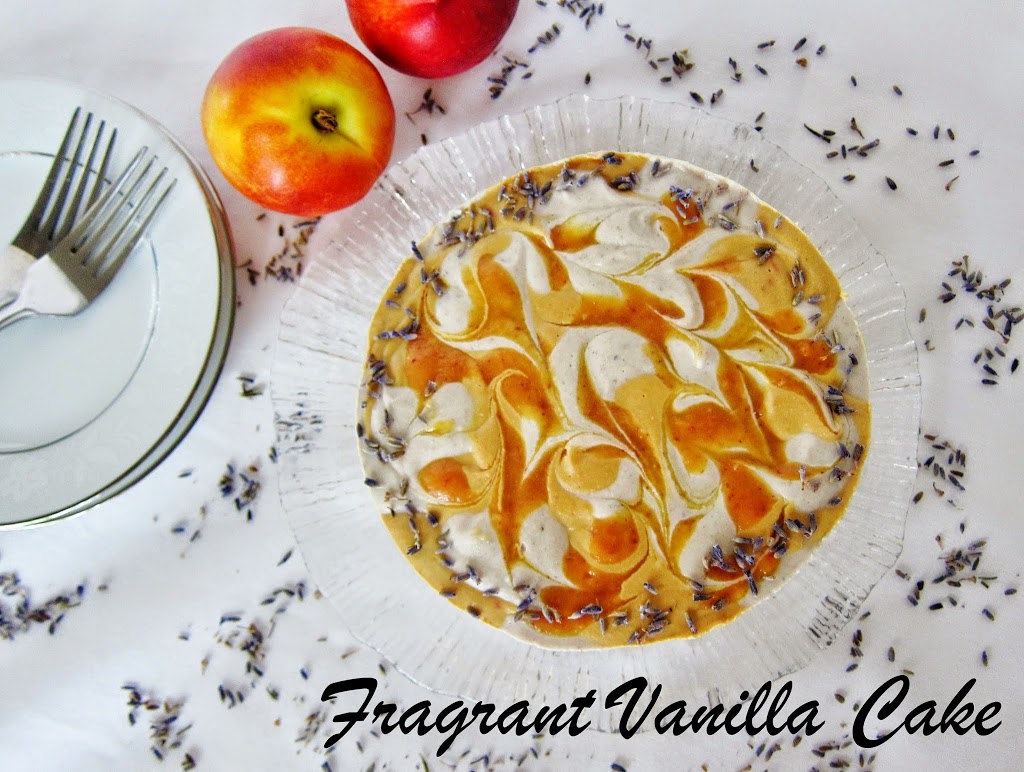 Raw Nectarine Lavender Coconut Yogurt Cake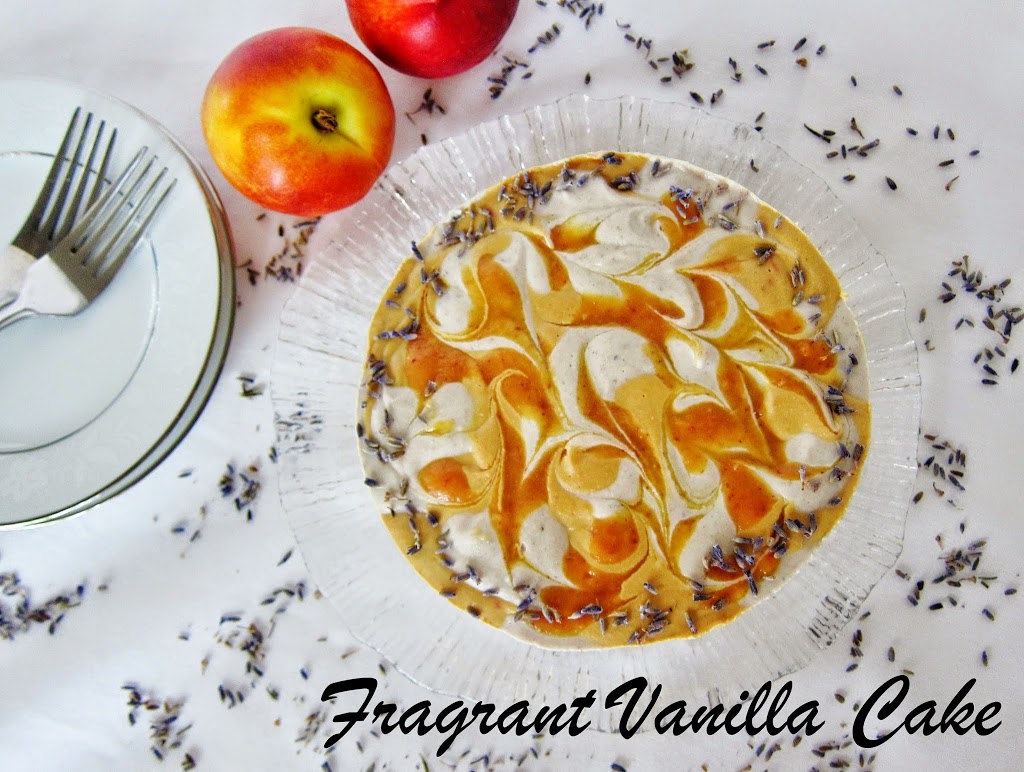 When I got my hands on a bunch of perfectly ripe nectarines, all I could think about was making them into some sort of fabulous dessert.  Cake...that was what I wanted.  A creamy coconut yogurt cake.  That is my favorite type of cake lately.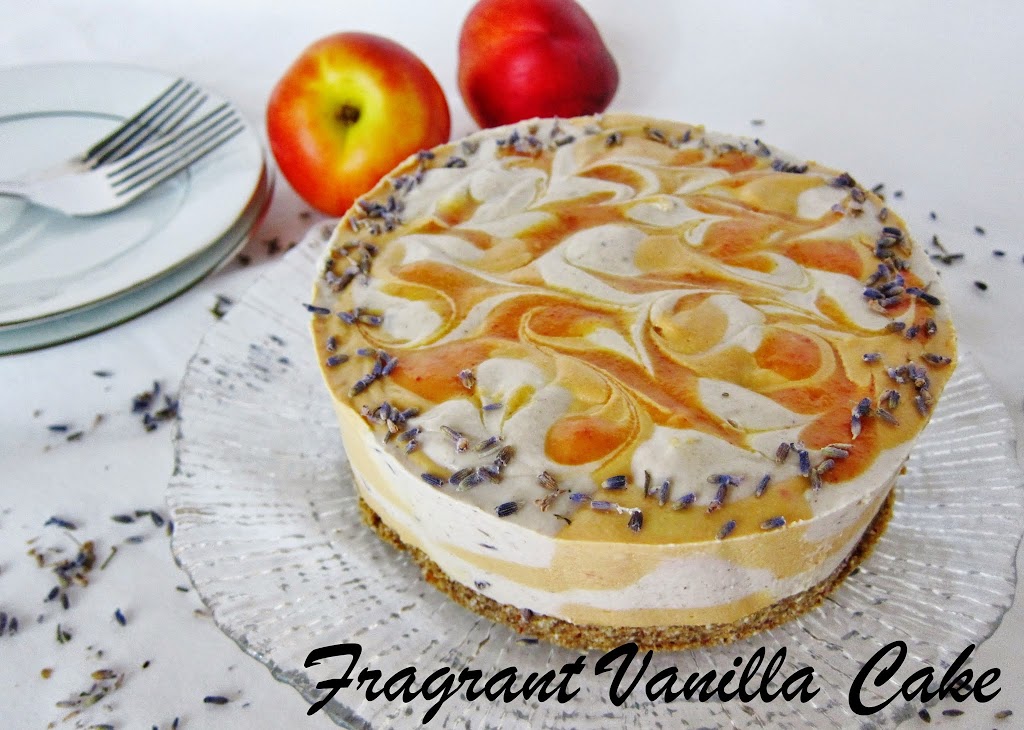 I make probiotic rich coconut yogurt often, and although it is good simply with fruit, it is even better in a cake.  Think about a raw cheesecake that is even more creamy than usual, with a slight tang that you would find in traditional cake made with dairy.  I knew it would be wonderful with the sweet flavorful nectarines.  Even better with some lavender.  Lavender is beautiful with summer fruits, especially peaches and nectarines and the color is the perfect contrast to the orange.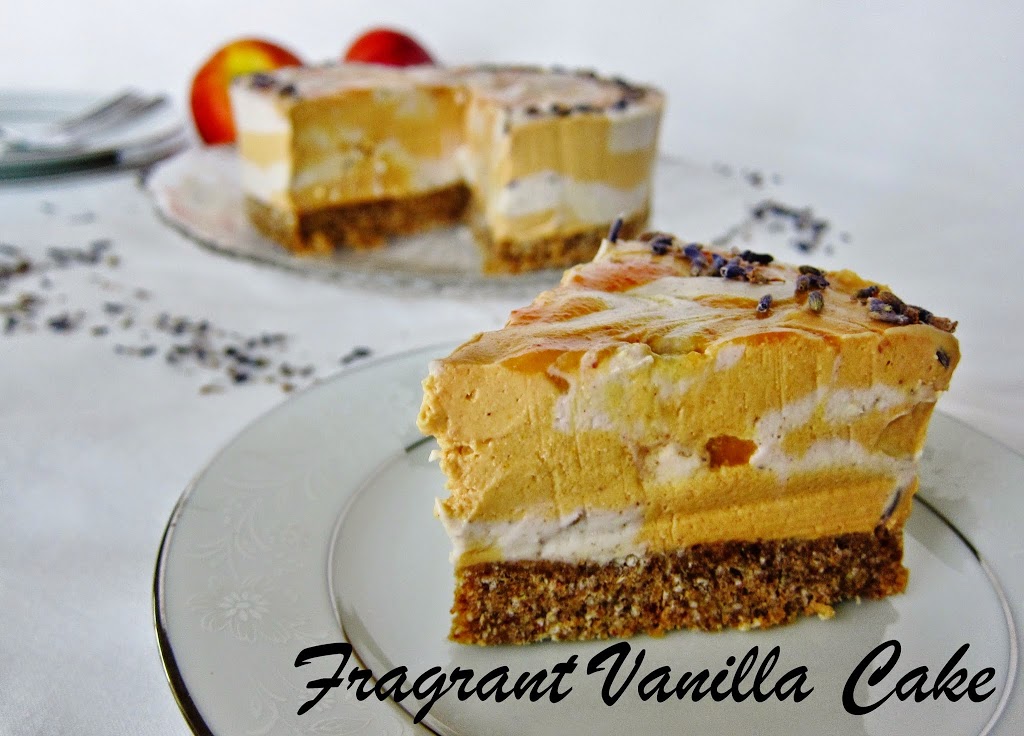 In addition to the creamy vanilla lavender filling and the nectarine fillings, I added a jammy layer of nectarine puree as well.  This cake was simply heavenly, and it tasted like summer!  This is my favorite time of the year, and I am so thankful for the bounty of produce available!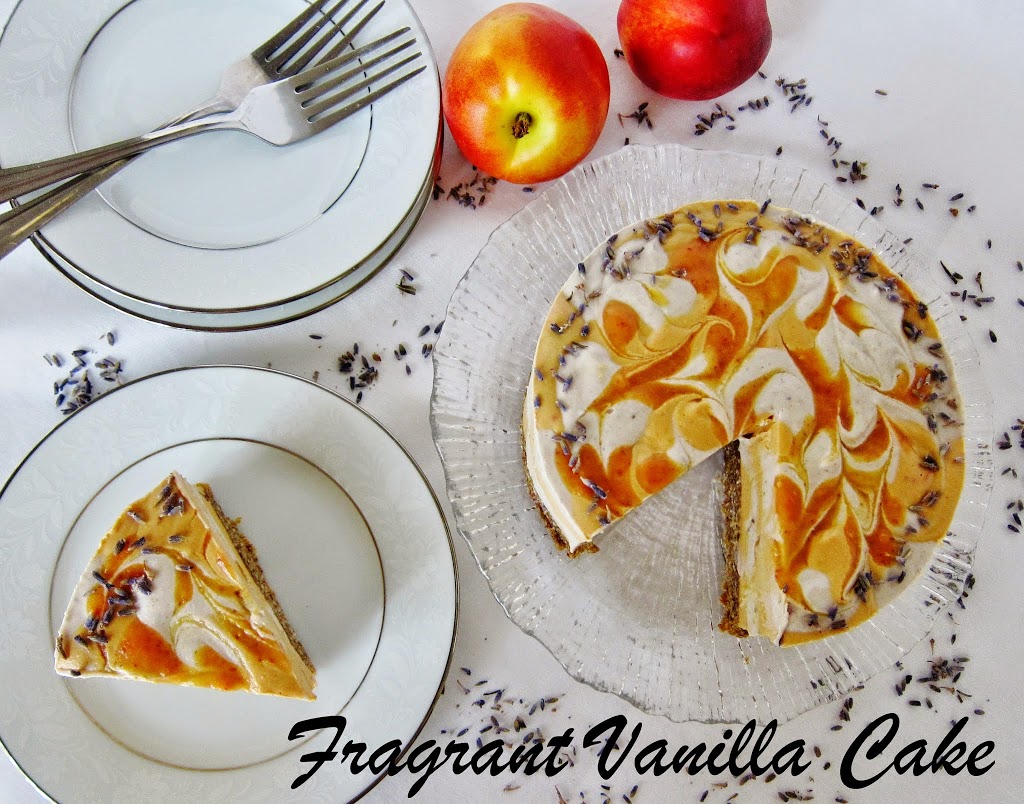 Raw Nectarine Lavender Coconut Yogurt Cake
Makes one 6 inch cake
Coconut Yogurt:
4 cups young coconut meat*
1/2 cup coconut water
2 tsp probiotic powder
3/4 cup dried finely shredded coconut
1/8 teaspoon sea salt
10-12 soft medjool dates, pitted and chopped (if they are not soft, soak them in water until they are and drain them well)
1/2 tsp ground cardamom
Nectarine Puree:
1 cup fresh organic nectarines
2 medjool dates, pitted (and soaked in water until soft if not soft)
a pinch sea salt
1 Tbsp lemon juice
Filling:
Coconut yogurt
2/3 cup raw coconut nectar, or maple syrup
1/2  teaspoon sea salt
1 Tbsp pure vanilla extract and seeds from half a vanilla bean
3/4 cup 
raw coconut butter
 (warmed to liquid)
1 cup fresh organic nectarines
additional 1 Tbsp coconut butter
1 Tbsp dried organic lavender flowers
1 drop doTerra lavender essential oil**
dried organic lavender flowers for garnish
For the yogurt, combine the coconut and coconut water in a high speed blender and blend until smooth.  Add the probiotics and blend until mixed in.  Place in a bowl and cover. Let sit out on the counter overnight or until it tastes tangy like yogurt.  Place in the fridge to chill.
Lightly coat a 6 inch spring form removable bottom pans with coconut oil. To prepare the crust, process flax, coconut, buckwheat and sea salt in a food processor until fine crumbs, then add the dates and cardamom and process until the mixture holds together when squeezed between your fingers (if not holding together, add more dates). Firmly press crust into the bottom of the prepared pan, and set aside.
For puree, combine all ingredients in a food processor and process until smooth.  Set aside.
To make the filling, in a high speed blender or food processor, combine coconut yogurt,  coconut nectar, sea salt, and vanilla in a food processor and blend until smooth and creamy. With the processor running, add the coconut butter and and process for a minute until blended. Divide the mixture into two bowls.  Add one back to the food processor and add the nectarines.  Blend until smooth.  Stir the lavender flowers and oil into the other bowl.
To assemble cheesecake, drop the fillings over the crust alternating the vanilla lavender and the nectarine and after every layer of filling drop the puree by the tsp over that.
Once the pan is full, tap the bottom on the counter to level, and swirl with a knife in a spiral from the outside in to the center, then a toothpick if you want more intricate swirls.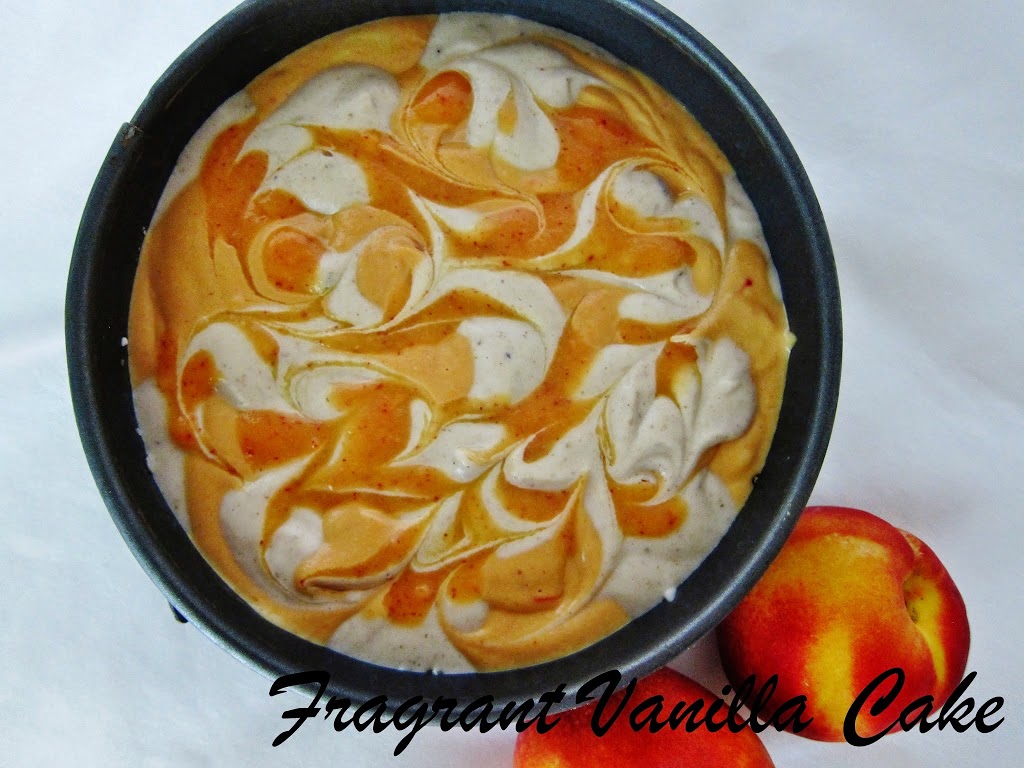 Place in the freezer for about 4 hours to firm up. 
Once the cake has chilled, Garnish the top with dried lavender flowers before serving.


(Visited 324 times, 1 visits today)