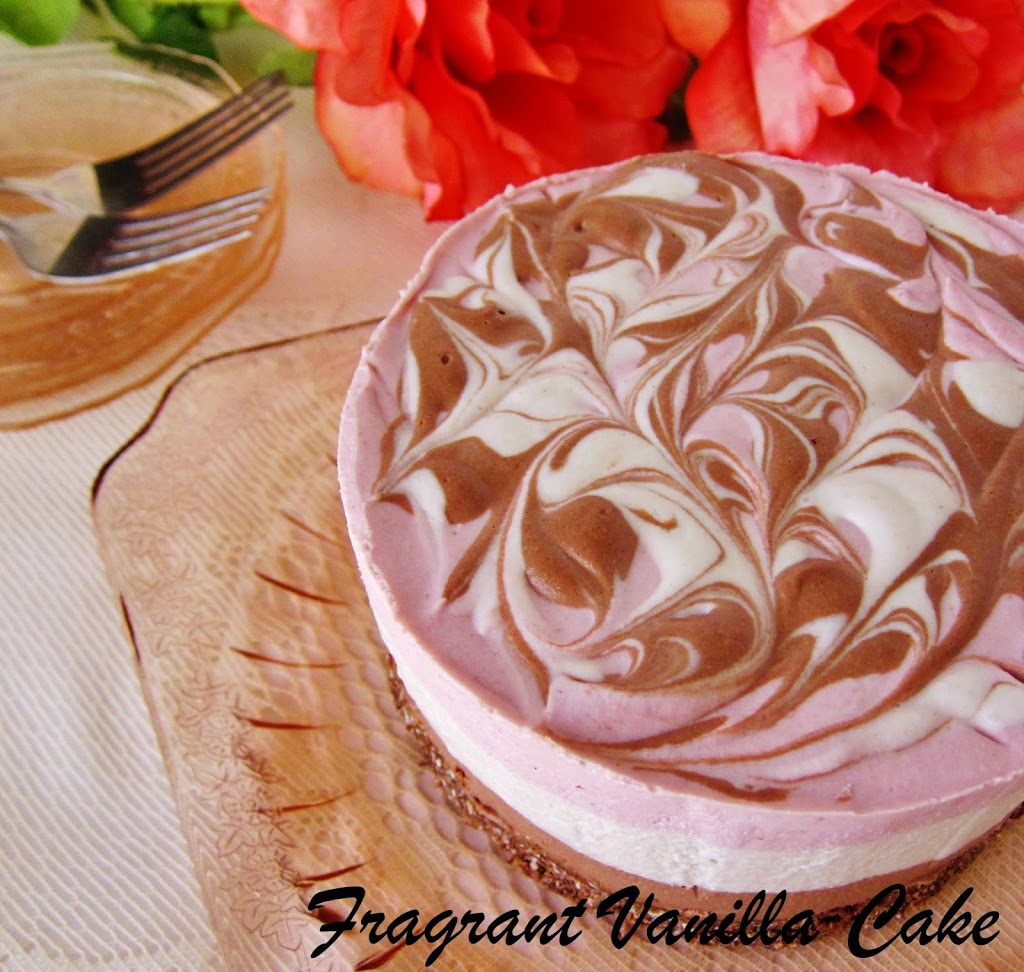 Raw Neapolitan Cheesecake, Blogaversary and a Giveaway!
4 years ago today I posted my first recipe on this blog.  It was a red velvet cupcake recipe featuring beets, and it was not plant based at all because I had used cream cheese frosting and I had taken a single photo of the cupcakes with the worst lighting possible.  But I was proud of it.  I was sharing my recipes as I wanted to not just on Facebook, but on a blog.  Before I started blogging, blogs to me were something other professional people did.  Not just random people looking to share recipes with their friends like I was trying to do at that point.  So it felt like an accomplishment.
That was after all what I started this blog for.  To simply share dessert recipes with friends.  So much has changed since then.  It has become more than that.  I still share recipes, but with way more people than I had originally imagined.  That is awesome.  It makes me happy that so many of you want to read my recipes!  I have changed my ways of eating as well.  I went from vegetarian to vegan to mostly raw recipes and including savory items as well with the occasional body care recipe.
I figure why limit myself to just desserts, and I know others might like to enjoy what I am having for dinner as well.  I never thought I would have the audience I now have, and I am extremely grateful for each and every one of you who take the time to visit my blog and hear what I have to say or to find a recipe to try. Thank you so much for making my day by being here.
Since it is my blogaversary, I thought I would make a delicious cake to celebrate!  A Raw Neapolitan Cheesecake to be exact.  Neapolitan ice cream reminds me of birthday parties as a kid for some reason, so I thought a neapolitan cake for my blog's birthday would be appropriate.  I made a simple raw cheesecake with fresh organic strawberries for one layer, raw cacao powder for the next and vanilla bean for the other and it was delicious!  Simple to make as well, which I know you all appreciate. I think this might be a good recipe for Valentine's Day as well since anything with strawberries and chocolate is welcome on that holiday (at least for me).
Lastly, besides the delicious cake, to celebrate I am giving away a copy of my latest book "Fragrant Vanilla Cake: Sweet and Savory" to one lucky winner!  So scroll down to the bottom to enter!  Good luck to you all and thank you for allowing me to keep my blog going with all of your support!
Raw Neapolitan Cheesecake
Makes one 6 inch cake
Crust:
2/3 cup raw sprouted buckwheat groats (or additional coconut)
1/3 cup ground flaxseed
3/4 cup dried finely shredded coconut
1/3 cup raw cacao powder
1/8 teaspoon sea salt
10-12 soft medjool dates, pitted and chopped (if they are not soft, soak them in water until they are and drain them well)
Filling:
4 cups young coconut meat*
1/2 cup coconut water
2/3 cup raw coconut nectar, or maple syrup
1/2  teaspoon sea salt
1 Tbsp pure vanilla extract and seeds from half a vanilla bean
3/4 cup raw coconut butter (warmed to liquid)
1/2 cup fresh organic strawberries
3 Tbsp raw cacao powder
Lightly coat a 6 inch spring form removable bottom pan with coconut oil. To prepare the crust, process flax, coconut, buckwheat and sea salt in a food processor until fine crumbs, then add the dates and process until the mixture holds together when squeezed between your fingers (if not holding together, add more dates). Firmly press crust into the bottom of the prepared pan, and set aside.
To make the filling, in a high speed blender or food processor, combine coconut meat, water, coconut nectar, sea salt, vanilla and blend until smooth and creamy. With the processor running, add the coconut butter and process for a minute until blended.
Divide the mixture into 3 bowls.  Place one back into the blender and add the 1/2 cup strawberries. Blend until smooth, then pour back into the bowl.  Rinse out the blender. Add the second bowl back to the food processor and add the cacao powder.  Blend until smooth, and pour back into the bowl.
To assemble the cake, pour the chocolate filling into the pan over the crust, reserving 2 Tbsp in the bowl and smooth out.  Then pour the vanilla filling over that smoothing out and reserving 2 Tbsp in the bowl.  Pour the strawberry filling over that, and smooth out.  Then drop the reserved fillings over that randomly by the 1/2 tsp, and swirl with a knife then a toothpick for smaller swirls.  Place in the freezer for about 4 hours to firm up. Store in the fridge.
(Visited 155 times, 1 visits today)