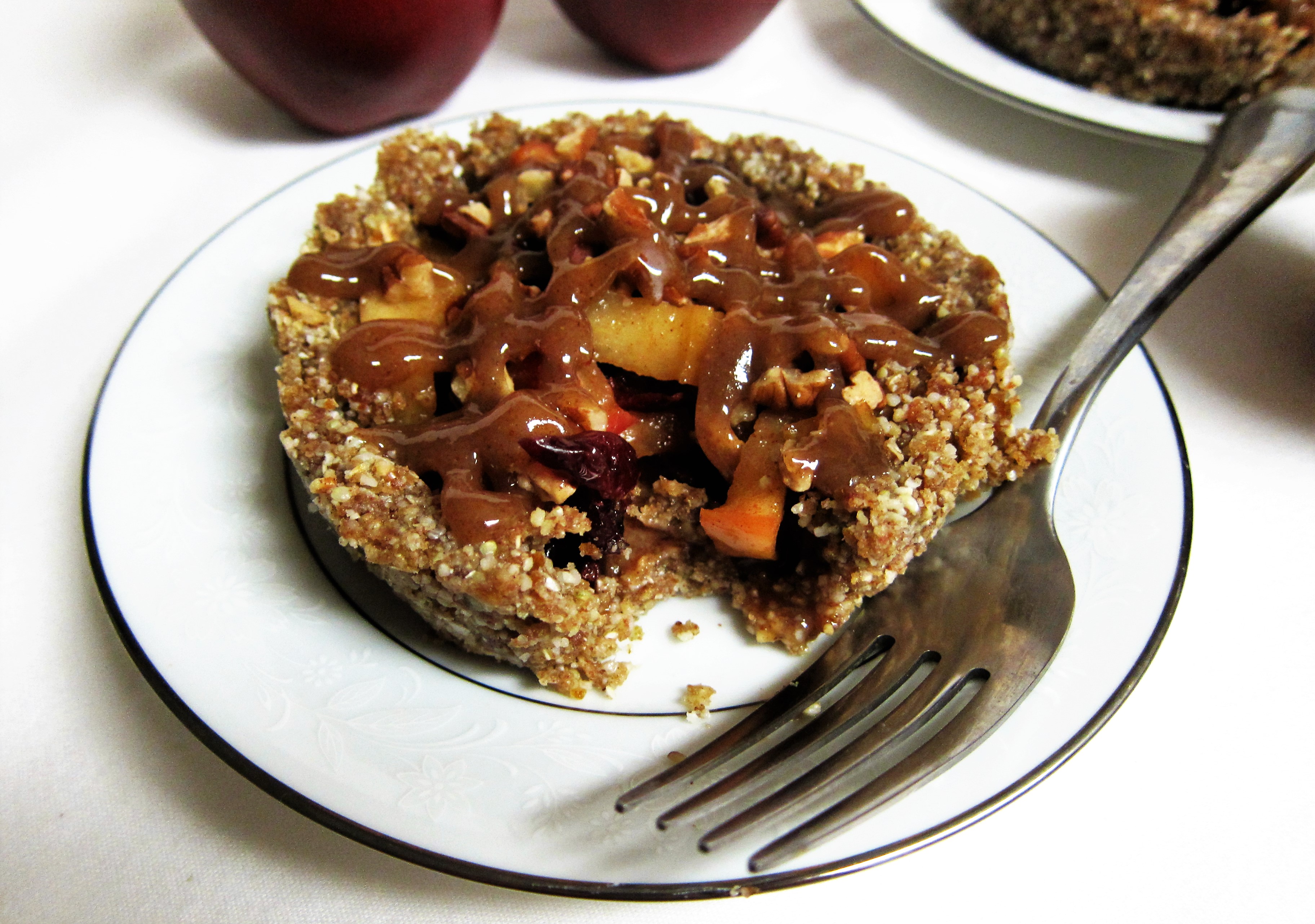 Raw Mini Caramel Apple Tartlettes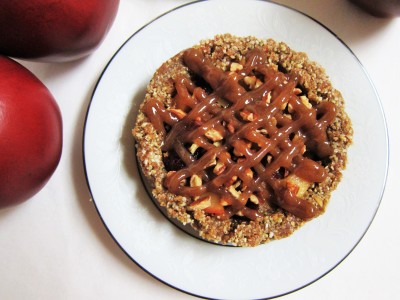 Apple crumble and apple pie are one of my favorite desserts this time of the year.  And I was craving some hard core this week.  So, I had to make something to satisfy that craving of course!  I did not however want to bake one, I wanted this to be a raw dessert.  I have been making a lot of pies lately but none of them have been raw, so it felt like it was about time.  I like a little variety when it comes to my food.  They have different, but both good textures and flavors so I like to switch off.  Anyways, this time I ended up making raw caramel apple tartlettes. When I know I will just be sharing with Eric, sometimes I like to make a smaller portion.
Tartlettes are perfect for that!  For these, I used pecans in the crunchy crust, and they were sooo good. I am a huge pecan fan, they taste almost caramelly when combined with some fruits.  They go especially well with apples!  For the filling, I added in some crasins with the apples to make it pretty and add tart little bursts of flavor.  I like my apple desserts a little tart along with the sweet.  I drizzled the tartlettes with a simple caramel sauce to add even more delicious flavor. These were simply heavenly!  Usually having a fruit dessert requires having some ice cream or coconut cream with it.  But these needed no adornment!  They had crunch from the crust and nuts, jammy sweet apple filling and sticky caramel.  Such a crave worthy combination!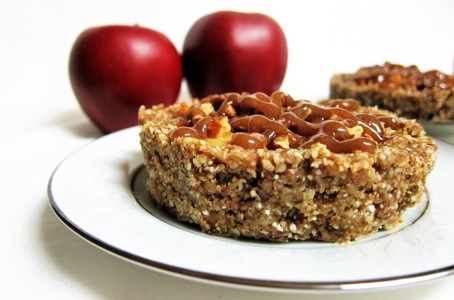 Raw Mini Caramel Apple Tartlettes
Makes 2
Crust:
2/3 cup raw pecan pieces
2/3 cup sprouted, dehydrated buckwheat
1/2 cup soft medjool dates, pitted
1/8 tsp sea salt
Filling:
1 large honeycrisp apple (or other tart sweet apple), sliced into small 1/2 inch pieces
2 Tbsp raw coconut nectar or maple syrup
1/8 tsp sea salt
juice of one lemon
1/2 tsp pure vanilla extract
1/4 cup dried cranberries
Topping:
2 Tbsp chopped pecans
2 Tbsp raw pecan butter
1 Tbsp raw coconut nectar or maple syrup
pinch sea salt
filtered water as needed
For the crust, combine all ingredients in a food processor and process until finely ground and sticking together when squeezed (if it is not sticking, add add a few tsp filtered water). Press into the bottoms and up the sides of 2 4 inch removable bottom tart pans. Set aside in the refrigerator.
To make the filling, toss the apples with the coconut nectar, and spread out on a lined dehydrator tray. Dehydrate for about 4 hours, until softened. Toss with the other filling ingredients, and spoon into the prepared crusts.
Sprinkle the tarts with pecans. Whisk togehter the pecan butter, coconut nectar, sea salt, and enough water to form a "caramel" sauce that is thin enough to drizzle, but still a little thick. Drizzle over the tarts, and serve!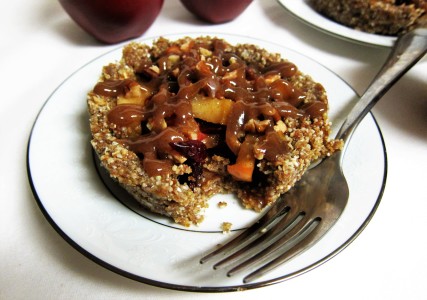 (Visited 120 times, 1 visits today)