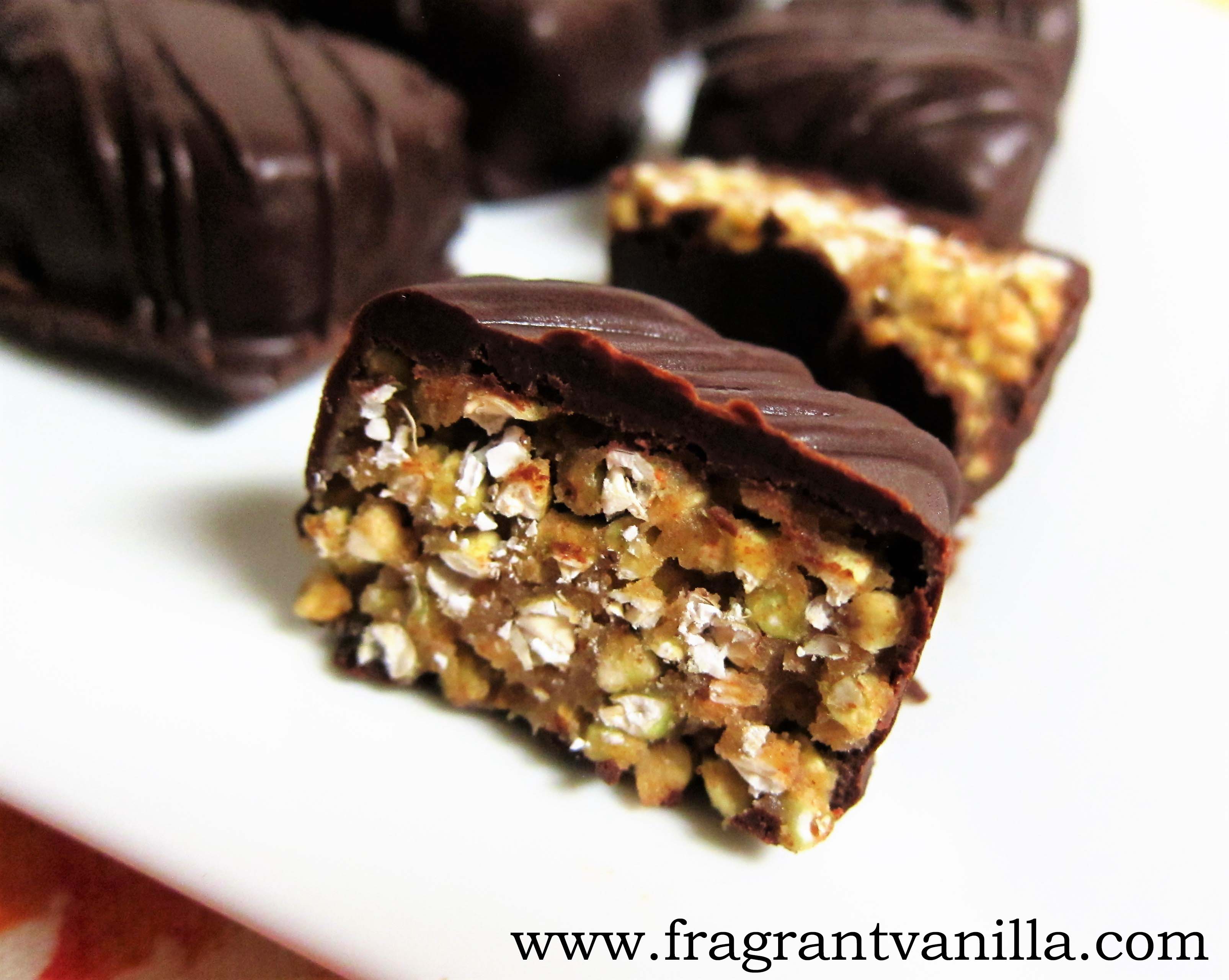 Raw Mini 100 Grand Bars
Sometimes I make recipes thinking they are going to turn out one way and they end up being totally different.  Sometimes for the good, meaning it turned out more awesome than I thought, and sometimes bad meaning I had to throw it away and I was bummed about wasting time and ingredients. Well, the recipe I am sharing with you today is one of the good.  This is why I say I play in the kitchen. Playing with ingredients and creating things that may or may not be how I pictured them.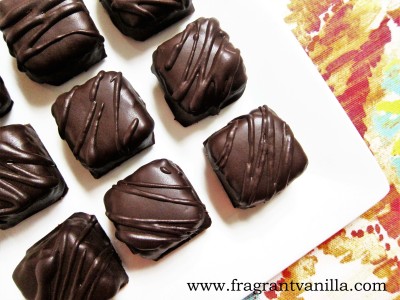 My Mom asked me if I could make a vegan version of some rice crispy bars we used to enjoy when I was younger.  You know, the ones with peanut butter and a chocolate coating?  Well, I already had made a raw version of them last year and I was looking for new recipes, so then she said, "What about caramel crunch crispy bars?" Sounded pretty delicious to me so I was going to go for it.  I made the caramel mixture with pecan butter and dates to give it that caramel flavor, and added some coconut butter so that they would firm up and not be so sticky. I mixed in the buckwheat, and let me tell you it was downright addictive. I could not stop tasting it.  Which is both a good and bad thing.  Bad because it spoils my dinner, and good because I know they will be a hit!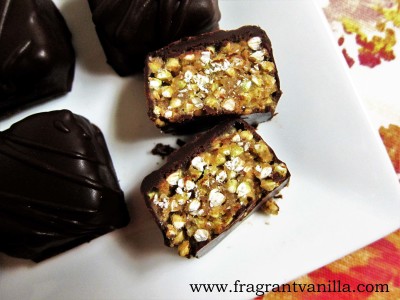 Once I chilled them like I did my other bars, they were not quite as firm, they were still a little chewy.  They tasted like 100 Grand bars!  Well, better actually.  So, I decided instead that that is what they would be.  I dipped them in chocolate and it was perfect!  Just like the mini ones I used to get in my Halloween candy.  So, a sort of mistake turned into a win.  These have it all as far as cravings go.  Sweet, chocolaty, crunchy, salty, and gooey.  Sooo good.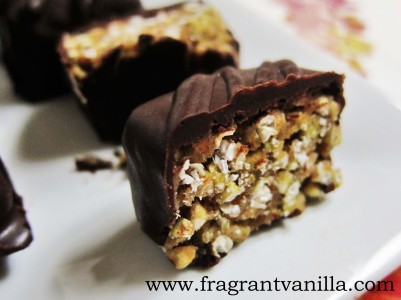 Raw Mini 100 Grand Bars 
Makes 32 mini candy bars
3 cups soaked and dehydrated buckwheat
1 cup raw pecan butter (or almond butter if you prefer
1/2 cup raw coconut butter, warmed to liquid
1/2 cup soft pitted medjool dates
1/2 cup filtered water
1 tsp pure vanilla extract
1/4 tsp sea salt
Chocolate coating:
1/2 cup melted coconut oil or raw cacao butter
1/2 cup raw cacao powder
1/4 cup raw coconut nectar or maple syrup
pinch sea salt
Place the buckwheat in a large bowl. In a high speed blender, combine the pecan butter, coconut butter, dates, water, vanilla and sea salt and blend until smooth.  Scrape into a bowl. Stir into the buckwheat until it is evenly coated. Press the mixture into the bottom of a 8x8 inch square pan lined with parchment (for easy removal, or you may use a silicone mini brownie pan, which is what I used). Chill for at least 30 minutes until firm.
To make the coating, whisk together all ingredients until smooth. Lay out a sheet of parchment paper, then dip the bars one by one into the chocolate then place them on the paper (letting the excess drain off.  I like to use a fork to dip them for that reason.  Just set them on the fork).  Once they are all dipped, place back in the freezer until set, about 5-10 minutes.
Store extra bars in an airtight container in the refridgerator.
(Visited 177 times, 1 visits today)