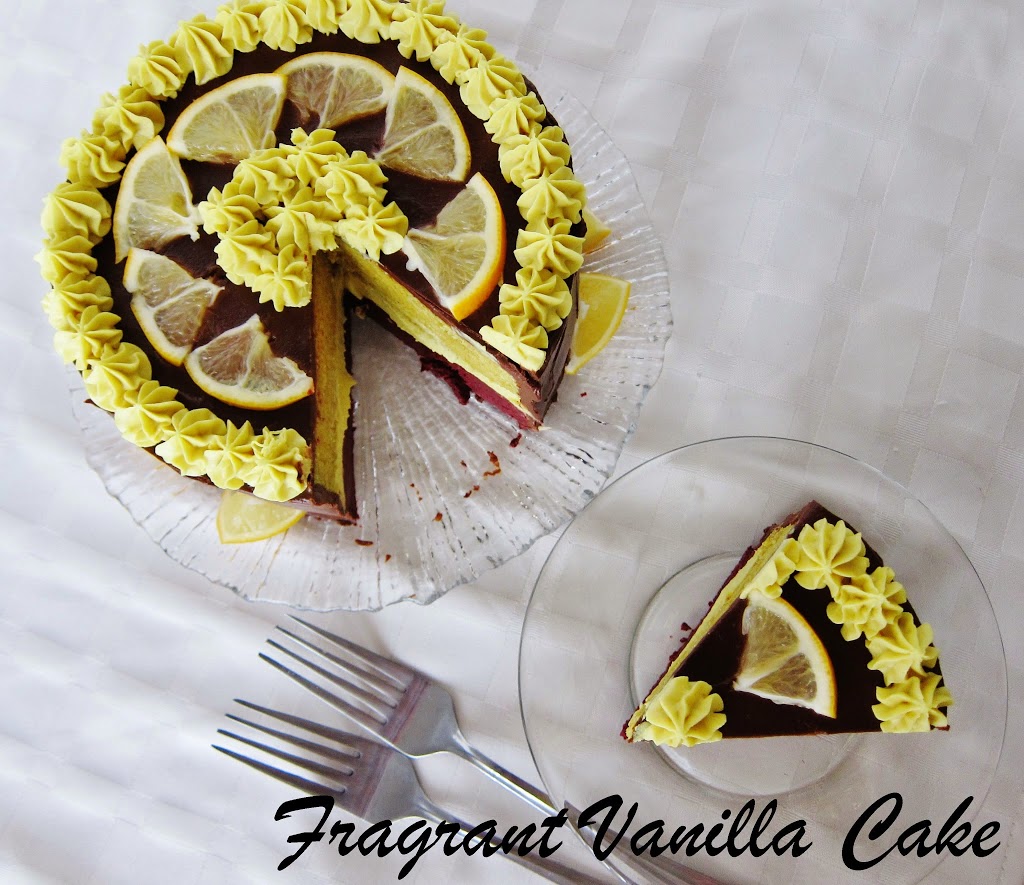 Raw Meyer Lemon and Dark Chocolate Cake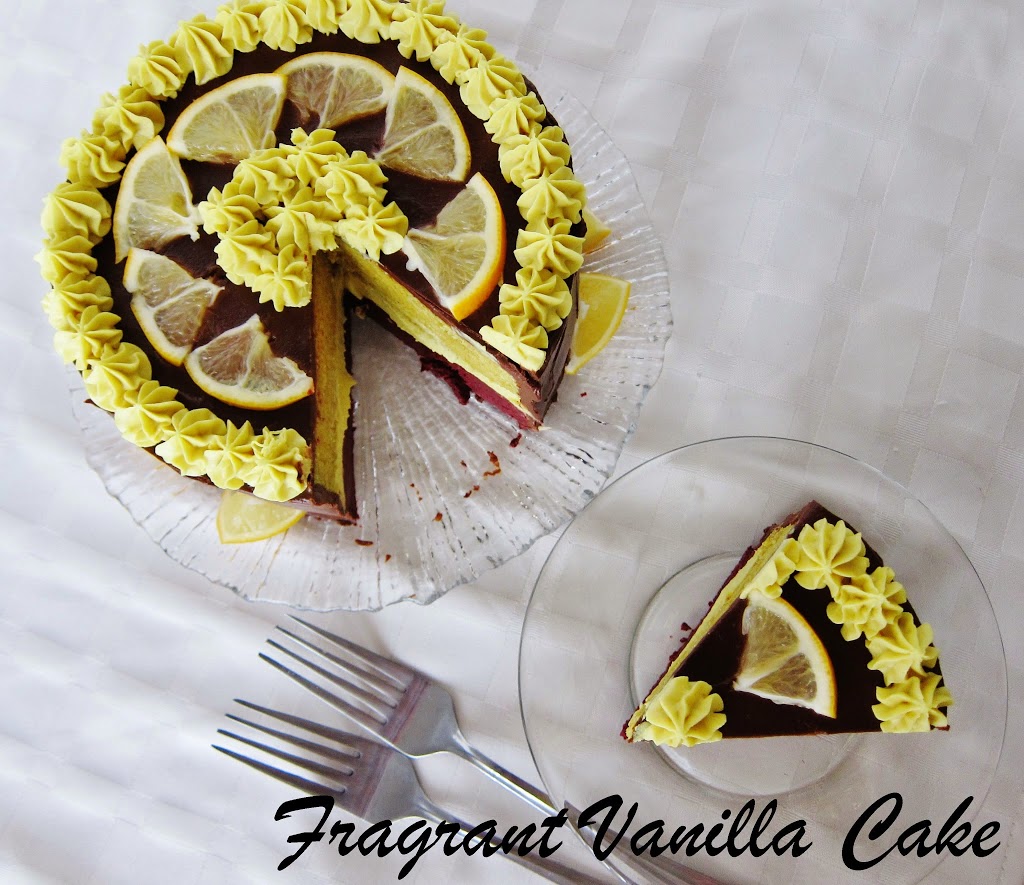 I was looking at a dessert recipe book for new flavor ideas, and I came across one that intrigued me...meyer lemon and dark chocolate.  It may sound unusual, but the recipe assured readers that it was a heavenly complex combination that any lemon and dark chocolate lover would go crazy for.  I admit I was a bit skeptical too, but hey, chocolate and lime go together so why not chocolate and lemon?  It is the peak of lemon season so I was all for giving it a go.  The recipe I had seen was for dark chocolate truffles, but I wanted something a bit grander than that.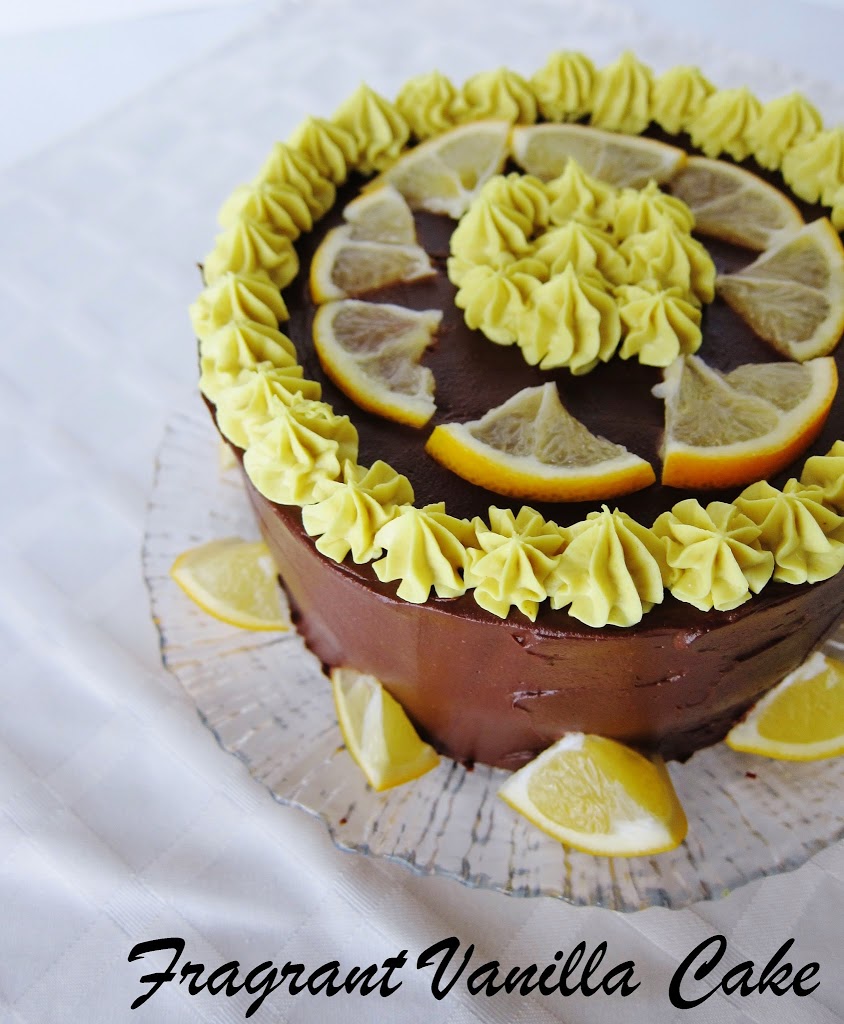 When I go for something I dive in head first, so I decided on a cake.  I was trusting that this combination would work, and after it was all said and done, I was happy I had.  I thought about making just a chocolate cake with chocolate frosting, and lemon juice and zest to flavor, but then I began to dream of a two layer cake with multiple flavored layers and what resulted was a lemon layer and a lemon scented dark chocolate layer sandwiched together with tart lemon cream, and topped off with fudgy chocolate frosting.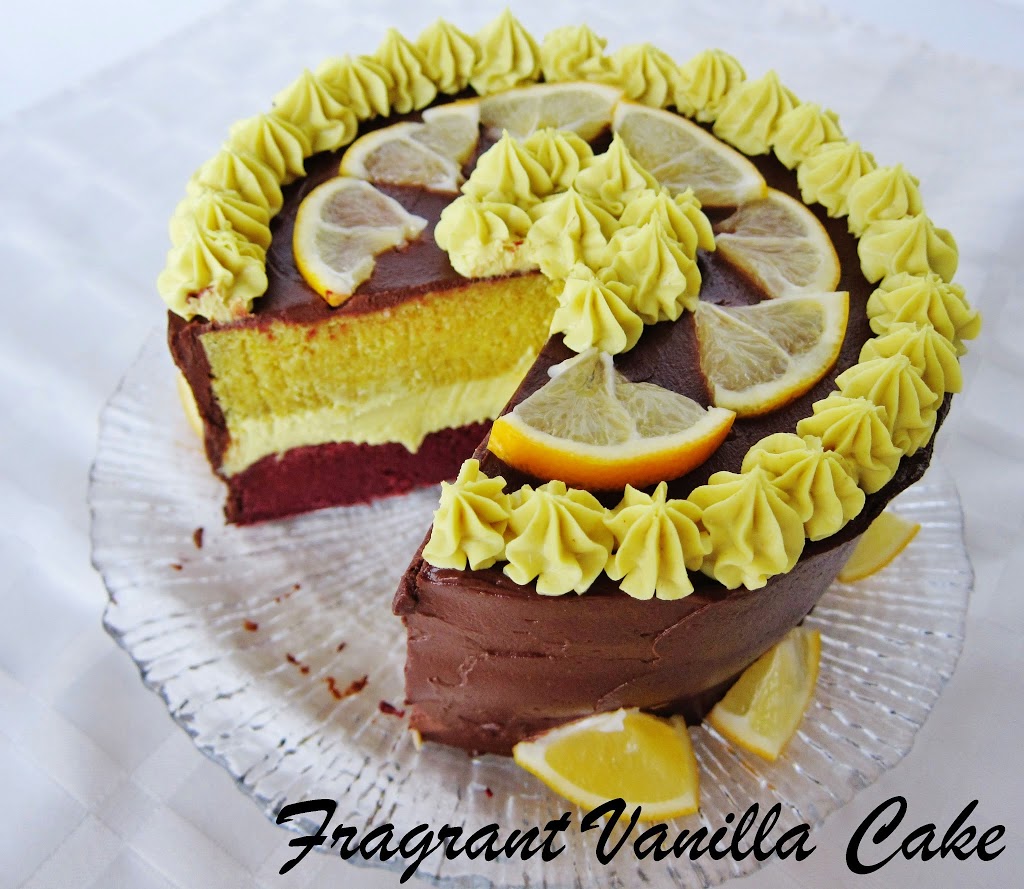 This turned out to be one of the most beautiful cakes I have made in a while, as well as one of the tastiest.  The tart lemon was perfect with the rich sweet chocolate, and dare I say it even better than lime and chocolate in my opinion.  If you love lemon and chocolate, this is a must try!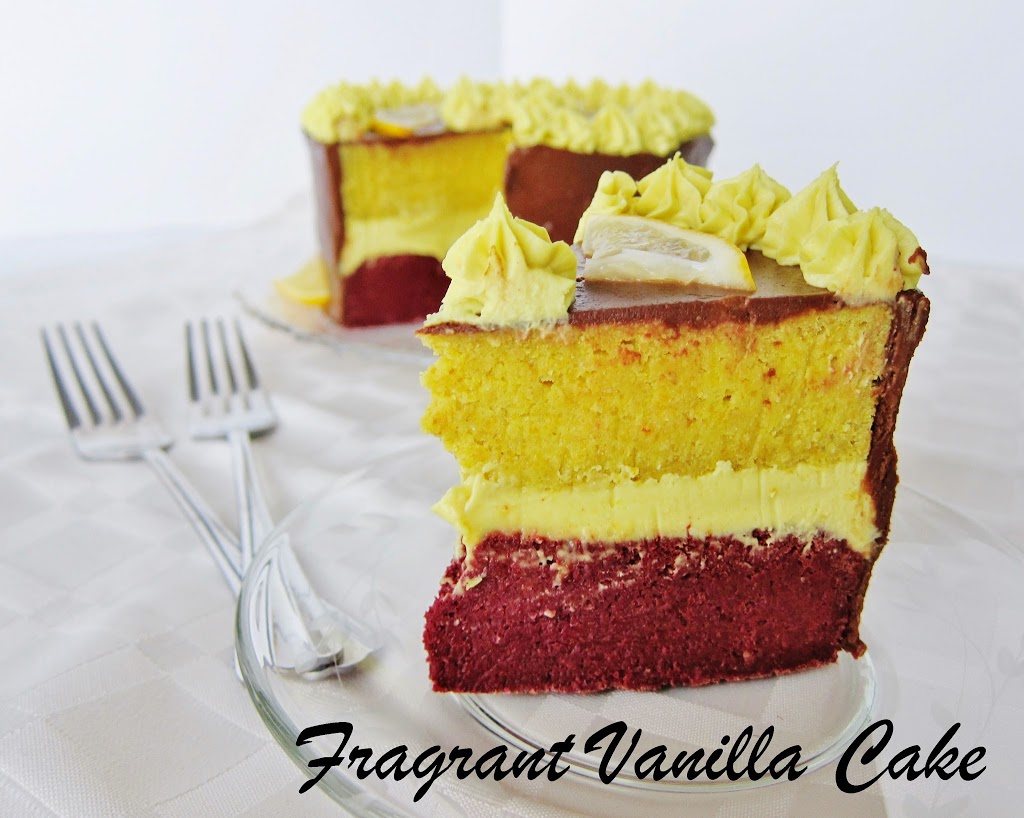 Raw Meyer Lemon and Dark Chocolate Cake
Makes one 2 layer 6 inch cake
Cake:
2 1/2 cups 
raw sprouted buckwheat or quinoa flour
1 cup ground raw flaxseed
4 cups raw 
coconut flour
 (do NOT use store-bought!)1/2 tsp sea salt
1 Tbsp pure vanilla extract
2 cups young coconut meat
1 cup medjool dates, pitted (soaked in filtered water for 30 minutes if not soft, then drained)
2/3 cup raw coconut nectar or your choice of liquid sweetener
1 cup meyer lemon juice
3 Tbsp meyer lemon zest
1 cup coconut water (or as needed)
1/2 tsp turmeric powder
3/4 cup raw cacao powder
Filling:
2 cups young coconut meat
1/4  cup lemon juice
2 Tbsp lemon zest
3 Tbsp raw coconut nectar or agave nectar
1/4  tsp sea salt
seeds of one vanilla bean, or 1 Tbsp pure vanilla extract
1/4 cup plus 1 Tbsp raw 
coconut butter
, warmed to liquid
1/4 tsp turmeric powder (for color)
Chocolate Frosting:
1 1/4 cup diced ripe avocadoes (about 3 medium)
3 Tbsp raw coconut nectar, or your choice of raw liquid sweetener
1/4 tsp sea salt
1/2 Tbsp pure vanilla extract
1/4 cup plus 1 Tbsp raw cacao powder
2 Tbsp  raw
coconut butter
, liquefied
For the cake, combine flour,  flaxseed, coconut flour, sea salt, in a large bowl and whisk together until and set aside. To a food processor, add the dates, vanilla, coconut, nectar and water to the processor and process until pretty smooth. Add the wet ingredients to the dry ingredients and mix until smooth with a sturdy spoon (wooden works well) and well incorporated (the batter will be stiff, so you might want to use your stand mixer if you have one).  Remove half the batter, and shape into a 6 inch round (using an offset spatula) on a dehydrator sheet (you can trim it later if the edges are not pretty).  To the remaining batter in the bowl, add the cacao powder and mix until very well combined.  Shape into another 6 inch round on the dehydrator sheet.  Dry for about 14-16 hours (until dry on the outside but still moist). Trim the cakes so they are perfect matching circles.  Cool completely.
Meanwhile, to make the filling, combine all ingredients but the coconut butter and oil in a food processor and process until smooth.  With the motor running, add the coconut butter and process a minute more.  Pour the cream into a bowl and let sit in the freezer for about half an hour to 45 minutes or so until the consistency of thick whipped cream.
Once the filling has chilled, place the chocolate layer of cake on a plate. Spread most of the filling over it 1 inch thick (the rest will be fore decorating).  Top with the other cake layer and place in the freezer while you make the frosting.
To make the chocolate frosting, combine all ingredients in a food processor and process until smooth.  Spread over the top and sides of the cake, smoothing well.  Place the remaining filling in a pastry bag, and Pipe around the top of the cake.  Top with a few lemon slices.  Place the cake in the freezer for an hour to set before serving.  Store any leftover cake in the fridge.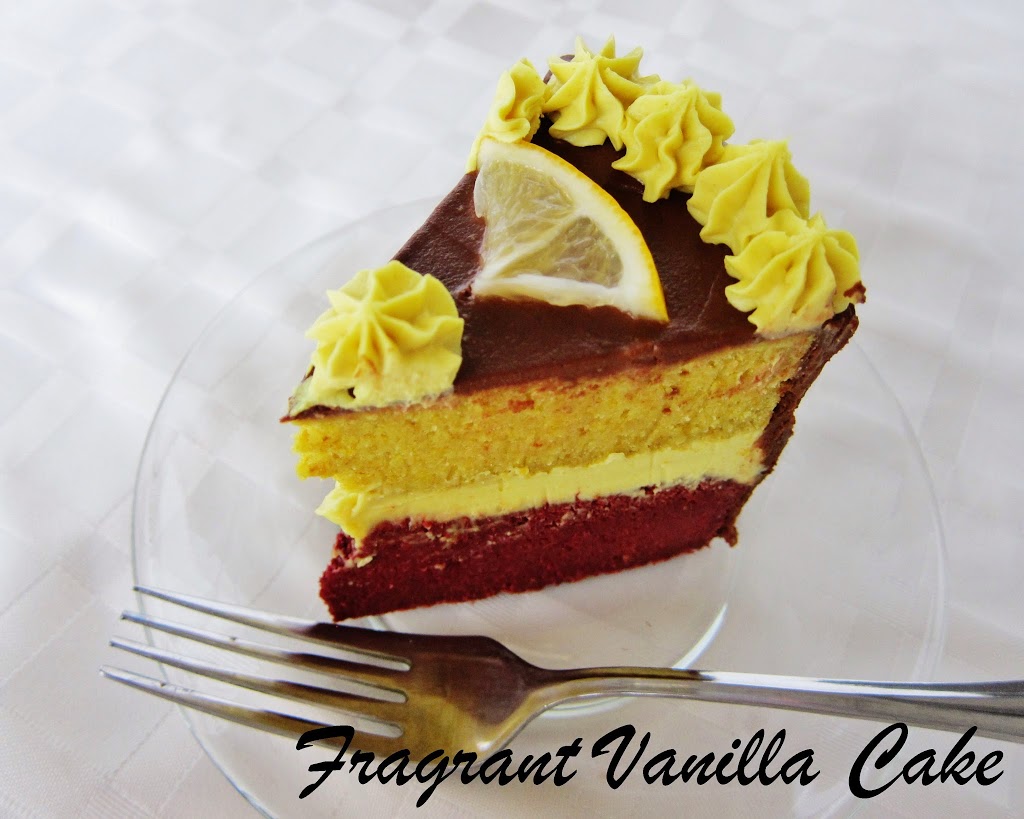 (Visited 419 times, 1 visits today)