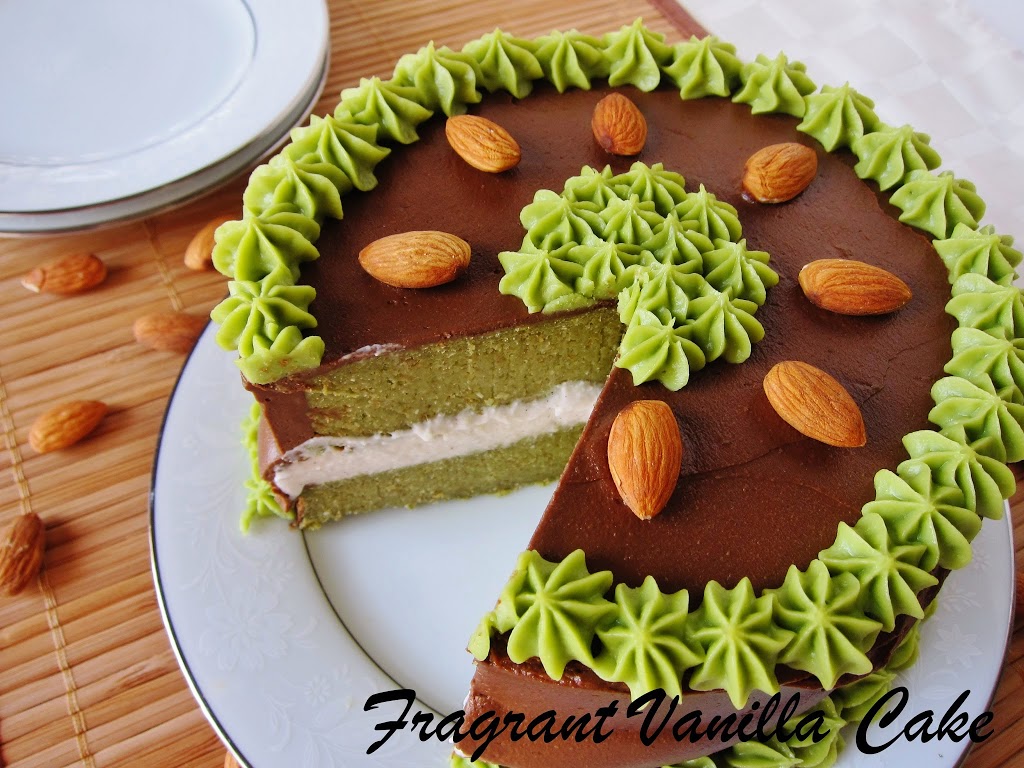 Raw Matcha Almond Dark Chocolate Layer Cake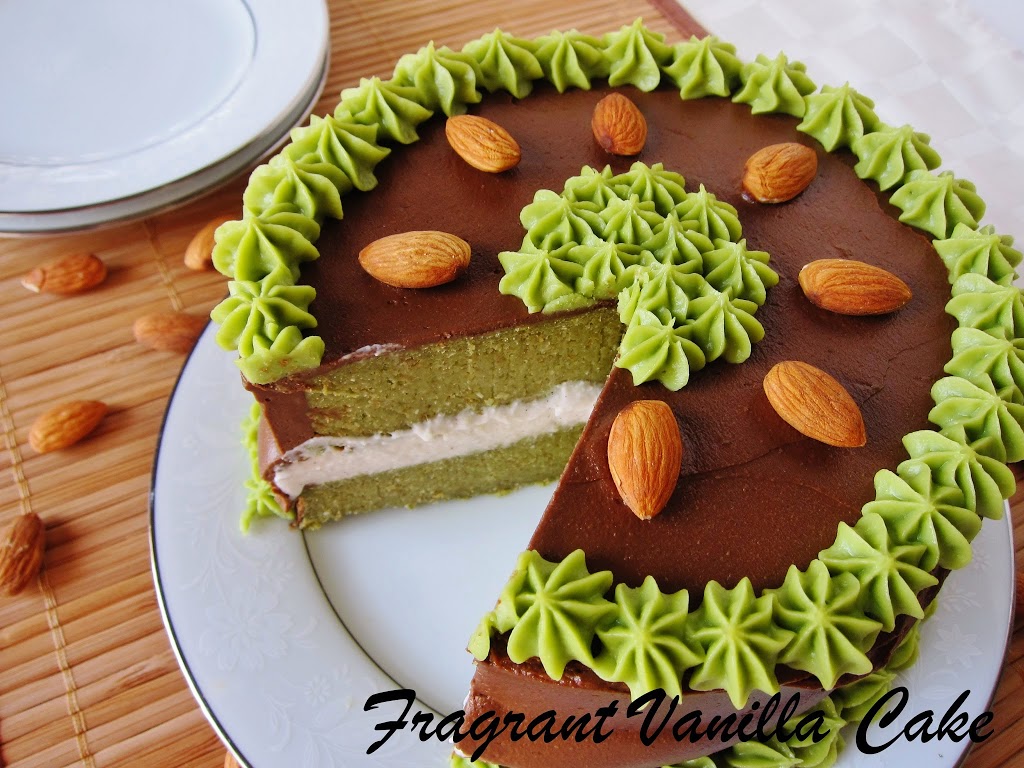 I have really been loving the idea of adding matcha (green tea) to desserts lately.  I love how the earthy flavor of it plays well with sweet flavors like almond and vanilla.  I recently made some
cupcakes
combining just those flavors, but I couldn't help but want to make another cake adding dark chocolate to that combination.
I was in a layer cake sort of mood last weekend so I thought it would be the perfect palette to combine them.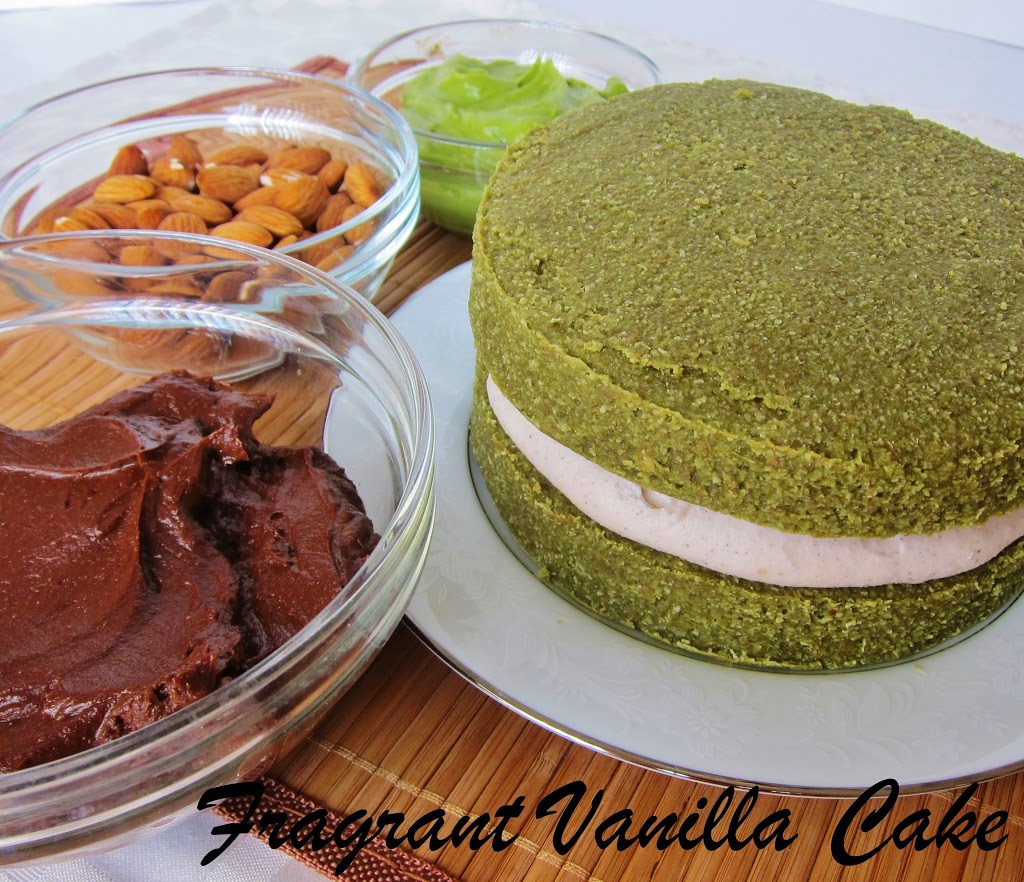 I made a matcha vanilla almond scented cake batter that tasted like heaven even before it was dehydrated as cake layers.  Seriously...could not stop snacking on it. It smelled amazing as well when it was dehydrating which only mounted my excitement about this cake.  I decided to sandwich it together with a sweet almond scented vanilla coconut cream instead of more of what was to be the frosting.  I frosted it with a combination of silky avocado based dark chocolate frosting accented by some matcha almond.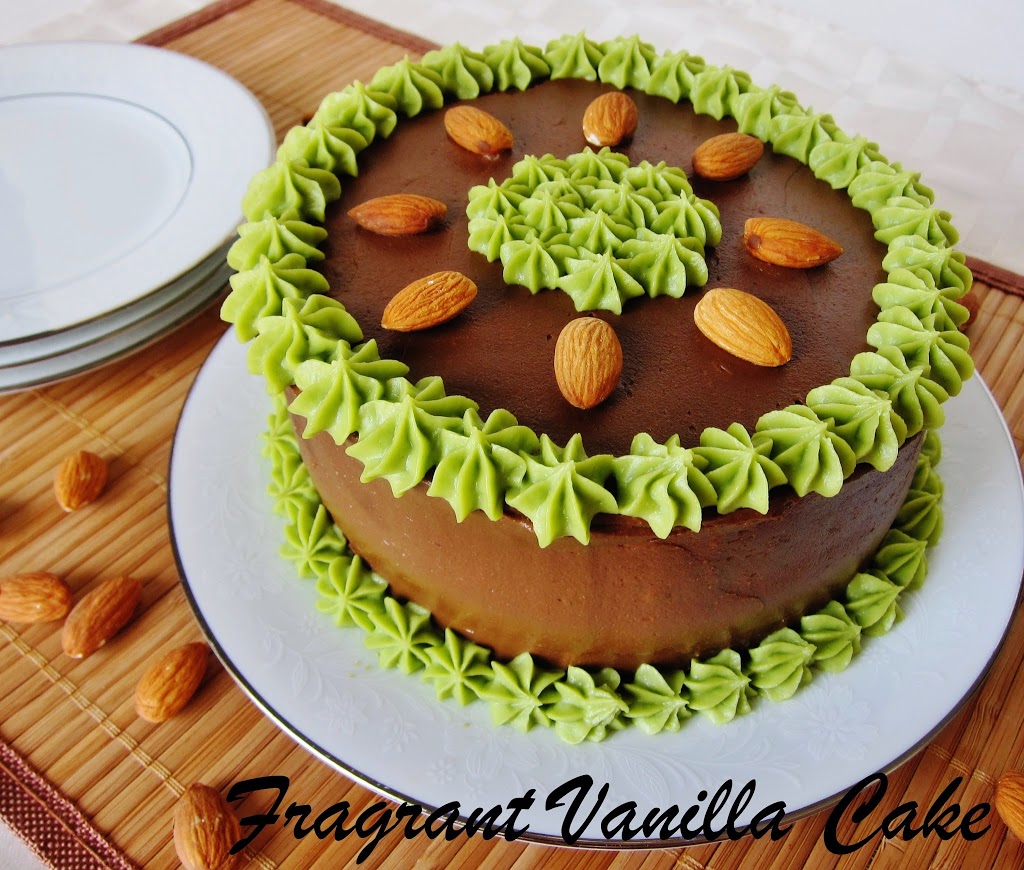 This cake was pure deliciousness.  Even my Mother who says she is not a cake person wanted a slice and enjoyed it!  I am glad I paired the matcha and almond with the dark chocolate.  The flavors marry so harmonize so well together. If you are at all a green tea fan, this dessert is definitely for you!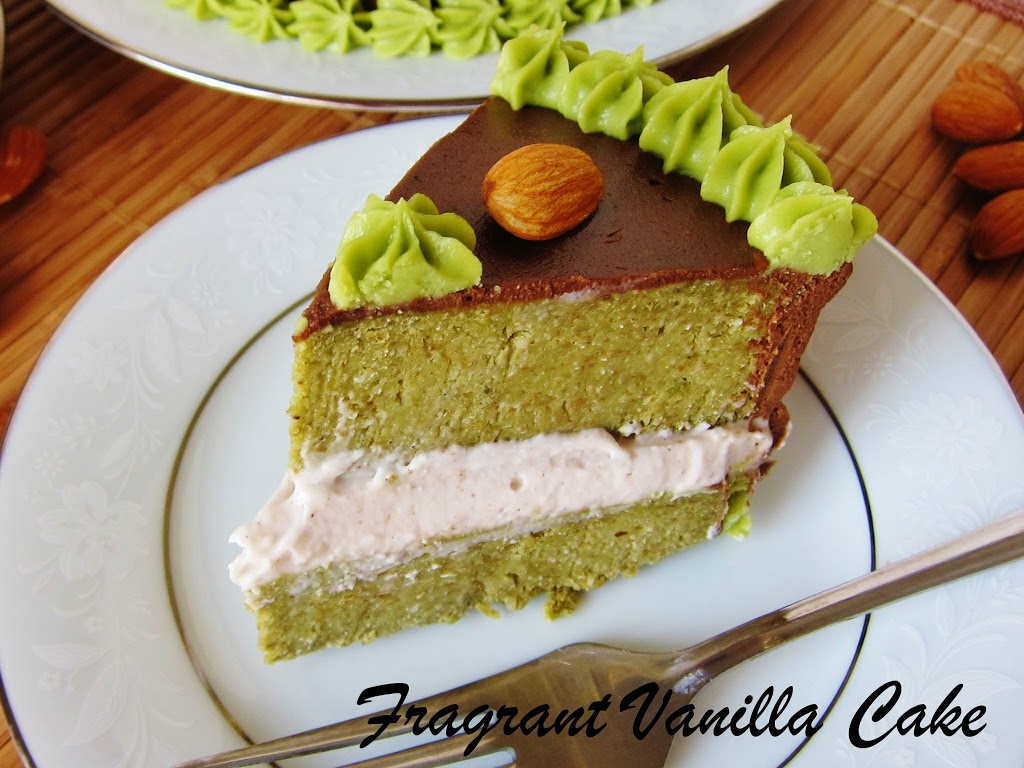 Raw Matcha Almond Dark Chocolate Layer Cake
Makes one 8 inch 2 layer cake

Cake:
2 1/2 cups raw sprouted buckwheat, raw sprouted oat, or raw sprouted quinoa flour  
2 cups ground raw flaxseed 
3 cups raw coconut flour (do NOT use store-bought!)
1/2 tsp sea salt
1 Tbsp pure vanilla extract
1 tsp pure almond extract
2 Tbsp Matcha Powder
2 cups young coconut meat*
1 cup medjool dates, pitted (soaked in filtered water for 30 minutes if not soft, then drained)
2/3 cup raw coconut nectar or your choice of liquid sweetener
2 cups coconut water (or as needed)
Filling: 
2 cups young coconut meat
1/4  cup coconut water
3 Tbsp raw coconut nectar or agave nectar
1/4  tsp sea salt
1 tsp almond extract
seeds of one vanilla bean, or 1 Tbsp pure vanilla extract

1/4 cup plus 1 Tbsp raw 
coconut butter
, warmed to liquid
2 1/2 cups diced ripe avocadoes

 (about 3 medium)


1/4 cup plus 2 Tbsp raw coconut nectar, or your choice of raw liquid sweetener
1/2 tsp sea salt
1 Tbsp pure vanilla extract
1/3 cup raw coconut butter, liquefied
2 tsp matcha powder
1 tsp almond extract
1/2 cup plus 2 Tbsp raw cacao powder
raw almonds for garnish


For the cake batter, combine flour,  flaxseed, coconut flour, sea salt, in a large bowl and whisk together until and set aside. To a food processor, add the dates, vanilla, coconut, nectar, and water to the processor and process until pretty smooth. Add the wet ingredients to the dry ingredients and mix until smooth with a sturdy spoon (wooden works well) and well incorporated (the batter will be stiff, so you might want to use your stand mixer if you have one).  Shape the batter into 2 8 inch round layers on a lined dehydrator sheet.  Dry for about 12-14 hours (until dry on the outside but still moist).

Meanwhile, to make the filling, combine all ingredients but the coconut butter in a food processor and process until smooth.  With the motor running, add the coconut butter and process a minute more.  Pour the cream into a bowl and let sit in the freezer for about half an hour to 45 minutes or so until the consistency of thick whipped cream.
Once the filling has chilled, place one cake layer of cake on a plate. Spread the filling over it and place in the freezer while you make the frosting.  
To make the frosting, combine avocado, nectar, sea salt, vanilla, and coconut butter in a food processor and process until smooth.  Remove 3/4 cup of the mixture and whisk in 2 tsp matcha powder and 1 tsp pure almond extract.  Set aside.  Add the cacao powder to the rest of the mixture and process until smooth.  Spread the chocolate frosting over the top and sides of the cake, smoothing well.   Place the matcha almond frosting in a pastry bag and pipe around the top and bottom of the cake.  Garnish the top of the cake with almonds.  Place the cake in the freezer for an hour to set before serving.  Store any leftover cake in the fridge.

*If you do not have access to young coconut meat, for the batter, you can sub 2 cups finely shredded, dried coconut and 1 cup filtered water buzzed up in a high speed blender until creamy for it. Then for the filling, 2 cups raw cashews soaked for 4 hours and drained well before using (if you do not mind the recipe not being nut free).  
(Visited 223 times, 1 visits today)