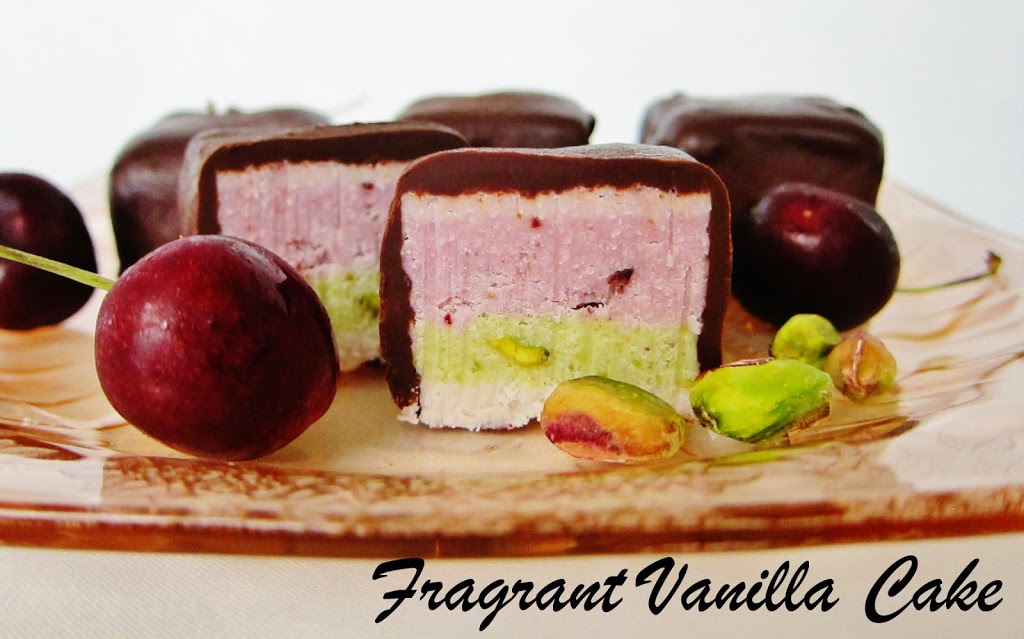 Raw Marzipan Spumoni Bites
I decided the other day after running across a beautiful spumoni ice cream recipe on Pinterest, that I needed to make something spumoni.  I thought about making some ice cream myself, or even a cake, but then decided that some candy would be lovely.  My blank palate?  Marzipan.  Because to me that almond flavored doughy deliciousness would be perfect with the flavors of spumoni.
So, I made the 3 different flavors, cherry, pistachio and vanilla marzipan, layered them together, and I was simply going to cut them into squares and leave it at that...but then I got the wonderful idea to dip them in raw dark chocolate.  I have always loved marzipan plain, but marrying spumoni and marzipan was even better!  These might even be better than the ice cream form of spumoni.
Raw Marzipan Spumoni Bites
Makes 12
Filling:
3 1/4 cups finely shredded coconut
1/4 cup plus 2 Tbsp raw almond butter
3/4 cup coconut butter, warmed to liquid
3 Tbsp raw coconut nectar, or maple syrup
1/4 tsp Himalayan salt
2 tsp pure almond exctact
1 tsp pure vanilla extract
2 Tbsp filtered water
1 tsp matcha powder
4 fresh sweet cherries, pitted
Raw chocolate:
1/2 cup raw coconut oil, warmed to liquid
3/4 cup raw cacao powder
1/4 cup raw coconut nectar or your choice liquid raw sweetener
a pinch sea salt
In a high speed blender or food processor, buzz the shredded coconut to fine flour (only about 15-30 seconds in a high speed blender, do not do it too long or you will get butter).  Set 3 cups aside in a bowl and the rest aside in another bowl.  To a food processor, add the almond butter, coconut butter, coconut nectar, sea salt, extracts, and water and blend until smooth.  Add the 3 cups reserved coconut and process until smooth like dough.  Divide the mixture into 3.  Roll one out 1/2 inch thick in a square on a foil lined sheet pan.  Place one back into the food processor and add the matcha. process until incorporated, then add the pistachios and pulse until mixed in.  Roll out the same as you did the bottom plain vanilla layer and place on top of the vanilla layer. Place the remaining part of the mixture back into the food processor and add the cherries and 2 Tbsp of the reserved coconut flour (you may need a little more, add a little if the mixture seems too sticky) .  Roll out as you did the other 2 layers, then place on top of the pistachio layer.  Press them together or roll lightly (but not too hard you don't want to squish them down) to adhere them together.  Freeze until firm, about 30 minutes.  Cut into small 1 1/2 inch squares.
Whisk together all chocolate ingredients until smooth, then dip each marzipan ball into the chocolate one by one, let the excess drain off and set back on the foil (I like to set them on a fork to dip them). Set in the freezer until the chocolate hardens, about 5 minutes.
(Visited 135 times, 1 visits today)