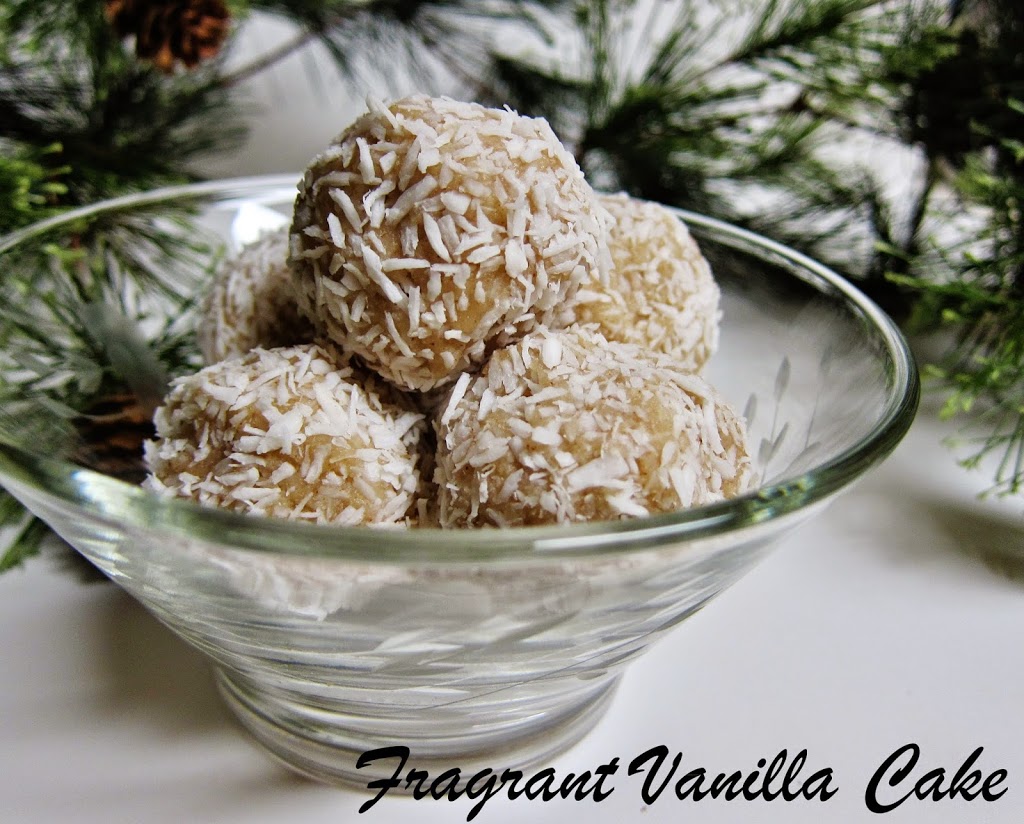 Raw Marzipan Snowballs
My favorite holiday flavor is vanilla and almond together. Maybe it has something to do with enjoying spritz cookies as a child, which traditionally have that flavor, or maybe it is because my Grandma liked to mix those flavors in sugar cookies and frosting.  But whatever the case, the aroma reminds me of Christmas time.  The smell makes me imagine enjoying a treat and gazing out the window at freshly fallen snow.  So it is very appropriate that this year I decided to make some marzipan treats for Christmas. Marzipan snowballs to be exact.
We haven't had much snow here yet this year, let alone enough to make snowballs, but I would rather have this kind of snowball anyway.  These are coconut and almond based, with a melt in your mouth rich texture and aroma of almond. Heavenly little bites, and you need not put on your warm winter coat and hat and go outdoors to enjoy these snowballs, you can stay in the comfort of your own warm kitchen.
Raw Marzipan Snowballs
Makes 12
Filling:
2 cups finely shredded coconut
1/4 cup raw almond butter
1/2 cup coconut butter, warmed to liquid
2 Tbsp raw coconut nectar, or maple syrup
a pinch sea salt
1 tsp pure almond exctact
1 tsp pure vanilla extract
1 Tbsp filtered water
1/2 cup finely shredded, dried coconut
In a high speed blender or food processor, buzz the shredded coconut to fine flour (only about 15-30 seconds in a high speed blender, do not do it too long or you will get butter).  Set aside in a bowl.  To a food processor, add the almond butter, coconut butter, coconut nectar, sea salt, extracts, and water and blend until smooth.  Add the reserved coconut and process until smooth like dough.  Roll into 12 little balls, then dip them into the shredded coconut, rolling them to coat.  Place then on a tray and freeze until firm, about 30 minutes.
(Visited 173 times, 1 visits today)