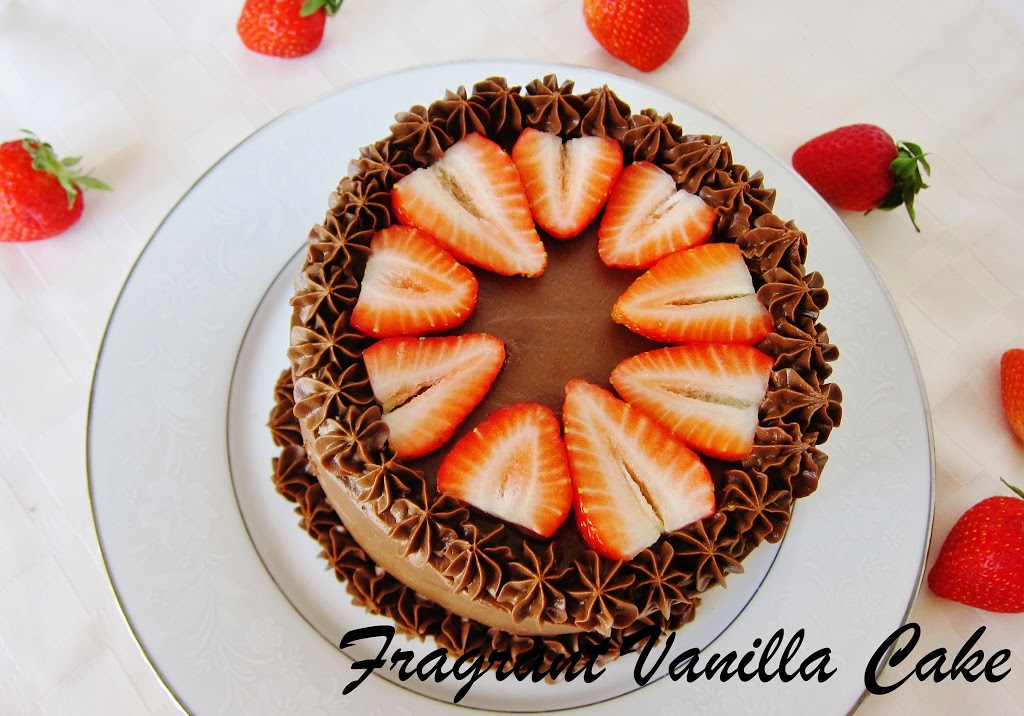 Raw Marbled Chocolate Strawberry Cake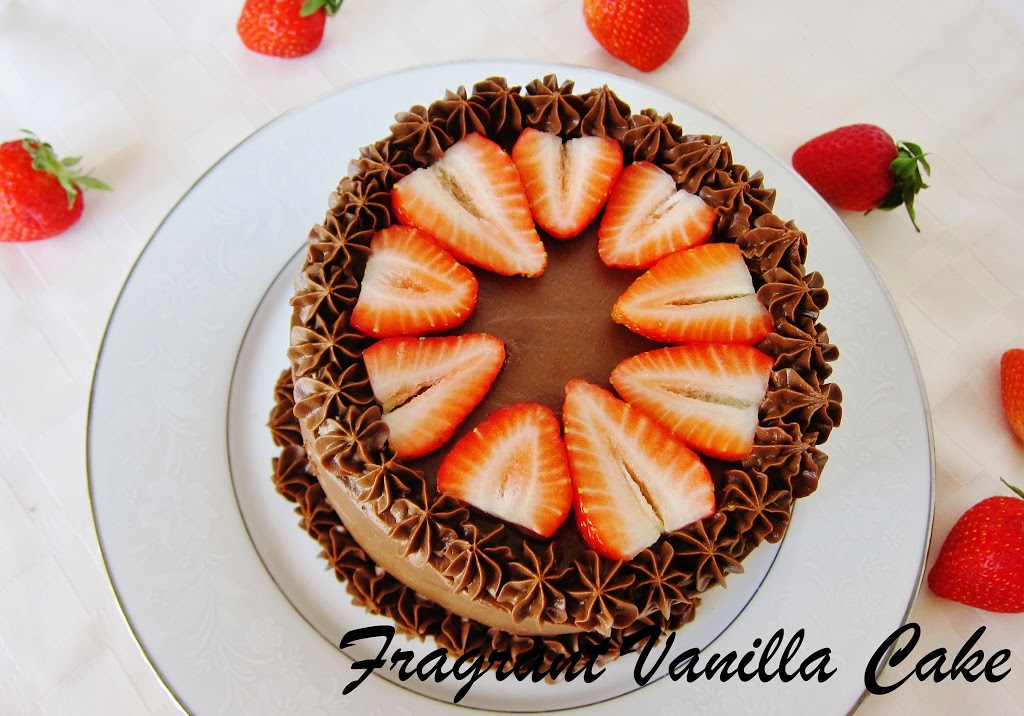 It is not uncommon for me to start out making a recipe or have an idea of a recipe I want to make, then change it or the concept of it as I go along. My mind is always going, what can I say, and as a creative person, ideas are always popping into my head to improve things and make them even grander.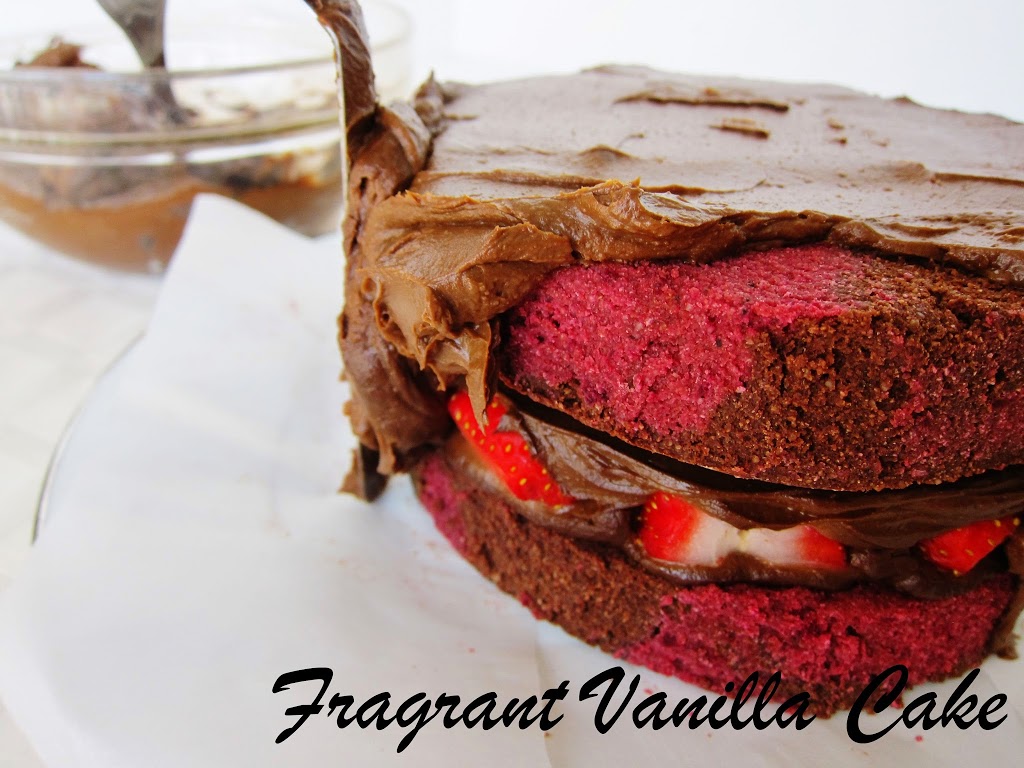 That is exactly what happened with this Raw Marbled Chocolate Strawberry Cake. It started out simply as a Blackout Cake. Which is a moist chocolate layer cake with cake crumbs on the outside. I had the idea since last weekend that I wanted to make one after seeing one on a show I was watching. I even told Eric I was making one, and he was all for it because he loves chocolate. But then, just a plain chocolate cake wasn't good enough for me. Soon, I decided that I wanted to add strawberries to the filling of the cake. And it was just going to be that...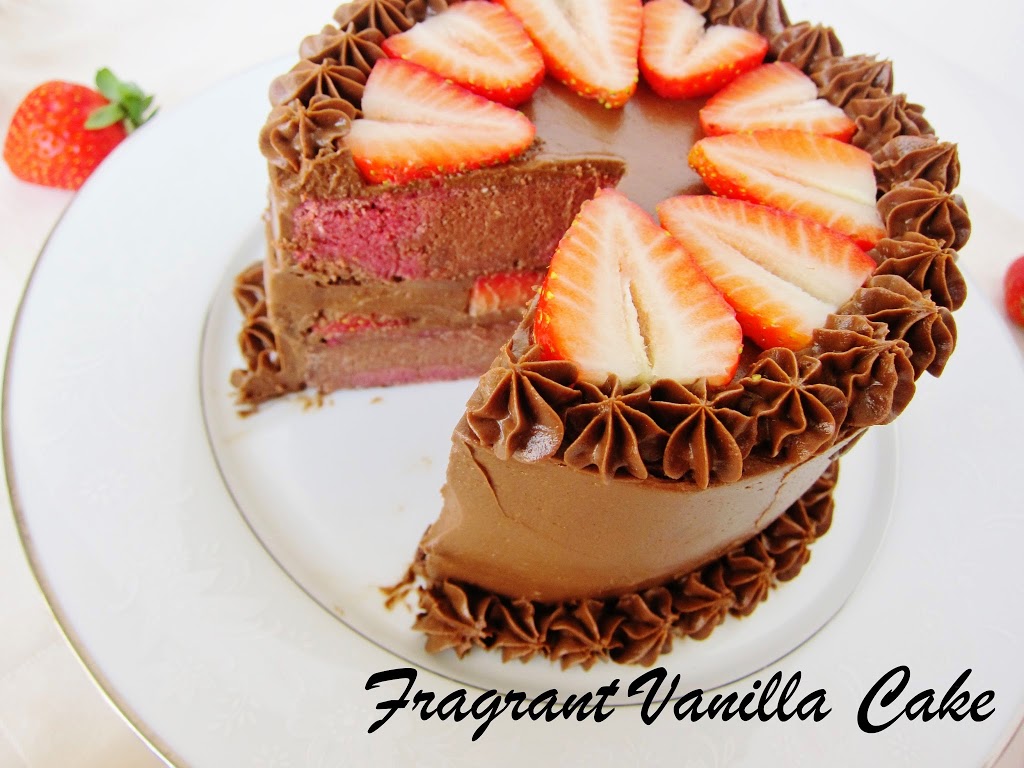 But then I started to make the cake batter Saturday night and I decided that a marbled cake batter would be even better. A strawberry cake batter, marbled with chocolate cake batter. Much prettier than simply chocolate and I have always been a fan of marble cake over plain chocolate any day. This was obviously no longer Blackout Cake.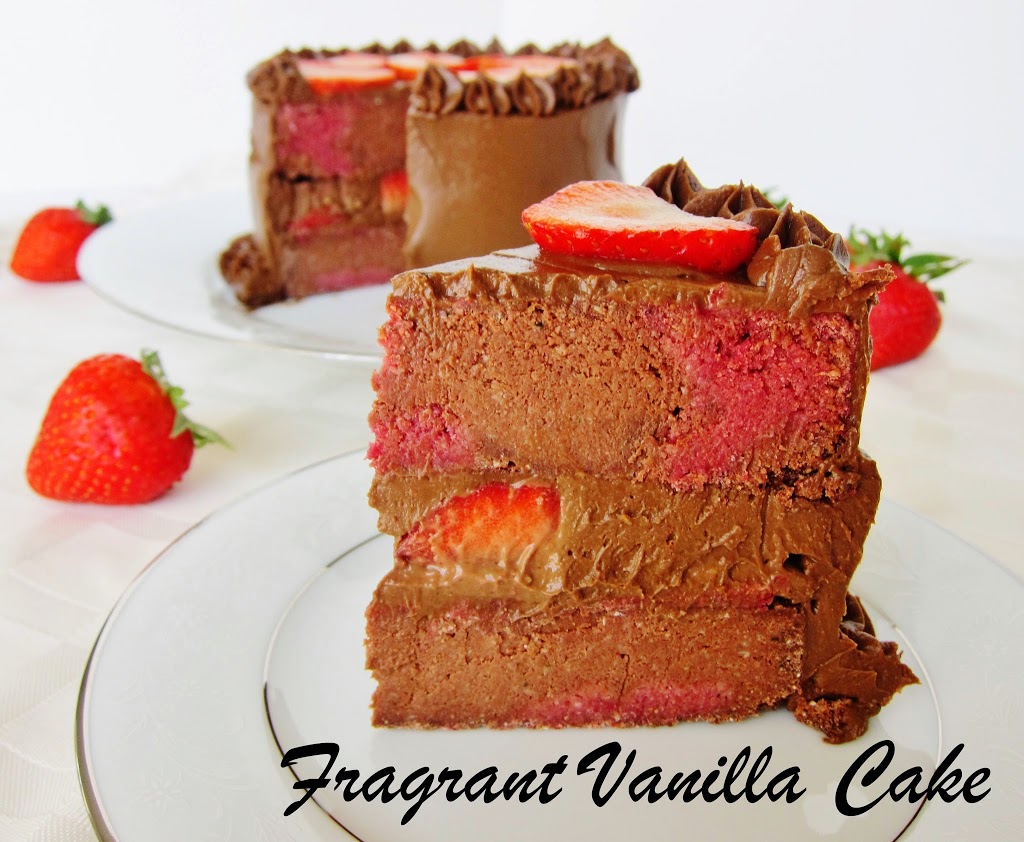 It was now Raw Marbled Chocolate Strawberry Cake. Which I frosted with a fudgy decadent chocolate frosting. Simply divine is what it was. In case you were wondering, most of my recipes evolve in this way. Crazy? Maybe, but so much more fun than always sticking to the plan.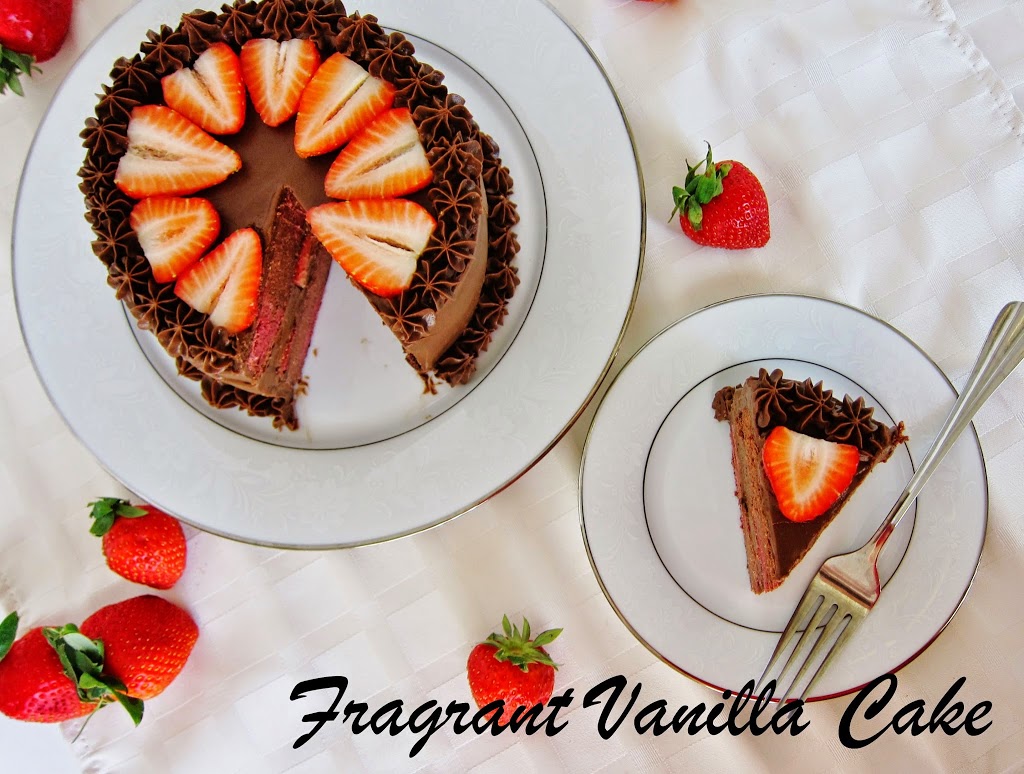 Raw Marbled Chocolate Strawberry Cake
Makes one 2 layer 8 inch cake
Cake:
2 1/2 cups raw sprouted buckwheat or quinoa flour
1 cup ground raw flaxseed
4 cups raw
coconut flour
(do NOT use store-bought!)
1/2 tsp sea salt
1 Tbsp pure vanilla extract
2 cups chopped red beets
1 cup medjool dates, pitted (soaked in filtered water for 30 minutes if not soft, then drained)
2/3 cup raw coconut nectar or your choice of liquid sweetener
1 cup filtered water (or as needed)
1 cup pureed organic strawberries
3/4
cup raw cacao powder
Chocolate Frosting:
2 1/2 cup diced ripe avocadoes
(about 6 medium)

1/4 cup plus 2 Tbsp raw coconut nectar, or your choice of raw liquid sweetener
1/4 tsp sea salt
1 Tbsp pure vanilla extract
1/2 cup plus 2 Tbsp raw cacao powder

1/4 cup raw coconut butter, liquefied
1 cup halved organic strawberries, plus sliced berries for the top of the cake
For the cake, combine flour, flaxseed, coconut flour, sea salt, in a large bowl and whisk together until and set aside. To a food processor, add the dates, vanilla, beets, nectar, strawberries, and water to the processor and process until pretty smooth. Add the wet ingredients to the dry ingredients and mix until smooth with a sturdy spoon (wooden works well) and well incorporated (the batter will be stiff, so you might want to use your stand mixer if you have one, and if it seems too dry add a little more filtered water (since the water content in the ingredients used here may vary). It should be the consistency of thick brownie batter).
Remove half the batter, and set aside in another bowl. To the remaining batter in the bowl, add the cacao powder and mix until very well combined. Using a 8 inch cake pan lined with plastic wrap, drop 1/2 the chocolate batter randomly into it, then half the plain strawberry batter. Smooth the top, then invert onto a lined dehydrator tray. Shape it and smooth it so that it is an even cake layer (it is alright if you spread the top and sides a little, those parts won't show as much as the middle when you cut into it). Repeat with the rest of the batter for another round. Dry the cakes for about 12-14 hours (until dry on the outside but still moist). Trim the cakes so they are perfect matching circles. Cool completely.
Meanwhile, to make the chocolate frosting, combine all ingredients in a food processor and process until smooth.
To assemble the cake, place one layer on a plate. Arrange the halved berries over that, then spread about 1 cup of the frosting over it, place in the freezer and let chill until it is set, about 45 minutes (this makes it easier to frost the rest so it doesn't move around and ooze). When it is chilled place the other cake layer over it, and spread the frosting over the top and sides of the cake, smoothing well. Place the remaining filling in a pastry bag, and Pipe around the top of the cake. Top with sliced berries. Serve! Store any leftover cake in the fridge.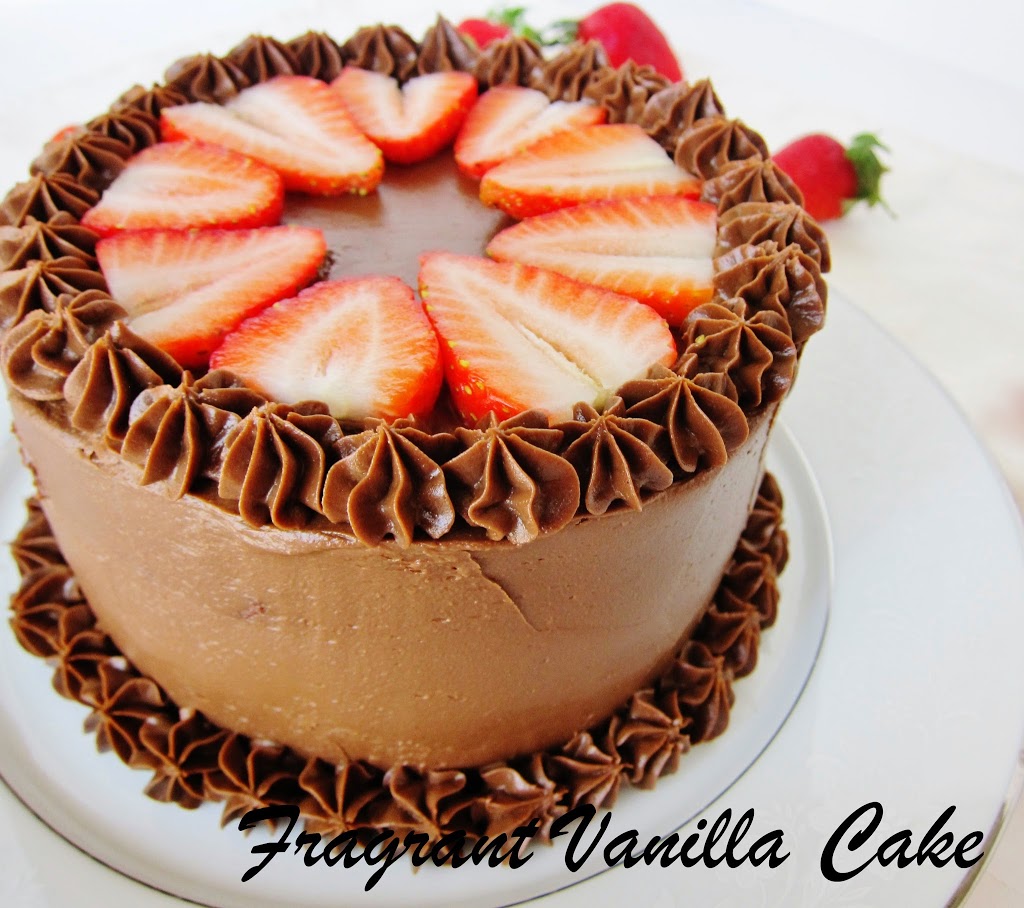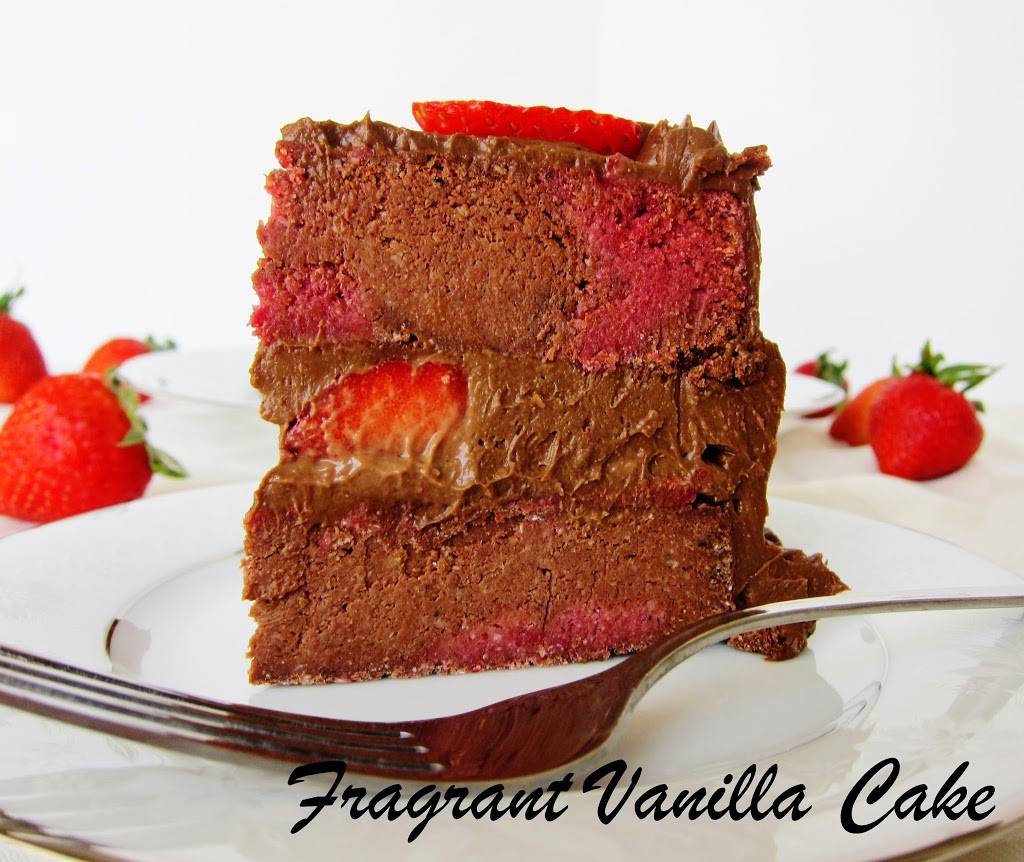 (Visited 106 times, 1 visits today)