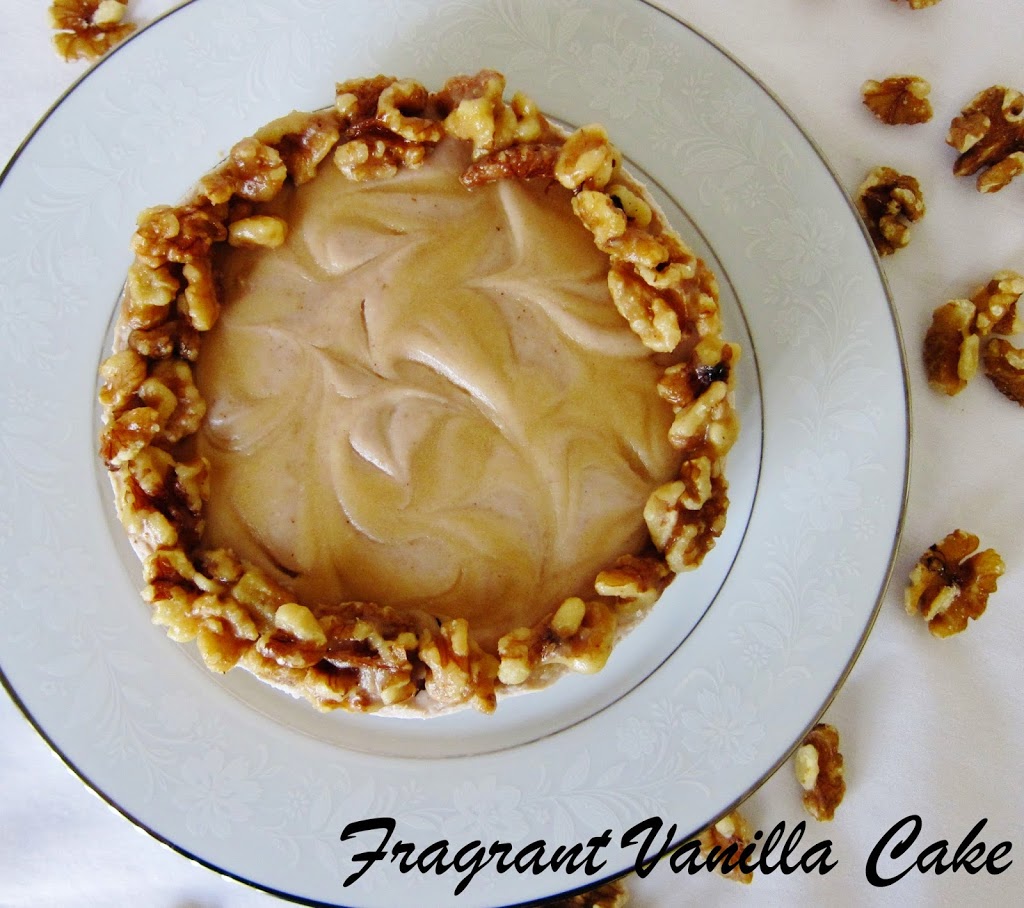 Raw Maple Walnut Cheesecake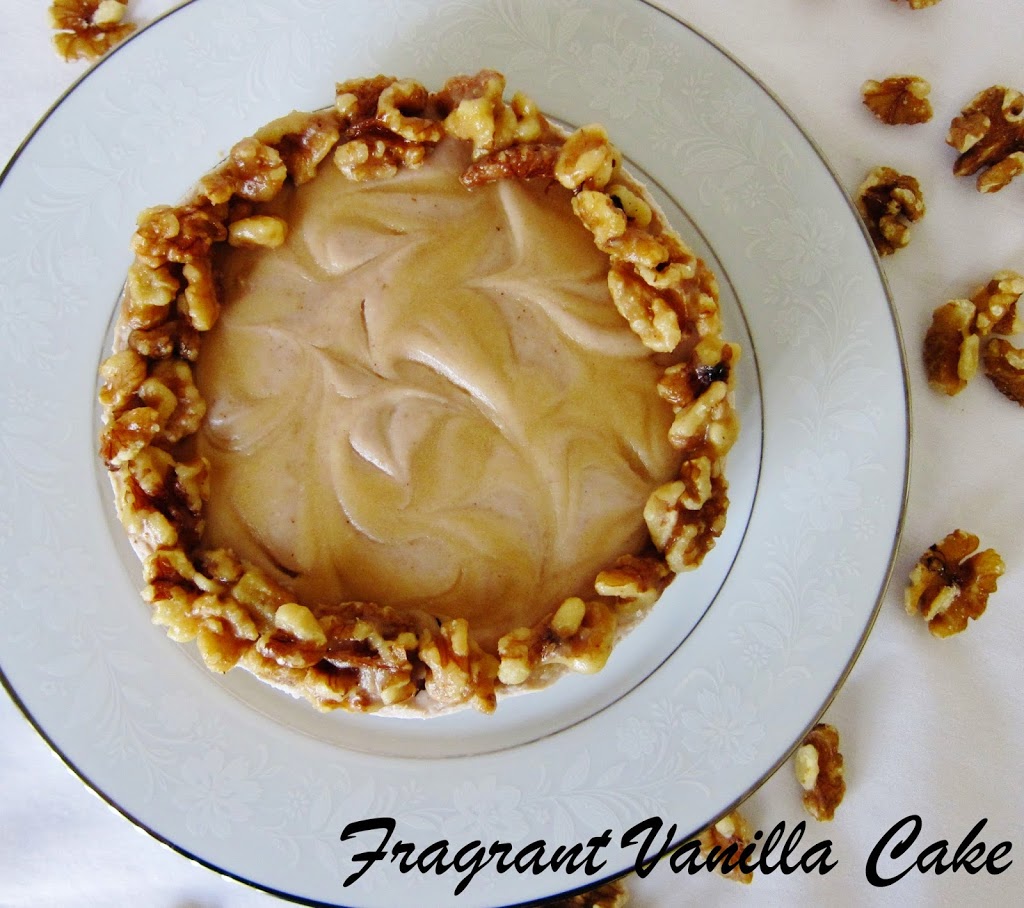 The aroma of maple syrup is simply heavenly. I happen to work next to the cooling rack at work (I work in a health food store deli) and one day last week my coworker had baked off some scones that contained maple syrup. OMG...the smell was making me so happy and hungry at the same time. Kind of torture since it was not time for lunch break yet. I decided then and there that I needed to make something maple based the next time I made a dessert.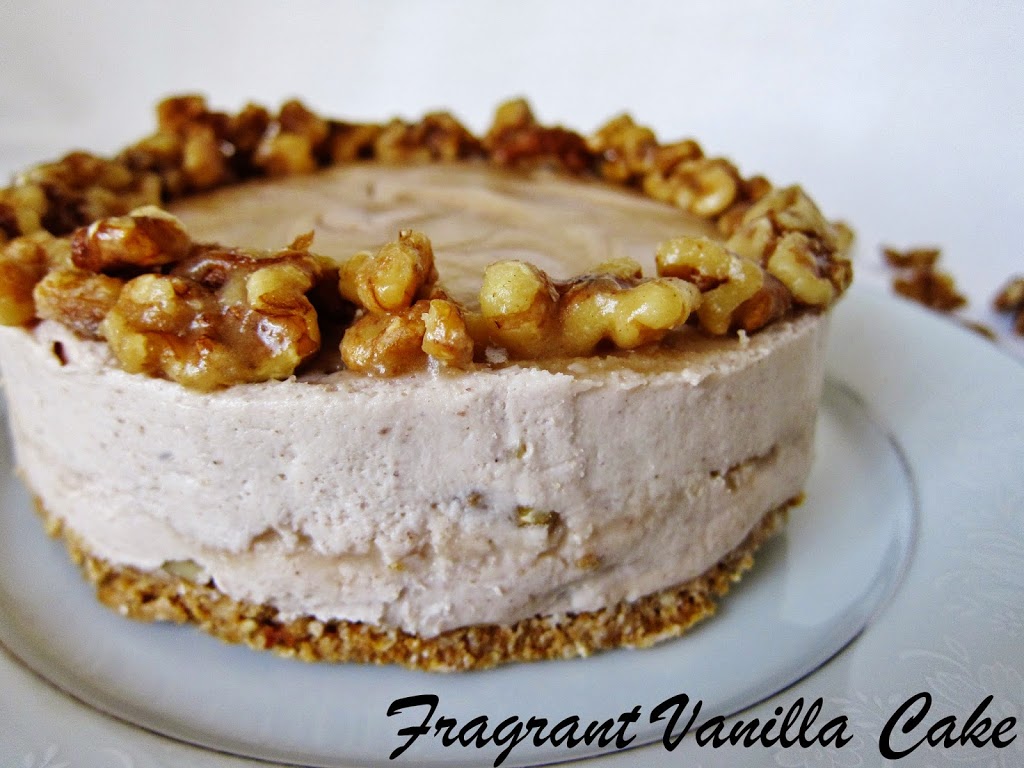 It ended up being a raw maple walnut cheesecake. Simple really, compared to most of the cheesecakes I make. Just maple and walnuts as the main stars. But that is how I wanted it. Creamy walnut laced coconut based cheesecake with a hint of maple and maple syrup, plus crunchy walnuts in the cake and on top of the cake, and a maple swirl.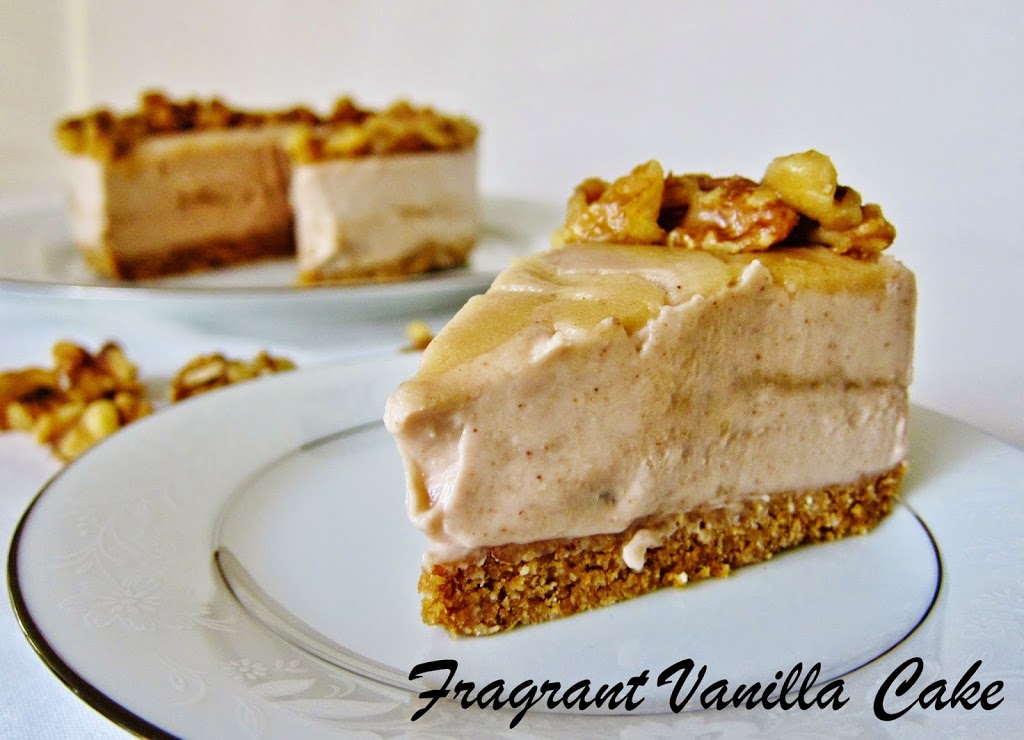 It was difficult to wait while it set, but once it was ready to devour, it was so good. I shared some with my boyfriend Eric, because desserts are best when shared with the ones you love, and he greatly approved! Trust me, if you love maple as much as I do, you need this in your life.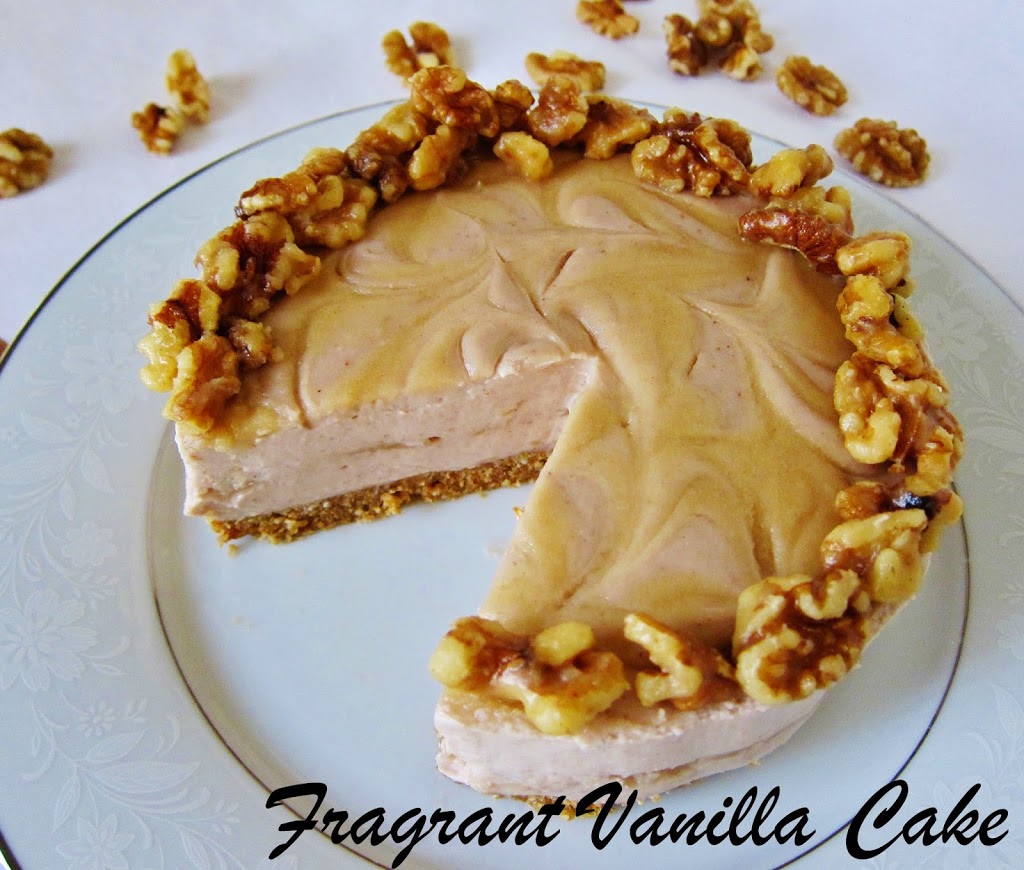 Raw Maple Walnut Cheesecake
Makes one 6 inch cake

Glazed walnuts:
2 cups walnuts
2 Tbsp maple syrup (not raw, but if you prefer your choice of raw liquid sweetener may be used*)
3/4 cup dried finely shredded coconut
1/4 cup raw walnuts
1/8 teaspoon sea salt
1/2 tsp cinnamon
2/3 cup soft medjool dates, pitted and chopped
3 cups young coconut meat**
2 cups raw walnuts, soaked for 4 hours and drained
1/2 cup maple syrup (not raw, but if you prefer your choice of raw liquid sweetener may be used*)
1 Tbsp pure vanilla extract and seeds from half a vanilla bean
2 tsp maple extract
1/2 cup plus 2 Tbsp
raw coconut butter
(warmed to liquid)
Maple Swirl:2 Tbsp maple syrup (not raw, but if you prefer your choice of raw liquid sweetener may be used*)
3 Tbsp raw coconut butter, warmed to liquid
1/4 tsp cinnamon
To make the glazed walnuts, toss the walnuts with the maple syrup and Spread out on a lined dehydrator tray. Dry overnight at 115F until not sticky.
Lightly coat a 6 inch spring form removable bottom pan with coconut oil. To prepare the crust, process buckwheat, coconut, walnuts and sea salt in a food processor until it is fine crumbs, then add the dates and process until the mixture holds together when squeezed between your fingers (if not holding together, add more dates). Firmly press crust into the bottom of the prepared pan, and set aside.
To make the filling, in a food processor combine coconut, walnuts, coconut water, coconut nectar, sea salt vanilla, maple, and blend until smooth and creamy. With the processor running, add the coconut butter, and process for a minute until blended. Remove the filling from the food processor and place in a bowl).
To make the maple swirl, combine the maple syrup and coconut butter and cinnamon and whisk together until smooth. If too runny, add a little more coconut butter (you want to be able to use it as a swirl on top of and inside the cake).
To assemble the cheesecake, chop 1 1/2 cups of the walnuts coursely. Scatter 1/2 of them over the crust, then pour half the cheesecake filling over. Drop teaspoonfuls of the maple swirl mixture over that, then scatter the other half of the chopped walnuts over. Pour the rest of the filling over that, then drop more of the maple syrup swirl by the tspful over that. Swirl with a knife. Place in the freezer for about 4-6 hours or until set. Store in the fridge.
*Maple syrup is not raw, but if you wish you can use a sweetener that is like raw coconut nectar instead.
**If you do not have access to young coconut meat, you can substitute 3 cups raw cashews soaked for 4 hours and drained for the coconut and filtered water for the coconut water.


(Visited 1,231 times, 1 visits today)