Raw Mango Berry Coconut Yogurt Cake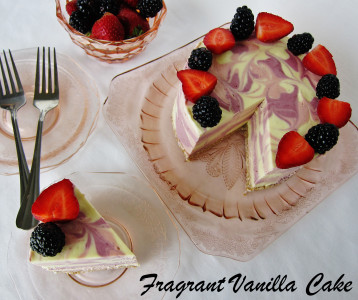 I used to eat tons of yogurt as a kid.  It was packed into my lunch as a child, because I was pretty picky, and it was something that I would actually eat. And, it was my go to snack.  Usually strawberry.  That was my favorite.  This habit continued until a few years back when I decided to eliminate dairy, and at that point I was eating about 2 cups of Greek yogurt a day.  I loved the stuff!  But it didn't love me back.  I never knew why I had so much discomfort before I gave it up.  My stomach felt so much better after I replaced it with chia seed porridge to go with my fruit instead of the dairy filled yogurt.  I admit, I missed it a little, which is why I was thrilled when I discovered I could make my own probiotic rich yogurt with young coconuts last year. Since then not only is it a treat to enjoy alone but a wonderful thing to use in recipes.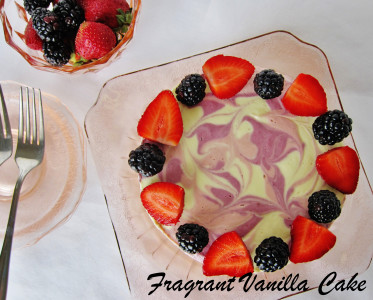 Like the Raw Mango Berry Coconut Yogurt Cake I made last weekend.  OMG...was it ever good!  If you miss dairy, and are looking for that tang in your cheesecakes that the traditional ones have, you have got to try this.  I used to always add yogurt to my cheesecakes before I started making dairy free ones, and adding the coconut yogurt does the trick too.  It is really quite simple to make, just involves starting the day before and allowing your coconut yogurt to ferment overnight with the probiotics.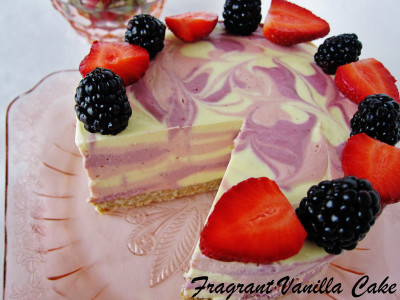 The berries and mango added to the yogurt in the cake is a simply heavenly combination!  Plus it makes for a pretty colored design in the cake.  I felt as if it was Summer while enjoying this, and it definitely put me in my happy place!  The best part is my stomach felt happy after eating it too! I felt light and satisfied. Which is not something I could say if I had eaten one of my original cheesecakes from years ago.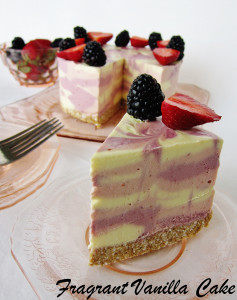 Raw Mango Berry Coconut Yogurt Cake
Makes one 6 inch cake
Ingredients:
Crust:
2/3 cup raw sprouted buckwheat groats (or additional coconut)
1/3 cup ground flax seed
3/4 cup dried finely shredded coconut
1/8 teaspoon sea salt
10-12 soft medjool dates, pitted and chopped (if they are not soft, soak them in water until they are and drain them well)
Filling:
4 cups young coconut meat*
1/2 cup coconut water
1 tsp powdered probiotics (you can open capsules and pour them in)
juice and zest of one lime
2/3 cup raw coconut nectar, or maple syrup
1/2  teaspoon sea salt
1 Tbsp pure vanilla extract and seeds from half a vanilla bean
3/4 cup raw coconut butter (warmed to liquid)
1/2 cup fresh organic mangoes
1/2 cup fresh organic strawberries
1/2 cup fresh organic blackberries
Topping:
Fresh strawberries and blackberries decorating
Instructions:
Lightly coat a 6 inch spring form removable bottom pans with coconut oil. To prepare the crust, process flax, coconut, buckwheat and sea salt in a food processor until fine crumbs, then add the dates and process until the mixture holds together when squeezed between your fingers (if not holding together, add more dates). Firmly press crust into the bottom of the prepared pan, and set aside.
To make the filling, in a high speed blender or food processor, combine coconut meat and water, and puree until smooth.  Mix in the probiotic powder, place in a bowl, and let sit out on the counter overnight.
The next day, add to a high speed blender with the lime juice and zest, coconut nectar, sea salt, and vanilla in a food processor and blend until smooth and creamy. With the processor running, add the coconut butter and and process for a minute until blended.
Divide the mixture into three bowls.  Add one back to the food processor and add the mango.  Blend until smooth.  Place back in the bowl. Add the next bowl contents to the food processor. Add the strawberries, and blend until smooth.  Place back in the bowl.  Add the next bowl to the food processor and add the blackberries and blend until smooth.  Place back into the bowl.
To assemble cheesecake, drop the three fillings over the crust alternating the colors.
Once the pan is full, tap the bottom on the counter to level, and swirl with a knife in a spiral from the outside in to the center, then a toothpick if you want more intricate swirls.
Place in the freezer for about 4 hours to firm up.
Garnish the top with fresh berries before serving.
*If you do not have access to young coconut meat and you do not mind the recipe not being nut free, you can substitute 4 cups raw cashews soaked for 4 hours and drained in the filling.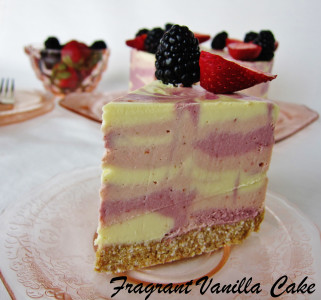 (Visited 773 times, 1 visits today)