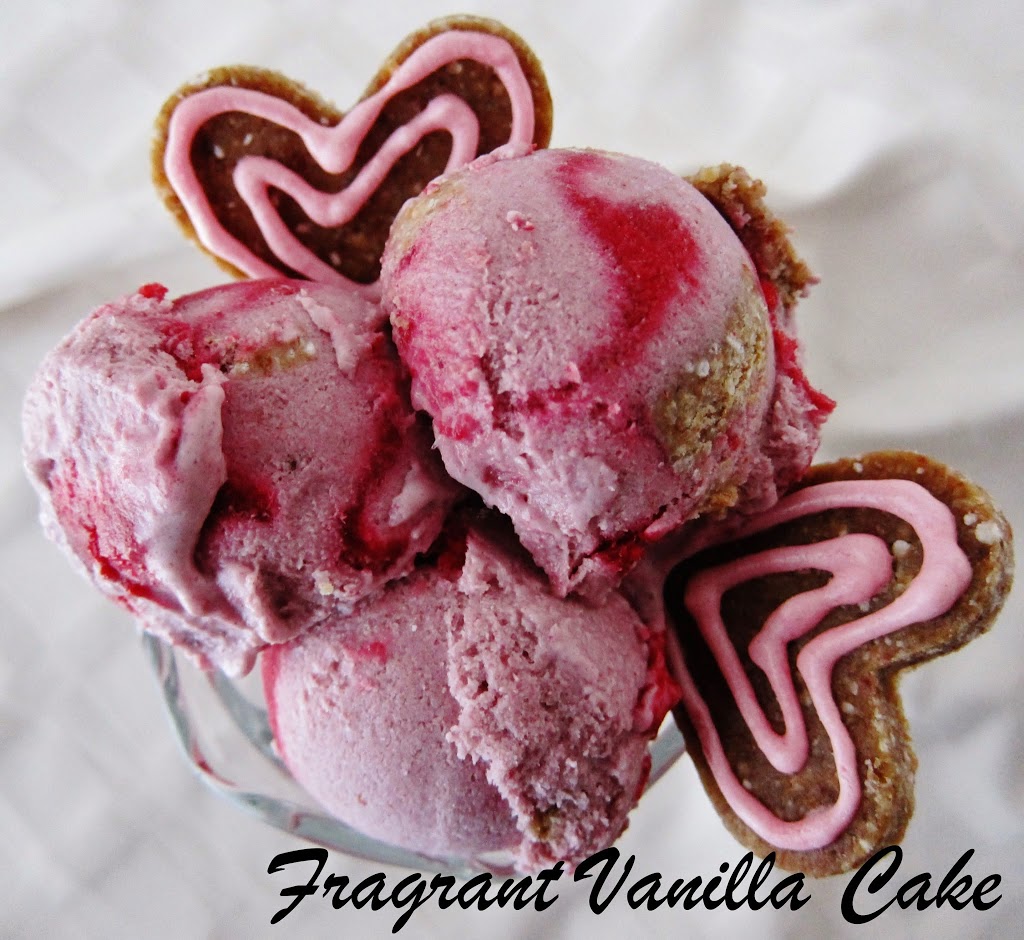 Raw Love Berry Ice Cream
Valentine's day is fast approaching, and my urge to make all things pink and heart shaped is getting the best of me. Which is exactly how I came to make this Raw Love Berry Ice Cream last week.  I wanted to make a festive pink ice cream, and although most people think chocolate when they think of Valentine's day...I did not include any.  Because this was going to be all about the flavors and ingredients I love.  Don't worry if you are a chocolate lover...I will include some chocolate desserts before V-day since my boyfriend is a chocoholic, but this time it was all about the vanilla, rose, and berries...plus some cute cookies!
I wanted to include my favorite berries, so raspberries and strawberries it was!  They made for a beautiful color!  I made a vanilla berry rose coconut base for my ice cream that was simply heavenly, and I could have poured it into a big tall glass and drank it like a smoothie.  It was that good.  I then swirled it with more jammy berries, and raw sugar cookies.  I even decorated some of the cookies with icing for fun, and of course to make the finished product more pretty...which is always important to me!
This ice cream is my idea of heaven in dessert form.  It was amazing, the sweet flavors of vanilla, berries and rose married all together!  If you want to treat yourself you should make some too, and show yourself some love!  Or you could be nice and share it with someone you love which might be even better.
Raw Love Berry Ice Cream
(Red Berry Rose Vanilla Ice Cream with Red Berry Swirl and Sugar Cookie Chunks)
Makes about 6 cups
Sugar Cookie Pieces:
1/2 cup soft medjool dates, pitted (if not soft, soak them for 30 minutes in filtered water and drain well)
3/4 cup finely shredded dried coconut
1/2 cup raw sprouted buckwheat groats
1/4 cup ground flaxseed
1/4 tsp sea salt
1/2 tsp almond extract
1 tsp pure vanilla extract
2 Tbsp ripe banana (to make the cookies soft and easier to roll)
Optional Glaze for garnish cookies:
1 Tbsp raw coconut butter (not oil), warmed to liquid
1 tsp raw coconut nectar (or other liquid raw sweetnener of choice)
beet based red food coloring
filtered water as needed
Ice Cream:
1 cup coconut water
4 cups young coconut meat (or 4 cups raw cashews, soaked 4 hours and drained if coconut unavailable)
1/2 cup raw coconut nectar (or other liquid raw sweetnener of choice)
seeds of one vanilla bean
1 tsp rosewater
a pinch of sea salt
1/2 cup raw coconut butter (or oil will work too here), warmed to liquid
1 small chunk red beet
1 cup mixed organic raspberries and strawberries
Red Berry Swirl:
1/2 cup fresh organic raspberries
1/2 cup fresh organic strawberries
2 pitted soft medjool dates (soaked in water 30 minutes if not soft and drained well)
1 tsp pure vanilla extract
For the cake, combine the dates, coconut, buckwheat, and flax in the food processor and process until well blended and the consistency of flour.  Add sea salt, and extracts and process until smooth and starting to hold together when squeezed (if it doesn't add a little water).  Turn out onto a foil lined sheet pan, and press into a 1/4 inch thick rectangle (rolling with a rolling pin to smooth). Place in the freezer until firm, about 30 minutes.
Once firm, cut some into small hearts with cookie cutters(optional) for garnish and the rest into into 1/2 inch squares.   For the glaze for the garnish hearts if making them, whisk together butter, nectar, food coloring and about 1 Tbsp water.  Add a little more water at a time until a smooth (but not too runny) glaze is achieved.  Place in a plastic ziplock bag, cut off the tip, and pipe decoratively on the cookies.  Place back in the freezer to set.
To make ice cream base, add coconut water to a high speed blender, along with coconut, nectar, vanilla, rosewater, sea salt, coconut butter, beet, and berries, and process until very smooth, about a minute or two. Pour the mixture into an ice cream maker and process according to directions.
Meanwhile to make the swirl, combine all ingredients and blend in a food processor until smooth.  Set aside.  When the ice cream is done churning, remove from ice cream maker, stir in cookie pieces (except ones for topping) then pour 1/3 into a freezer safe container with a lid. drizzle 1/3 of the swirl over it, then pour half the remaining ice cream over that.  Drizzle with half the remaining swirl, then top with the remaining ice cream then the remaining swirl.  Place in the freezer and let sit for at least four hours or overnight to firm up to scoopable consistency. Serve the ice cream topped off with the cookie hearts if desired.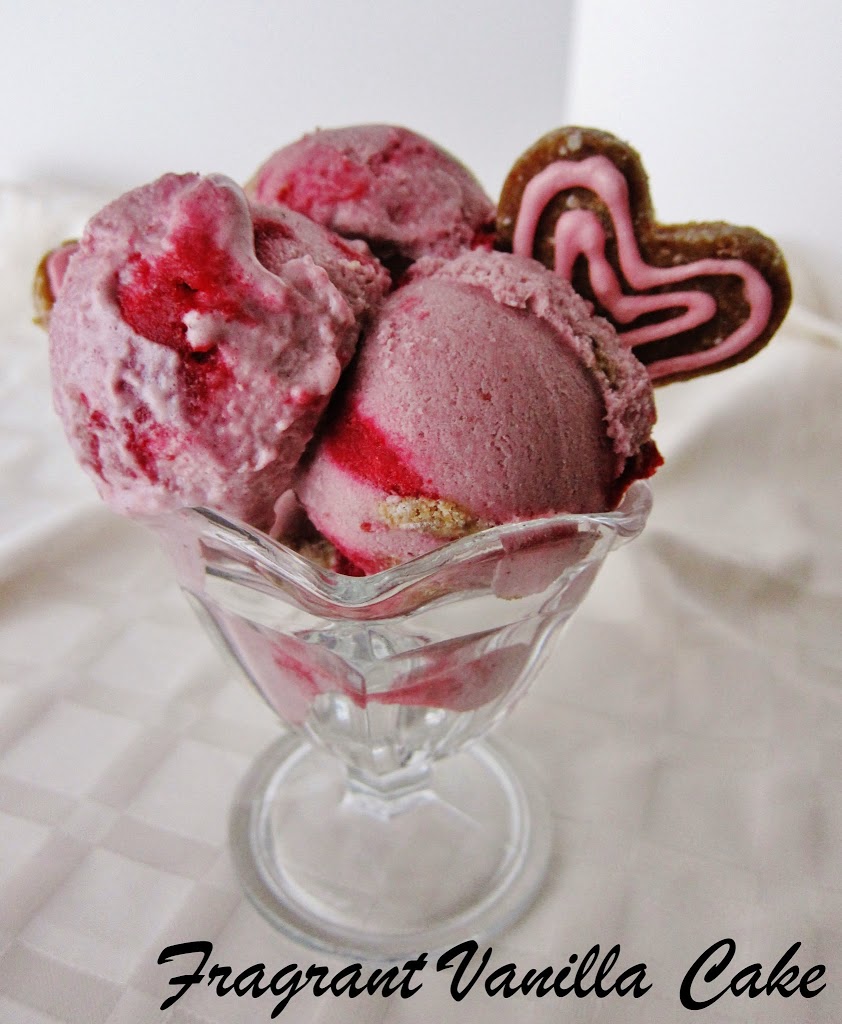 (Visited 263 times, 1 visits today)