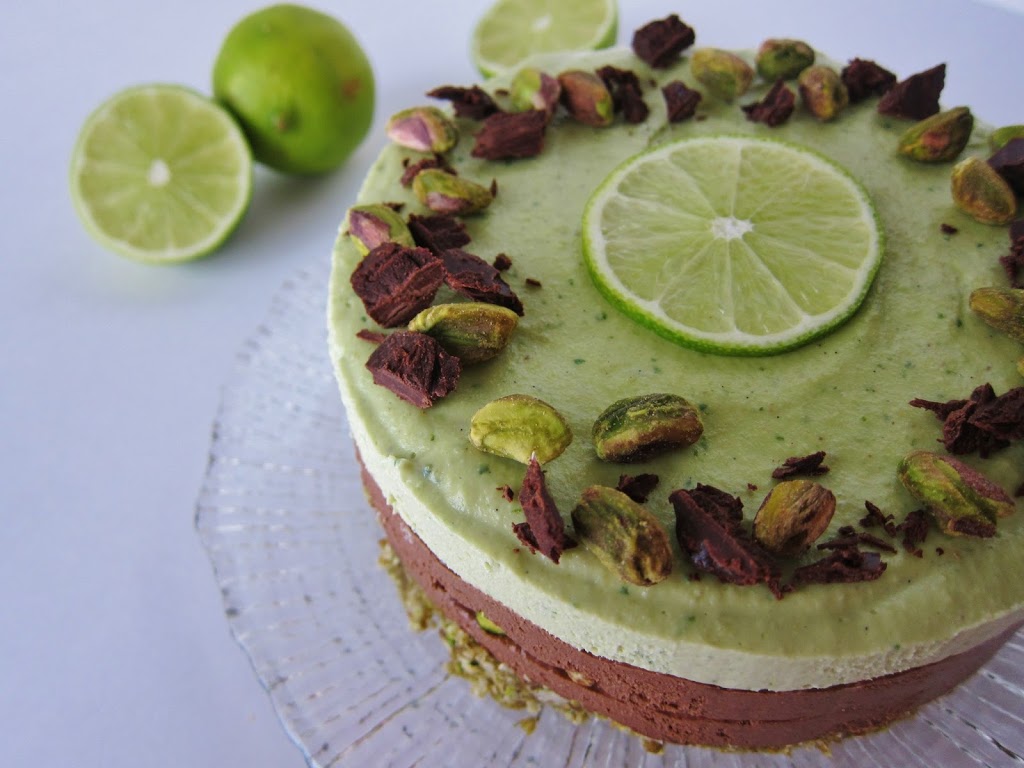 Raw Lime Dark Chocolate Pistachio Cheesecake
I woke up one day last week in a horrible mood, tired and just not wanting to do anything.  I dragged myself down the stairs and was convinced I was going to have a bad day, but it seems God had other plans.  I stepped on the treadmill and by the end of my run, my mood was boosted and I was actually feeling motivated.  I had a wonderful day at work, laughing with coworkers and ended the day having an unexpected romantic dinner with my boyfriend.  It was like God said, "I do not want you to have a bad day, I want you to feel happy." I love it when that happens. It is like the arrival of Spring.  We are all in a bad mood from the Winter with the cold, snow and darkness and God awakens the Earth, bringing back life again.
I am so excited for Spring...I am watching every snow pile melt with anticipation of warmth and running in shorts outdoors weather. This weekend I thought I would make something green in honor of Spring.  I know it is not technically here for a few weeks but I can be excited right?
I knew I wanted to use pistachios, because for some reason they remind me of spring.  I was torn between lemon white chocolate and lime dark chocolate for my dessert, but I decided on lime thanks to those of you who voted in my poll on Facebook. I wanted to make something beautiful and delicious enough to satisfy my sweet tooth so I made a raw cheesecake.  I am obsessed with them I know, but if you were here to enjoy them with me you would be too.
It was slightly tart with a pop of lime flavor, super creamy and rich with dark chocolate, plus salty and crunchy with the pistachios.  All of my current cravings satisfied in one decadent dessert!  I am so ready for spring, are you?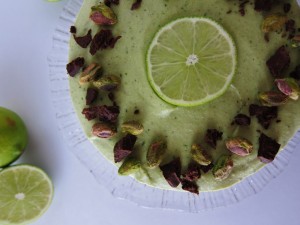 Raw Lime Dark Chocolate Pistachio Cheesecake
Makes one 6 inch cake
Crust:
1/2 cup raw pistachios, soaked and dried
1/2 cup sprouted buckwheat, dried in the dehydrator (or additional coconut or pistachios)
1/2 cup dried finely shredded coconut
1/8 teaspoon sea salt
10-12 soft medjool dates, pitted and chopped
Filling:
1 cup raw cashews (preferably soaked overnight and drained)
1 cup diced avocado
1 cups young coconut meat (or additional soaked cashews if unavailable)
1/4 cup lime juice
2 Tbsp organic lime zest
1/4 cup coconut water (or filtered water)
1/2 cup raw coconut nectar
1/2 cup plus 1 Tbsp raw coconut oil (warmed to liquid)
1/2 teaspoon sea salt
1 Tbsp pure vanilla extract and seeds from half a vanilla bean
1/4 cup raw cacao powder
1/4 cup chopped raw pistachios
for garnish, chopped raw chocolate, raw pistachios and a lime slice
Lightly coat a 6 inch spring form removable bottom pans with coconut oil. To prepare the crust, process pistachios, buckwheat and sea salt in a food processor until the nuts are fine crumbs, then add the dates and process until the mixture holds together when squeezed between your fingers (if not holding together, add more dates). Firmly press crust into the bottom of the prepared pan, and set aside.To make the filling, drain the cashews and combine them with avocadoes, coconut, lime juice, lime zest, coconut water, coconut nectar, sea salt and vanilla in a food processor and blend until smooth and creamy. With the processor running, add the coconut oil, and process for a minute until blended. Remove half the filling from the food processor and place in a bowl. Add the cacao powder to the remaining half in the processor. Process until well blended and place in another bowl.
To assemble cheesecake, pour half the chocolate filling over the crust, then scatter over 1/4 cup chopped pistachios.  Pour the remaining chocolate filling over.  Pour the lime filling over that and smooth the top. Place the cheesecake in the freezer to firm up for about 4 hours.  Once ready to serve, scatter pistachios and raw chopped chocolate around the edge on top of the cake, and place a lime slice in the middle (or you can be creative and arrange it in your own way).  Store leftover cake in the fridge!
(Visited 799 times, 1 visits today)