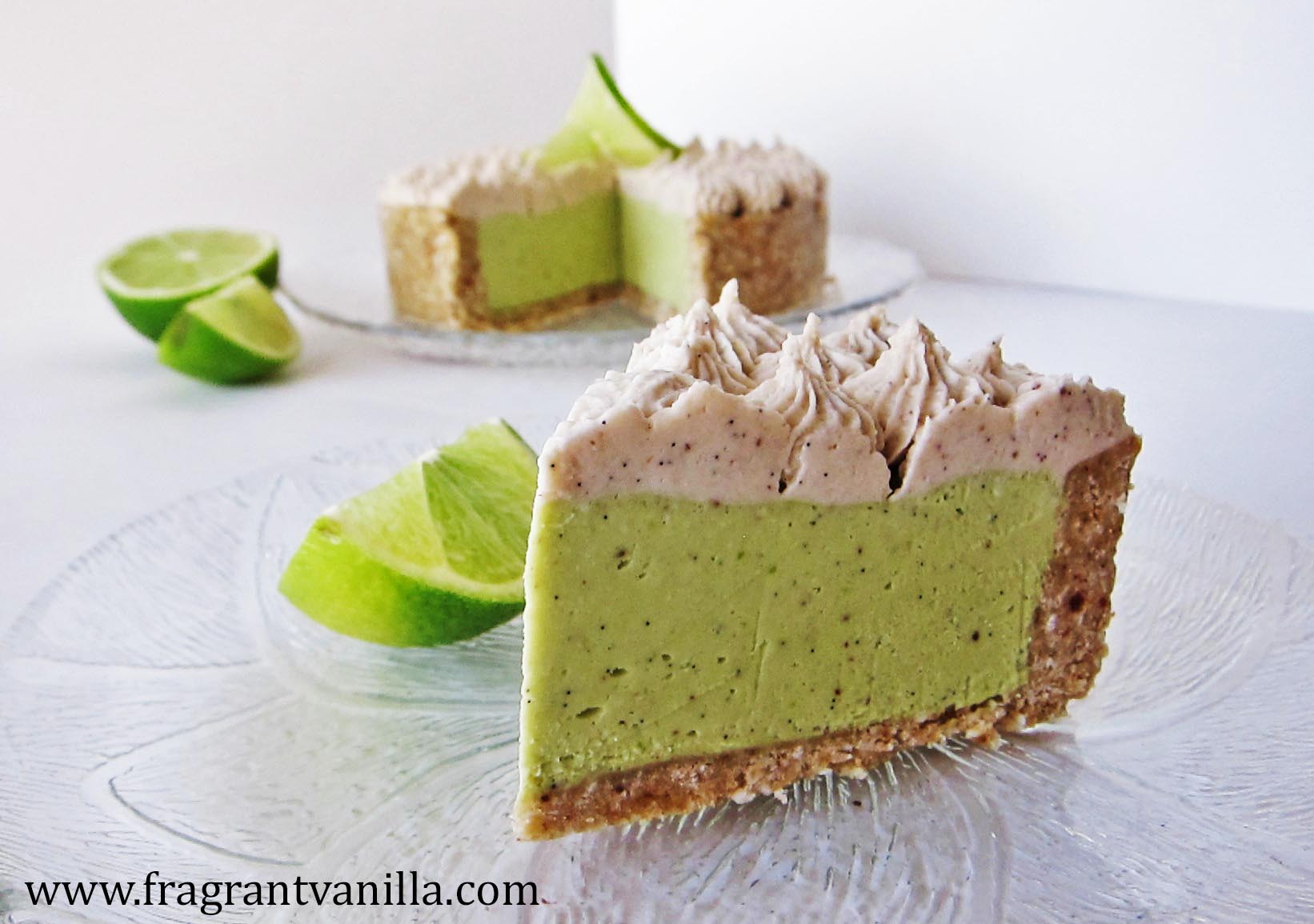 Raw Lime Avocado Tart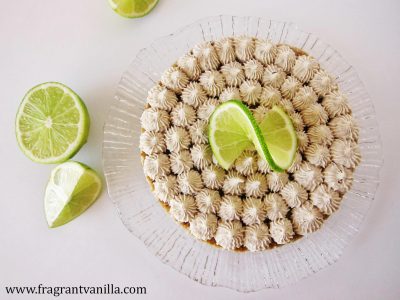 Back when I was in college, I had gotten a book of unusual pies from the library and one caught my eye.  It was an avocado lime pie.  I made it, and it was delicious, like the most luscious key lime pie ever! I shared some with my Mom, who was even more in love with the pie than I was, and she insisted I make it again.  However, I ended up not doing so because I did not like the large amount of sugar due to all of the sweetened condensed milk.  I made a healthified version of the pie last year as a tart, but at that time I was still eating a lot of dairy, so it was sort of like a cheesecake version of it.  My Mom loved that one too...and has been requesting that I make it again lately.  But, since I became raw vegan last summer, I could not bring myself to make the overly sweetened dairy filled tart.  But I decided that it might just be a perfect opportunity to make a raw vegan version! My Mom had given me a bag of avocados, so it was the perfect time to do so!  I was excited about this, I love key lime pies and tarts, and avocados.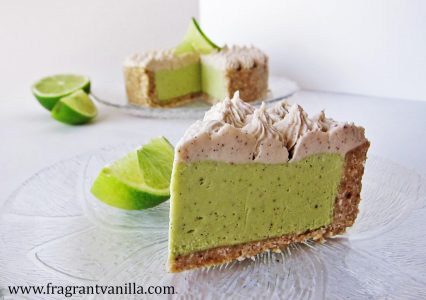 For the crust I decided to use a mixture of shredded coconut and macadamia nuts for tropical flavors along with some buckwheat for crunch, and it ended up being quite heavenly.  Way better than the graham cracker crust on the original avocado lime pie I made all those years ago.
For the filling I used a combination of fresh coconut meat, avocadoes and plenty of lime juice and zest for tartness (which is very important in a lime pie or tart as far as I am concerned). It ended up being even more silky and luscious than the original pie filling...of course I sampled it before pouring it into the crust.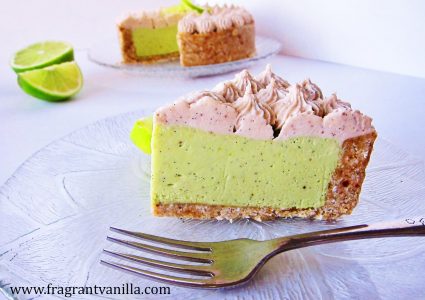 Although it would have been good as it was, I decided that it needed to be topped off with coconut cream.  I could not wait to dive in.  When I did, what filled my mouth was the most amazing lime tart I had ever tasted, the fillling melted in my mouth, just the right amount of tart and sweet and the coco-mac crust was perfect with it!  My Mother thought so too, she now wants me to make this tart again for her Birthday.  Which means a lot as she is hard to please in the dessert department.
Raw Lime Avocado Tart
Makes 1 6 inch tart
Crust:
1 cup macadamia nuts
1 cups shredded, dried coconut
1/2 cup sprouted, dried buckwheat (or additional coconut)
1/8 teaspoon sea salt
8 soft medjool dates, pitted and chopped
Filling:
1 1/2 cups avocado
1 1/2 cups young coconut meat or soaked cashews (drained)
1/4 cup lime juice
2 Tbsp organic lime zest
1/3 cup plus 1 Tbsp raw coconut nectar or maple syrup
1/4 tsp sea salt
2 tsp pure vanilla extract and seeds from half a vanilla bean (other half reserved for topping)
1/4 cup raw coconut oil (warmed to liquid)
Cream topping:
3/4 cup raw cashew pieces (preferably soaked overnight)
1/4 cup coconut water
1 cups fresh young coconut meat (or additional soaked cashews if not available)
3 Tbsp raw coconut nectar or maple syrup
1/4 tsp sea salt
1 teaspoons vanilla and seeds of half a vanilla bean
1/4 cup raw coconut oil (warmed to liquid)For the crust, combine the nuts, coconut, and buckwheat in a food processor and process until crumbs.  Add the sea salt and dates and process until the mixture starts to come together when squeezed.  Press into the bottom and up the sides of a 6 inch springform pan, sprayed with non-stick coconut oil spray.  Place in the freezer while you prepare the filling.
For the filling, combine avocado, coconut, lime juice and zest, nectar, sea salt, and vanilla in a food processor and process until smooth.  With the motor running, slowly add the coconut oil and process for a minute.  Pour the filling into the crust, and place in the freezer to firm up, about 2 hours or so.
Meanwhile, to make the topping, combine the cashews, coconut water, sea salt, nectar, and vanilla anc process until smooth.  Add the coconut oil slowly with the motor running (If the mixture starts to separate and clump, the filling is too cold to emulsify the oil, so warm some of it and process again). Place the topping in the freezer for about 30-45 minutes until it firms up to frosting consistency. Once frosting consistency, move to the fridge until ready to use.
Once the filling has set, place the topping in a pastry bag and pipe decoratively over the tart.  Serve!  Store extra in the fridge.
(Visited 649 times, 1 visits today)