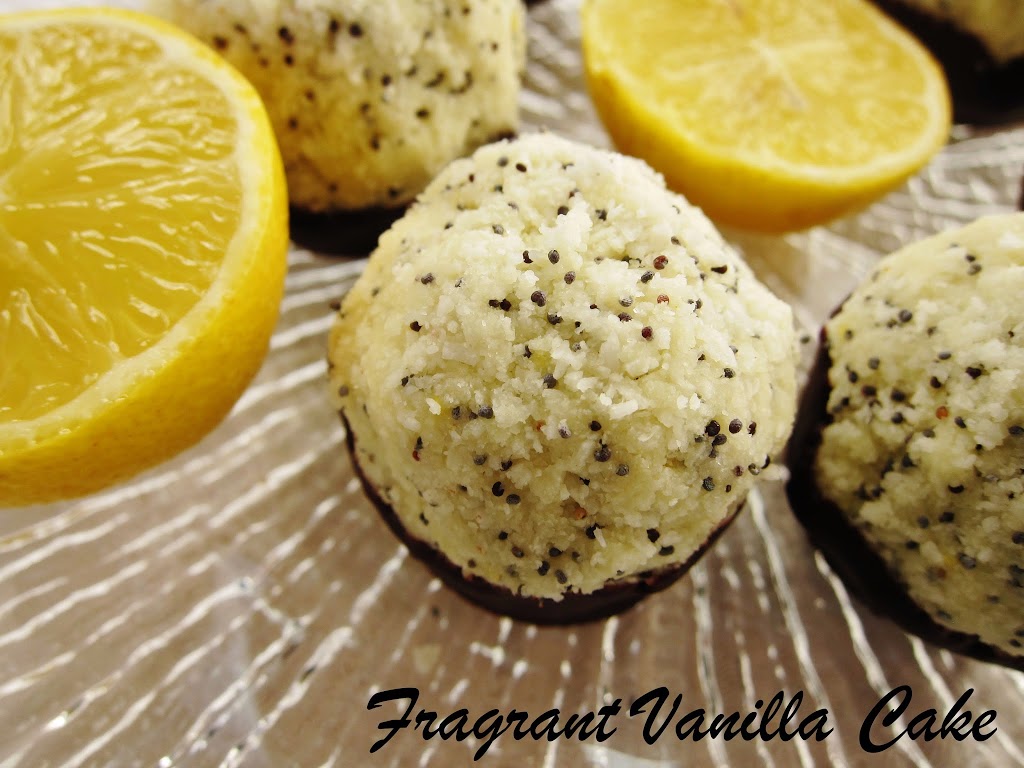 Raw Lemon Poppy Seed Coconut Macaroons
Since my Mom had finished off the last batch, I thought I would make her more with one of her favorite flavors, lemon.  We both have a fondness for all things tart and lemon (no doubt it is hereditary) and whenever I make a lemon dessert, she is the first one I share it with.  So I knew she would love lemon poppy seed coconut macaroons!
I added a double burst of lemon with both zest and juice.  I knew these were going to be good when I could not stop eating the dough for them.  I did not dehydrate them this time, because my Mom prefers me not to (they are softer, but also more fragile this way) so there was no need to wait to enjoy them!  She loved them, as did I.  If you are a lemon lover, you should try them out, and you will not be able to eat just one of these at a time, so be warned!
Raw Lemon Poppy Seed Coconut Macaroons
Makes 12
3/4 cup finely shredded unsweetened coconut
2 Tbsp lemon juice
1 Tbsp lemon zest
a pinch of sea salt
1/4 cup raw coconut nectar or maple syrup
1 tsp pure vanilla extract
2 cups finely shredded unsweetened coconut
2 Tbsp black poppy seeds
1/2 cup chopped raw dark chocolate
For the macaroons, place 3/4 cup coconut, and sea salt in the food processor and process until fine as flour and well combined. Add the lemon juice and zest, nectar and vanilla and process until the mixture holds together (depending on the liquid sweetener you use, you may need to add a little more to get them to hold together). Add coconut and black poppy seeds and pulse until the mixture holds together. Form into small balls, and either dehydrate (if you want them more firm) for 6 hours at 115F or you can simply place them in the freezer (if you prefer them more delicate) until very firm. Meanwhile, melt the raw chocolate (I place it in a bowl and melt it in the dehydrator).  When the coconut macaroons are hard, dip them into the chocolate and place on a foil lined sheet.  Place in the freezer for 5 minutes to set chocolate.  Store in the fridge.
(Visited 93 times, 1 visits today)