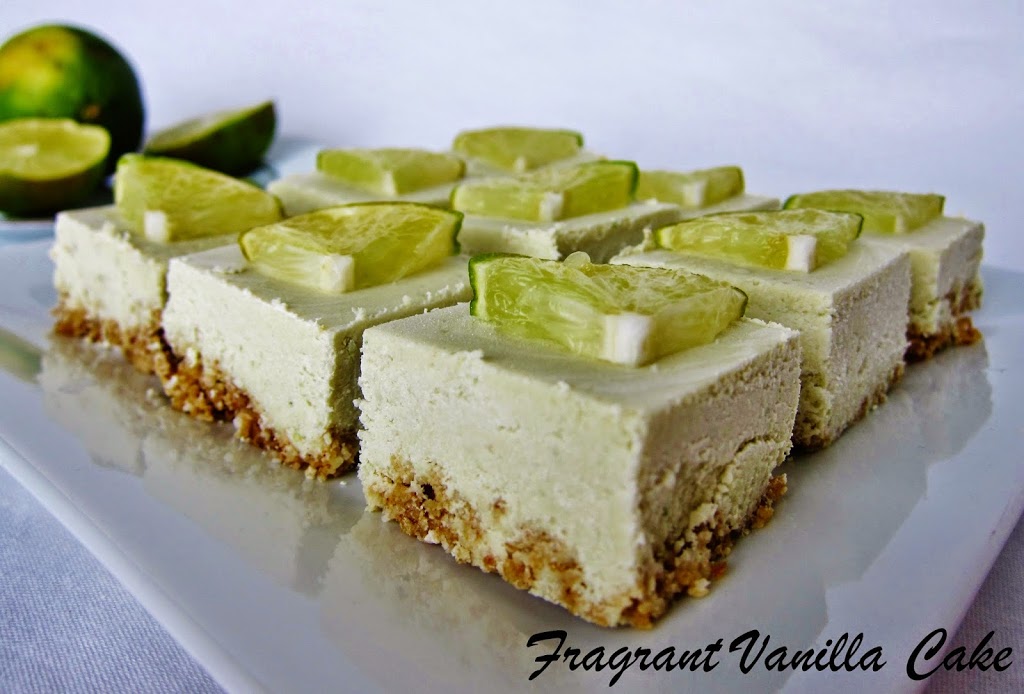 Raw Key Lime Pie Bites
I got my hands on a bunch of limes, and all I could think to make with them is key lime pie.  It sounded sooo good to me because I love key lime pie any time of the year.  Especially the very tart kind.  It has to be the perfect balance of tart and sweet, with real organic limes, plenty of zest to create that lovely aroma.  I was feeling a little lazy though so instead of a pie, I ended up making key lime pie bites.
Just a dusting of raw "graham cracker" crumbs on the bottom, just enough to set the luscious filling on top of since the filling is my favorite part anyhow.  This was kind of like a cross between fudge and key lime pie, and they were rich, hence the bites. But see I figure with bites you can have more of them, so it is always a win!
They tasted just like key lime pie!  The perfect balance of tart and sweet, a little graham cracker crunch for good measure and melt in your mouth goodness!  Bring these to a party and everyone will be your friend.  I think these might be nice to serve as part of an Easter brunch spread, because everyone wants a little of everything, and a bite is perfect!
Raw Key Lime Pie Bites
Makes 20
Graham cracker crumbs:
2/3 cup finely shredded, dried coconut
1/2 cup sprouted dehydrated buckwheat groats (or walnuts if you do not mind it not being nut free)
2 Tbsp ground flaxseed
1/2 cup soft medjool dates, pitted
1/4 tsp Himalayan or sea salt
1/4 tsp cinnamon
Lime Filling:
1 1/2 cups raw coconut butter (NOT oil) warmed to liquid
1 cup lime juice
1/2 cup filtered water
2 Tbsp organic lime zest
1/4 tsp matcha powder (or you may use spinach juice)
1/4 cup plus 2 Tbsp raw coconut nectar or maple syrup
1 tsp vanilla extract
pinch sea salt
For the crust, combine all ingredients in the food processor and process until small crumbs and starting to hold together.
Spread out into an 8x8 inch pan lined with foil or parchment and oiled with coconut oil (for easy removal).  Set aside.
For the filling, whisk together all ingredients together in a bowl until smooth. Spread out over the prepared graham cracker crumbs.
Place in the freezer to set, about 30 minutes.  Cut into small squares and serve!
Store any extra in the refrigerator.
(Visited 232 times, 1 visits today)