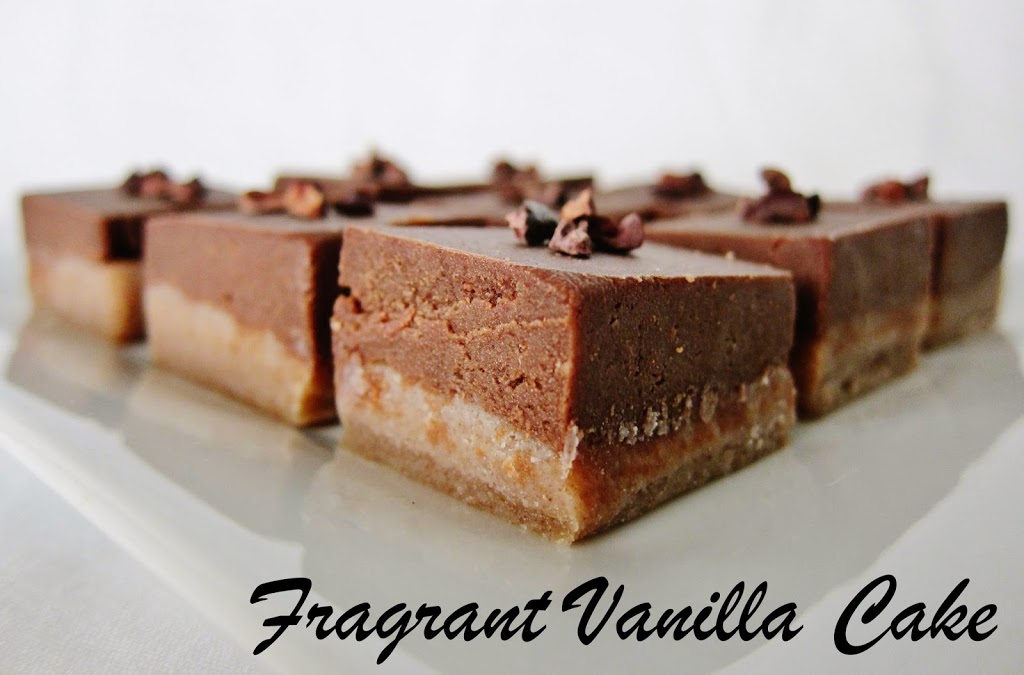 Raw Hazelnut Cacao Fudge
I made myself some raw hazelnut butter last week and it was so tasty that I decided it needed to find its way into dessert as well. I made a couple things, the first of which was this fudge. It did not start out as fudge though. Honestly my first thought was to make simply hazelnut butter cups but then, I thought something with multiple layers would be more interesting. Now, I started off thinking I was going to make some sort of two layer hazelnut candy with creamy hazelnut on the bottom, and chocolate hazelnut on the top, then dip them in raw dark chocolate but it turned out a little different as you can see from the photos. A good different.
The process was quite simple, combining coconut butter with hazelnut butter, some vanilla and a bit of coconut nectar to sweeten. It was so delicious! I could have just eaten that with a spoon. Raw cacao was added to the rest and it was equally as heavenly. It became two layers, and once chilled and sliced I intended to dip it into chocolate...but it was so freaking good as it was!
It reminded me of Gianduja, or these chocolate hazelnut candies my Mother and I bought when we were in Belgium but even better. It needed no adornment, or any more chocolate because it was crave worthy as it was and I am all for keeping it simple when I can with candy. Trust me, you need these in your life!


Raw Hazelnut Cacao Fudge
Makes 12 pieces
3/4 cup melted coconut butter (not oil)
1 cup raw hazelnut butter*
4 Tbsp filtered water
1 tsp pure vanilla extract
3 Tbsp raw coconut nectar
a pinch sea salt
2 Tbsp raw cacao powder
In a food processor, combine the coconut butter, hazelnut butter, water, vanilla, coconut nectar and sea salt and process until smooth. Divide the mixture in two, and spread (or shape) one half out into a 1/2 inch square on a piece of foil on a board or sheet pan (to make moving it easier). Place in the freezer for about 15 minutes to firm it up slightly. Meanwhile, add the other half back to the food processor and add the cacao powder. Spread this layer over the other layer shaping it so it is square (you may need to use your hands or something like a bench scraper on the sides). Place back in the freezer for about an hour or more until firm. Cut into 12 squares and enjoy! Store in the fridge.
*To make hazelnut butter, add 3 cups hazelnuts to a high speed blender, and blend until smooth (Since hazlenuts have a lower fat content it will not get as creamy as say jungle peanut butter but it is still delicious. If you want it a little more creamy, you can add a couple Tbsp oil too), using the tamper to press the nuts into the blades. Add a little sea salt if desired and blend about 15 seconds more until it is incorporated. Store in a jar in the fridge. You can make nut butter with a food processor as well but keep in mind it may not be as smooth, and it will take a lot longer. Also, you will need to scrape the sides of the processor down often.
(Visited 69 times, 1 visits today)