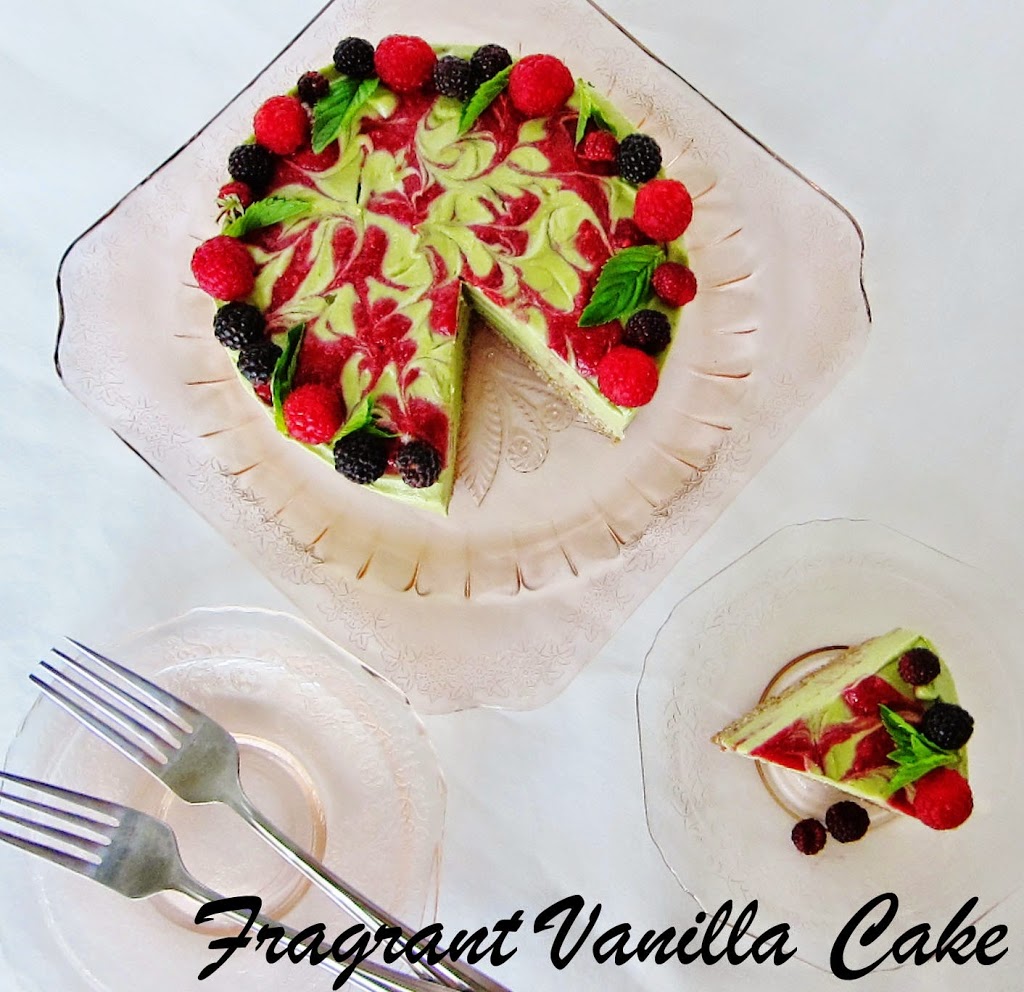 Raw Green Tea Mint Raspberry Dream Cake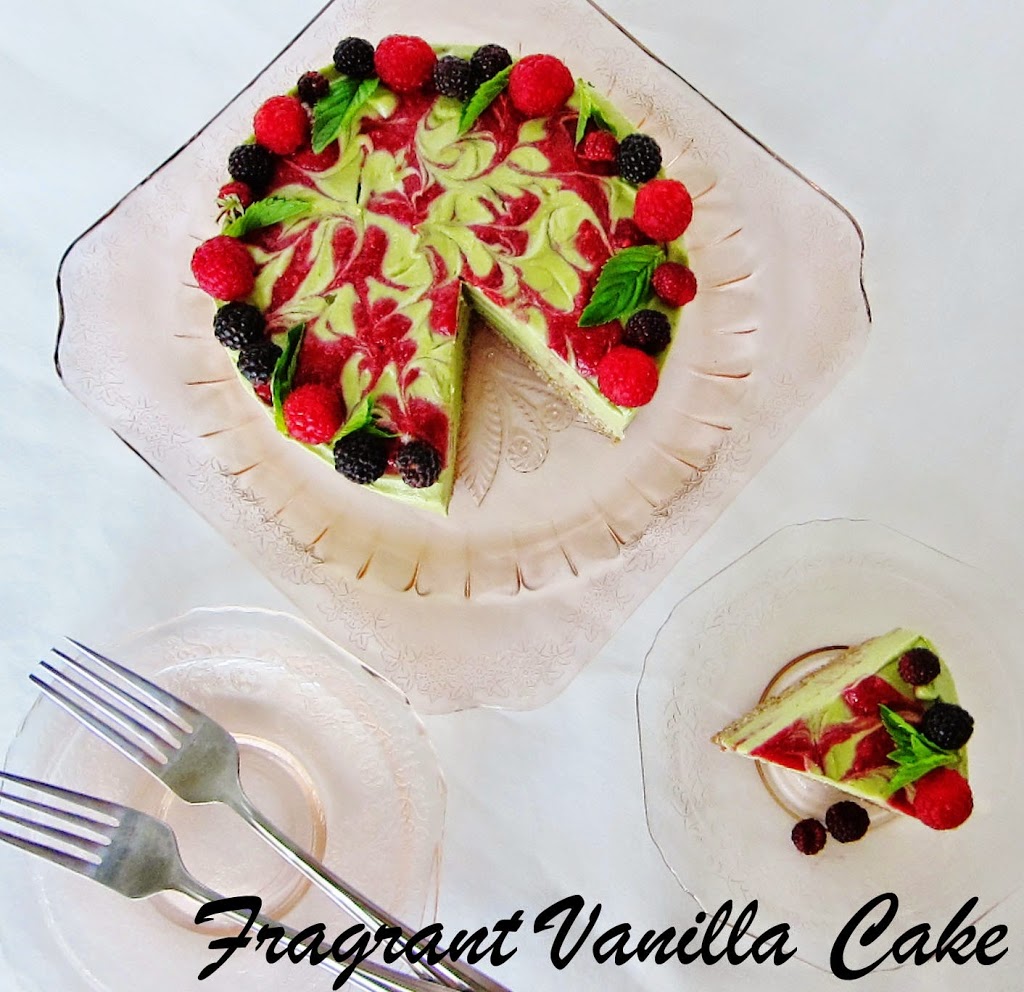 Every day when I am out walking and running, I see wild raspberries along the way.  I have been anxiously waiting for them to come to perfect ripeness, and finally last week they were ready.  So Eric and I went out and harvested all that we could find that were ripe.  Let me tell you, it was worth the mosquito bites and scratches, they were yummalicious! Nothing beats wild raspberries, and these happened to be black raspberries.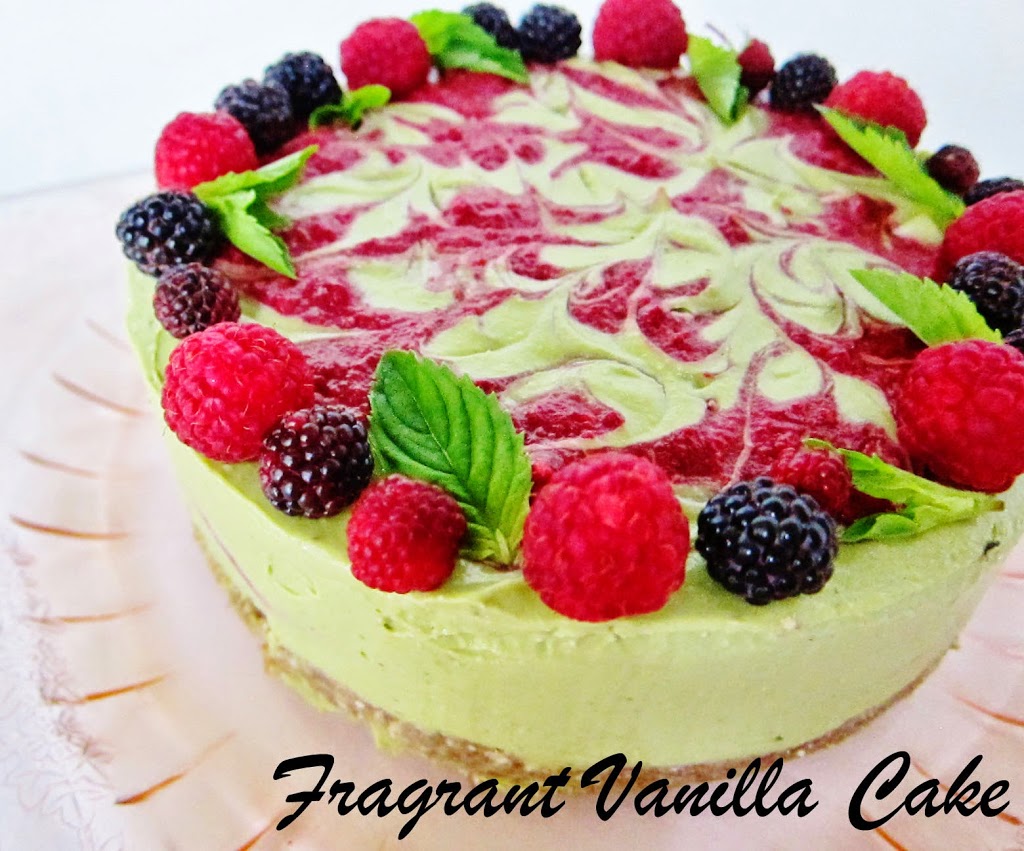 My Mom also brought me a pint of fresh wild red raspberries that her coworker had picked over the weekend.  I was quite excited, I thought these beautiful berries needed to be used in a delicious dessert.  I wanted a cake, and I thought about all of the possible flavor combinations I could do with the berries, but I wanted to do something different and decided on green tea mint raspberry.  I had been meaning to pair green tea with berries, since I had enjoyed a delicious berry infused iced green tea my Mom made a few weeks back and I loved the combo, and I had fresh mint from the farmer's market so it was perfect!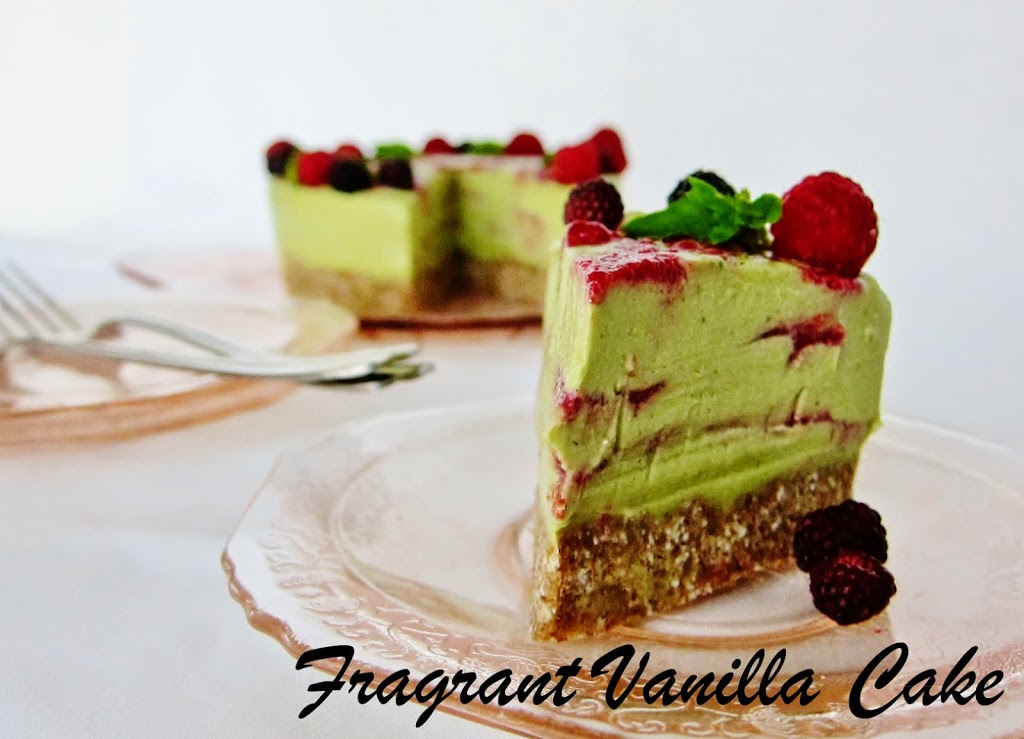 This cake was so silky and dreamy since I included some avocado in the filling along with the coconut and the matcha powder (green tea) gave it an earthy quality that paired nicely with fresh mint and bright sweet flavor of the berries which I swirled into the filling in jammy ribbons.  It was heavenly on all levels.  I feel so fortunate this time of the year when my favorite local fruits and herbs are available!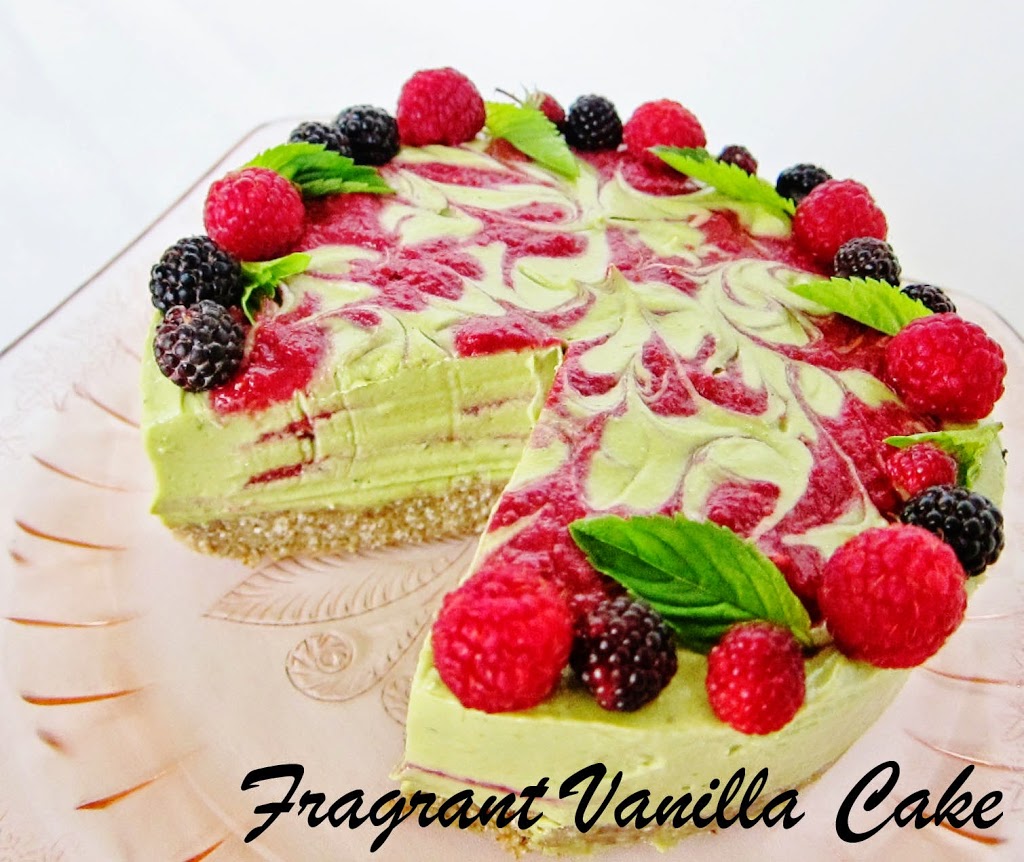 Raw Green Tea Mint Raspberry Dream Cake
Makes one 6 inch cake
3/4 cup dried finely shredded coconut
1/8 teaspoon sea salt
10-12 soft medjool dates, pitted and chopped (if they are not soft, soak them in water until they are and drain them well)
Raspberry Puree:
1 cup fresh organic raspberries
2 medjool dates, pitted (and soaked in water until soft if not soft)
a pinch sea salt
1 Tbsp lemon juice
Filling:
3 cups young coconut meat*
2 cups avocados
1/2 cup coconut water
2/3 cup raw coconut nectar or maple syrup
1/2  teaspoon sea salt
1 Tbsp pure vanilla extract and seeds from half a vanilla bean
2 Tbsp matcha powder
about 10 fresh mint leaves
3/4 cup 
raw coconut butter
 (warmed to liquid)
Lightly coat a 6 inch spring form removable bottom pans with coconut oil. To prepare the crust, process flax, coconut, buckwheat and sea salt in a food processor until fine crumbs, then add the dates and process until the mixture holds together when squeezed between your fingers (if not holding together, add more dates). Firmly press crust into the bottom of the prepared pan, and set aside.
For puree, combine all ingredients in a food processor and process until smooth.  Set aside.
To make the filling, in a high speed blender or food processor, combine coconut, avocados, coconut water, coconut nectar, sea salt, vanilla, matcha and mint  in a food processor and blend until smooth and creamy. With the processor running, add the coconut butter and and process for a minute until blended.
To assemble cheesecake, pour 1/3 of the filling over the crust then drop the puree by the 1/2 tsp over that and swirl it with a knife. Pour half the remaining filling over that (carefully so that you don't disturb the swirl). Then drop the swirl over that by the 1/2 tsp and swirl it with a knife.  Pour the remaining filling over that carefully, then drop more of the swirl by the 1/2 tsp over it and swirl with a knife in a spiral from the outside in to the center, then a toothpick if you want more intricate swirls.
Place in the freezer for about 4 hours to firm up.
Once the cake has chilled, Garnish the top with raspberries before serving.
*If you do not have access to young coconut meat and you do not mind the recipe not being nut free, you can substitute 3 cups raw cashews soaked for 4 hours and drained in the filling.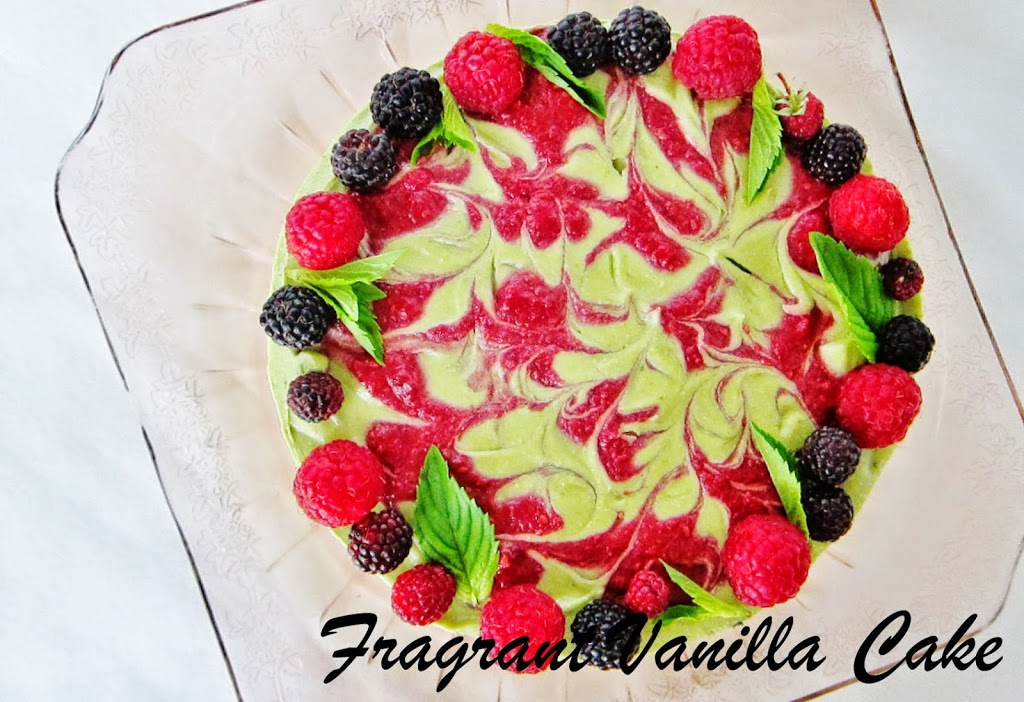 (Visited 61 times, 1 visits today)