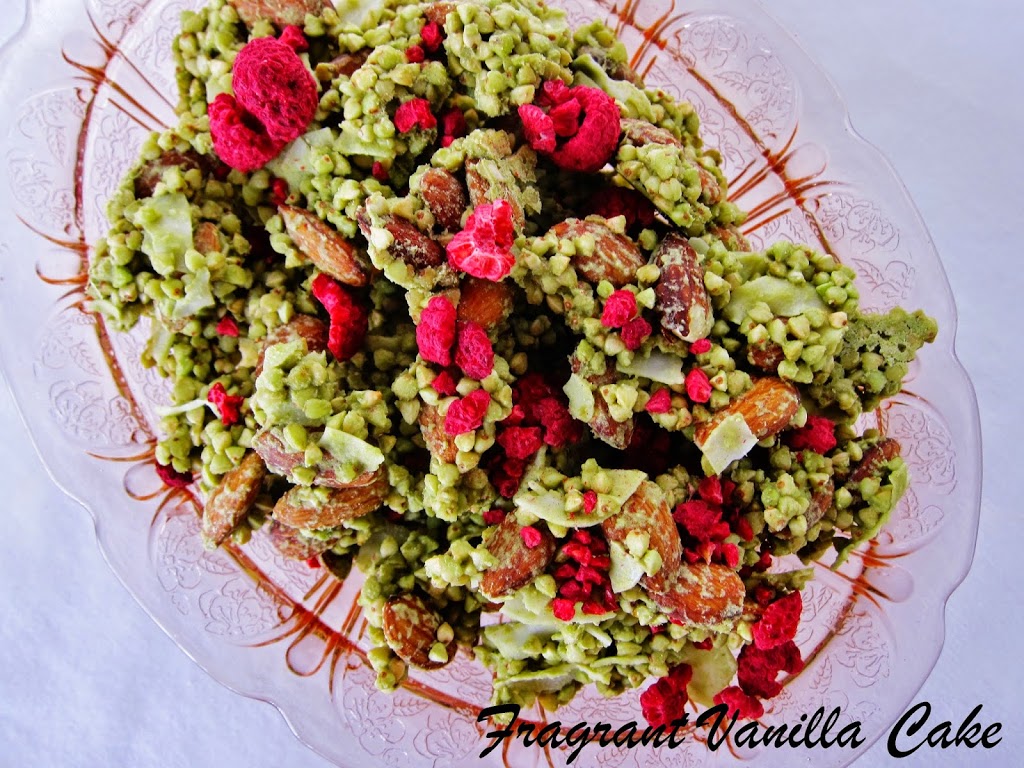 Raw Green Tea Almond Raspberry Granola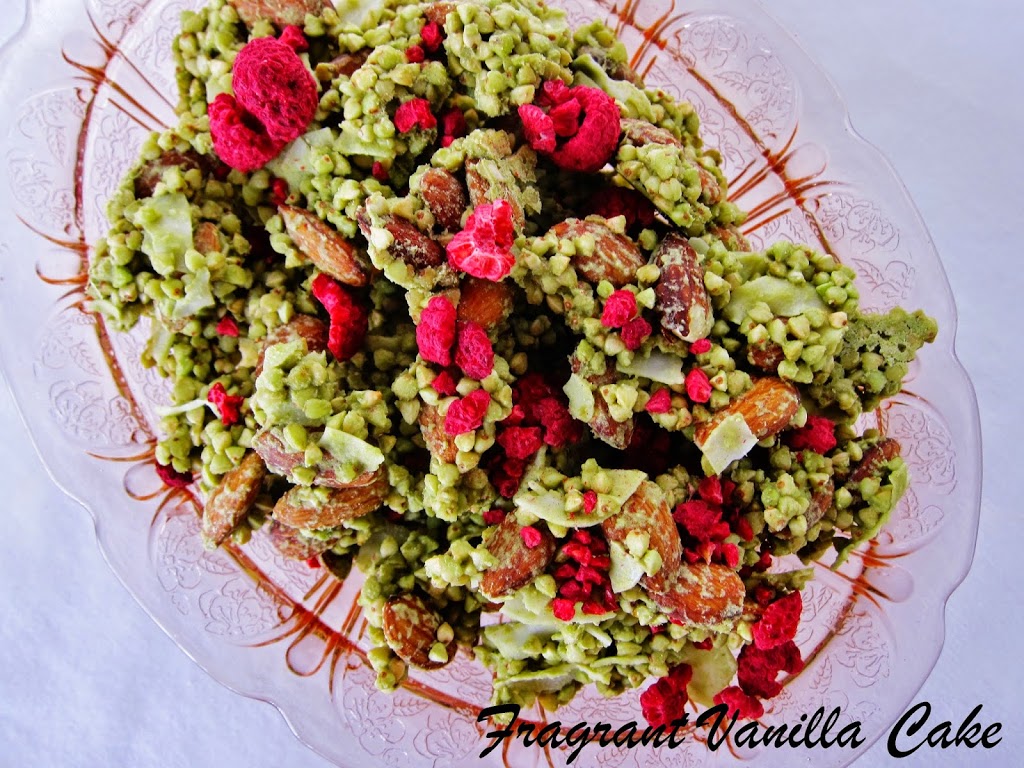 My Mom drinks green tea every day, and she loves my granola for breakfast. So I thought I would create a recipe for her that combined two of the things she loves.  Plus, I am a fan of granola myself and I can not resist anything with matcha in it lately.  It has found its way into many of my desserts, and I am always discovering new and delicious things to pair with it.  This really turned out to be a granola tailored to my Mom though, since it had lots of her favorite things in it.  Not just the matcha powder, but almonds, raspberries and coconut as well.  My Mom always said almonds are the king of nuts when I was a child and I was skeptical about eating them.  Now I as an adult I finally see where she was coming from.  She has also always been the biggest coconut lover I know, eating my Mounds bars after Halloween because I didn't like most coconut stuff much as a child.  Boy has that changed. We both have a love of raspberries, and always anxiously await summer when they are in season.  The sweet and tart together along with the seedy texture makes us both happy.
So, I knew we would both find this granola delicious!  The earthy matcha was wonderful with the berries and sweet almond.  This is a wonderful snack in my opinion and a wonderful breakfast in my Mom's.  She likes to enjoy it with milk, and I enjoy it crunchy and munchy.  The best thing about raw buckwheat granolas is they are a bit more crunchy than the traditional home made oat granola.  which is exactly what I enjoy.  I love to top off smoothie bowls with it or raw coconut yogurt.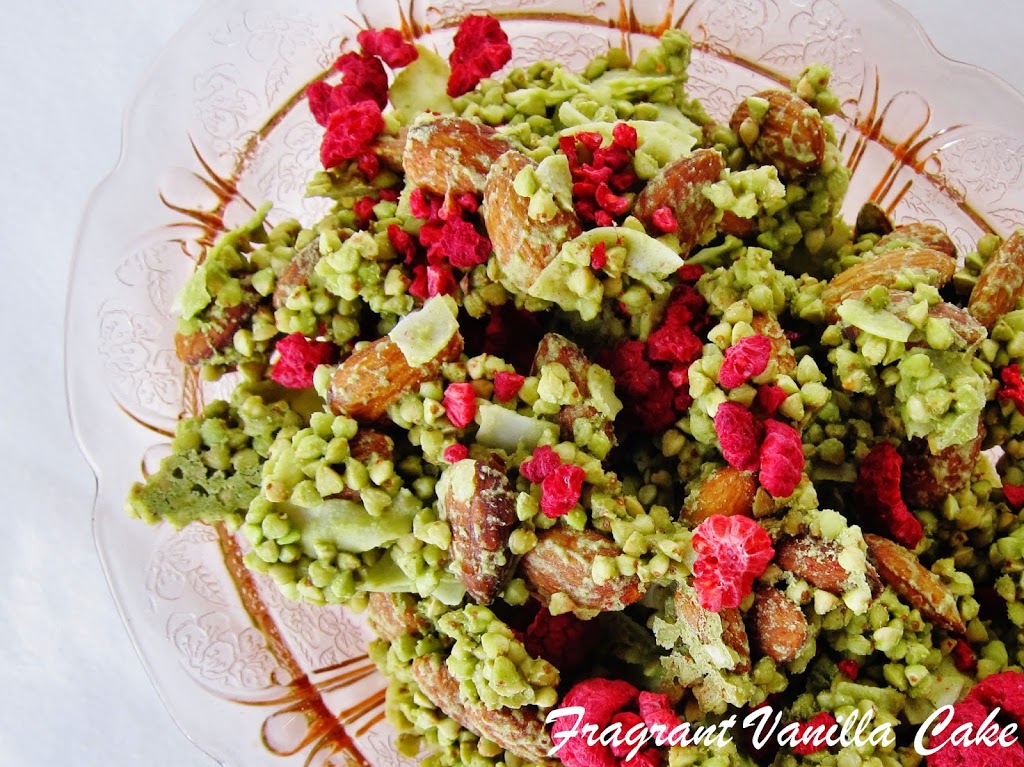 Raw Green Tea Almond Raspberry Granola
Makes about 8 cups
2 cups raw buckwheat
1 1/2 cups dried large coconut flakes
2 cups raw almonds, soaked for 6 hours and drained
1/3 cup raw coconut nectar or maple syrup (or more if you prefer sweeter)
1/4 cup raw coconut butter, warmed to liquid
2 Tbsp matcha powder
1/2 tsp sea salt
2 tsp pure vanilla extract
1/2 tsp almond extract
1/4 cup filtered water
1 cup dried raspberries
Soak buckwheat for 30 minutes, rinse very well (as it has a slimy coating that needs to be removed) and drain. Place in a large jar and set in a well lit area (natural light, but not in direct sunlight). Let sit for a couple days, or until little sprouts begin to emerge from the buckwheat, rinsing 2 times a day. Once sprouted, drain well, and place in a large bowl, along with the coconut, and almonds.
In a food processor, combine the coconut nectar, coconut butter, sea salt, vanilla, almond extract, water and matcha. Process until smooth and pour the mixture over the granola and mix well with your hands. S
pread out on 2 lined dehydrator, and dry for about 12 hours or until crispy.
Mix in the dried berries once dried. 
Can be stored in an airtight container for a few weeks at room temperature.
(Visited 54 times, 1 visits today)